.
@kcarterjackson
is here to explore the
#history
of black
#abolitionists
! She challenges the "Great Man/Great Woman" narratives to showcase the multitude of approaches to securing freedom. The movement was black-led and black-organized, and not always nonviolent.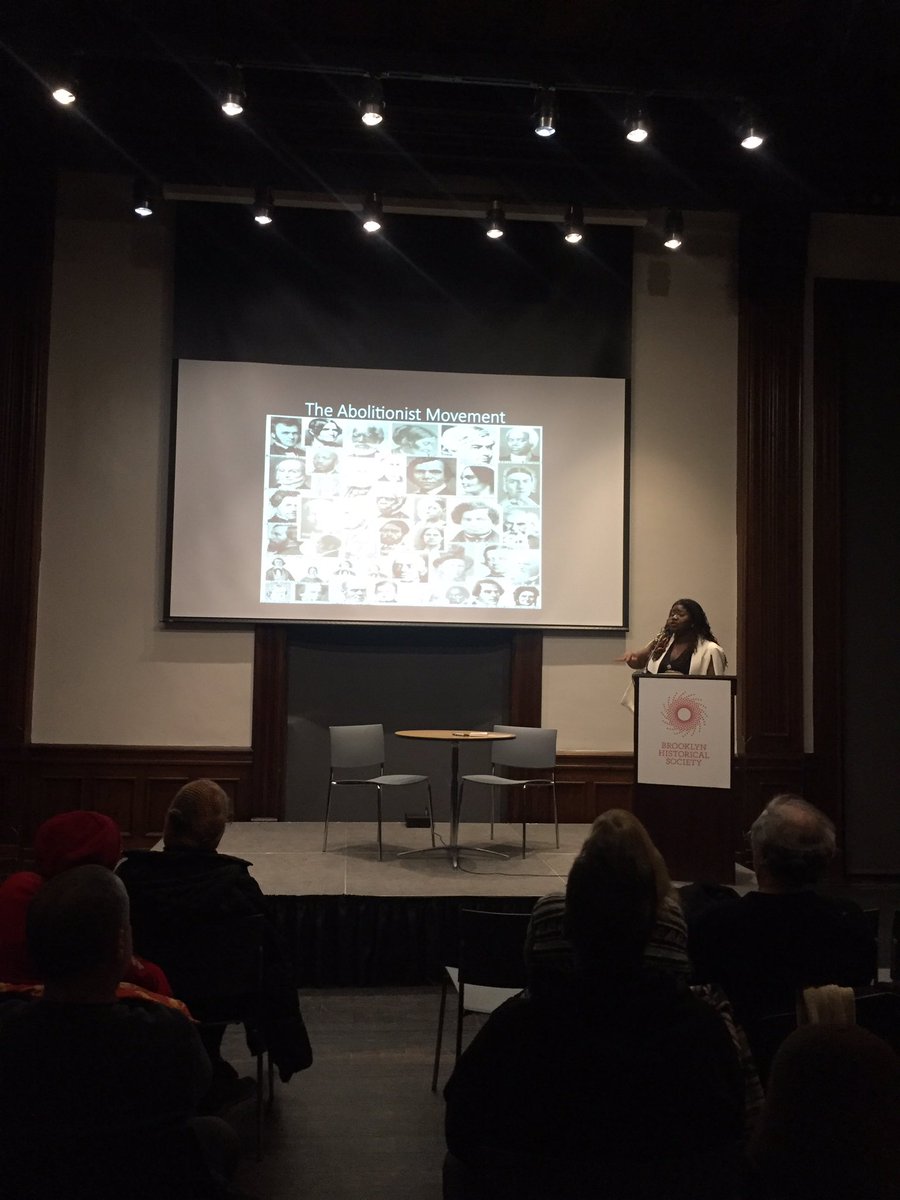 "Within white abolitionists, it was totally possible to see someone who was an abolitionist *and* a racist." Jackson highlights the fundamental facet of black abolitionism is its simultaneous call for emancipation and true equality.
When the abolitionist movement solidified in the 1830s, it relied primarily on "moral suasion", the attempt to persuade people that slavery was wrong via argument and moral appeal.
This ties to a belief imparted in the Second Great Awakening of Christianity, which stated that Judgement Day was imminent and that a returning Christ would condemn people who were slaveholders.
The phrase "turn the other cheek" and similar nonviolent axioms were the rallying cry of this faction of the movement.
The idea of taking up arms as self defense, such as in the case of an abolitionist publisher who fired warning shots to protect his printing press and was killed as a result, was itself considered "ungodly."
1850s America: the US is on the constant brink of sectionalized conflict as a result of the debate over whether new states would be slave states or free states.
As part of Henry Clay's Compromise of 1850, the Fugitive Slave Law, which had been in effect since the 1700s, was strengthened and expanded. It set no time statute for an enslaved person escaping, allowing kidnappers to capture people who had escaped no matter how long.
Furthermore, anyone who knew of an escaped enslaved person could be punished for not turning them over, encouraging people to out runaways.
People who were captured themselves were not afforded opportunities to represent themselves or present evidence to their right to be free, leading to freed people being essentially kidnapped and forced into slavery.
Jackson brings up Lewis Hayden, a man born into slavery. His wife and son were purchased by Henry Clay, who then sold them, splitting the family forever.
Hayden eventually settled in Boston, using his business and home to aid fugitive slaves as they made their way to escape in Canada. He remarried, and he and his wife became station masters of the Underground Railroad.
Hayden was part of a radical movement in Boston advocating self-defense for enslaved, formerly-enslaved, and free black people. Frederick Douglass also sympathized with the calls of this movement.
Hayden's home became a stronghold. Stories say that he kept kegs of gunpowder under the floorboards. When slave catchers stopped to search his home, he would answer with a lit candle, explain the gunpowder, and give them the choice to leave or watch him drop the candle.
The severity of the Fugitive Slave Act led to an ideological shift within the abolitionist movement. John Anderson, a fugitive making his way to freedom, shared the story of his repeated attempts to deter a slave catcher without violence.
Still pursued, Anderson (a devout Christian) killed his pursuer. When telling this story, crowds declared him justified, and that any self-defense to avoid being forced back into bondage was not an unforgivable sin.
While violence could be considered acts of war, Jackson cites contemporary abolitionists, even pacifist Quakers, in stating that the concept of slavery was itself warfare; a war waged on the humanity of enslaved people.
"Force is not necessarily violent, but violence is always forceful." A "philosophy of force" was invoked in recognizing the fact that revolutions in history rarely (if ever) happen without force and conflict. This philosophy was central to actively confronting slavery.