1/
#NXIVM
#NXIVMtrial
Update: Day 15(Thursday) and Day 16 (Friday):
When I arrived Thurs., Dani was back on the stand, talking about her sketches while she was locked up in the room.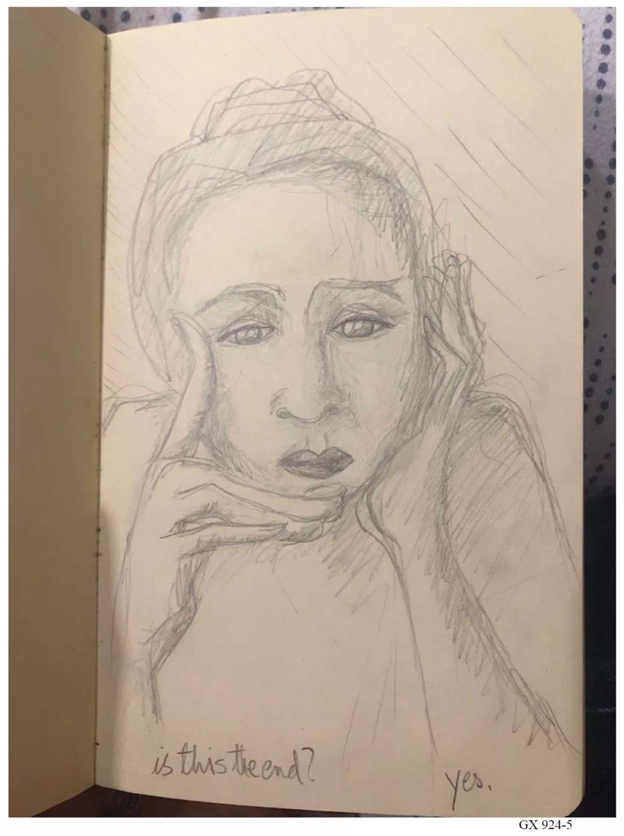 4/At one point Dani created a newsletter 2 stay sane, called the "Wilton Times"- She wrote stories about "the resident" & the "visitor" (Lauren Salzman). She told the story of the haircut incident, they found out. She was told this was indulgent, another breach- no newsletter…
5/At some point it was decided that Dani, was going to be taken back to Mexico, dumped over the border,and FORBIDDEN to reach out to any friend or family!.. Her indoctrinated father(he never knew the truth)/KristenKeefe/othrs, drove her to Mexico border from Clifton park NY.
6/
Dani remembers going to the hotel gym,sitting on treadmill just to watch the news after 2 years in captivity. She went on the computer to research safest places in Mexico. She was forbidden to reach out to any friends or family. She still had assignments, deadlines.
#NXIVM
7/At the border, her father gave her 1500 pesos, (I thought I heard $180USD, but its only $80 USD?!), and his watch,, crying. His accountant picked her up, and took her to Mexico City 4bus ticket. The place she was going was on the other side of the country, days away.
8/Dani slept at the bus station, bought only a few snacks, afraid to spend any $. She arrives… With the kindness of strangers, she found a place to stay. With no papers, she still managed to get several small jobs, (computer store, English language teacher, websites, cleaning)
9/
She taught a few tennis lessons, tutoring kids...One of the mothers was a lawyer... She said a birth certificate is a Basic Human Right- with a few phone calls, she got Dani her birth certificate through the Human Rights Commission.
10/
Today, Dani is a plant manager for a general manufacturing company, doing import exports, supervising 250 people- travels the world. Hong Kong, Italy, etc. But for "a long time", she says she was still writing Keith, still working on her plan.
11/
The years of progressively worsening control and isolation took its toll and she still felt Keith was the key to her getting back to her family., Eventually though, she stopped writing. She is in contact with her mother again..
12/
She struggled to get her sister Cami out (isolated, hungry, no papers), sent her money, got her to Mexico.. Her father came and some weird crap went down, and then her sister was back in, working for them agian, for next to nothing. Cami still works for RCGardens in Mexico?!
13/
The cult got Cami back by offering her 10k USD, & an education- Jack Levy (a Mexico cult rep) arranged for car transport to get Cami back, this was how they got her back to Rainbow Cultrual Gardens, but they renegged, no $, no education. Dani lost contact, but now talking..
14/
After Keiths arrest& media attention, Cami is laying low...
She has a lot of healing to do...Nurse practitioner w/ OBGYN office took the stand on Friday, confirming Cami had abortion at age 20, record showing she had been w/ her sex partner (Keith) since age 15!
#Guilty
!
15/
When Dani rescued Cami to Mexico the first time, Cami was weak, thin, pale, and frail, with infections.. She was unstable, angry and yelling at Dani.
Dani hugged her, Cami sobbed, "dont ever leave me"!
Sounds like they went through similar isolation and mind control...
17/
There were 2 more witnesses on Friday who took the stand. Ill get to those tomorrow.. Meanwhile,
Frankreport.com
has the details if you cant wait😉
18/
So continuing here with the
#NXIVMtrail
witnesses from Friday…The first was a leasing agent named Sheila Jelonek, a former resident of the Knox Woods complex where NXIVM higher ups all lived within a 3 mile radius of each other.
#NXIVM
19/
Sheila -now living in West Palm Beach, Florida- testified that she has been renting out her condo since 2007- and in 2011, someone by the name of "Kathleen O'Sullivan" answered her Craigslist ad, to rent her condo located at 120 Victory Way…
#NXIVM
20/
Kathleen states she is a recent widow, and that her husband left her a lot of money..
She would like to rent Sheilas condo, and will pay her in Cash.. 1 year in advance, upfront…since she is not working and is recently widowed…
#lies
...
21/
What follows is a 7 year series of lease agreements, all paid upfront …
with cash in a bag…
at the local Starbucks ..
22/
Kathy O'Sullivan was actually not a rich widow- but this lady- Kathy Russell. Kathy is NXIVM's former kinky book-keeper, who was one of many in Keith's harem.. She did threesomes..
She is the one who was sent to smuggle Dani across the Canadian border with a fake ID-
#NXIVM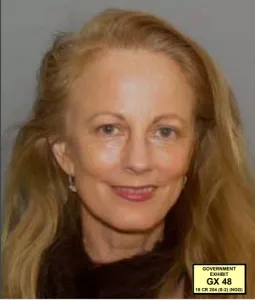 23/
One day, wouldn't ya know… The furnace went and needed a replacement… When Sheila Jelonek got the warranty, there was an unfamiliar email and phone #... belonging to Daniela Padilla.. Hmmm…Remember her?
See "Dungeon" thread 🧐👇🤯
24/
Hmmm…wouldn't ya know again…The upstairs neighbor's hotwater heater leaked into Sheila's closet..and Sheila's own hot water heater went..
During the infrequent visits to the home to f/u, instead of Kathy there was a tall, dark haired woman. Kathy said she ="housesitter" ,
25/
Then (I think I heard) there was yet another dark haired woman lingering about...
And then in June 2017 Kathy stopped answering the phone..., what was going on???🤔
(Above was 26/👆)
27/
Above is also a picture of the fridge, with lots of profanities...More info/pics on all above can be found in this Frank Report article... Kathy appeared finally and asked to renew the lease, but Sheila made other arrangements...
frankreport.com/2019/06/01/kat…
28/
Will fill you all in tomorrow on Friday's last witness called..
There is no
#NXIVMtrial
court tomorrow or Tuesday, just FYI.. (Ramadan).
Also, (sadly!) I have to return 2 my paid job in June so I don't know how much I will be able to attend the trial- I will miss it!