In April, the CIA declassified this image of the first-ever map drawn by a computer.
cdn.muckrock.com/foia_files/201…
(h/t
@simongerman600
&
@NatSecGeek
)
It was generated in January 1967 and the preceding years are chock-full of gems on
#innovation
,
#dataviz
&
#intelligence
. Thread.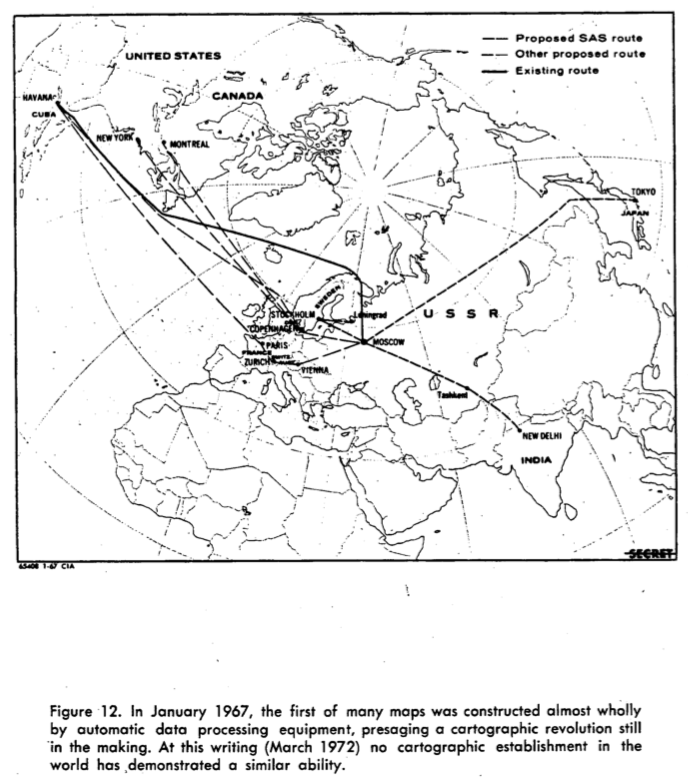 2.
The 1960s bred the perfect storm for tech-enabled transformation at the CIA. A holy trinity for
#defenceinnovation
? Technology + necessity + political will seems like a pretty good recipe. But organisational barriers make it less straightforward.


3.
CIA maps were hardly used during the Korean War, gave a "psychological boost" to the state of intel during Cuban Missile Crisis, & were relied upon in Vietnam. Automated mapping from the late 1960s helped improve accuracy & reduce clutter, building on other tech breakthroughs,
4.
…like Kodak's wash-off film from 1963. It seemed too good to be true, but the impact was immediate. The new film allowed CIA cartographers to respond to urgent
#intelligence
requests for the first time, eliminated production delays, and streamlined job scheduling tasks.
5.
Other technical advancements allowed for more replicability. Techniques like duplication scribecoat eliminated variance between copies of maps. In tandem with the immediacy of wash-off film, this meant fast + lower (not zero) marginal cost of reproduction.
6.
Despite a bunch of cool new techniques and high demand for their work, the R&D lab team clearly became the underdog in organisational infights with the production team. Culture mattered enormously…
7.
…including for the
#USArmy
cartographer who took over in 1963: "It took him a few months to become familiar with thematic mapping procedures as they were handled by the [CIA] Cartography Division, especially the informality of operation" [p80]. He moved to production.
8.
Recruiting a successor proved challenging and led to the reluctant absorption of the R&D division into the
#automation
section. Our R&D friends remained undeterred and continued to advance through informal innovation procedures described as "haphazard" and "ad hoc."
9.
The whole institutional structure forced the R&D team to exploit loopholes in order to succeed – which they did. Take out the word "Cartography" and this excerpt [p110] applies to sooo many other
#innovation
cases.


11.
Alas, by 1970, even the workarounds for cartographic R&D fell victim to a division reorganisation. Even with a clear appetite for more advanced techniques in cartography, both in the public and private sectors, the outlook was "bleak."
13.
Photos ≠ maps, but in combo with fairly constant personnel numbers, "new aids, techniques, procedures, and equipment" [p109] led to a near-sixfold increase in cartographic production from 1952-1970… up to 5,640 items. Pales next to digital transformation.
14.
Many lessons still apply, but let's also not forget how much more sophisticated tech is today. To continue with Kodak: the wash-off film that quickened production was a straight-forward substitution. All it took to start using Kodak's new film was dropping the old supplier.
15.
How many one-for-one substitutive goods do we have in today's supply chain? More input/change almost certainly required today. Brings to mind
@aa_gilli
and
@Mauro_Gilli
's excellent research on tacit innovation & the shift from generic to specific requirements.
16.
Last but not least: although names are redacted, cool to see some cartographers/artist-illustrators who worked on manmade + comp-generated maps for India/Pakistan, USSR etc. were female. Most of all, big thanks (again) go to another woman,
@NatSecGeek
, for the FOIA request!