What are the Epidemiologic Signatures in Cancer? A new special report out in NEJM by Gil Welch, Barnett Kramer, and William Black is so good I had to do a
#tweetorial
.
nejm.org/doi/full/10.10…
👇🏾👇🏾👇🏾
TL;DR -- The MAJOR takeaway doctors and trainees should get from this article is this:
Cancer incidence is an UNRELIABLE measure of cancer burden.
Importantly, authors make use of a pair of graphics. The first depicts the absolute rates (age adjusted) over time, the second depicts the relative rates over time with 1975 as the reference group.
By examining these trends in multiple cancer types, Welch et al show how mortality, incidence, and metastatic incidence curves (i.e. their epidemiologic signature) can provide insight into true cancer occurrence, overdiagnosis, and treatment advances.
The authors grouped 11 different cancers: Hodgkin's lymphoma, CML, melanoma, lung, stomach, cervical, colorectal, thyroid, prostate, breast and kidney cancers into 3 categories:
1.Desirable signatures
2.Undesirable signatures
3.Signatures with mixed signals
Let's dive into these categories….
In the desirable category: Hodgkin lymphoma, CML, and Lung cancer. Advances in medical care and efforts at cancer risk factor reduction are likely responsible for declining mortality.
Imatinib is what a really revolutionary, breakthrough, gamechanging…*insert your favorite medical hyperbole*…drug looks like. Wow.
It's important to appreciate how the relative changes in incidence and mortality are perfectly superimposed in lung cancer. They move together perfectly, likely tracking with the rise and fall of cigarette smoking!
The peaks for men and women are different because prevalence of ever smoking peaked during the 1950s among men and 1970s among women. Cigarette companies began targeting women more aggressively in the 1960s.
Also, in the desirable signature category reflecting variable screening practices are: stomach, cervical, and colorectal cancers.
Now let's look at some UNDESIRABLE signatures: there is something REALLY different: DISCORDANCE. Rising incidence with stable mortality = overdiagnosis.
These are highly scrutiny dependent cancers in which the more you look, the more you find, with no improvement in mortality at a population level.
In a study of thyroid cancer incidence in South Korea, exposure to screening lead to an explosion in incidence without a commensurate change in mortality. See:
nejm.org/doi/full/10.10…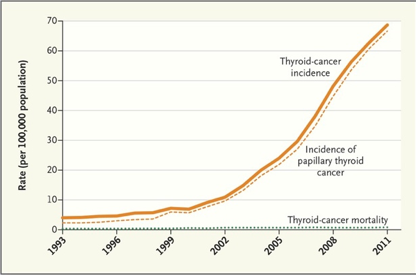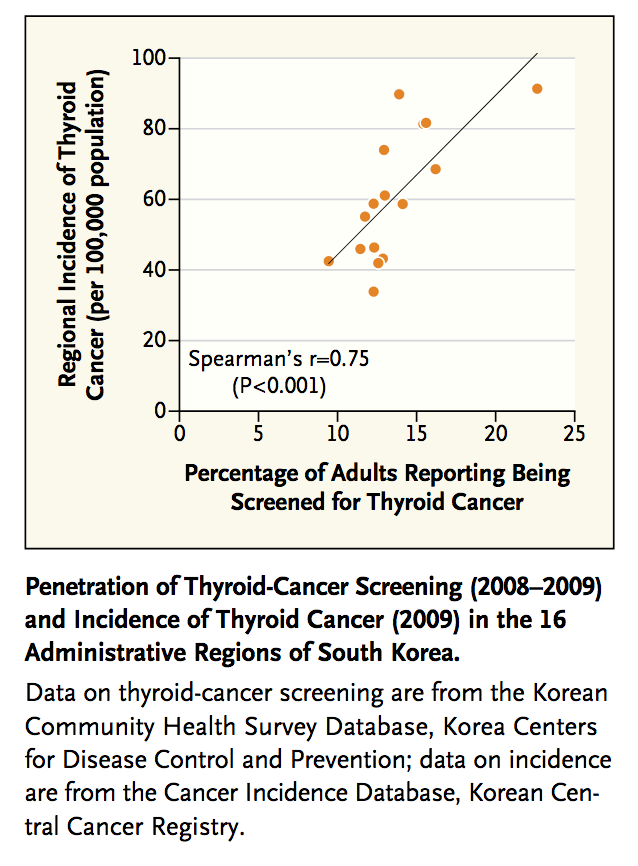 In kidney cancer, CT scans are likely responsible for picking up incidental kidney growths that would have not otherwise harmed the patients. See:
jamanetwork.com/journals/jamai…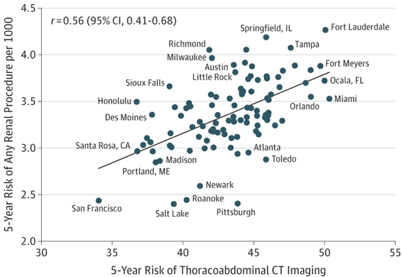 For me this paper deftly explains the importance of understanding that changing incidence must be interpreted in context, particularly as it relates to mortality. Diagnosing more "cancer" is not necessarily value added if it does not result in improved morbidity or mortality.
I learn so much from anything Gil Welch publishes, hope you learned something too!

Do you think Gil Welch should get on twitter?