A tweet from Russian Artem Klyushin, around the time his pal Rykov—pictured here—said it was time to "start helping Trump." There are now credible allegations that Kluyshin and Rykov master-minded the 2013 Russian-prostitute kompromat scheme at the Ritz Moscow (November 9, 2013).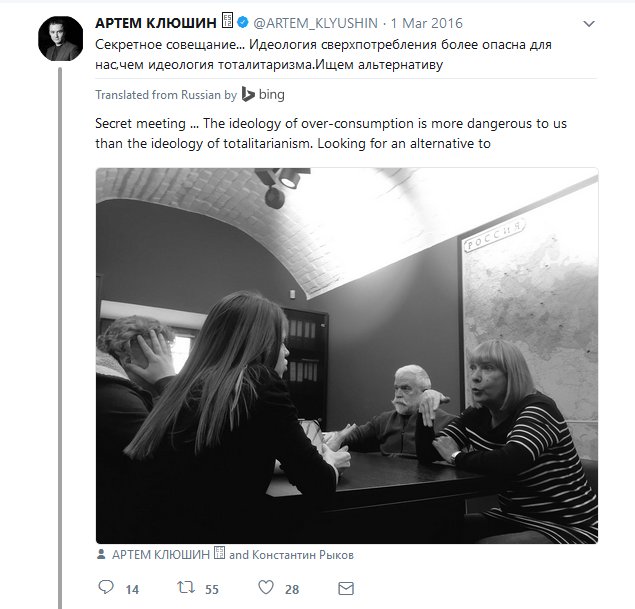 2/
To recap—Rykov (pictured above) runs a brothel; Klyushin (tweeting above) was partying with Trump that day; Schiller (who testified before Congress) said the prostitutes were offered at a meeting matching one Kluyshin's wife was at (and likely Artem); CIA told BBC tapes exist.
3/
I promise not to go into any detail beyond this, but briefly—in the event anyone was thinking the Ritz Moscow isn't the sort of place Rykov's "Dosug" (an internet-powered brothel, in practice "Uber for prostitutes") could operate, this is from a site on the Moscow sex scene:


4/
Anyone who thought the kompromat issue was about sex is wrong—as I've been saying for 10 months. It's *only* about whether the POTUS is compromised by a hostile foreign power. And knowing what we know now, it seems the kompromat issue *could* also be tied to broader collusion.
5/
It's crazy to see The Guardian quoting Yulya Alferova, then-wife of Artem Klyushin, as though she were merely a *spectator* to the events of November 9, 2013. If the evidence out there is confirmed, her husband was part of the plot to blackmail Trump.
theguardian.com/us-news/2017/s…
6/
And Alferova may have been part of the plot to lure Trump to Moscow—as she posted this pic of Emin, Aras, Goldstone and Cohen eating with Trump in Vegas the day after the 2013 Miss USA pageant (where the Agalarovs convinced Trump to come to Moscow).
alferova-yulya.livejournal.com/169017.html
7/
So for Yulya Alferova to tell The Guardian she was meeting Trump for the first time at Crocus City Hall, and was randomly tasked with following him around there as a blogger, would be a lie—she looks to have been intimately involved in getting Trump to Moscow in November 2013.