(thread) My thoughts on the Squadron 42 holiday stream presentation that I watched earlier.
First of all, those guys are still mad at me for some reason. I have no idea why. I've been so nice to them of late. Seriously.
1/..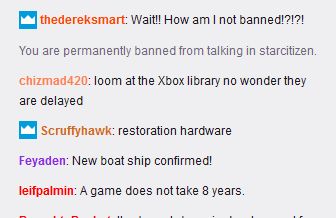 Before I get started, remember that SQ42 was coming in 2014. Then it was 2015. Then it was 2016. Then it was 2017.
And there was this...
2/..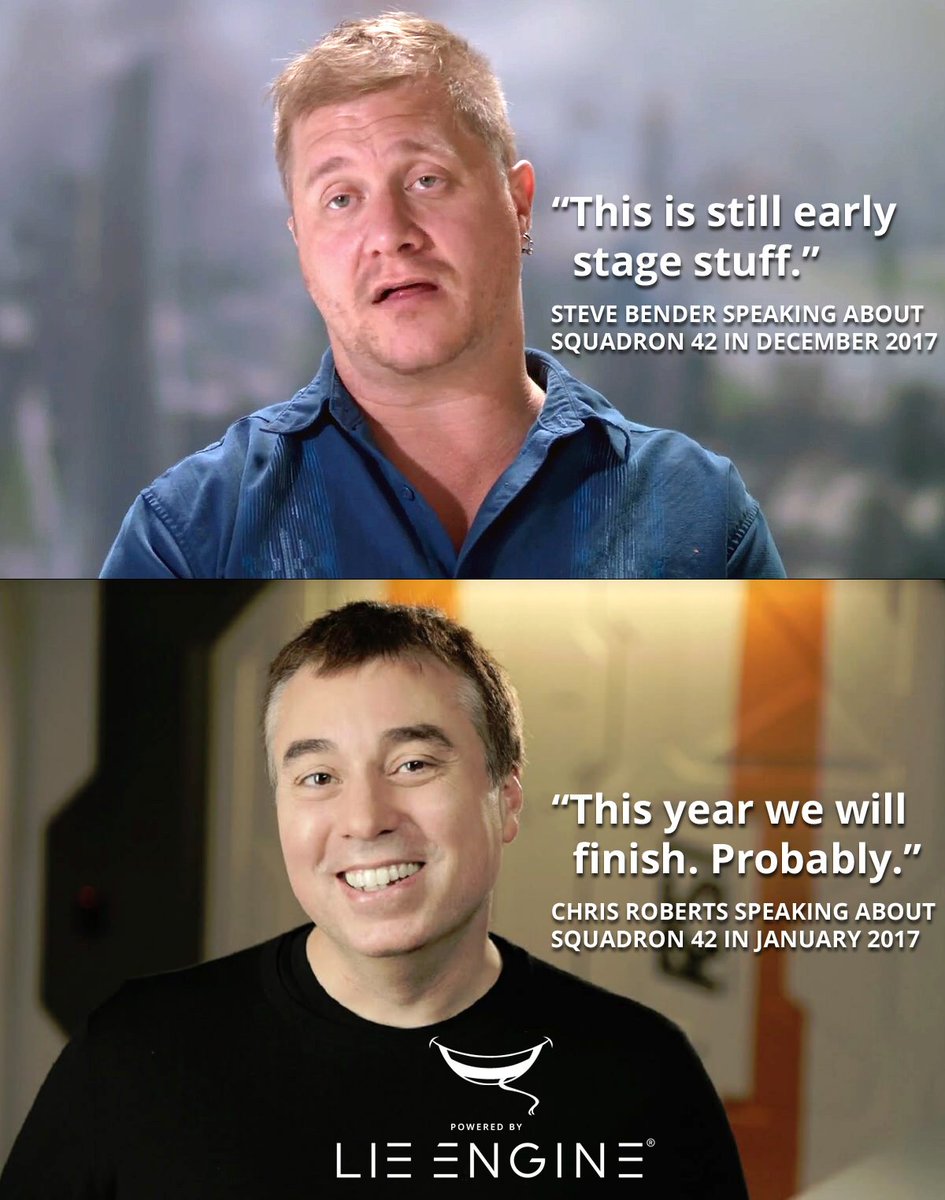 As I wrote in my recent article, the last backers saw of any playable content for SQ42, was the awful Morrow Tour in 2015
From what we've seen today, it proves that literally EVERY SINGLE trailer we've seen of it, has been an in-engine cinematic
dereksmart.com/forums/reply/6…
3/..
While the leaks from that article did pan out, I see now why they opted to make this a recorded presentation, instead of a live play through.

While I have no immediate issues with that, it just goes to show how FAR AWAY the game still is.

4/..
We're entering year 5 or 6, depending on who you ask, and they don't appear to have a "game" yet.

From what I saw, I believe that they have another 12-14 months to release a polished game.

As I have written, sources have been saying since 2016 that no "game" exists.

5/..
I remember back in Jul 2015 when I wrote that Star Citizen couldn't be made - at all - and not for less than $150m. The much touted 3.0x engine which SQ42 also uses, is still a mess.

6/..
I had also written blogs saying that regardless of the fact that SQ42 didn't have multiplayer (they had since nerfed co-op), that unless & until they can get the Star Citizen engine working properly, there would be NO Squadron 42. Ever.

7/..
What I saw in today's presentation, just strengthens what most sensible people following this project are now saying "Derek Smart was right"
This was the original 2012 SQ42 pitch from Kickstarter
kickstarter.com/projects/cig/s…
8/..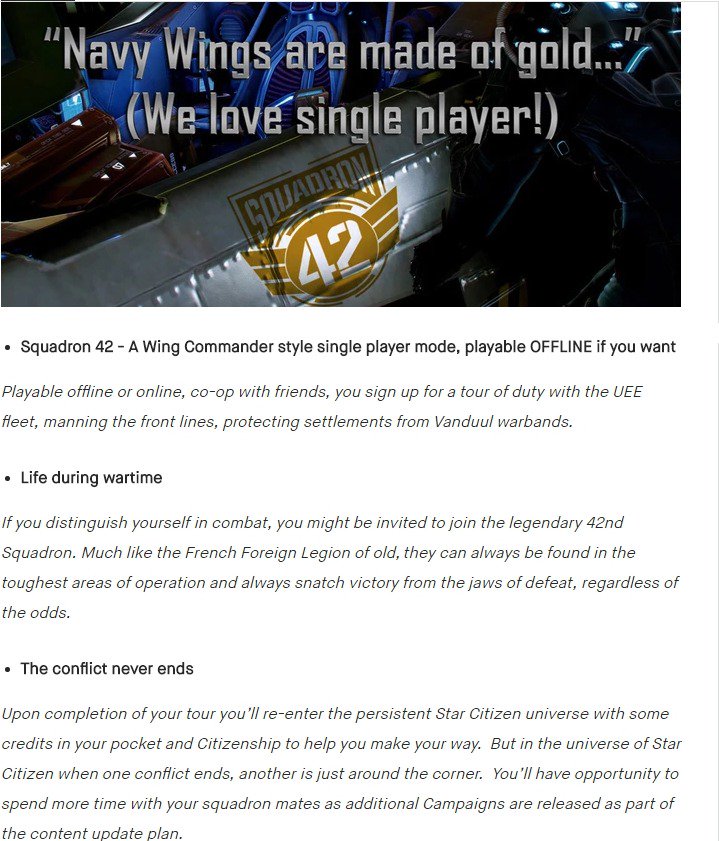 ...this : "From opening with an epic battle instead of a training patrol to missions that seamlessly combine boarding and space combat"

Except that both Mass Effect Andromeda and COD Infinite Warfare, already made THAT game.

10/..
SQ42 is now 3 YEARS LATE. And by the time it is released sometime in 2019 - assuming that CIG/RSI survives (they won't) what's coming - it would be lucky to be engaging enough, let alone look good enough to warrant a 7/10 player score. At best.

11/..
What I saw in today's presentation, could very well have been shown in Dec 2016. You know, back when they said they had a vertical slice ready, but had a last minute problem that prevented them from showing it. Yes - that was ONE YEAR AGO.

12/..
In today's presentation, I saw, for the first time, a vertical slice for the game I backed in 2012. Except that I was supposed to be playing it back in late 2014 to mid 2015.

For a vertical slice, it touched all the elements of a proof-of-concept tech demo for a game.

13/..
There was NOTHING in this presentation that ANY reasonable developer or publisher would look at, and justify a 5 to 6 YEAR development cycle - AND it be in THIS condition.

It was disappointing in almost every way possible, for a highly anticipated game

Let's begin...

14/..
VISUALS: As always, the artists/modelers are at the top of their game. It looks great.

Arguably there are XB1 & PS4 games that are pushing the boundaries of visual fidelity. And if you have played COD:IW, BF, or Titanfall, you won't be that impressed with SQ42 visuals

15/..
Regardless, the SQ42 set pieces are very nice to look at, and they give you a great sense of immersion in every aspect.

The visuals in space and on the ground, were also quite good, and they accurately matched the mission theme.

16/..
AUDIO: Gamers tend not to focus too much on audio because for some reason nobody cares enough about audio engineers as superstars. But for space games, if you've played Elite Dangerous or spent enough time in Star Citizen, then you know that the audio is great.

17/..
The audio in the SQ42 presentation really made so much difference that even if the graphics didn't match the audio quality, you probably wouldn't have noticed.

Audio makes a BIG difference in games of all kinds. And each score, in every scene was absolutely PERFECT.

18/..
GAMEPLAY: I get that Chris thinks he's making a movie, but he's completely forgotten that in our day and age, hardcore gamers do NOT want to slog through a set piece. They want to remain engaged - all the time.

19/..
I felt that it was an absolute slog. It took too long to get to the FUN part. And given how this is laid out, I'm quite certain that this is precisely how the final game - if we ever get it - will be.

Start, go to briefing, go to launch bay, get fighter. Go shoot stuff.

20/..
Anyone who has played story based cinematic games in the past decade, and watched this SQ42 slice, will immediately see the problem that I am trying to explain.

Games like this are about PACING. And if you don't get that right, you will FAIL to keep a gamer engaged.

21/..
Pacing is also a bigger issue when you consider how many times a player has to slog through set pieces after failing a mission or key trigger point.

Star Citizen gamers have already grown SICK of the slog from bunker, to ship requisition, to flight etc. No skipping atm

22/..
As for combat. Oh boy. For a game that was SUPPOSED to be PRIMARILY about space combat, that portion was so BAD, that it would take me the next 100 posts @ 280 chars to complete my gripe about it. So I'll cut to the chase:

It was BAD.

23/..
Aside from the fact that there appeared to be some cheating going on, which made it so easy to destroy the NPC units, the space combat against NPC units was just as bad as in Arena Commander. Which makes sense, since it's the same engine component.

24/..
Though I already knew the components of this presentation, I was really expecting to see some major improvements in the space combat against NPC units.

I have spent decades writing flight dynamics combat for advanced NPC units, so maybe I'm just biased or something.

25/..
The flight dynamics and NPC threat logistics in this video, were written back in the mid-nineties. This game was released in 2009. With that same code logic. Once you get it right - it just works.



26/
Those same engine components, adapted for space combat with over 500+ modifications to flight dynamics, threat assessment, AI logic etc, look like this. In another old game.



27/..
I mention this because it's easy for us to be jaded and have a bias toward certain things that we are used to. But most Star Citizen backers know that the flight dynamics and NPC combat just plain SUCK. And sadly, it appears as if that's what's coming in SQ42 as well.

28/..
I can hear the "It's pre-Alpha" chorus already. Well, my rebuttal would be: we're 5-6 yrs, they haven't made ANY improvements to this in past 3+ yrs. So what makes anyone believe that they will in the future? Especially since the flight dynamics just keeps getting WORSE?

29/..
PERFORMANCE: I don't even need to say anything about this. The 3.0x build, as I've been saying for months now, has horrid performance. And from what I've seen & heard, they have already hit a wall on how far they can go with improvements.

30/..
A few months ago, I wrote an article in which sources told me 3.0 was so bad - in ALL aspects - that it would need another 6 months to just fix & complete that milestone. They

Released to Evocati 10/6/17

Rleased to closed PTU 11/23/17

Released to open PTU 12/22/17

31/..
That's the engine build we just saw SQ42 running today.
This is what I said about 3.0 in June.
dereksmart.com/forums/reply/5…
And SQ42 has NO multiplayer. So that can't be blamed for the performance issues we just saw today.
32/..
Anyone who watched this today, could clearly see the HUGE performance issues everywhere.

That sort of performance kills the ambiance, immersion and completely ruins the experience.

Remember also that they no doubt recorded this on beefy hardware.

33/..
As a game dev who has worked with a lots of engines, I can tell you that performance tweaks are single most difficult things to do in any game.

That's why, right from the start, you HAVE to set budgets and guidelines for your world assets.

34/..
Once you trade visual fidelity for game play performance, it doesn't matter how great your game looks, if it plays like crap.

Couple the long pacing slog, with bad performance, and you end up with a game that's going to get panned.

35/..
In a time when Triple-A games like ME:A and COD:IW, with massive budgets, exceptionally talented devs, great performance, can fail both financially & in gamer opinion, imagine what's going to be happening in 2019 if SQ42 ever launches.

36/..
As an old school dev who has had to face game dev challenges over the years, my disappointment in what I saw of SQ42 has more to do with how bad I feel for all those very talented people, than it does my desire to see Chris & his cohorts go to jail.

37/..
I saw a game I backed in 2012, that's going to be FOUR YEARS LATE if it ever gets released, and which could have been made in under 2 yrs by ANY team of college dropouts, for less than $5M

It's disgraceful, and dissappointing.

38/..
Before I close, let me touch on the: "we're doing something that has never been done before" song and dance.

It's pure bullshit designed to justify pissing away over $174M of backer money.

39/..
I saw game levels. I saw cut-scenes. I saw NPC dialogue triggers. I saw space combat. I saw atmospheric flight. I saw FPS combat.

All in a piss-poor performance game that could've been a dynamic screen saver

I didn't see ANYTHING that hadn't been done before and BETTER.

40/..
Chris spent the first 30 mins putting backers on a guilt trip by showing the studio teams, the offices etc. Basically sending the message that they're working on "stuff" and if you don't keep giving us money, these are the guys you're affecting.

It was a shameful display.

41/..
The fact of the matter is that he's NEVER going to be able to deliver EITHER of these two games, let alone in ANY fashion he promised.
And for that, I am going to do everything in my power, and will spare NO time or expense to put Chris Roberts in jail.
I'm done.
42.
End