The EU's guidelines for transition would mean all the obligations but no representation for the UK in the first 21 months after
#Brexit
.
More strikingly, it would put it in a worse position than Norway in terms of sovereinty. Here are five striking differences: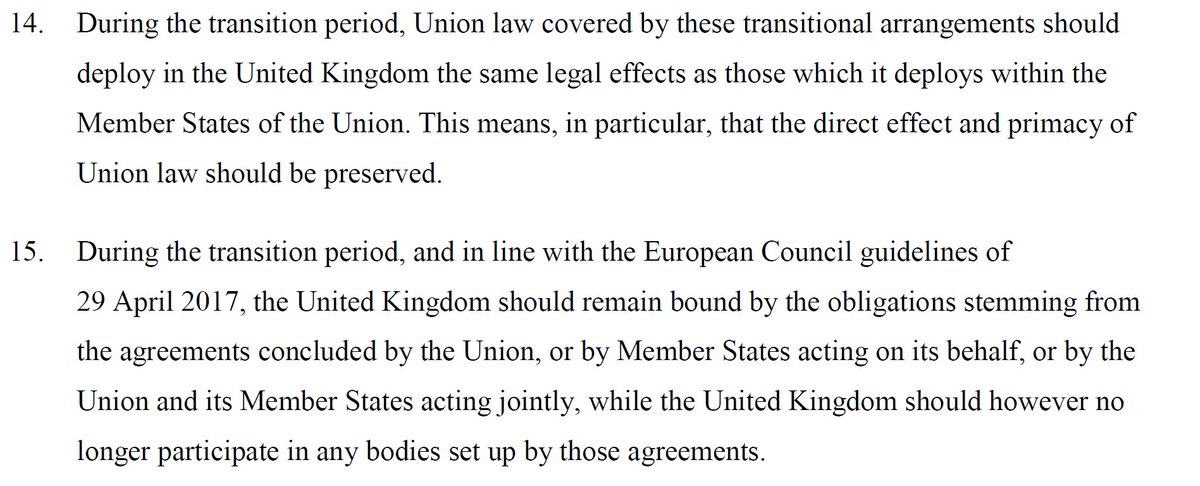 1.
For every EU law, the EEA decides whether it has 'EEA relevance', i.e. for the single market. If not, or only partially, EEA countries only have to adopt it partially or not at all.
The UK will have to accept all EU law during transition, even if it is not relevant to the SM
2.
EEA countries can agree with the EU on derogations when implementing EU law, e.g. geographical application, institutionals adjustments, exceptions.
No of EEA derogations until 2012:
Norway: 55
Iceland: 349
Liechtenstein: 1056
No option for derogations foreseen for the UK.
3.
ECJ judgement & Commission surveillance - for the EEA, there is the special EFTA court, with judges from the EEA countries. Compliance with EEA rules ensured by the special EFTA Surveillance Authority.
UK would be under direct ECJ jurisdiction & Commission surveillance
4.
Fisheries: Fisheries is an exception from the EEA, so that Norway can negotiate its own quotas with the EU.
Uk would have to accept EU quotas on fisheries during transition - without a vote.
5.
Finally, budget: Although the EEA countries have to contribute to the EU budget in relation to their GDP, they have a limited amount of influence on how it is spend.
The UK is expected to contribute completely to the EU budget without a say, although its rebate stays in place
In sum, there is grounds to characterize the planned transition as a 'vassal state' status for the UK. This problem will get worse if transition is extended.
But it is the only choice left to the UK if it wants to avoid a cliff edge on
#Brexit
day. /ends