.
@CMSGov
THIS
medpagetoday.com/psychiatry/opi…
is BAT$H&T crazy! As a
#PainPatient
you should know PEOPLE WILL NOT LIVE IN PAIN! if they cant get relief from "Dr Real" they'll get it from "Dr Feelgood" and old Doc Feelgood has NO quality control! THINK THIS THROUGH! Bear with me...

1/
You're saying Kolodny what's Kolodny, right? Well bear with me and I'll tell you all about the man who ginned up the most recent version of "Opioids Bad" Crusade! There once was a man who Chief Medical Officer at one of the largest Rehab Businesses and one day out of the blue
3/
he began calling people like me,
#PainPatients
, ADDICTS. Now why would the Chief Medical Officer for one of the largest Rehab businesses start doing this? A new marketing plan to fill beds for his employer? Or sudden concern that LEGIT PAIN MEDICATIONS were killing people?

4/
I know what I think what do you think? But WAIT I'm not done telling you about Kolodny. Soon after he took to calling
#PainPatients
addicts he started
#PROP
[aganda] (the "aganda" is my editorial comment) anyways PROP stands for Physicians for Responsible Opioid Prescribing.

5/
To do this he went out and got a bunch of other anti opioid crusaders to join his little club and when he had found enough he made himself Executive Director But he needed a President for his club,and since the ONLY responsible thing PROP thinks opioids should be used for is
6/
TERMINAL CANCER PATIENTS He needed someone special to be President of PROP and he found the perfect person, Dr Jane Ballantyne, and he made Jane President of PROP, never mind she had recently co-authored a controversial article in the New England Journal of Medicine (NEJM)
7/
that said "reducing pain intensity should not be the goal of doctors who treat chronic pain. The article also suggests that patients should learn to accept their pain and move on with their lives."
So there you have it PROP is born an IMMEDIATELY thrust into the "opioid bad"
8/
crusade as a partner of Kolodny and they fit right in. But of course they would, wouldn't they it was what he planned!
Here's the thing I think this ALL started as a marketing plan and got out of hand and NOW
#PainPatients
are killing themselves because they cant get relief

9/
from the CONSTANT & INTRACTABLE PAIN! And PROP is at LEAST partly responsible for these deaths because their doctors are afraid to treat them because the CDC says here's some GUIDELINES and since a government agency has guidelines
#PainDoctors
are afraid to REALLY treat pain!

10/
So when these patients can't get relief from pain they decide they have to find a more permanent solution to the pain and take their own life, like the people n this list who have been denied RELIEF from PAIN!
LIMIT Pain Medication to Medicare Patients YOU'LL add to this list
11/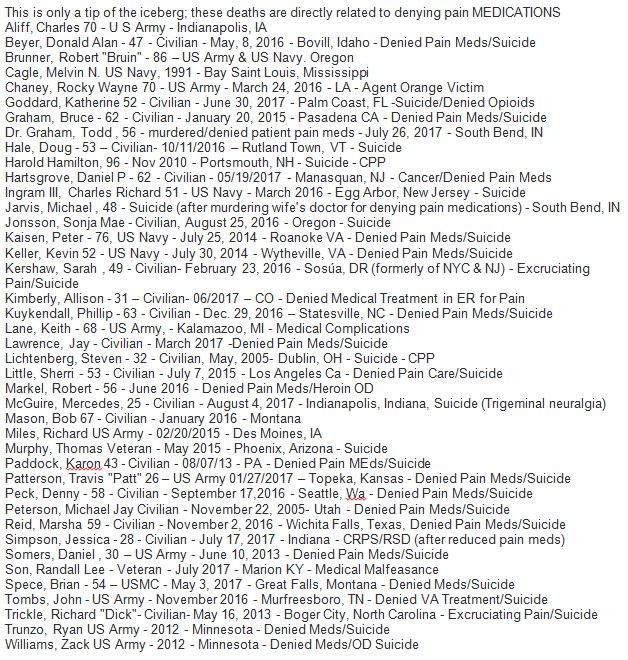 And FYI RX overdoses have dropped every year since 2010 when the fentanyl formulation was changed to prevent snorting & injecting!
One other thing is that if there is someone killed in an auto accident and there
are RX opioids in their system its reported as an Opioid death.
14/
Same with a valium overdose and opioids show up in tests they get counted TWICE! As both an Opioid Death AND a Benzodiazepine death EVEN if the person had an RX for all the Medications! And we are baffled by the rise in OD deaths when they are counted twice or thrice or MORE!
15/
What's the bottom line?
PEOPLE WILL NOT LIVE IN PAIN! If they can't get relief from
"Dr Real" they'll get it from "Dr Feelgood", and old
"Doc Feelgood" has NO quality control over the medications
he provides!
LIMIT MEDS & MORE WILL DIE!
16/
DON'T LET PROP[aganda] and a FEW individuals take TRULY NEEDED LEGITIMATE PAIN MEDICATIONS FROM PAIN PATIENTS!
People will be FORCED to Street Drugs and that will lead to more and more heroin and "other" manners of pain relief!
Questions? I'm at your service? I WANT TO HELP!
fin/