1.
Are advanced tax rulings just a mechanism to corrupt the normal application of tax rules to multinational companies? (A quick thread as work avoidance)
2.
The attraction, on paper, is that multinational companies get certainty about (some) tax treatment; as do tax authorities, who can then focus their limited resources elsewhere.
3.
The risks? That the negotiation over advanced tax rulings is even more unbalanced than the usual negotiation over multinationals' actual tax payments. The tax authority has no threat of demanding audit or payment; and cannot devote the same level of resources.
4.
A bigger risk, perhaps, is that advanced tax rulings are typically secret. This opens up two particular issues...
5.
First, risks of
#taxhavenry
. A country (say Ireland, Luxembourg or Netherlands) can have a perfectly respectable tax system on paper, meeting various international standards - but in practice, using these secret deals to provide multinationals with special treatment.
6.
That special treatment could be the effective exemption of (shifted) profits from taxation - see Ireland and Apple - or a range of mechanisms to accept or allow the onward shifting of (untaxed) profits, all to the loss of the jurisdiction where the profits actually arose
7.
The other risk of advanced tax ruling secrecy is domestic. Such rulings can create enormous private value from what would otherwise be public revenues.
Consider e.g. the value to Formula 1 of a clearly questionable UK tax ruling:
itv.com/news/2016-11-2…
8.
Advanced tax rulings create enormous scope for secret, public-to-private value transfers.
For example, the Procter & Gamble deal in the Netherlands "allowed the company to shift $676m untaxed to Cayman, signed off by a single tax inspector"
dutchnews.nl/news/archives/…
9.
Imagine that sentence in the context of a lower-income country: $676m in tax base given up, in secret, by a single civil servant. But we don't think it's a corruption risk in the Netherlands?
10.
It's not just that we know the Netherlands is the single biggest conduit for the profit shifting of US multinationals (possibly for all multinationals, but we don't have the data).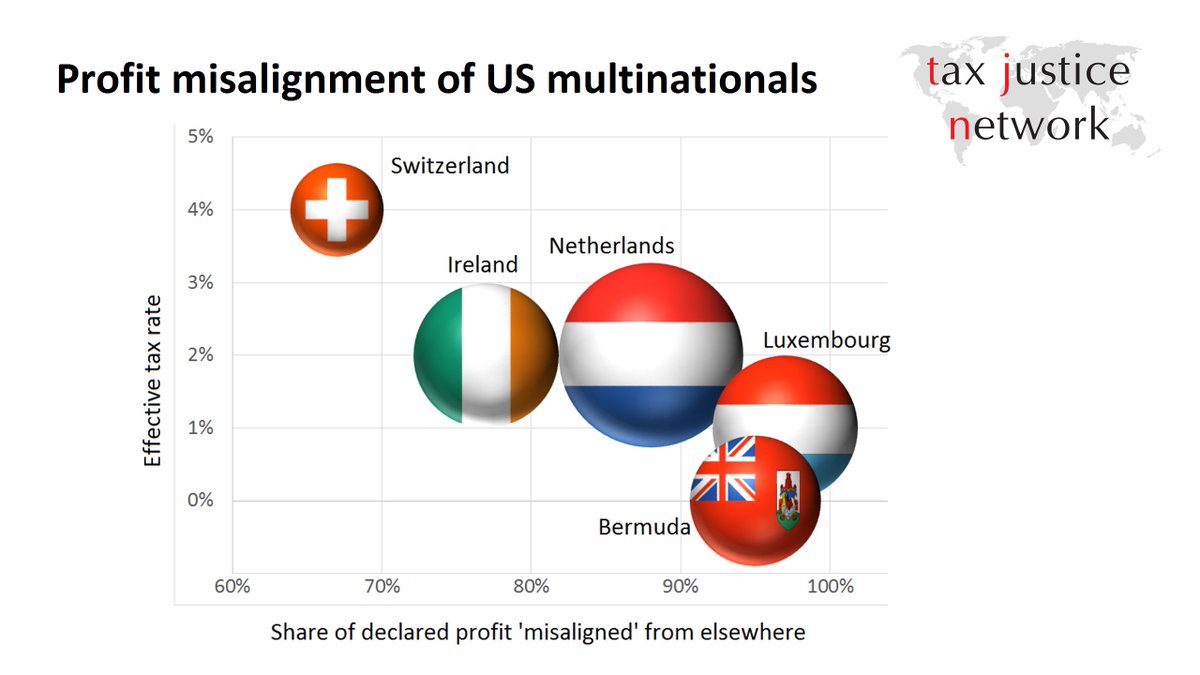 11.
A
#Brexit
aside: one of the opportunities identified by lobbyists is for the UK, free of any EU state aid restrictions, to offer advanced tax rulings to attract profit shifting.
Here's Clifford Chance:
…cialmarketstoolkit.cliffordchance.com/en/topic-guide…

12.
Advanced tax rulings clearly offer greater scope for multinationals to achieve tax reductions than tax 'certainty'. Certainty, after all, could be largely achieved by not taking on any risky positions - and yet all(?) multinationals deliberately choose risky tax positions.
13.
Are there any benefits to tax authorities or to citizens from allowing advanced price rulings? If so, do any of those benefits stem from the rulings being secret?
14.
Or is this is a one-way street, where the claimed priority of tax certainty for multinationals is actually used to construct a more unbalanced negotiation, with secrecy to cover any outcome however unreasonable? (And to encourage corrupt behaviour too)
15.
If certainty is the aim, secrecy should have no role to play. If demonstrating fair tax treatment of all is a concern, secrecy should have no role to play. If resisting corruption matters, secrecy should have no role to play.
16.
There is an ongoing argument about whether corporate tax returns in full should be made public - e.g. it was the topic of the last session of our annual conference in 2017
taxjustice.net/2017/06/29/tax…
17.
But whatever your view of that, it's hard to see how anyone could defend the ongoing special treatment of multinationals through the secrecy, in particular, of advanced tax rulings.
18.
We only heard about Procter & Gamble's deal through the
#ParadisePapers
. We only heard about the systematic Luxembourg abuse of rulings through
#LuxLeaks
. Do we want leaks to be the basis for taxation? Really?
19.
The prospect of public country-by-country reporting means the extent of profit 'misalignment' engineered by the largest multinationals may soon be laid bare.
But secret advanced tax rulings would still incentivise systemic abuse and corruption. Give us transparency please. /