Context: the European Commission position, and the European Parliament's superior amendments, were awaiting the member states to join the trialogue and agree the specifics of public country-by-country reporting. But Germany has now moved to prevent this.
Wider context: the OECD has been increasingly vocal of late in arguing that making country-by-country reporting public would betray the BEPS agreement that the data be private to tax authorities.
OECD has also been arguing that their (complex, unnecessary) info exchange arrangements are increasingly effective and inclusive. This, despite the clarity of the evidence that lower-income countries are systematically excluded.
German multinationals have been perhaps the next most active opponents of public country-by-country reporting.
taxjustice.net/2018/04/24/new…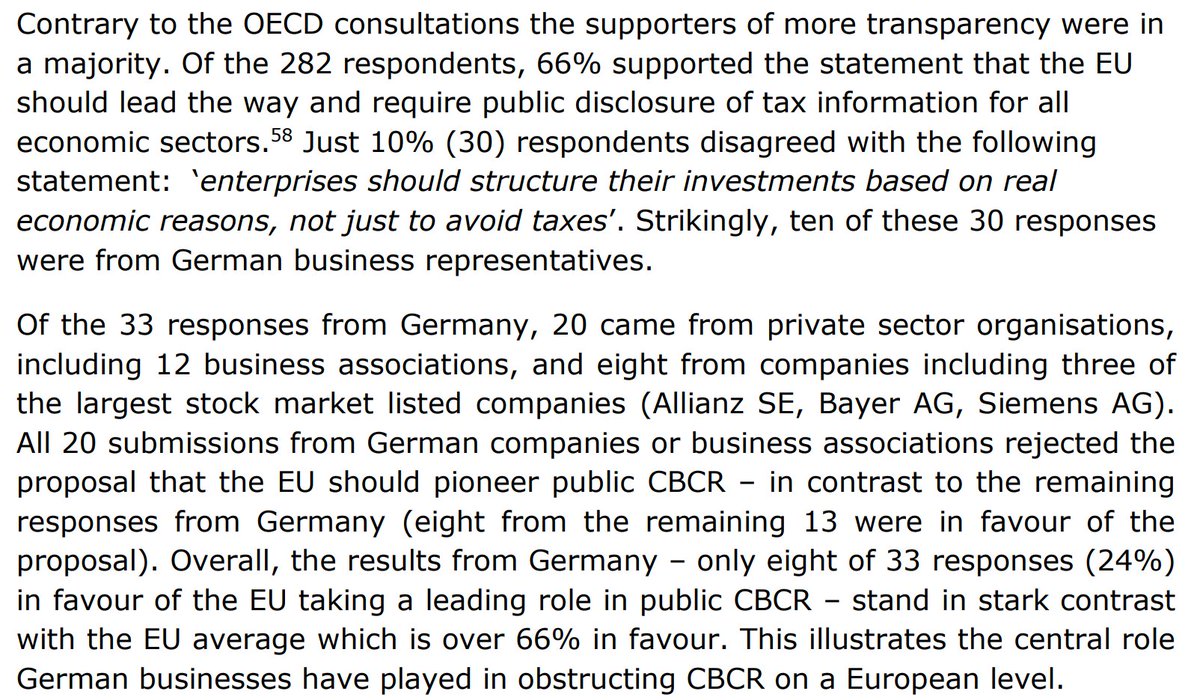 And yet after all the business lobbying, the SPD had a position *in favour* of public country-by-country reporting - so it seems strange that they have reversed this once in power.
What does this all mean? First, the German government, and the SPD, should be held accountable for this decision to block the greatest opportunity to deliver at the EU what would have been the biggest, and near-global, step forward in corporate disclosure since public accounts.
Second, those governments around the EU who had resisted the introduction of public country-by-country reporting because of a genuine preference for multilateral action, should now prioritise their individual measures.
Multinational companies, the largest private economic actors in the world, are also those of which least public disclosure is required. The struggle for corporate accountability has lasted decades, and will continue, because the human impacts of tax abuses are too great.
PS. German & US multinationals have most strongly opposed public country-by-country reporting, from 2 of the OECD countries that lose most revenues to profit shifting. Coincidence? Or are these companies with most to lose, if it's seen that they undermine their 'home' country?
PPS. On the suggestion that country-by-country reporting might genuinely be tax data rather than accounting data, so the German position to make it the former - and so require unanimity, i.e. block it - could be legitimate (it's not):