There Is No Campus Free Speech Crisis: An Unreasonably Long Thread
For us olds, there are few things more pleasurable in life than shitting on the young -- especially on college students, with their hacky sack and their animal houses. What, just because they haven't ruined their lives yet they think they're better than us?
So granted: they're monsters. But are they the kinds of monsters who would undermine free speech? Herewith, some debunking of myths.

Myth #1: Young people in general (and students in particular) don't support free speech.
Let's start with the GSS data that's been circulating a lot online lately. They're based on answers to the so-called Stouffer Questions, which NORC has been asking since the early 70s. E.g. "Should X be allowed to speak in your community?"
gssdataexplorer.norc.org/trends/Civil%2…
On issue after issue, young people aged 18-34 are the MOST tolerant of potentially offensive speech *and trending upward*, while older Americans are the least. Play around with the Age filter and see for yourself.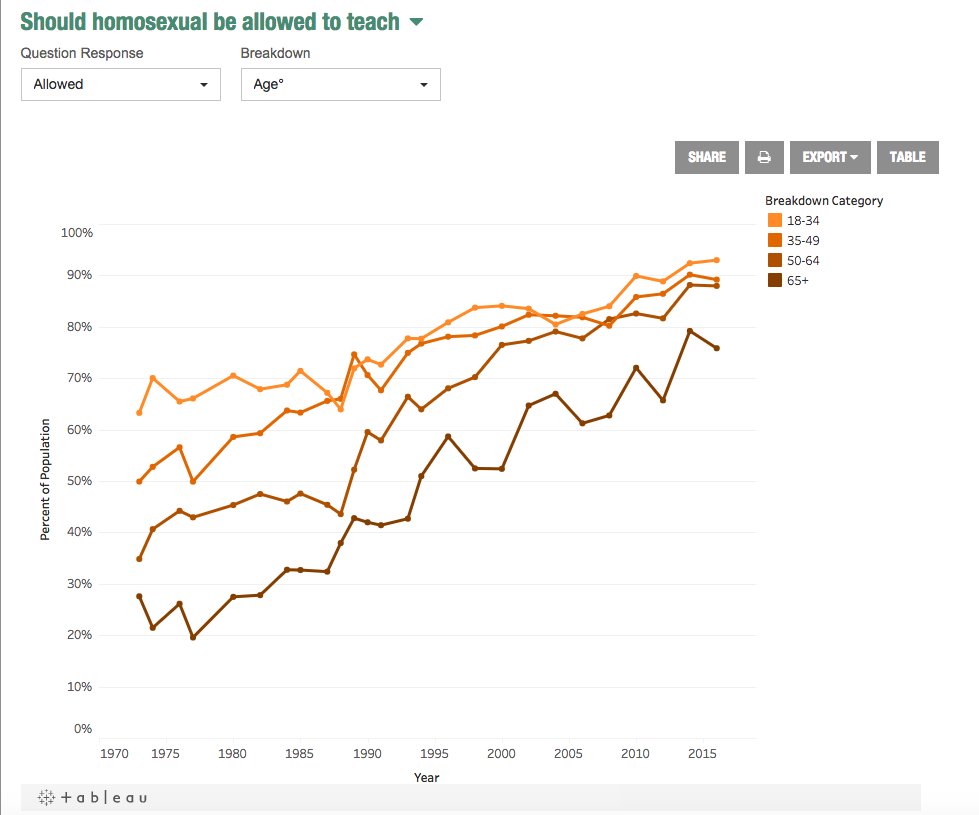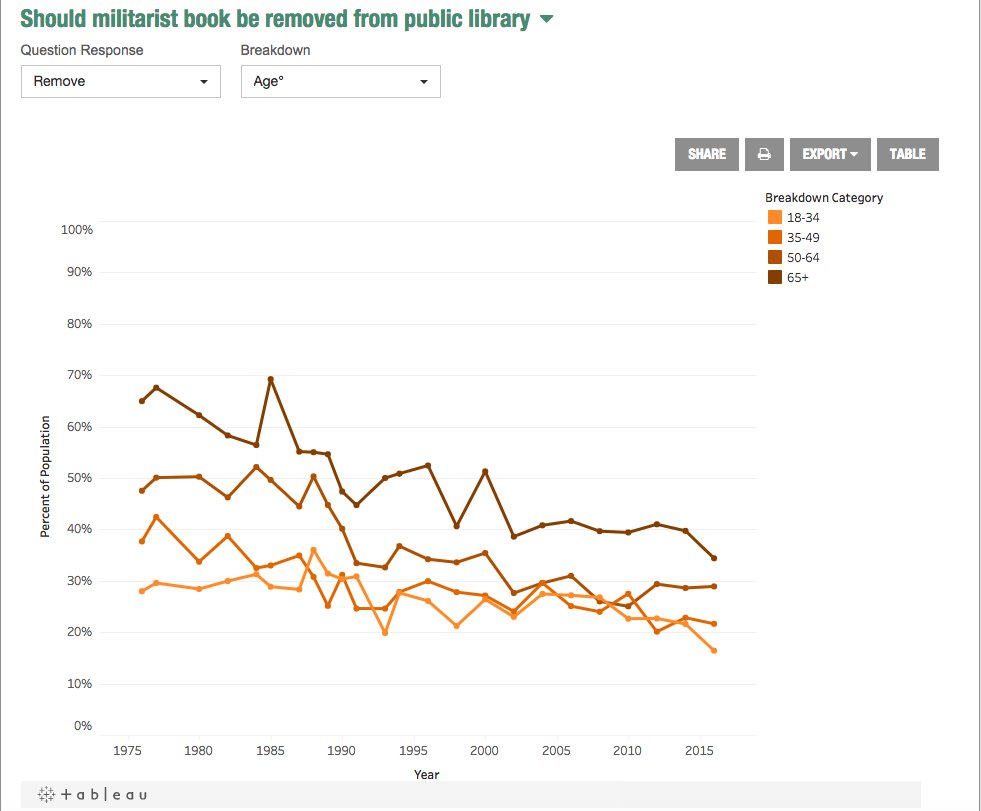 Now there is one important exception: tolerance for racist speech, where the age relationship is reversed. But even then, note that young people are just 4% below the national average -- a far cry from a generational crisis.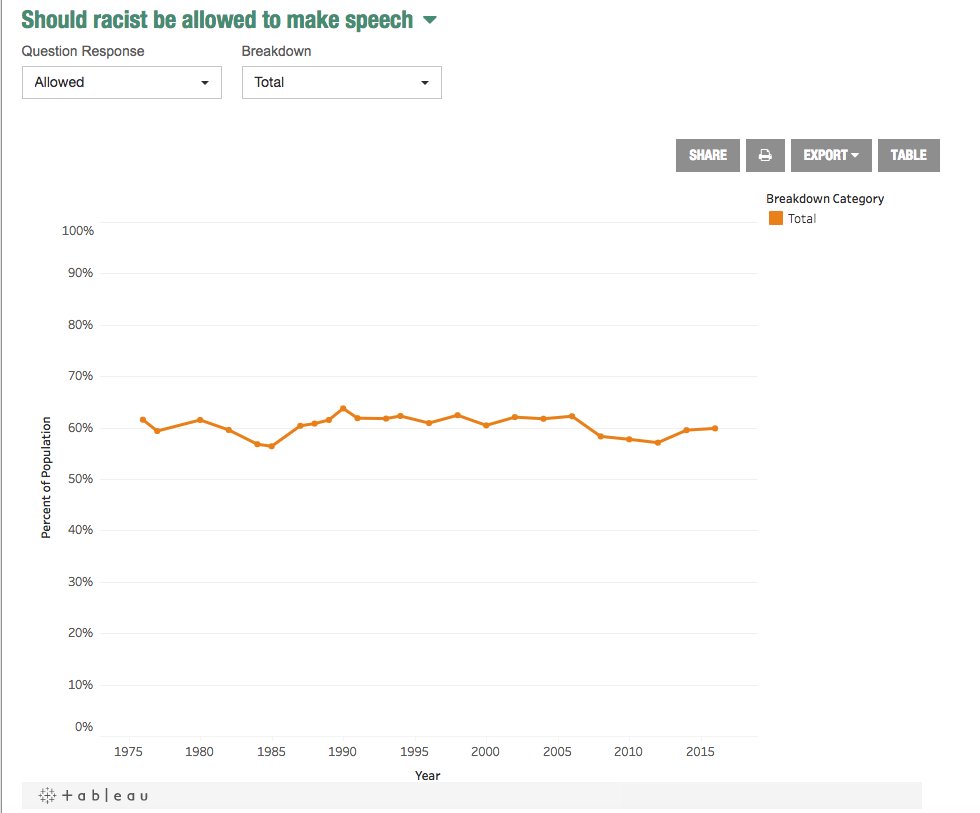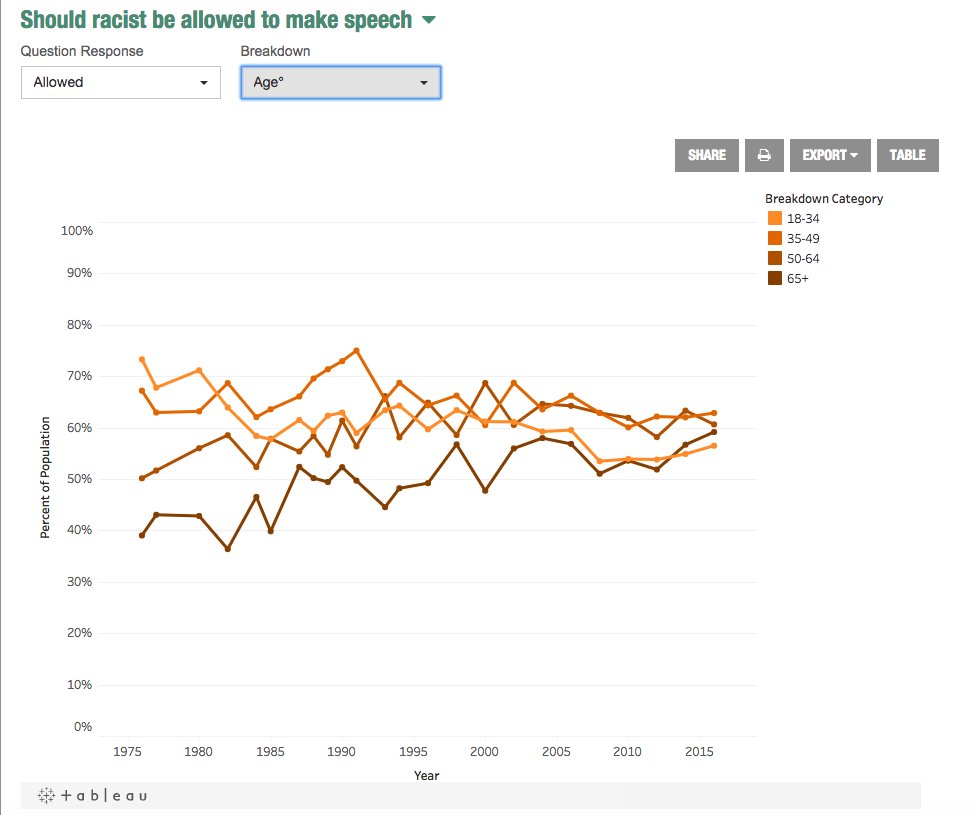 Now, there are two important problems with this data. First, the Stouffer Questions themselves may not be a reliable test for tolerance of offensive speech, for the simple reason that not everyone finds speech by racists or communists offensive. See here:
pages.wustl.edu/files/pages/im…
Second, not everyone between the ages of 18 and 34 is or recently was a university student, so it's not clear that the GSS is sensitive to specific issues related to campus speech.
So let's look closer at college students in particular. This 2016 survey from the Knight Foundation/Newseum is especially useful. "Should universities be open environments that permit offensive speech, or safe ones that forbid it?"
knightfoundation.org/media/uploads/…
College students: "The first one!"
And not only do they support an open environment, they're *more* likely to support one than US adults in general (via additional data from Gallup). Wow, talk about your aged snowflakes!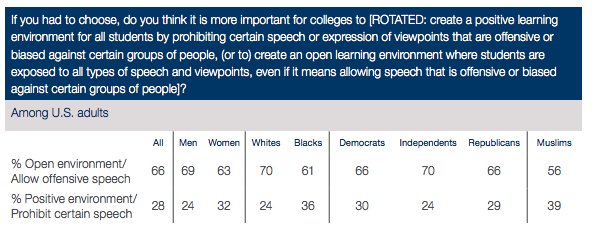 It's not all good news for Free Speech Freakout-skeptics like myself. There's wide variation among students, and greater numbers are willing to support restrictions when faced with concrete scenarios. But I doubt US adults over all would respond very differently.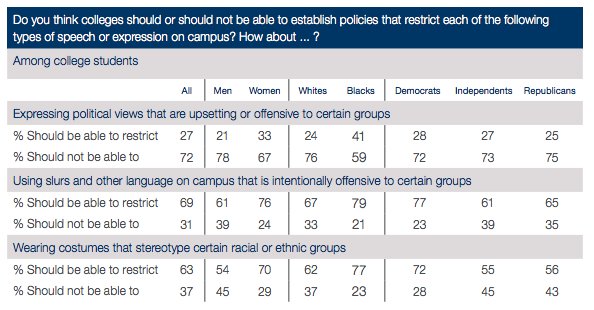 Myth #2: University makes students less tolerant of offensive speech.

Actually, it's the opposite! University makes people MORE tolerant of offensive or opposing viewpoints, not less. Surprised? You probably haven't spoken with many high schoolers lately. They're psychopaths.
But more seriously, here is some headline data from a survey of over 7,000 students at more than 120 US colleges. After one year of college, a plurality of students reported improved attitudes toward other students with opposing political viewpoints.
theconversation.com/does-college-t…


And there's more. According to a massive 2009 UCLA study (the most recent I could find with the comparative data), four years of college makes students *less supportive* of banning racist/sexist speech on campus.
Wow, college is a moderating force!
heri.ucla.edu/PDFs/pubs/Repo…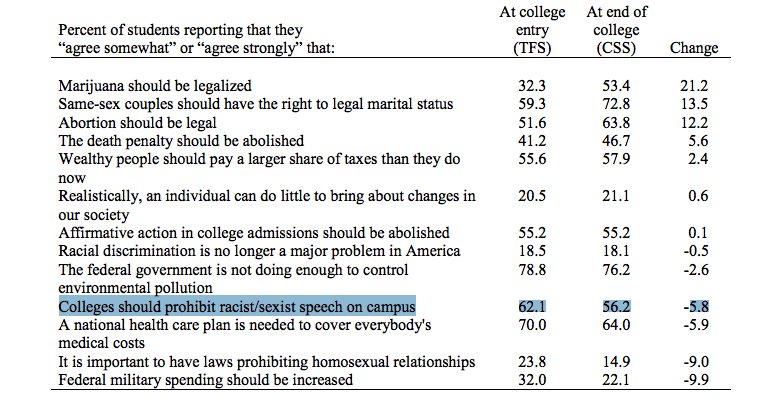 And finally...

Myth #3: Students may tell pollsters that they support free speech, but their actions show otherwise.
FIRE has the goods. Out of a country with 4,700 universities, there were 29 attempts in 2017 to disinvite or block an invited speaker from speaking on campus. Twenty-nine…and most of those attempts failed.
thefire.org/resources/disi…
(Oh, and FIRE reports a strong and steady decline in the number of universities with formal speech codes as well.)
d28htnjz2elwuj.cloudfront.net/wp-content/upl…


Now, some of you may be wondering why, if there is no campus free speech crisis, we keep hearing about one. I have my suspicions, having to do with a mix of false nostalgia, anti-elitism, and the distorting effects of social media. But I want to suggest another reason as well.
Universities only look like unique hotbeds of anti-free speech sentiment because most adults have no idea how much censorship they themselves are subject to. I mean think about it: where do you spend 90% of your time outside of the house?
The point? Well, maybe the reason so many working adults roll their eyes at student outrage over offensive speech is because their employers exert massive private sector coercion to shield them from it. Unlike students, they've forgotten what it's like in the real world.
(Incidentally, this is also why it would be disastrous for the Left to dismiss private sector censorship on the grounds that, because it's not state-based, it doesn't count. That, my friends, is the Private Life of Power.)
coreyrobin.com/2012/03/20/the…
So, quick summary: There is no campus free speech crisis, the kids are all right, those that say otherwise have lost all perspective, and the real crisis may be elsewhere.

But they are still monsters.
[Correction: My summary of data from FIRE is out of date, with more reports probably coming in since Jan. 1st. The current # of dis-invitations for 2017 stands at thirty-five. Mea culpa, and thanks to
@politicalmath
for catching that.]