NEW
#brexitforensics
Government signing series of secret agreements with private sector over Brexit border outcomes/data including for No Deal - Non Disclosure Agreements deemed "extremely unusual" and "paranoid" by Public Accounts Comm chair: FULL STORY
news.sky.com/story/brexit-g…
THREAD:
1.
Several sources who basically operate the currently frictionless border, have attended Brexit Border consultations said they were highly surprised to be asked to sign non-disclosure agreements - some refused saying too much Brexit secrecy
2.
PAC Chair Hillier says while you might get NDAs for commercial contractors, it would be "extremely unusual" to demand them over consultations, says "paranoid" and appear designed to "shackle" criticism.
3.
My understanding is that they cover a two way flow of information - a. the Government needs private data to work out the impact of new border checks, it, by definition, simply does not collect under currently frictionless arrangements...
4.
And also told there is a number of Brexit scenarios set out by Government for these operators to respond to, including No Deal, which gives new detail on border outcomes
5.
This has been requested from the "Border Planning Group" of cross Whitehall officials, which set up a Coordination Group, after ministerial permission, with private sector to test out various Border scenarios
6.
But the requirement to sign NDAs has now spread to a variety of other smaller technical committees, with one industry source telling me "many dozens" of NDAs have been signed, creating a kind of "bizarre secret society" where trade bodies can't even compare notes
7.
In fact I'm told that there are two consultative meetings happening today at HMRC for which attendees have been obliged to sign NDAs
8.
HMRC has responded confirming that, yes, the Government is signing Brexit NDAs "with key delivery partners for the border" and suggested that it is "standard practice for the Government to use NDAs". It did not answer how many have been signed.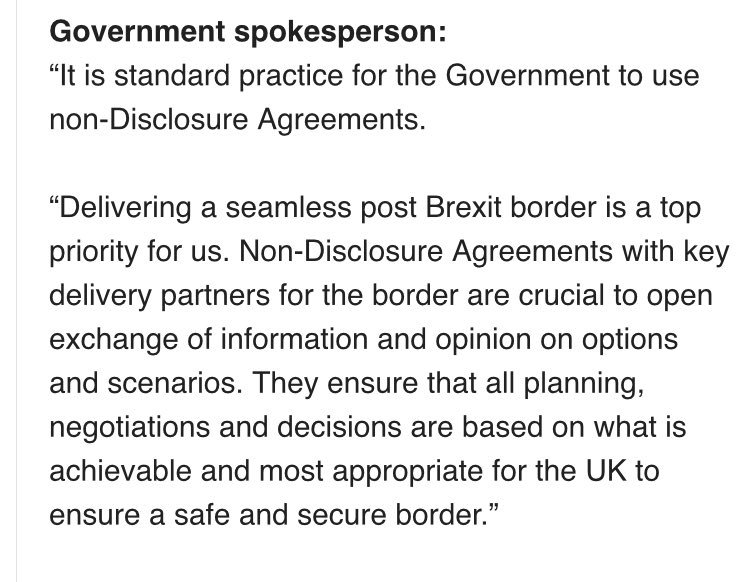 9.
MPs responding to the story, however, such as Chuka Umunna say it is a "shocking and very serious development" and that "MPs must be provided with this information in order to reach an informed view on the Customs and trade Bills"
10.
Official Opposition response from
@PaulBlomfieldMP
"disturbing evidence of a Government obsessed with secrecy and intent on keeping the public in the dark about their plans for Brexit"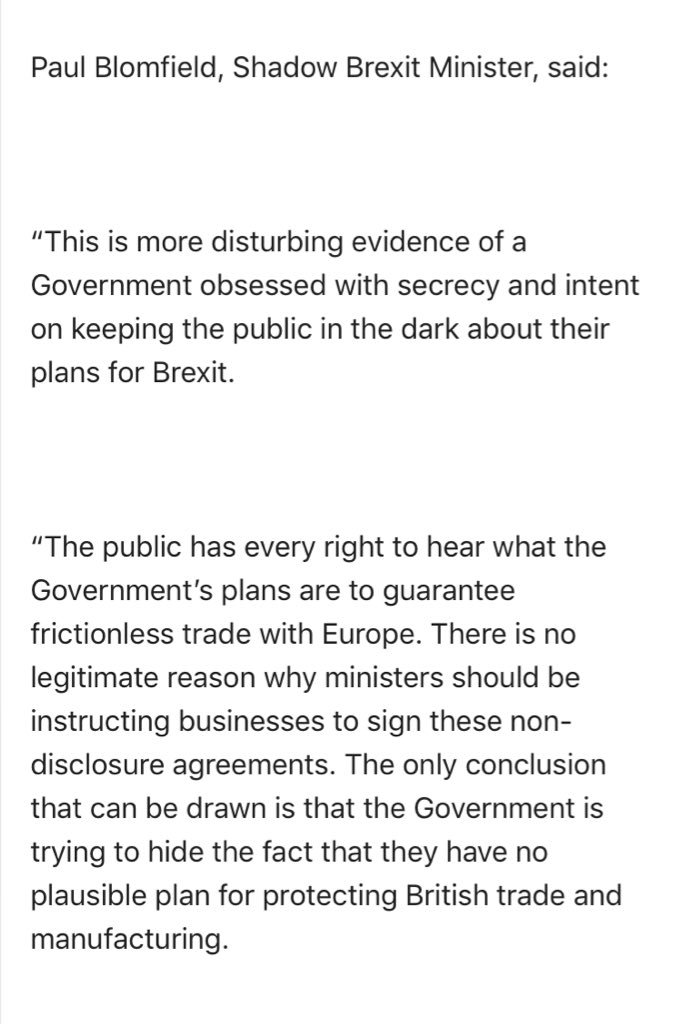 Lastly - private sector chair of Joint Customs Consultative committee on Brexit, Peter MacSwiney, told me: "I don't understand what the secrecy is, I don't know what is causing this paranoia".
Since interview he was asked to sign NDA, and refused, citing Brexit secrecy concerns