This story is absolutely insane. At first glance, you think "well done, Companies House, at last they're getting serious about the epidemic of fraud enabled by the misuse of British corporations".
gov.uk/government/new…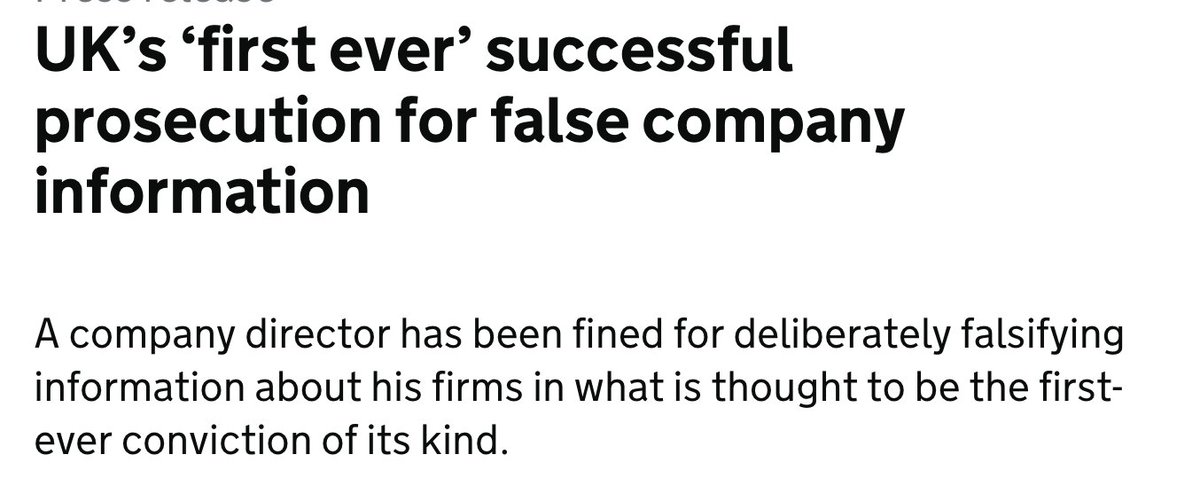 Yay, Business Minister Andrew Griffiths, you think. Finally, someone is bothering to check the bona fides of the 700,000 or so new companies created each year in the UK.


And then, you think, hang on a second, what kind of lunatic would commit this crime? Why on earth would they create companies and make government ministers directors of them without their knowledge?


So, you google the lunatic, and you find this. Kevin Brewer was fed up with the epidemic of fraud and created a company with the business secretary as director to illustrate how easy it was to make stuff up and put it on the companies register.
mirror.co.uk/news/uk-news/f…


And how did the great investigative sleuths of Companies House discover he'd done it? Because he told them, and the Daily Mirror wrote about it.


So, a summary: the UK enables a global fraud epidemic by registering companies without any checks. Man exposes this, by creating a daft company and telling the press. Companies House prosecutes him (5 years later!?), and issues a boastful press release. This is a disgrace.
Dear Companies House, if you're reading this, please look into the fraudulent misuse of limited partnerships, which have helped conceal the laundering of billions of pounds, instead of prosecuting an imaginative activist and leaving him 12,000 pounds poorer? /ends
Here's a smart column from
@RichardOsborne
on this farce.
cityam.com/283377/governm…
(Thanks to
@ncsmiff
for alerting me to this whole thing btw, any journalists who wants companies info, he's your man.)


I didn't expect a slightly nerdy thread on company formations to be this popular. If you're interested in the theme, this report by
@TIUK_Press
is a very good explanation of why UK companies are such a problem.
transparency.org.uk/publications/h…