Some thoughts having watched the Comey interview with George Stephanopoulos last night.
Let's start by giving Comey his due and look at his premise for writing this book: Leadership.
It's in the title of the book and he uses it 21 times throughout the interview. He tells George Stephanopoulos that he plans to spend his time going forward giving lectures on leadership.
Comey likes to quote figures from American history to make a point. Here's one he might have seen:
President Eisenhower once said that "The supreme quality for leadership is unquestionably integrity."
Integrity is defined as "the quality of being honest and having strong moral principles"
Yet, when questioned about the past, Comey resorts to his folksy, matter-of-fact posture that allows any questions that might have provided some clarity to slide right off of him.
Comey used the word "maybe" 37 times in the interview. 8 of them were in one answer. For a lawyer and law enforcement professional at the highest levels, it's a curious tactic, but useful when talking to press, allowing him to avoid having to be to definitive about anything.
"Maybe" he should have just spoken to Lynch about his concerns of bias instead of holding a press conference.
"Maybe" he should have stood up to Trump instead of offering him "honest loyalty."
So along those same lines, I'd posit that "maybe" James Comey has nothing against Hillary Clinton.
"Maybe" he isn't still smarting after wasting enormous time and taxpayer dollars investigating Whitewater in the 1990s only to find nothing.
"Maybe" this has nothing to do with the fact that she didn't take him up on a request for a meeting when she was Senator and he was a US Attorney in New York.
And "maybe" he didn't need to investigate the case for all those months leading Americans to believe Hillary Clinton had done something wrong when, as he says himself, he looked at 50 years of cases and from the start knew there was nothing to prosecute.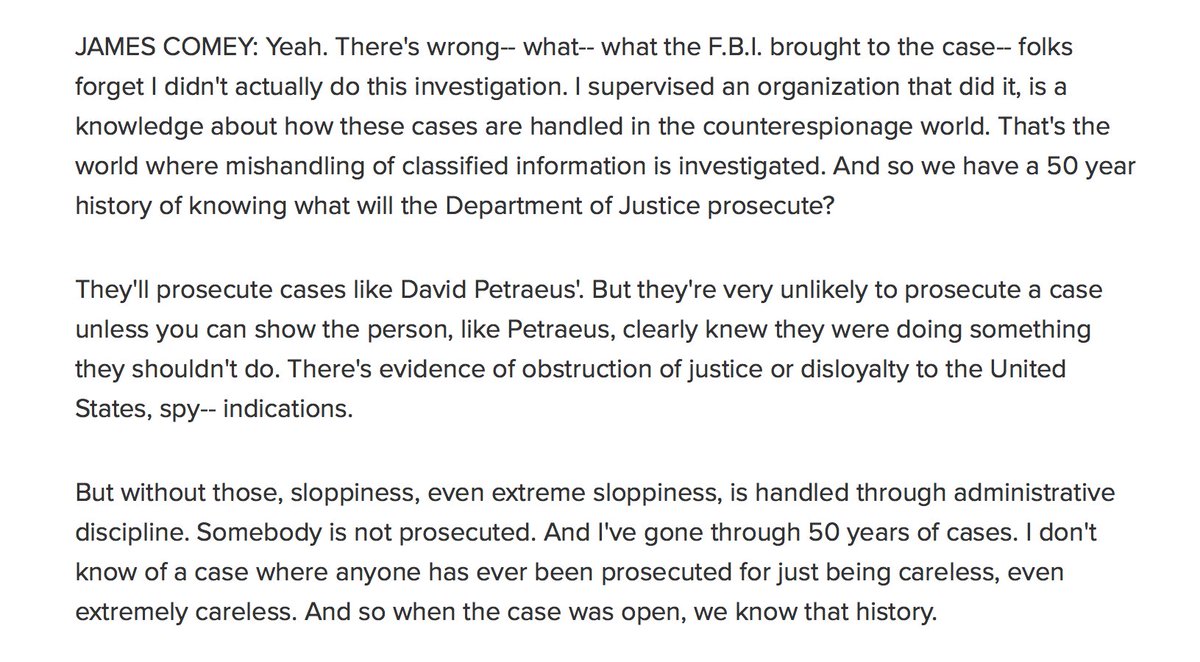 Lots of maybes.
Here are some certainties, discrepancies, and questions.
Comey said last night that there were hundreds of thousands of Hillary Clinton emails on the server. He said it in his Congressional testimony, it was wrong, and the record had to be corrected. Yet he asserted it again.
This is from ProPublica: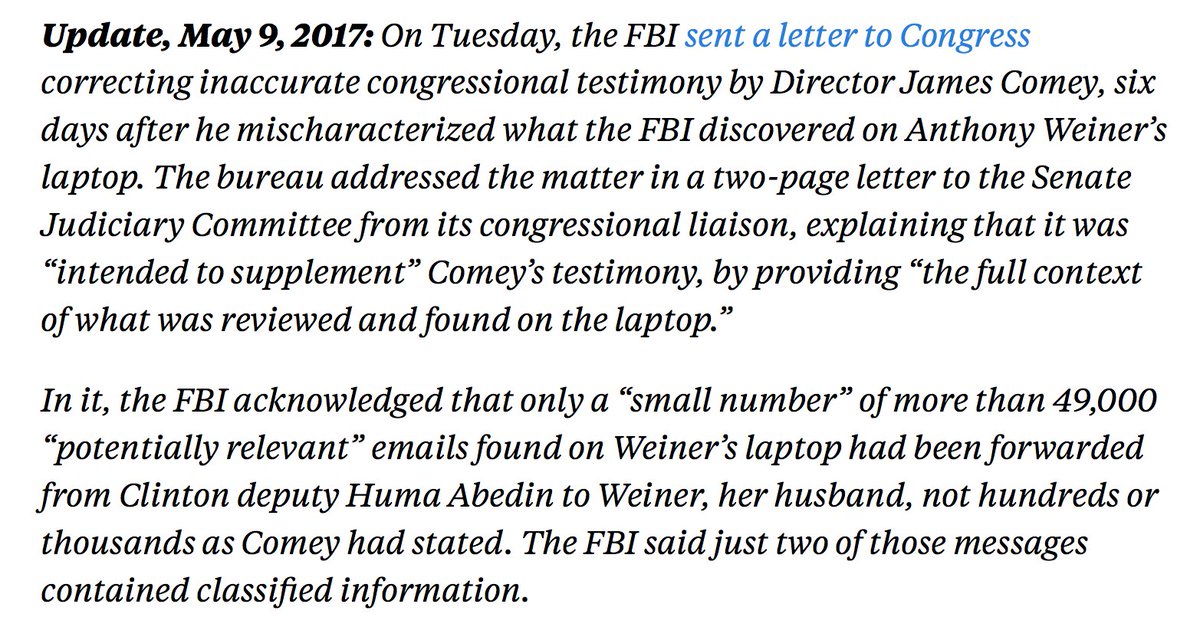 Comey says in the book that he can't discuss one of the reasons he held the press conference because "the source and content of that material remains classified as I write this."
But in the interview tonight he admits that this classified information was in fact Russian-manufactured fake emails that falsely made it look like AG Lynch was keeping the Clinton Campaign in the loop.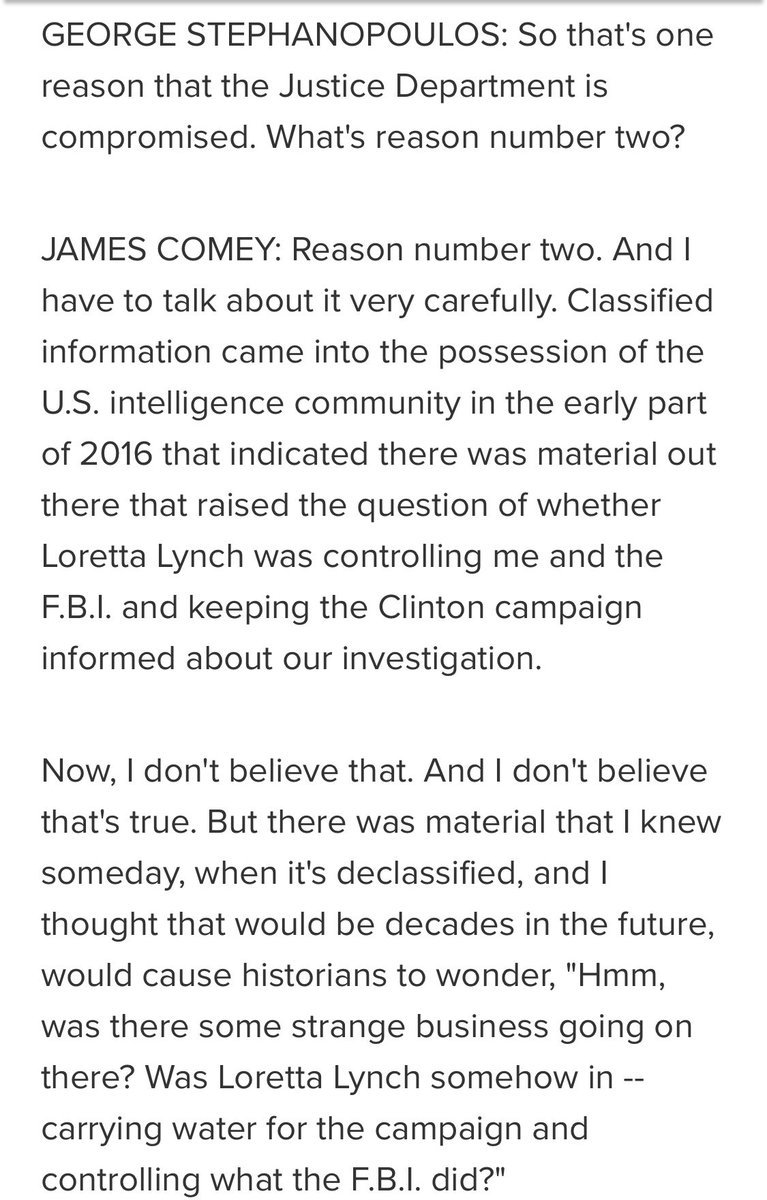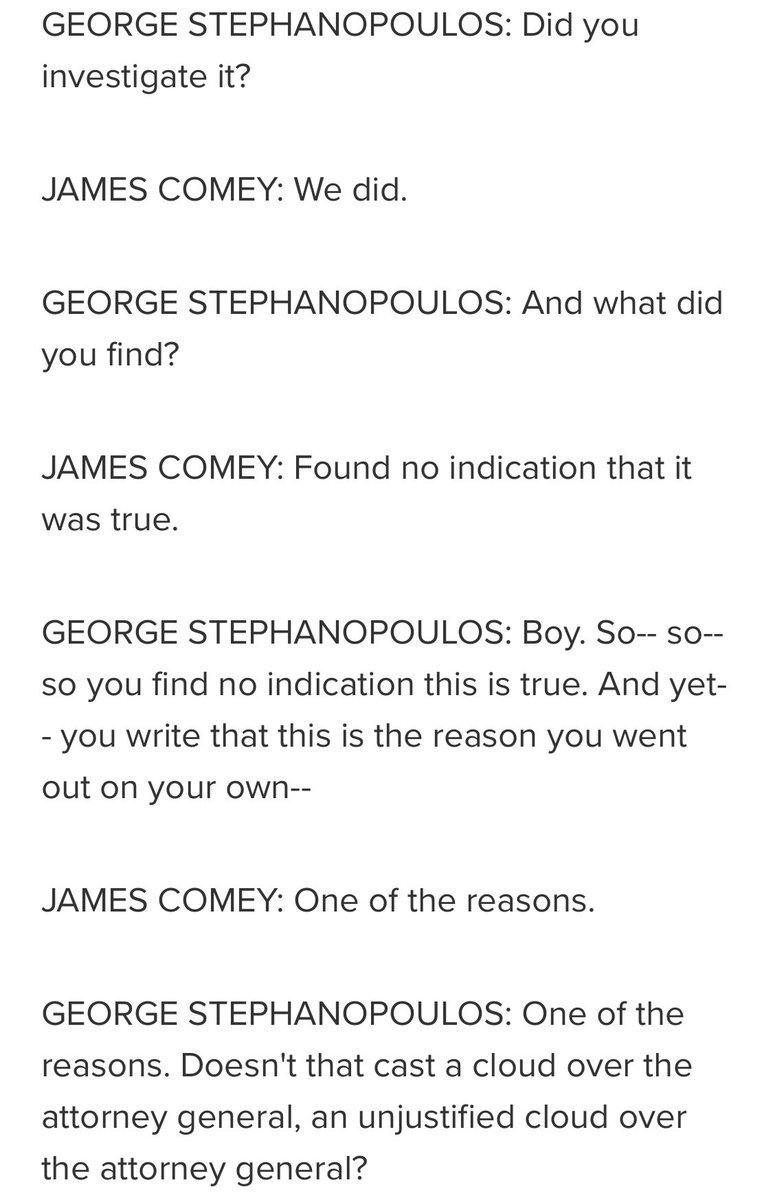 Setting aside the questions of why if he says it's classified in the book he can suddenly talk about, the idea that people might believe a Russian disinformation campaign is a preposterous argument for why it made more sense to break with DOJ policy and hold a press conference.
He was asked tonight why if he thought AG Lynch was compromised he didn't just go to her deputy, Sally Yates. Yates has an impeccable reputation.
This wasn't just another option, this was the obvious next step if you are trying to act without bias and within Department protocols. He couldn't answer the question.


He made a public spectacle of the conclusion of the email investigation, breaking with Department norms, calling into question the integrity of the process. It did nothing to quiet the Trump campaign from accusing the FBI of bias & did everything to make Americans feel uneasy.
Last night Comey said of the October 28th letter that he notified Congress (something he was not in fact obligated to do) because he thought Hillary Clinton was winning.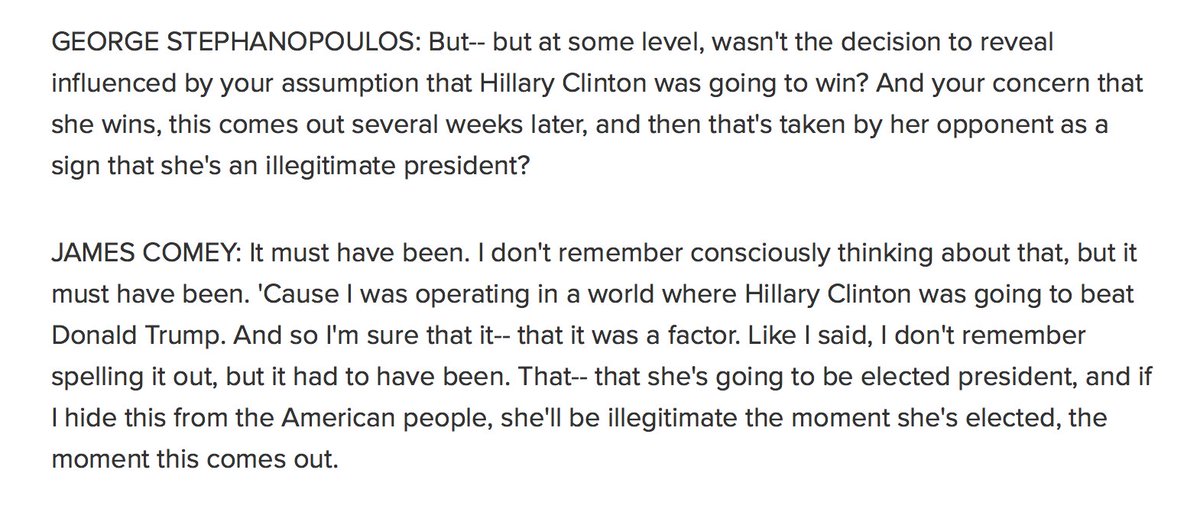 Yet he also says in the interview that a when a DOJ official raised concerns that his actions in October could elect Trump, that considering anyone's political fortunes would be the end of the FBI and DOJ's reputations.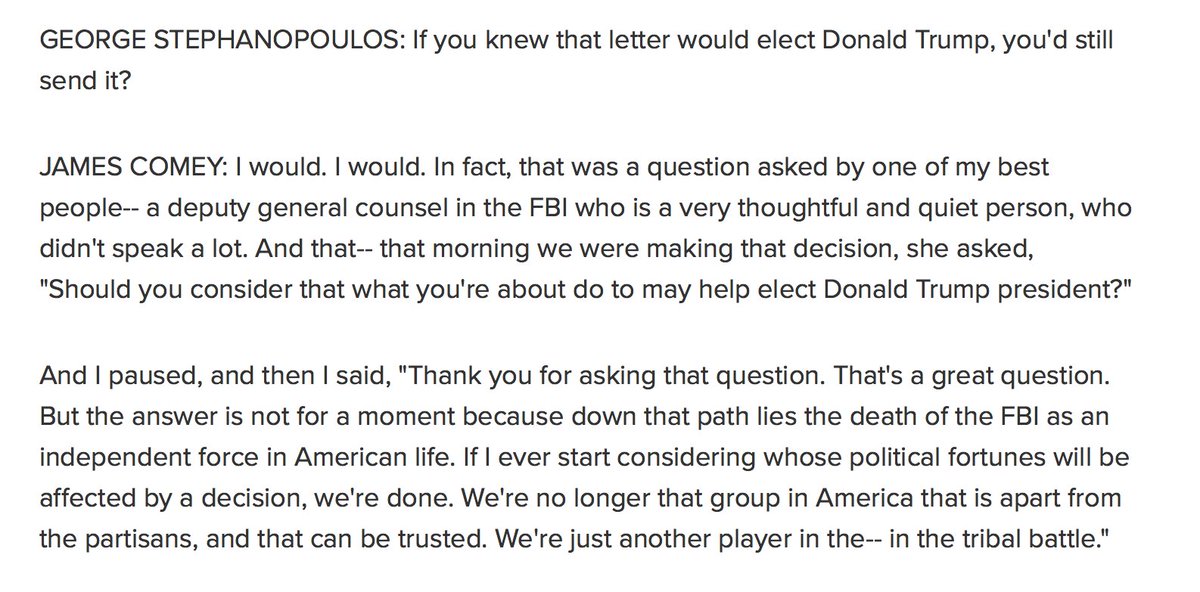 These are damningly contradictory statements. The FBI's reputation is worse than it has been in decades, maybe ever. He was correct in his prediction. The difference seems to be that he didn't think acting against Hillary Clinton would change her "political fortune."
More broadly, why did he sit on the information for so long, until right before the election? The New Yorker reports that he knew weeks earlier, but he claimed last night that he didn't know until October 27th.
newyorker.com/news/news-desk…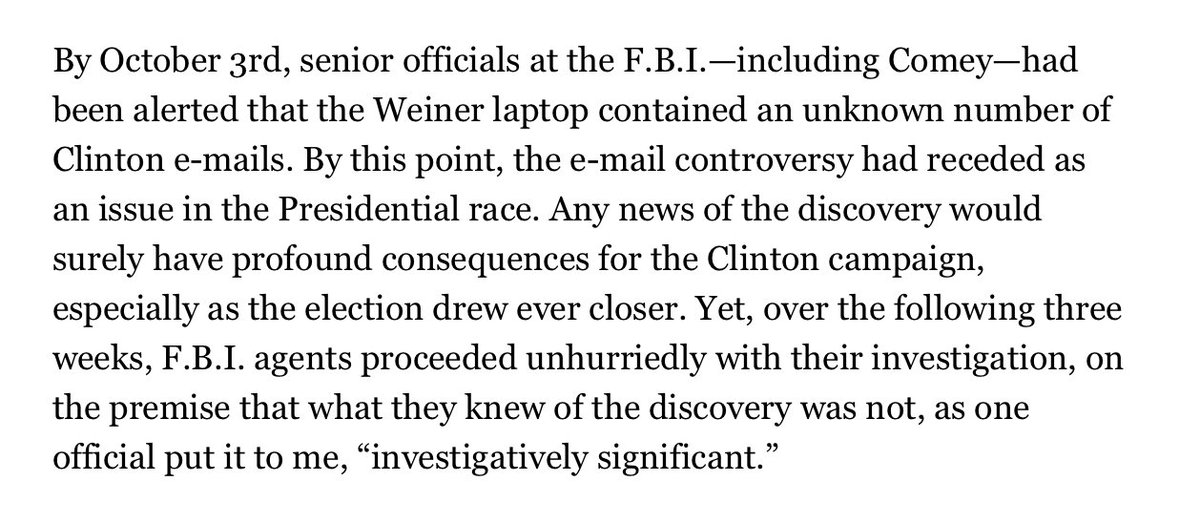 He leaves wiggle room, claiming that it's possible someone may have "mentioned" something to him earlier. Seems like something you wouldn't forget, especially for a guy that recalls his every conversation with Trump verbatim.
Why didn't he just ask Anthony Weiner's lawyers for permission to review the emails on his laptop? That would have avoided having to obtain a warrant, and gotten everyone to the determination that they were duplicative and changed nothing, much earlier.
As for who he sent the letter to, he was guaranteeing a leak by notifying Jason Chaffetz and his band of blood thirsty GOP committeemen on October 28th. He knew that not only would they leak the letter but they would do so in as politicized a way as possible.
As Walter Shaub points out, why didn't he note in the letter that Trump was under investigation?

That would have given Chaffetz pause, & it would have been a fair solution if you buy into his premise that the American people had a right to know certain things about ongoing investigations. So "maybe" the options were not simply "speak or conceal," as he famously put it.
None of this adds up. And writing about it now is going to do no favors for the FBI & DOJ, currently in the fight of their lives trying to repair the damage to their reputation.
It's given Trump license to bully and misinform and further try to save himself by sullying the reputations of those who are trying to find out exactly how deep his relationship with a foreign adversary goes.
At the end of the day, Hillary Clinton used her own email address. No laws were broken, no one was hurt, our national security wasn't threatened. It was a a dumb mistake and a far dumber scandal, as she herself has said many times.
It was a mistake that has been made before (See: Colin Powell) and is being made again as we speak (See: Jared Kushner, Scott Pruitt, Entire White House, to name a few).
techcrunch.com/2018/04/04/whi…
Did you hear Comey talk once tonight about his grave concern for the lack of attention paid to email policies for government officials? No.
And while we're here, have you heard a drumbeat from the likes of Chuck Grassley, Trey Gowdy, Jim Jordan, anyone on FOX news, or anyone else anywhere to fix the problem as it continues at an exponential level in this administration? No.
So here we are. With more questions than when we started and fewer answers. Just 37 maybes and reopened wounds and every sign that hubris won the day and put the most self-involved, destructive leader the U.S. has ever known into the Oval Office.
Yes, being "extremely careless" is not a crime. But carelessness can be destructive. With emails, it was the revelation that HRC doesn't know how to use her DVR & some paper wasted from "Pls Print" requests. In the case of Comey, it was the arc of American history.
If this critique feels at all unfair, go take a look at the parsing and breathlessness over emails.
Another quote for the man who loves quotes:
"We should not look back unless it is to derive useful lessons from past errors, and for the purpose of profiting by dearly bought experience." -George Washington
Profiting indeed. 850,000 copies of his book have been printed and will likely sell, with scores of paid speeches on leadership that will accompany that.
But yes, Hillary Clinton is the one that should go away.