Just got a report that the immigrant men detained at Sheridan Federal Prison just across the fence from us are able to hear and see those of us gathered in the park, as we rally to support them. ❤️
At the end of the vigil, we all turned toward the prison where we were told the detainees were, and sang "This Land Is Your Land." We also shouted as one, "¡Estamos con Ustedes!"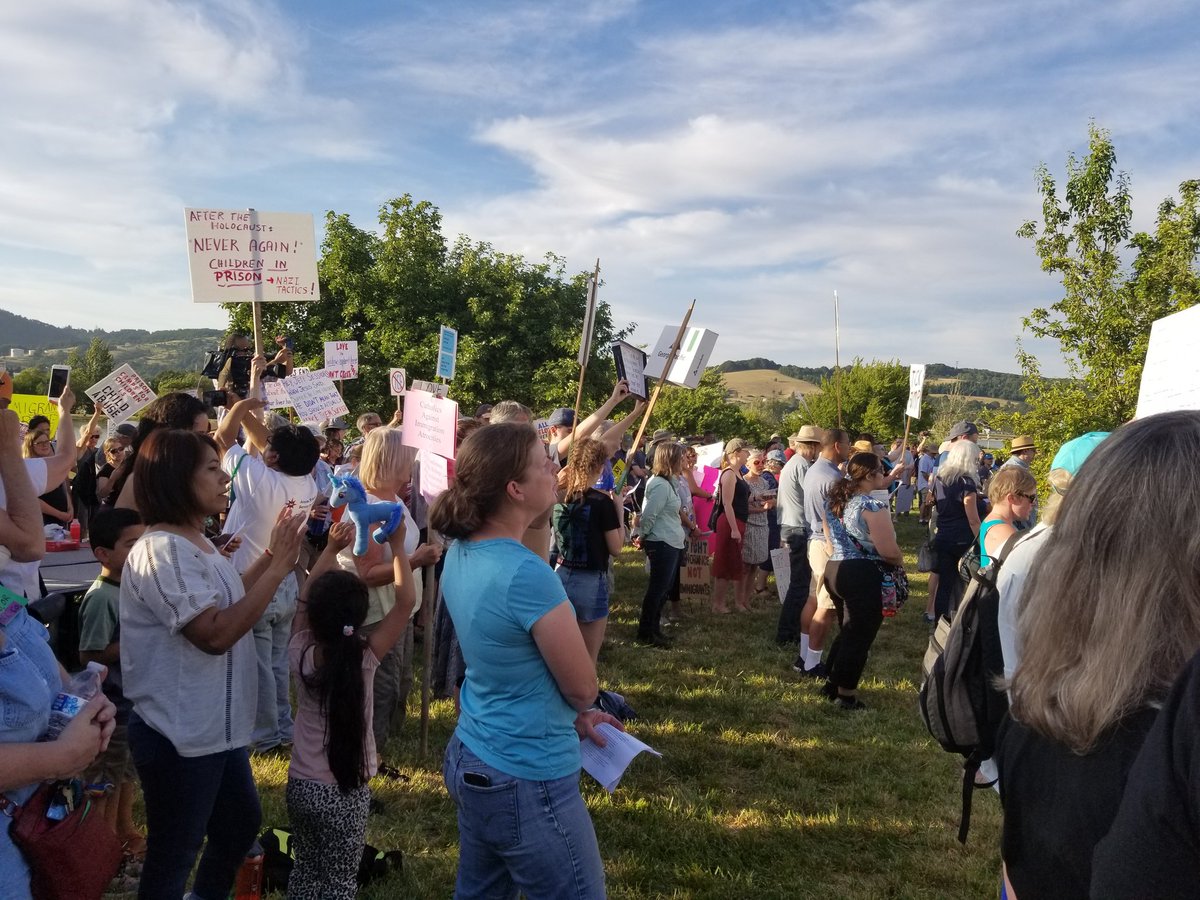 The building where detainees reportedly are. You can see a guard outside.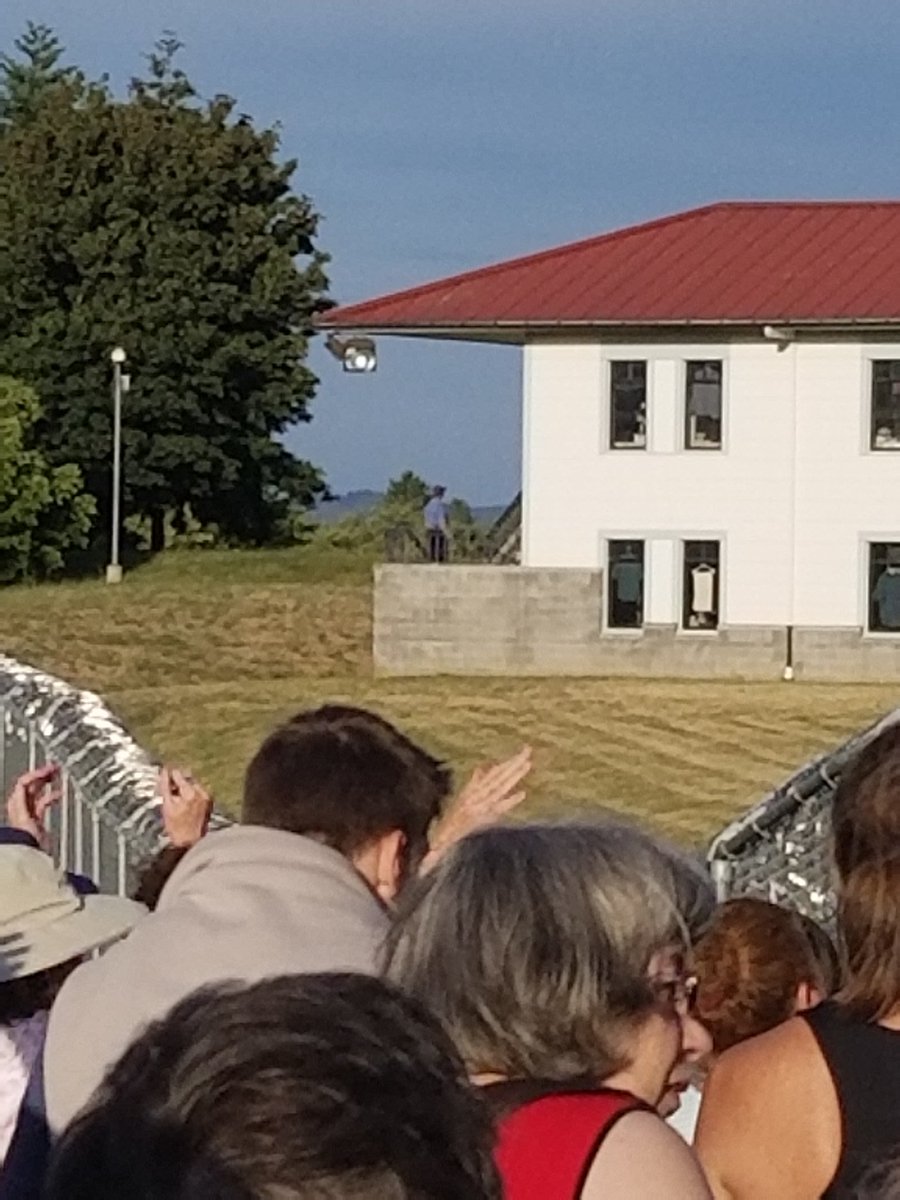 Sign held by a child, I'm guessing around 9-10 years old. I loved this one. Many counties from around Western Oregon were represented.
#FamiliesBelongTogether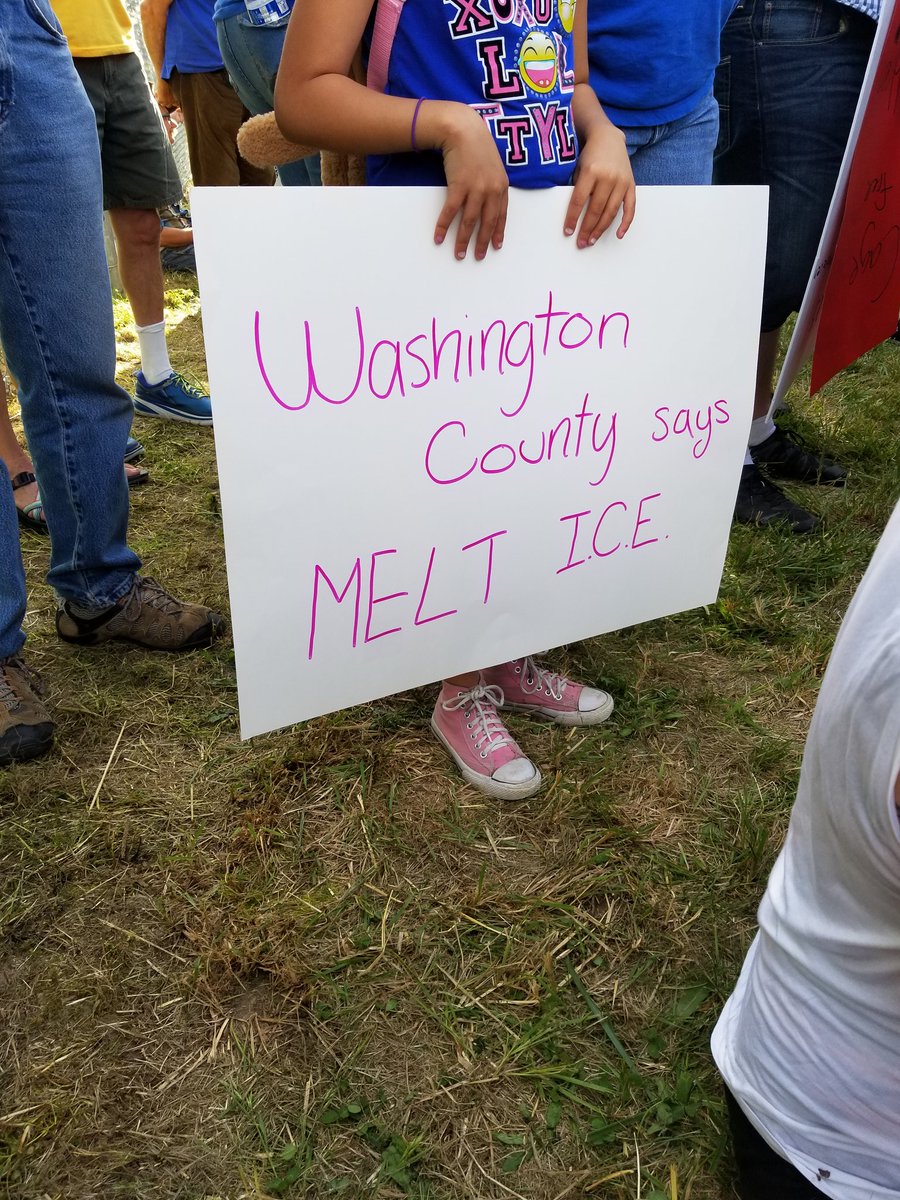 I posted this earlier, but I think it's a powerful image. The vigil was held in Sheridan Park, just a few feet away from a children's playground, but it runs right up again the prison's outer fence, topped with barbed & cyclone wire.
#ReuniteTheFamilies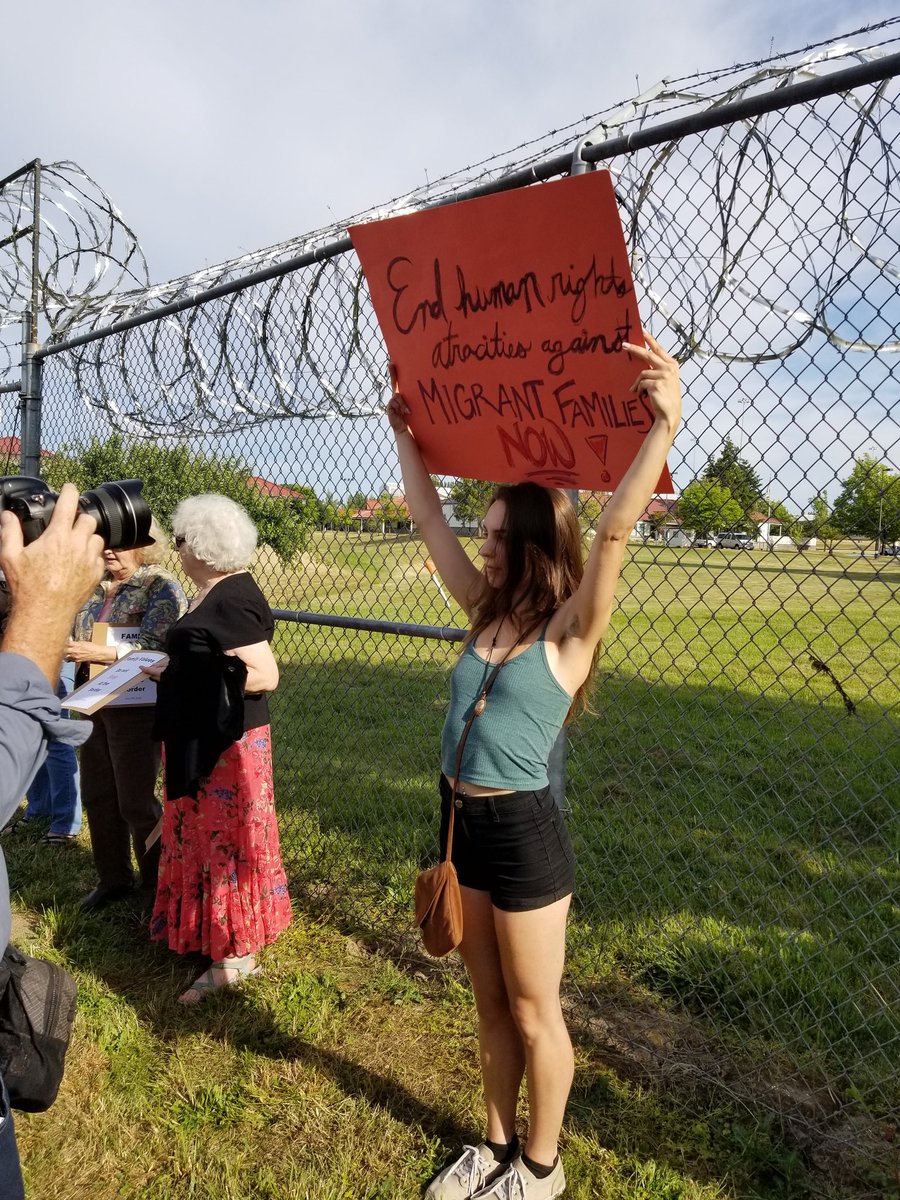 About 4-5 prison guards and staff watched from the other side of the fence for much of the vigil. One of them filmed it for a while with his phone.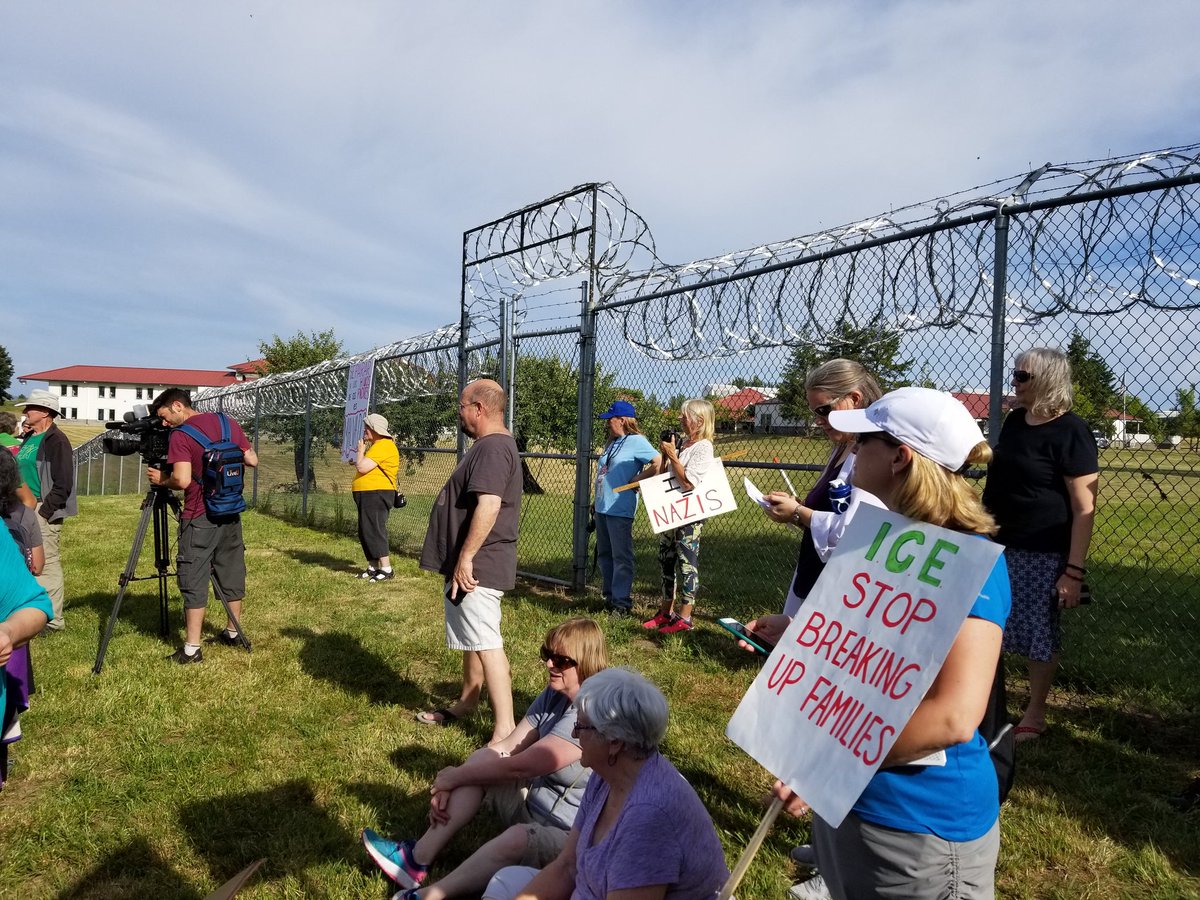 One of the organizing groups of the vigil was the Interfaith Movement for Immigrant Justice. Many clergy of different faiths were there, and several spoke or led prayers, songs, rituals, or litanies.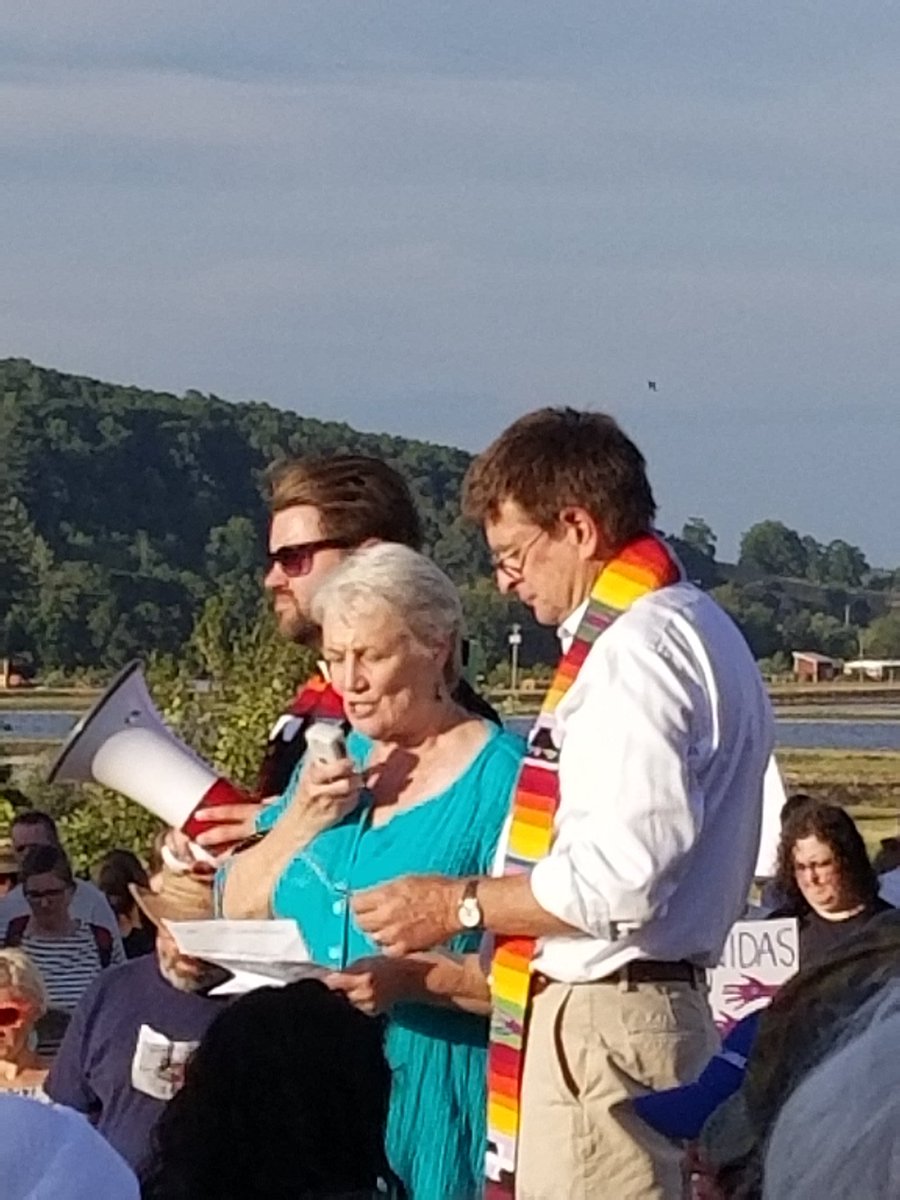 As we left the vigil and made the half-mile trek back to parking, this truck drove past us a few times, with two guys in the pick up bed waving Trump signs and shouting, "Trump loves you! Trump loves everyone!"
Just a little surreal. At least they weren't hurling insults?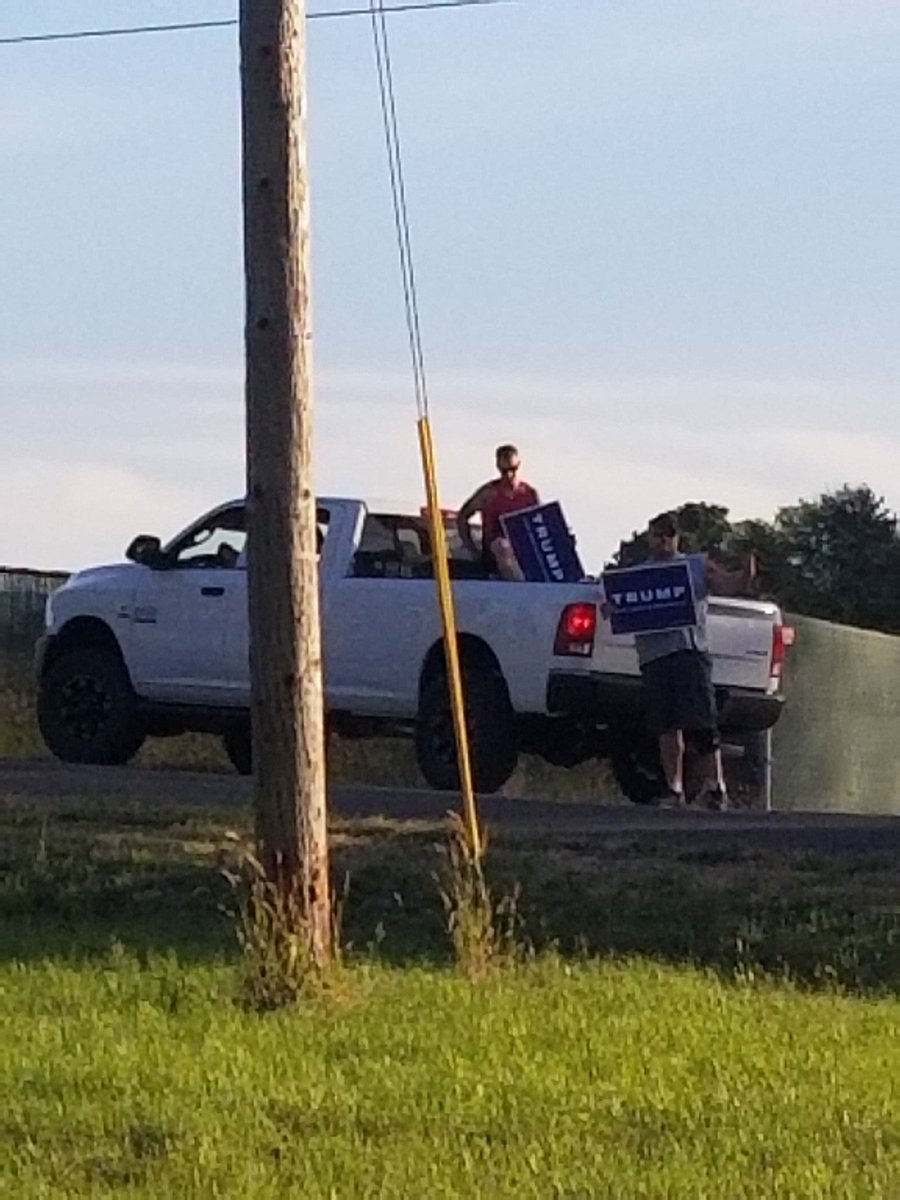 Some lovely locals in a REALLY lovely '67 VW Bug were giving out free water and Kool aid, which was nice, since it got pretty warm out this evening.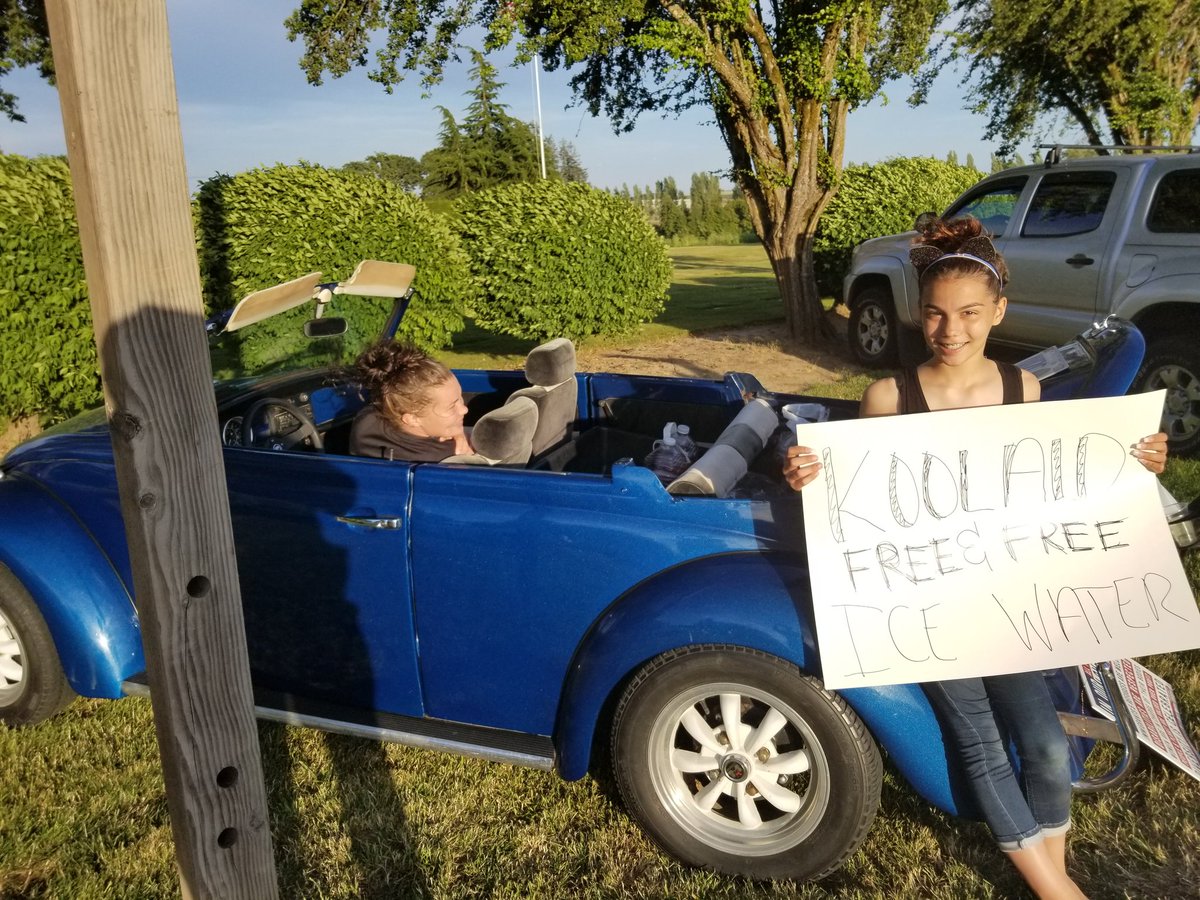 This is such a quintessentially Oregonian thing to see - umbrellas + activism.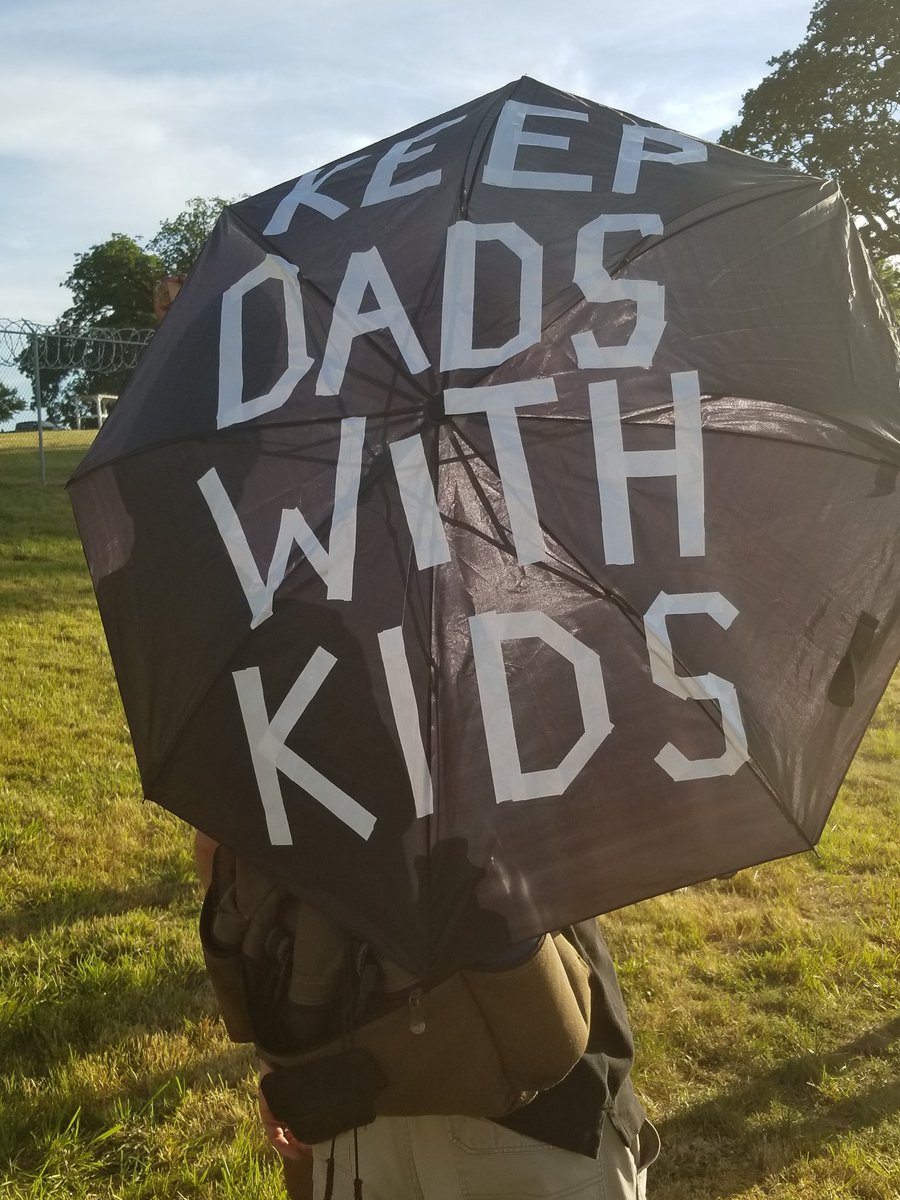 One thing that bugs me is that so many photos I see of adorable, innocent children are blond and blue-eyed. I'd like to see more photos of brown children; after all, they need to be just as loved and valued. Dehumanizing brown people is how we got here.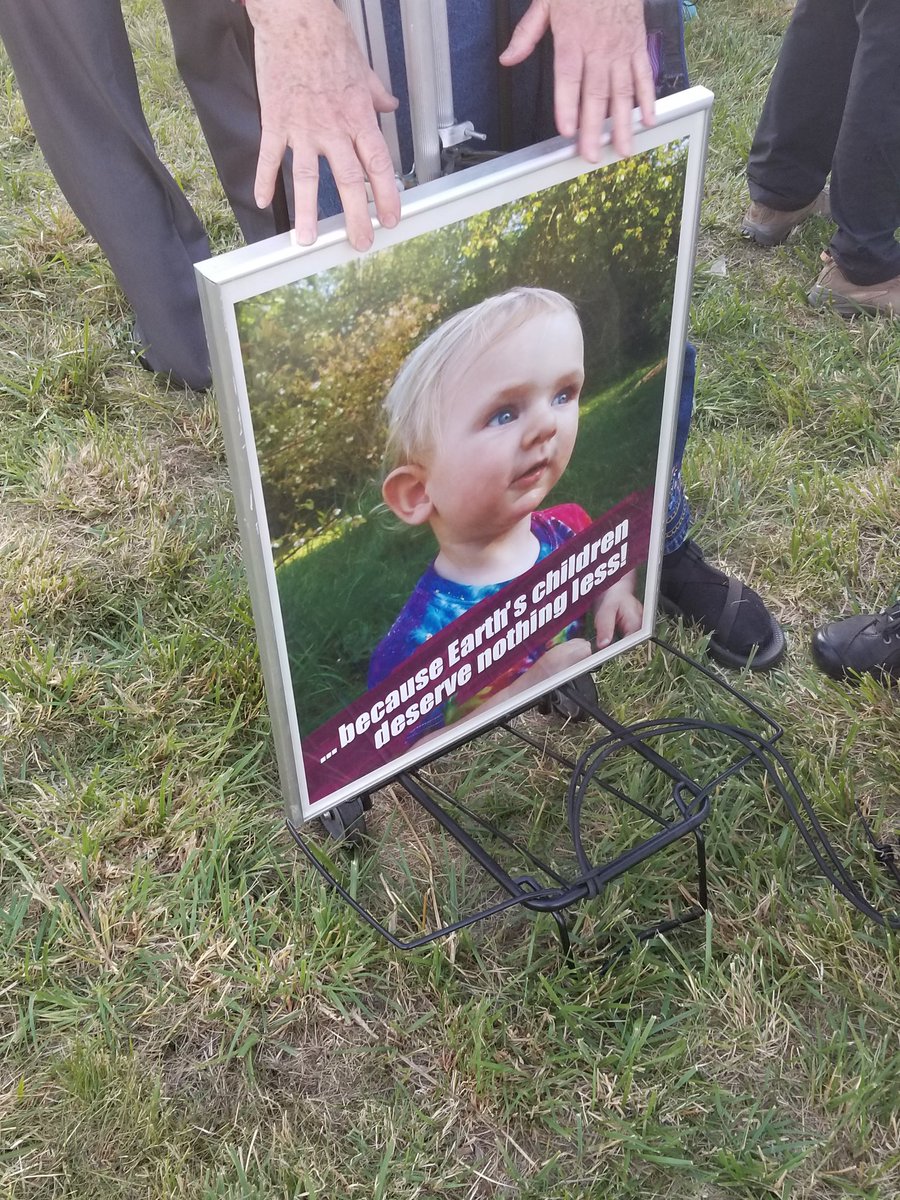 Calling out to the detainees.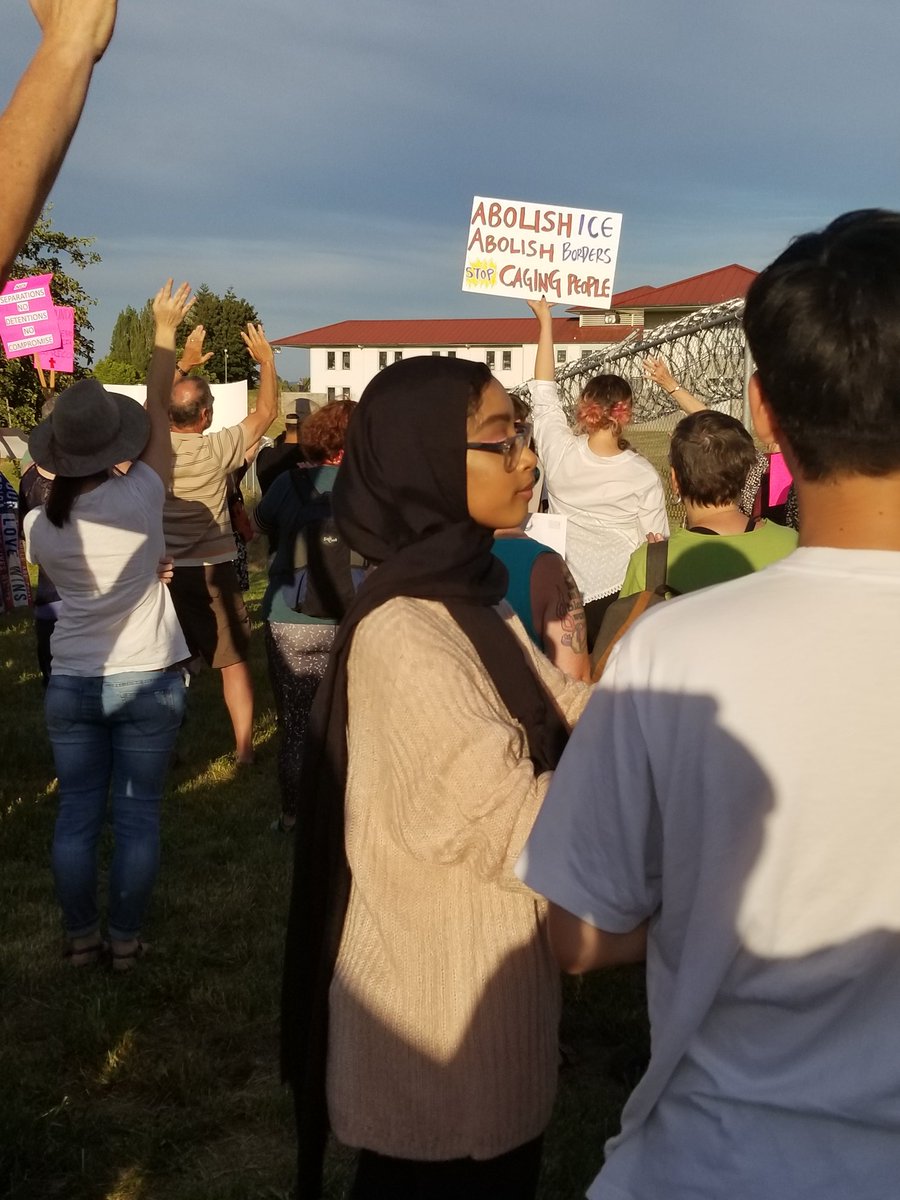 Singing before the official beginning of the vigil.
A pretty memorable sign.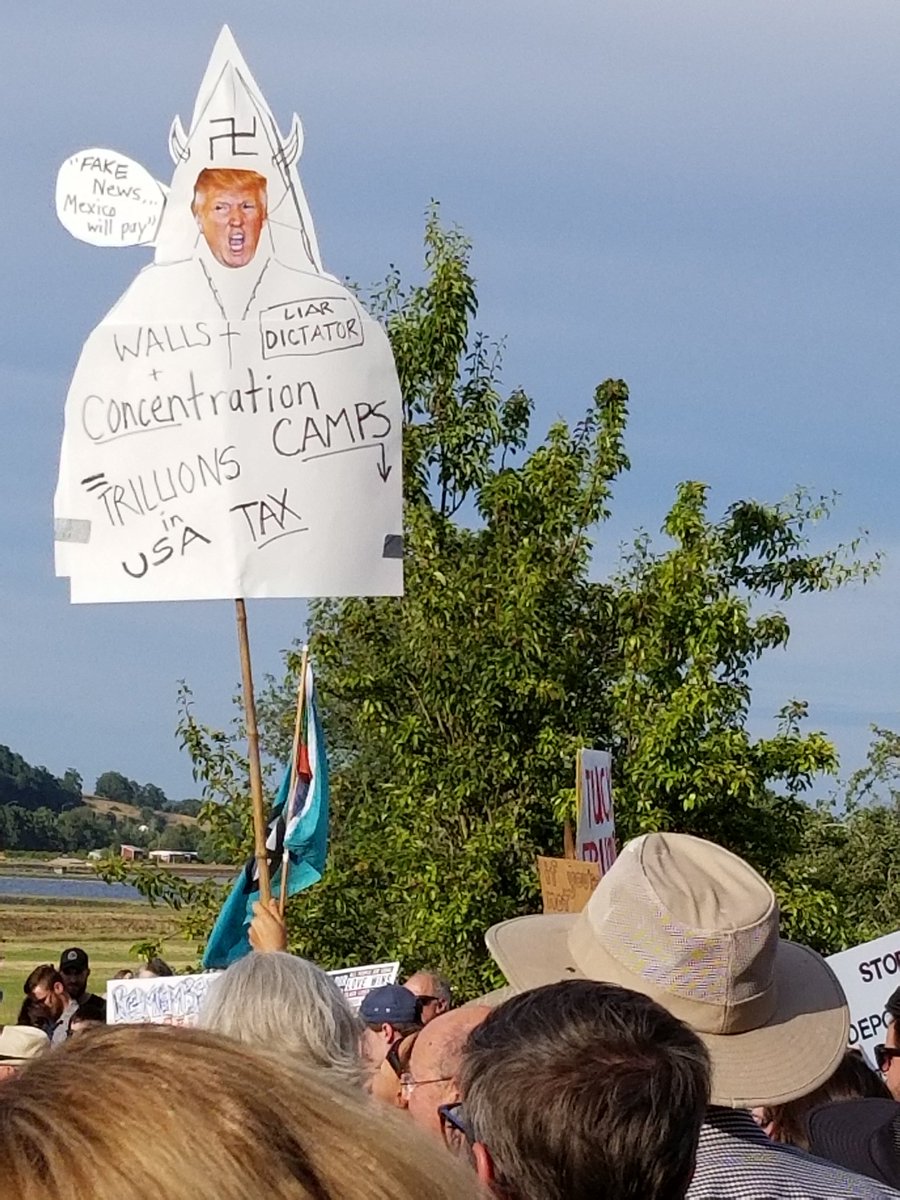 Lots of children at this event. Some read letters to the detained immigrants. Letters were also collected to be delivered to the prison, and were prayed over.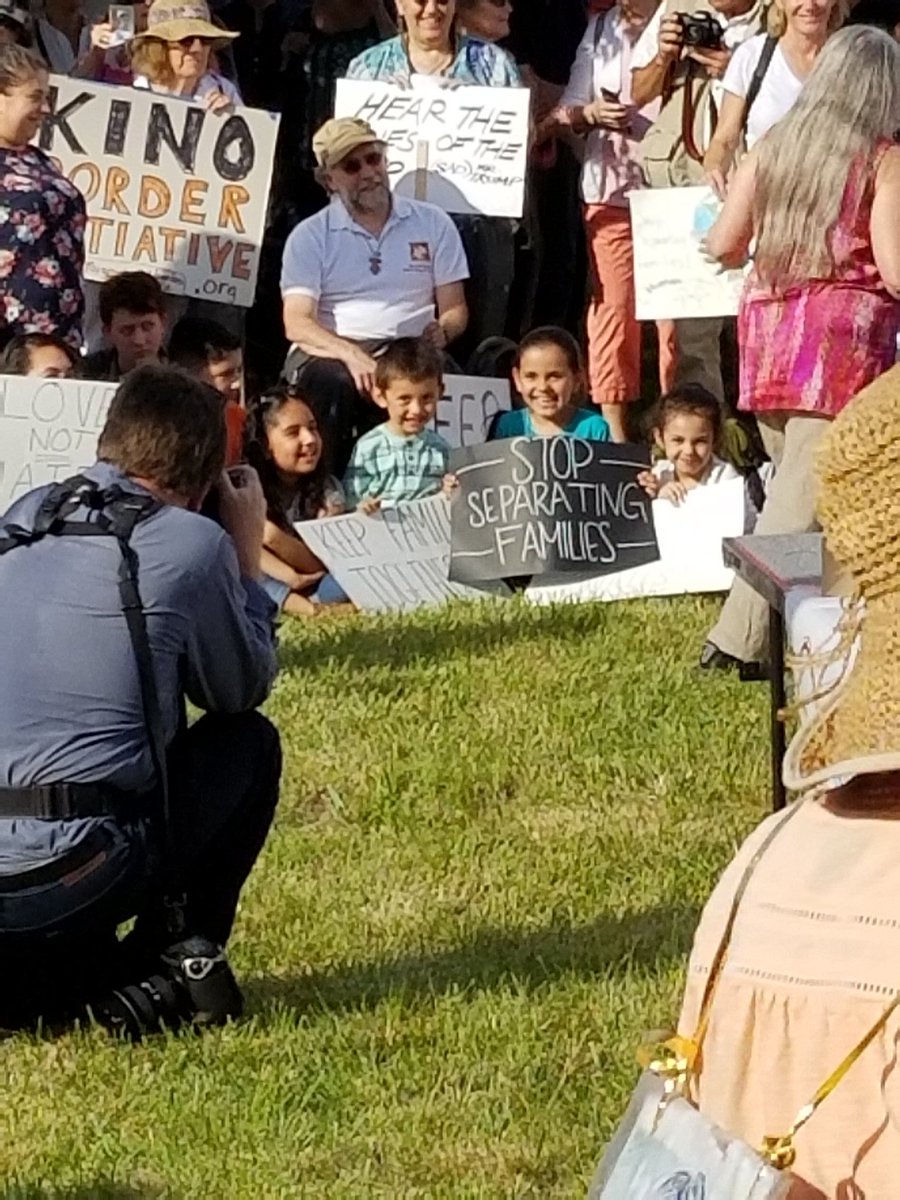 One of the event organizers, explaining the event's Code of Conduct. It was printed in programs that were handed out: "In traveling to and taking part of the vigil in Sheridan, in support of the 123 detained immigrant men at Sheridan FCI, I pledge to adhere to the following..."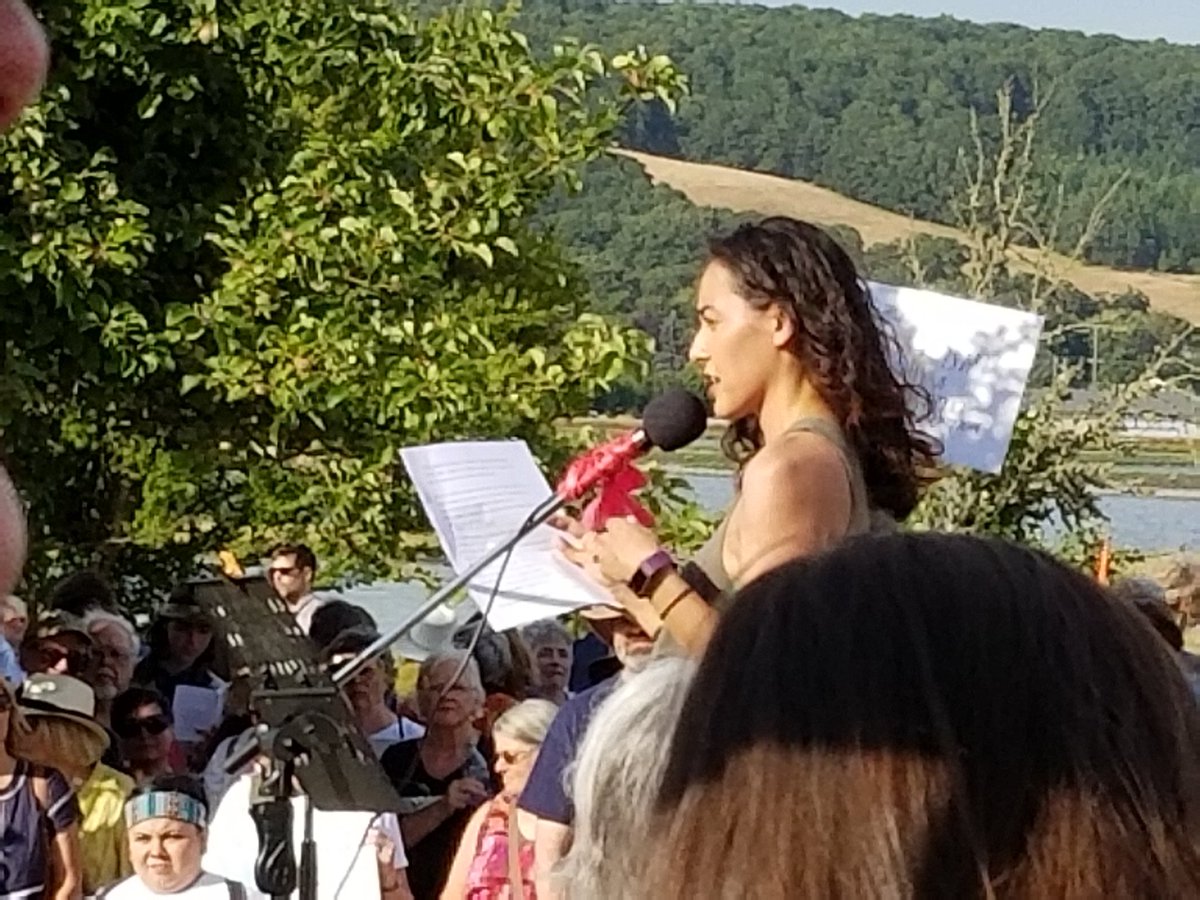 "I will not speak to reporters or otherwise represent actions or groups in the coalition of organizations that sponsor the vigil event. If approached by reporters of any kind, I will work to connect them with appointed spokespeople." There were quite a few news cameras.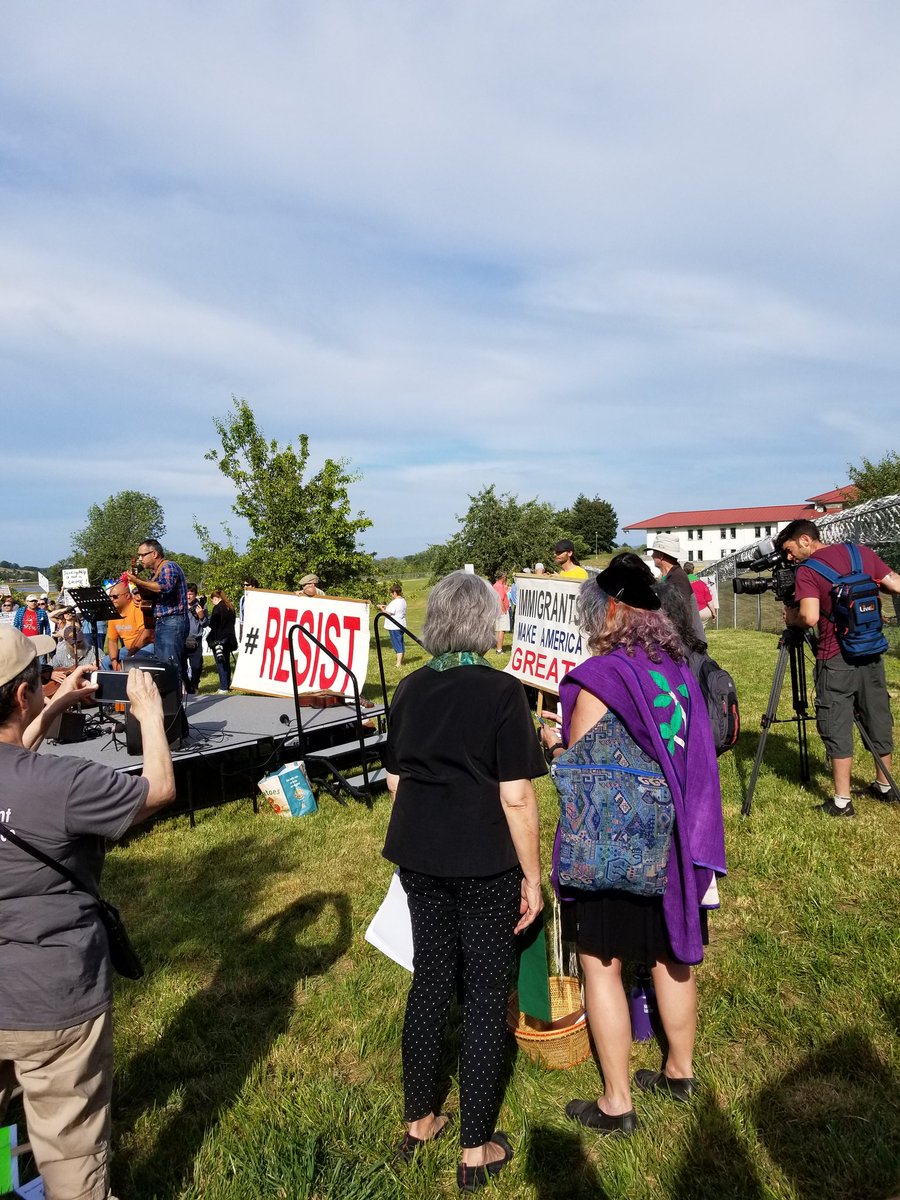 "I will take care to cede space, whether it's change leading, front row at the vigil, or seats on a transport, to immigrant community members whenever possible, and I'll work to ensure folks around me so the same." 👍🏿👍🏾👍🏽👍🏼👍🏻 I whole-heartedly approve of this.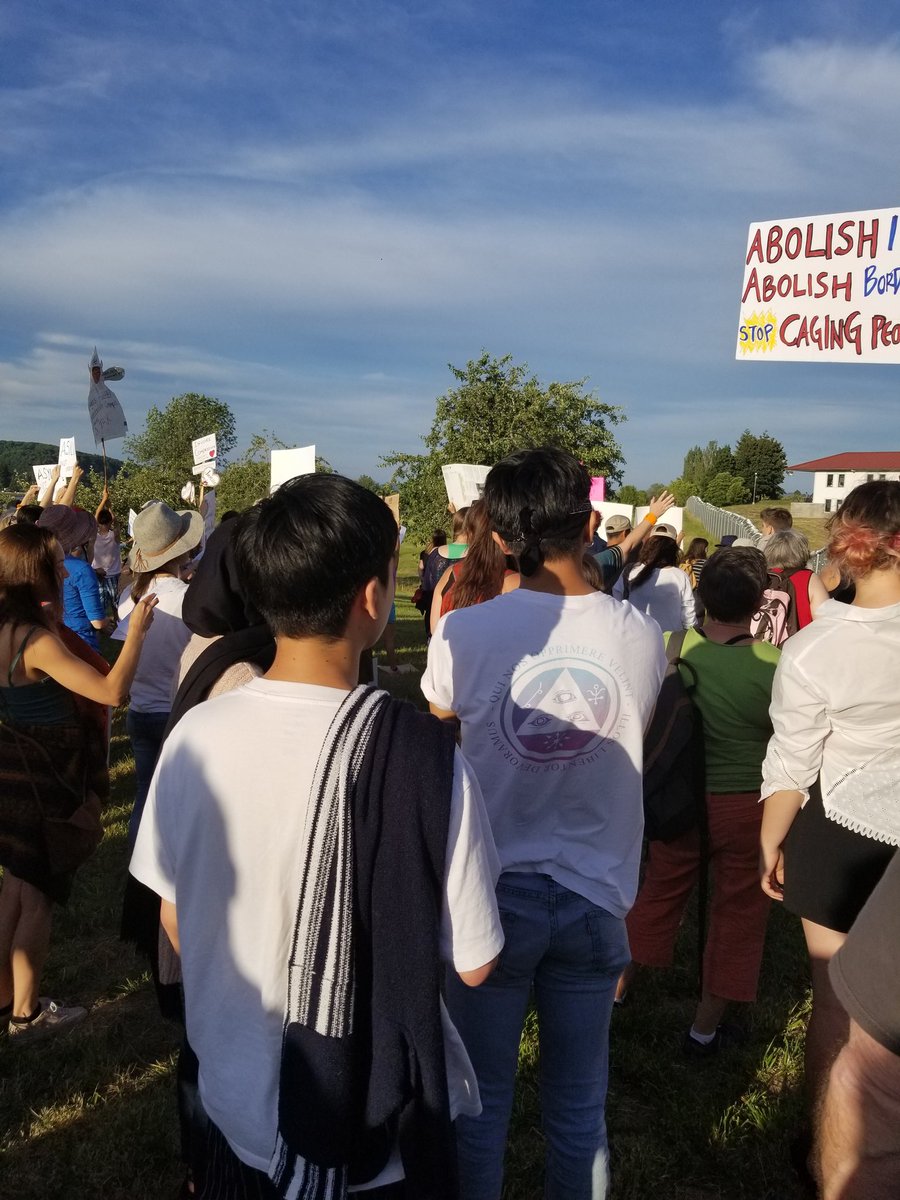 "By coming to Sheridan and by following frontline leadership, I am NOT escaping responsibility for my actions. I will not damage any public meeting space or private property. I will not incite violence and will not engage with folks who are in opposition of our event."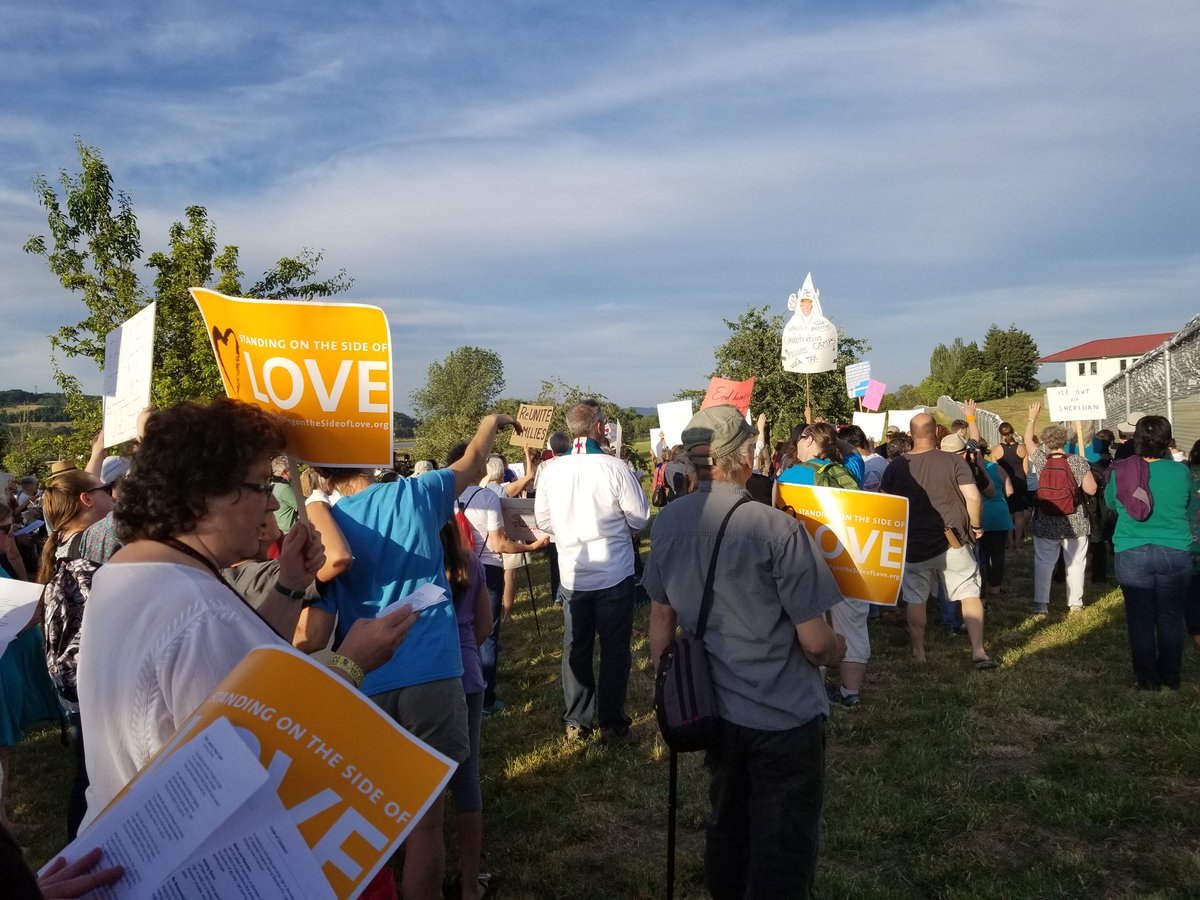 "I will echo and amplify the messaging and framing chosen by frontline leadership at all times when making signs, posting on social media, etc." Hopefully I'm doing so with this thread.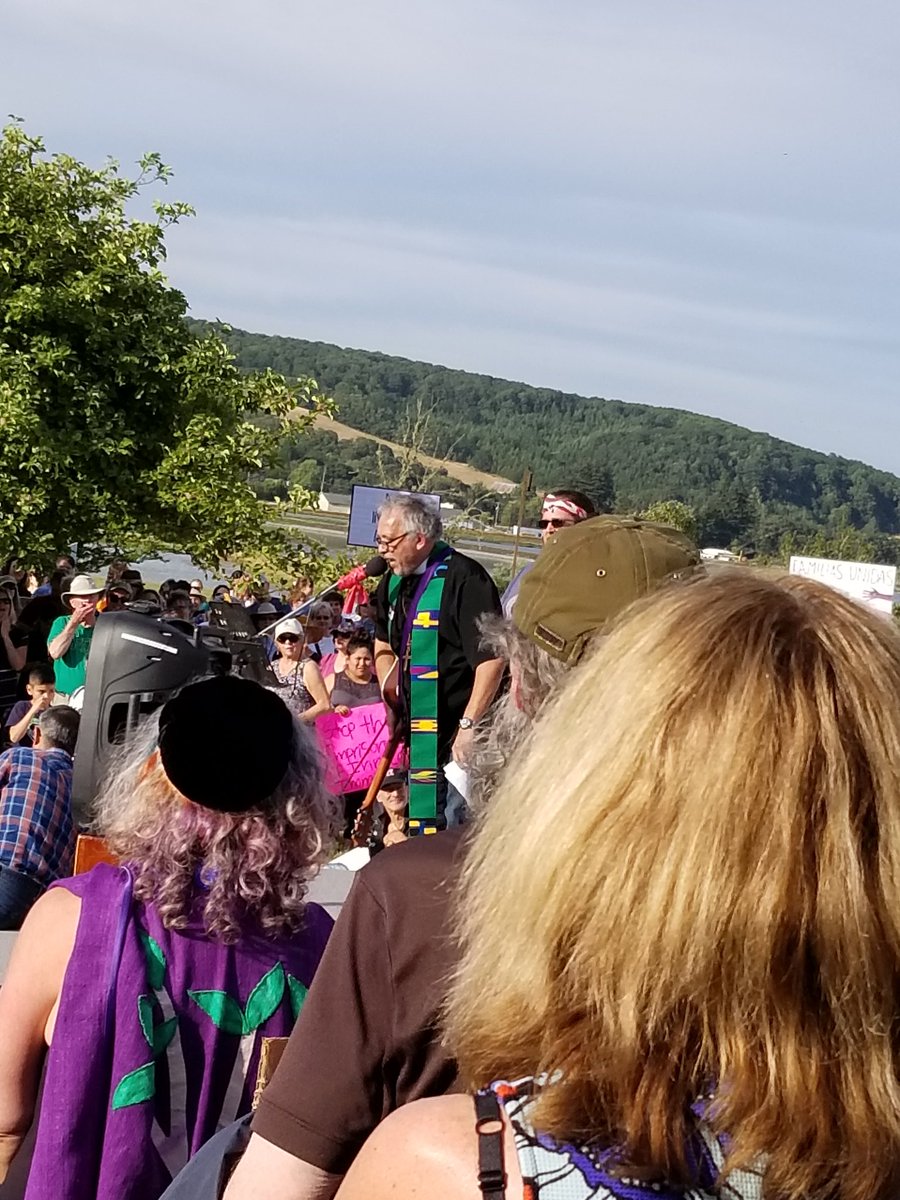 "I understand that should I violate any of these principles, the impact will be shouldered by detainees, immigrants, Latinx folks, and the people who live in Sheridan and Yamhill County. I take that risk and possibility seriously, and will do everything in my power to avoid it."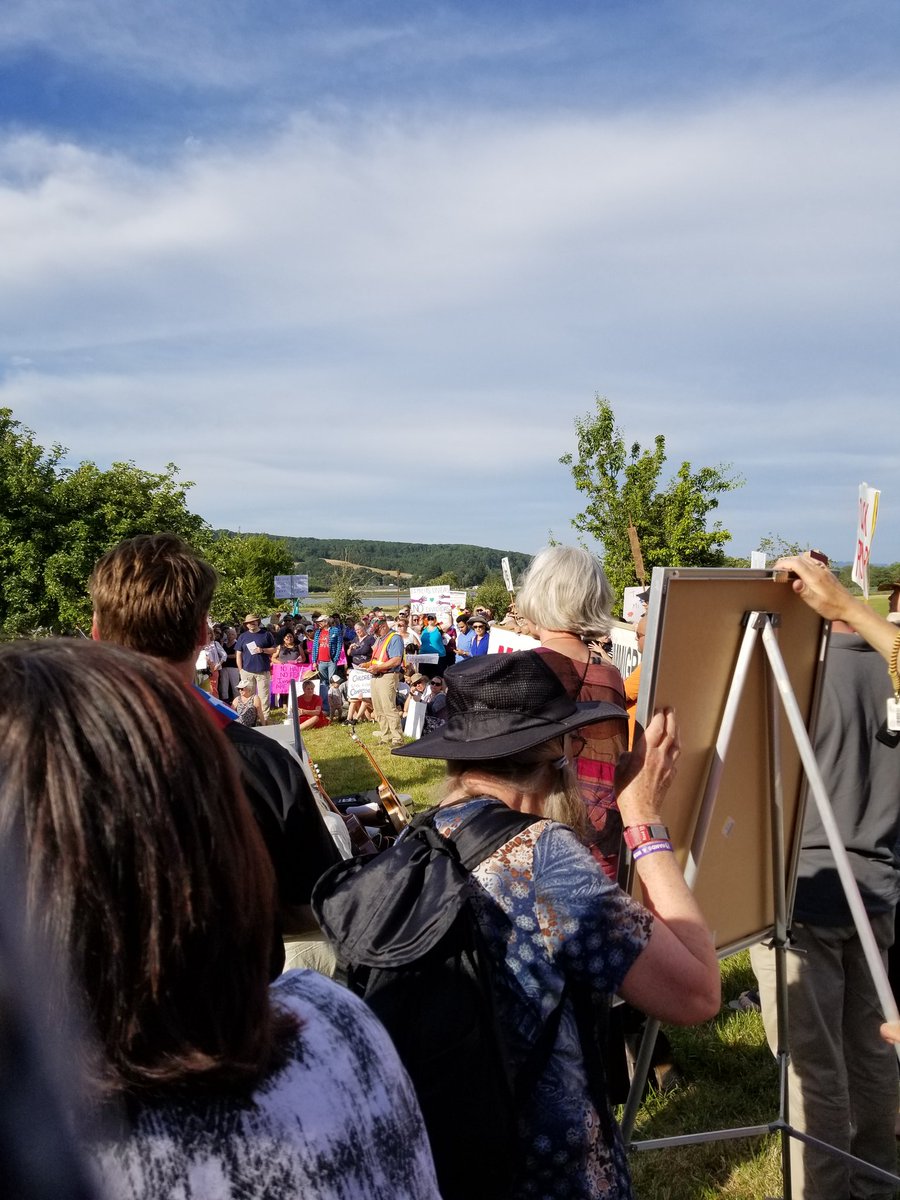 That last one is REALLY important, and I hope anyone who organizes or attends a similar vigil, rally, march, or protest takes it to heart. It's never us white folks who suffer the brunt of any backlash. We can use our privilege to protect others, but be aware of repercussions.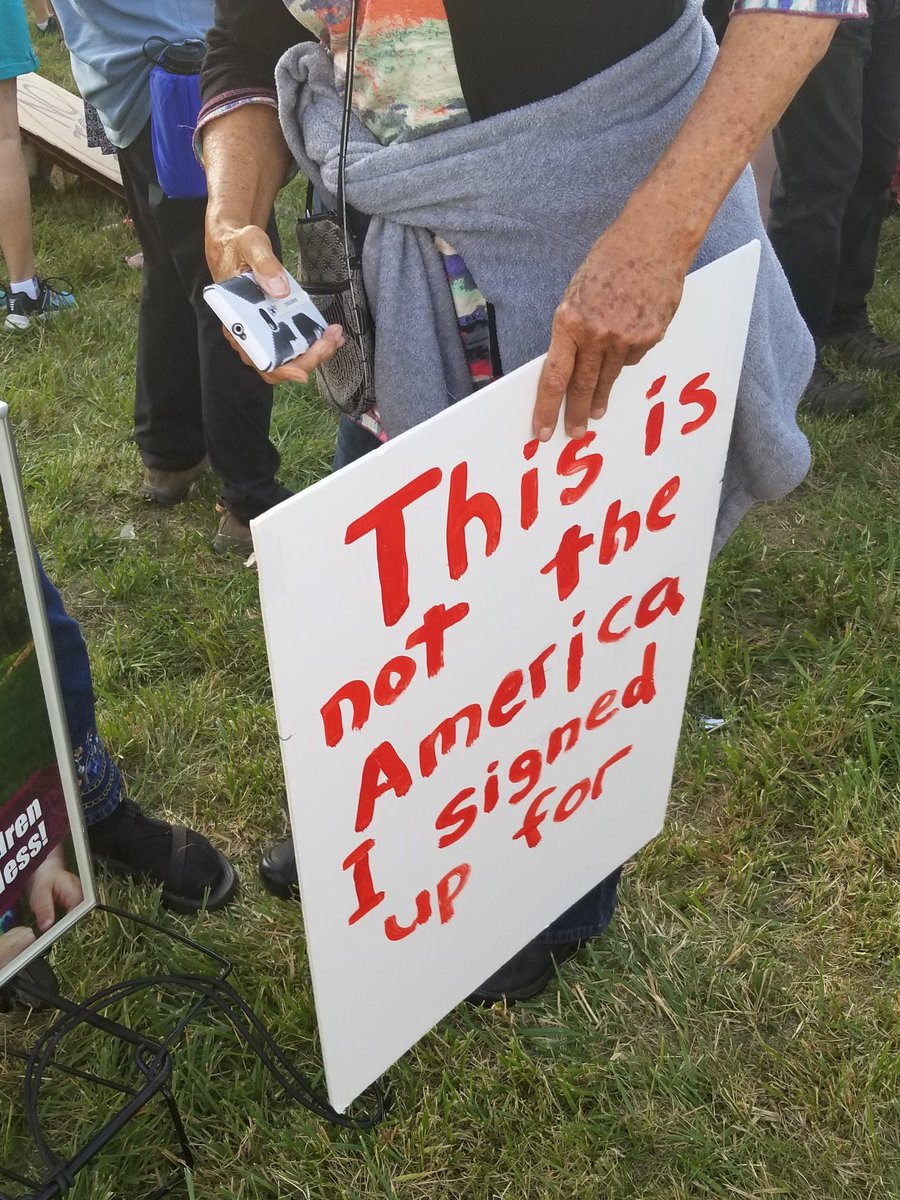 I'm very glad that I went. I'm not very good at judging crowd size, and my photos don't show it very well, but it seemed a very good turnout for a small town, with supporters showing up from all over northwest Oregon.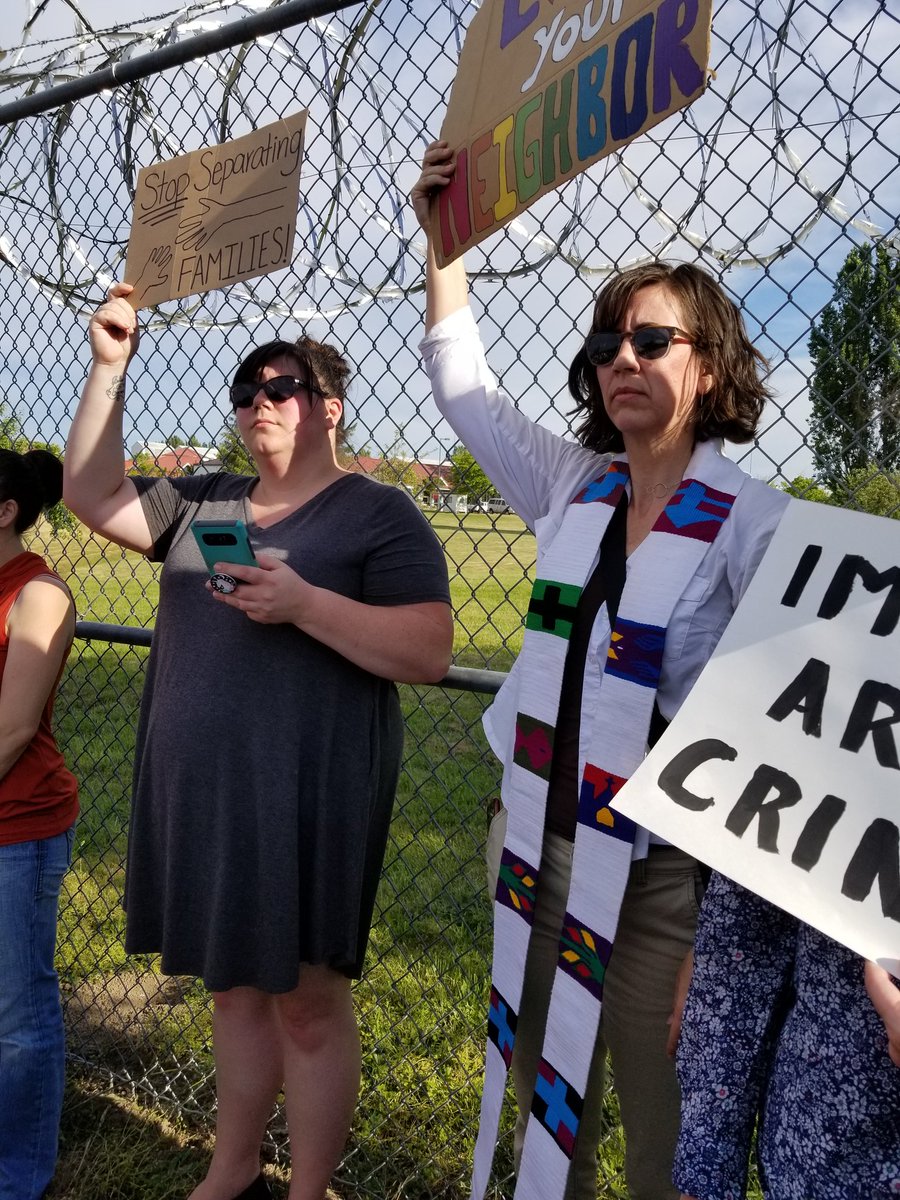 There was, more than anything, an outpouring of love at this event. Attendees were encouraged to find, greet, and talk to a stranger for five minutes at the beginning.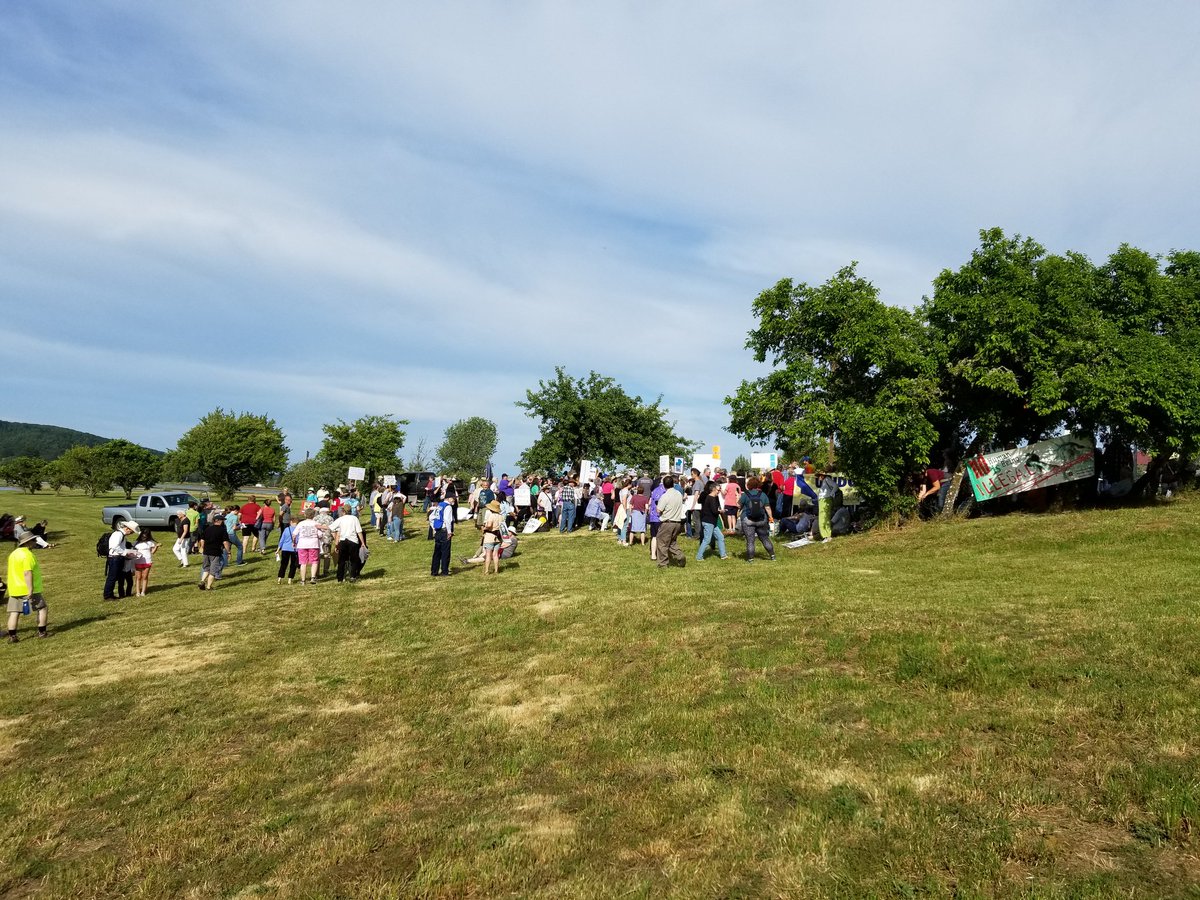 Making our way across the bridge toward the park. There was a very wide range of ages represented.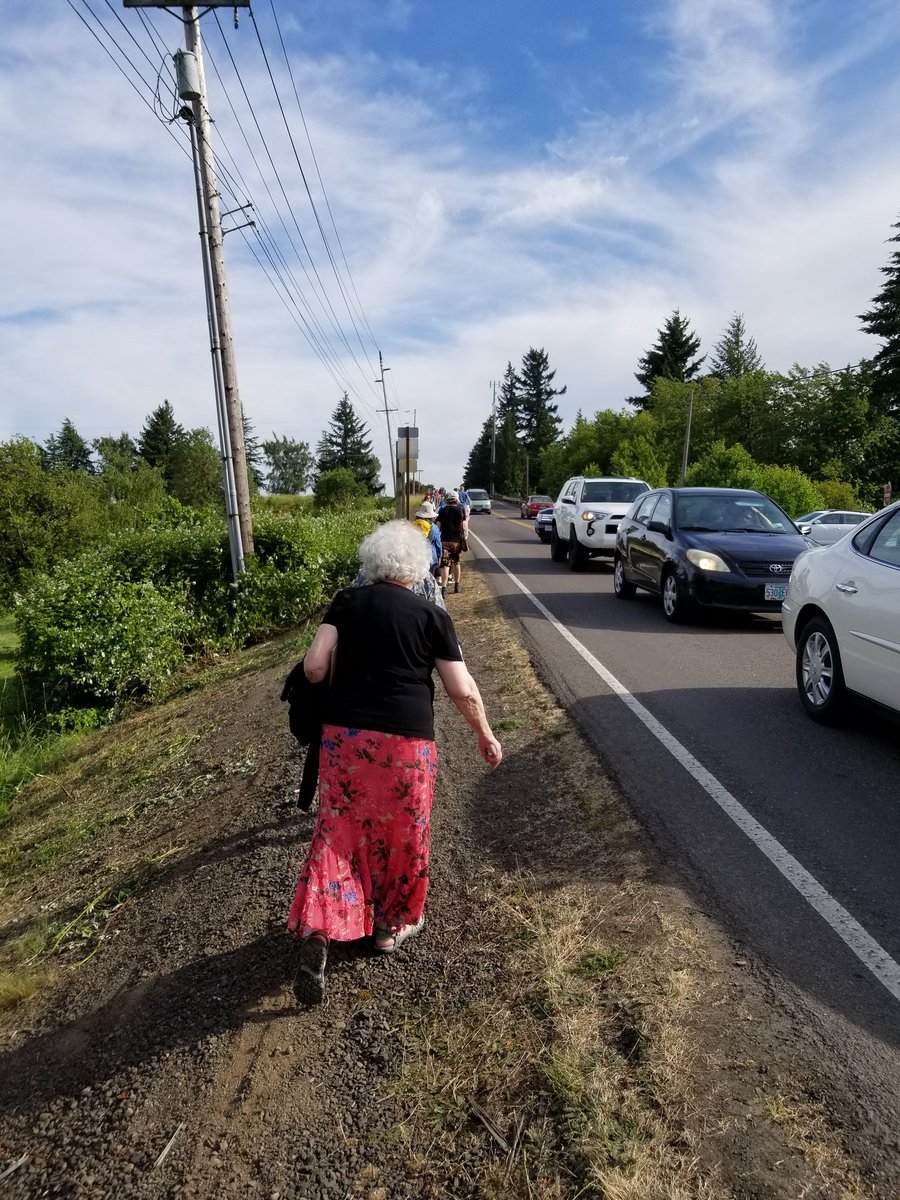 Thanks for following along. I'll be sure to continue reporting back about my experiences at similar events as this fight for immigrant justice continues.
#FamiliesBelongTogether
P.S. - The 123 male immigrant detainees reportedly all came to the US seeking asylum, and many have been separated from their families. They come from India, Pakistan, China, Nepal, Ukraine, Guatemala, and Mexico, Honduras, Brazil, and other countries....
aclu-or.org/en/press-relea…
P.S. 2 - I understand that they need speakers of Southeast Asian languages to help translate for some detainees. If you or someone you know can help, I can try to get you in contact with the right people.