THREAD: Today's events in Westminster - which relate to the process and not the substance of Brexit - do not change the fundamental mess and chaos of Brexit. The UK is heading for a bad Brexit deal but its not a done deal - a lot will happen between now and the Autumn.
/1
Its disappointing the so called "Grieve 2" amendment did not pass this afternoon (I,of course, voted for it) but significant that Ministers were forced to climb down and issue a statement acknowledging Parliament's vital role at the end of the process. /2
There are still 5
#Brexit
related Bills still to make their way through Parliament which are legally binding and amendable: Customs Bill; Trade Bill; Fisheries Bill; Agriculture Bill; and, Immigration Bill. There will also be a huge number of statutory instruments to pass too.
/3
This - providing for continued UK participation in the EU Customs Union - is just one of the cross part amendments down on the Trade Bill which will be a flashpoint when it resumes its passage through the Commons next month. /4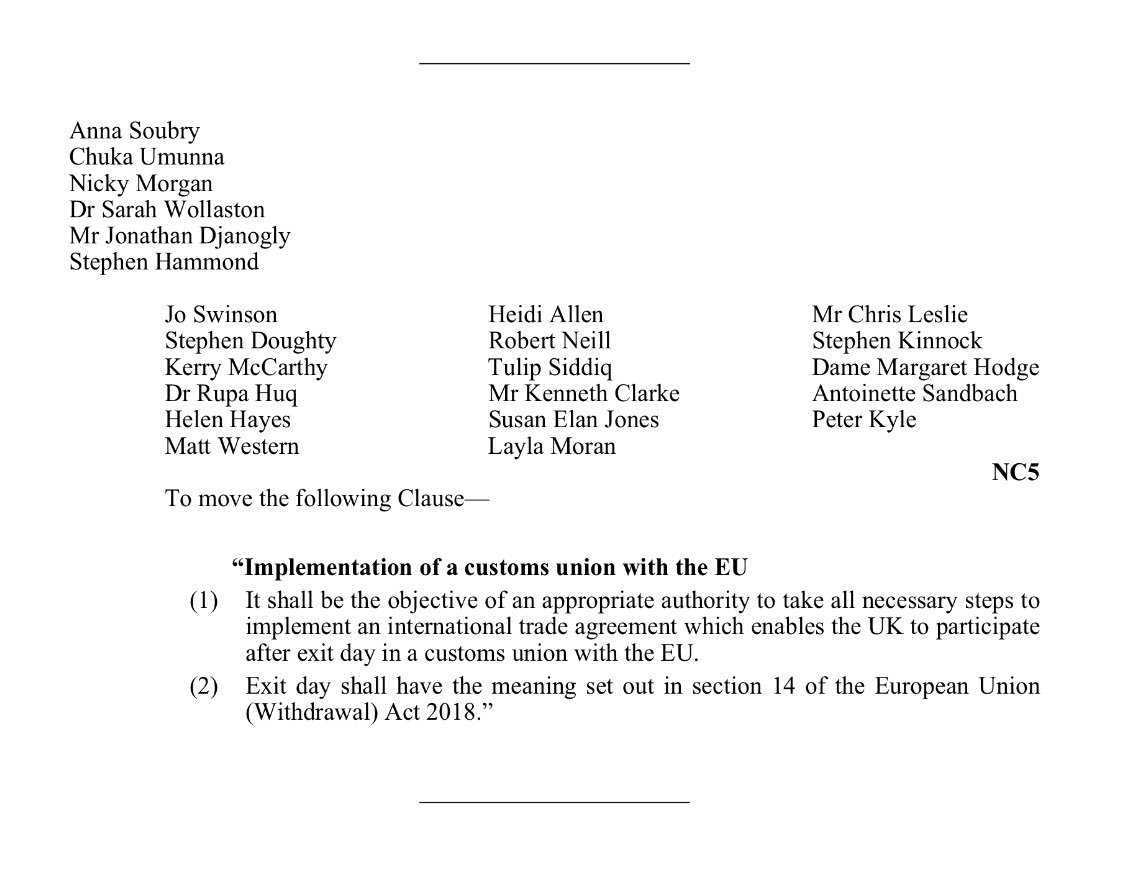 Undoubtedly, the
#EUWithdrawalBill
has shown that: both main parties have divisions on
#Brexit
; the Govt is still proposing a hard Brexit that will destroy jobs and harm public services; and,Breixters in Govt - like David Davis - want to keep open leaving with "no deal" BUT.../5
...Ministers have acknowledged during the passsge of the
#EUWithrawalBill
that leaving with 'no deal' is inconsistent with Govt policy to avoid a hard Irish border (trading on WTO rules would require a hard Irish border). /6
The EU Council starts on Thursday and these crucial issues are still unresolved: the Irish border and the "backstop'; and UK proposals on the future trading relationship. Cabinet can't agree with itself on these issues nevermind the EU. Nothing has changed (to coin a phrase).
/7
New facts emerging since the process started make this a very different
#Brexit
to that promised: £40bn divorce bill with payments till 2064; no 'dividend' for the NHS; loss of EU market access conceded; no new trade deals in place; & more. Today changes none of these things.
/8
So desperate and disgraceful has this Govt become in its handling of
#Brexit
that they treated my friend and colleague
@NazShahBfd
in this appalling way today. Despite this Naz voted on behalf of her constituents. /9
The chaos and shambles in Westminster on this, the biggest issue facing our country since WW2, underlines why this is too important to be left to 650 MPs - 65million voices must be heard too. Join the
@peoplesvote_uk
march on Saturday to demand a say. /10