Day Four: Accounting! We'll continue to hear testimony from one of Paul Manafort's tax accountants this morning. Prosecutors are building a money trail -- yesterday, we heard from Manafort's longtime bookkeeper:
buzzfeednews.com/article/zoetil…
Stay tuned for updates
Judge is taking a quick break. We've been seeing Paul Manafort's personal and business tax returns. Govt moved quickly through exhibits — we heard a lot of
#s
about what Manafort reported as income, but nothing yet about what the govt thinks he *should* have reported those years
Also saw pages of Manafort's tax returns from 2010-2014 that asked if he had any financial interest in overseas accounts. Each year, Manafort's return was marked "no." Saw a 2011 email from Manafort to his CPA — asked if he had interest in foreign accounts, Manafort wrote, "NO"
The accountant, Philip Ayliff, testified that he dealt a fair amount with Rick Gates, who helped collect information for Manafort's business and personal tax returns. Ayliff said Gates never told him to hide info from Manafort
Prosecutor read Ayliff a list of names of entities, Ayliff said he understood them to either be clients of Manafort's, or he didn't know what they were — the government contends these entities were controlled by Manafort and were used to conceal profits from his work overseas
When we return, the govt estimated another 30 minutes with Ayliff, and then we'll go to cross-examination by Manafort's lawyers
We're out for lunch. Before the jury returned, we got another glimpse of defense strategy — Manafort's lawyer wants to ask the CPA if they kept records, with the idea that the CPA would say yes, in case of a future audit. Why does that matter? (cont'd)
(cont'd) The CPA had docs from a bookkeeper that referred to overseas entities. Manafort's lawyers are looking to argue that if Manafort knew his CPA had these docs and could theoretically give them to the IRS, that doesn't square with the allegation he was trying to hide them
But that's for a later time. Back to the CPA, Philip Ayliff: He testified about an email from Manafort asking him to tell a bank (UBS) that a 5th Ave. apt Manafort owned was being used as a personal residence. But the CPA said it wasn't, and that he wouldn't tell UBS that it was
The CPA explained that Manafort had claimed a business deduction for that apartment, and it was the CPA's understanding that it was being rented for use by Manafort's business (it was rented to one Manafort business by another Manafort entity that owned the apt.)
We also heard testimony from the CPA about emails that indicated another property owned by Manafort, on Howard St. in NY, was being used as a rental property in 2015 — prosecutors allege Manafort falsely told a bank when he was applying for a mortgage that it was not a rental
After the jury left for lunch, we heard from the govt about a potential upcoming issue — when Manafort responded to govt subpoenas for records of Cypriot accounts, he incl. a statement from his lawyer saying they were the records of Manafort's company, *not* Rick Gates
The govt plans to introduce the statement — Gates is a big part of this trial — with the name of Manafort's lawyer, Kevin Downing, anonymized. Prosecutor said they're trying to work this out, but there's a possible issue of conflict because of Downing's role as Manafort's lawyer
The big takeaway from the CPA's testimony today is that the emails we saw appeared to show that Manafort asked his CPA to provide info to a bank that the CPA believed was false. Recall that Manafort is charged with bank fraud. After lunch, Manafort's lawyers will question the CPA
The questioning this a.m. was fast-paced and dense — a lot of numbers being put out there along with descriptions of accounting terms. The jury appears to be paying attention (that is, I haven't seen anyone nodding off.) We haven't heard how many more witnesses to expect today
On short p.m. break. The cross of CPA Philip Ayliff was quick, defense asked if he was an FBAR expert, he said no. On doc that listed a $1.5M loan from an entity prosecutors say was Manafort's, defense noted it referred to the entity as "affiliate," which could mean relationship
Defense also had the CPA testify about having trouble getting documents and running up against deadlines when dealing with Rick Gates (defense strategy is expected to involve blaming Gates)
We're now hearing from another Manafort CPA Cindy Laporta. Laporta is one of the witnesses who was given immunity to testify. Laporta testified about having concerns about some of the info included in tax returns about loans to Manafort's biz, but went ahead with including it
What concerns? That loan docs (when she saw them) were only a few pages, that there was no collateral required, and she didn't see interest/principle being paid back (during cross of the other CPA, defense asked about balloon payments, which is when a loan is due all at once)
Laporta testified about a conference call with Rick Gates in Sept. 2015 giving an estimate of what Manafort would owe in taxes that year. Gates said it was too high and Manafort didn't have that money. There were then emails about changing loan amounts to bring down taxes owed
Back to court, stay tuned
Day Four: It was a lot. Paul Manafort's former accountant testified against him — with immunity — describing a series of dealings with him and Rick Gates that she described as ranging from questionable to potentially illegal
buzzfeednews.com/article/zoetil…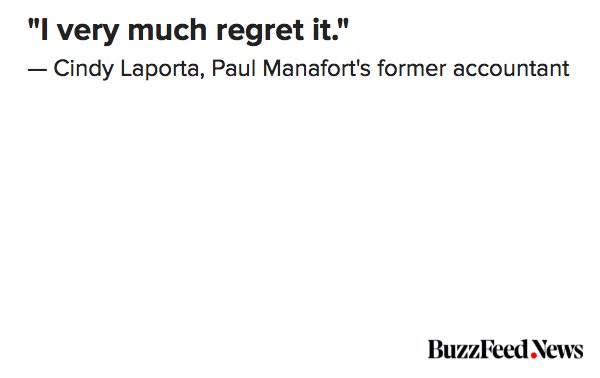 This content can be removed from Twitter at anytime, get a PDF archive by mail!
This is a Premium feature, you will be asked to pay $30.00/year for a one year Premium membership with unlimited archiving.
Don't miss anything from @ZoeTillman,

subscribe and get alerts when a new unroll is available!