Thread: 2018 election most important midterms for voting rights in my lifetime. Election could be tainted by voter suppression or historic opportunity to expand voting rights for millions of people. Here's what's at stake
npr.org/2018/10/23/659…
24 states have passed new restrictions on voting since 2010, such as strict voter ID laws, cutting early voting, making it harder to register to vote. These could swing key races [map via
@BrennanCenter
]
nytimes.com/2018/10/27/opi…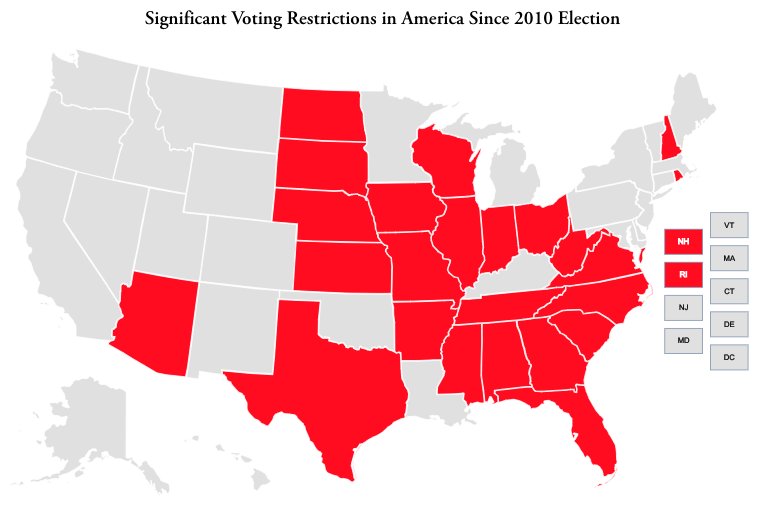 The number of voters who could be disenfranchised by GOP voter suppression is larger than margin of close elections in key states like GA, ND, FL, KS & WI
nyti.ms/2OagqmE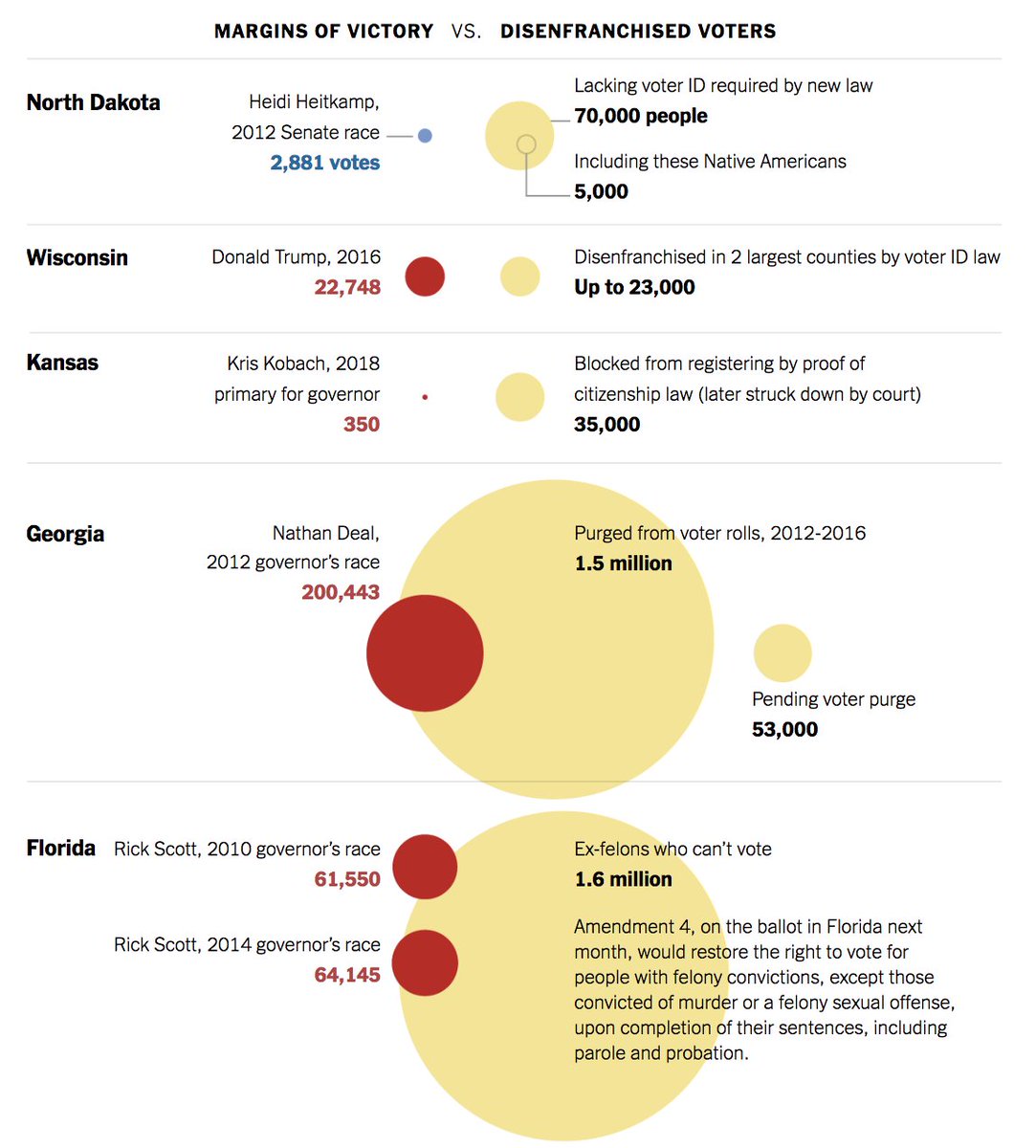 Georgia has been epicenter of voter suppression under Brian Kemp:
Purged 1.5 million voters
Closed 214 polling places
Put 53k registrations on hold
Refused to replace hackable GA voting machines
And now Kemp overseeing own election
motherjones.com/politics/2018/…
This is Kris Kobach's voter suppression record in Kansas:
Blocked 35,000 from registering
Held in contempt of court
1200 ballots rejected because of his voter ID law
1 polling place for 13,000 outside of Dodge City
And now overseeing his own election
motherjones.com/politics/2018/…
5,000 Native American voters could be disenfranchised by North Dakota's voter ID law
Heidi Heitkamp won 1st senate election by 2,900 votes with 80% Native support
This could cost Dems the senate
motherjones.com/politics/2018/…
In Texas there are 3 million unregistered voters of color, including 2.2 mil unregistered Latinos & 750,000 unregistered African Americans. That's because state has worst voter registration laws in country, straight out of Jim Crow
thenation.com/article/texass…
Wisconsin's voter ID law disenfranchised up to 23,000 voters in two of state's most Democratic counties in 2016. Blacks 3x as likely as whites to be deterred from voting
Trump won state by 22,000 votes
motherjones.com/politics/2017/…
When he gutted Voting Rights Act in 2013, John Roberts said voting discrimination no longer "flagrant" or "widespread"
Voter suppression we're seeing in 2018 direct result of that terrible decision
nytimes.com/2018/10/27/opi…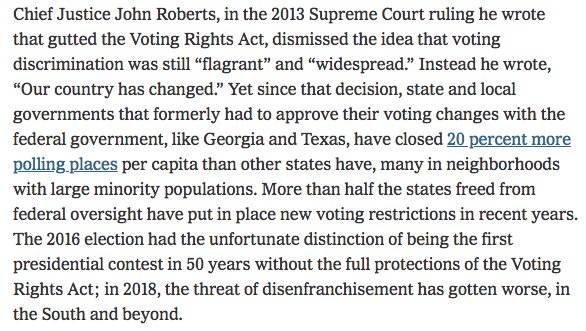 Now the GOOD NEWS
FL could restore voting rights to 1.4 million people
MI MD & NV could register 1000s of new voters
CO MI MO UT could stop gerrymandering
Voting rights are literally on the ballot in 2018
Florida could restore voting rights to 1.4 million people, including 500,000 African Americans, the largest enfranchisement of new voters since Voting Rights Act of 1965
motherjones.com/politics/2018/…
Maryland, Michigan & Nevada could make it easier for thousands to register by adopting reforms like automatic & Election Day registration
motherjones.com/politics/2018/…
Colorado, Michigan, Missouri & Utah could crack down on gerrymandering by adopting independent redistricting commissions
citylab.com/equity/2018/11…
One of most tangible ways to counter voter suppression is by electing secretaries of state who will protect instead of suppress votes. These races hugely important for democracy & need more attention
motherjones.com/politics/2018/…
And if you care about voting rights pay attention to how Trump admin trying to rig 2020 census. This is one of biggest threats to democracy. Federal trial challenging citizenship question began today & I was there
motherjones.com/politics/2018/…
Democrats say if they take back the House one of their first priorities will be passing legislation to restore Voting Rights Act. This is more important than ever given voter suppression we're seeing in 2018
huffingtonpost.com/entry/democrat…