CRYPTOS GET CRUSHED.
CRYPTO IS IN A FINANCIAL CRISIS.
now that i have your attention, let's talk about the crypto market puking up 20% across the board yesterday 🤮 (thanks to
@CNBC
for the headline inspo - writing clickbait is fun!)
ICYMI:
2/
it's been a wild 24 hours. crypto is a speculators game, and volatility is back, baby!
as my biz partner
@dannylmasters
pointed out earlier this year - history rhymes - and nothing goes up in a straight line forever 👇🏾
medium.com/coinshares/his…
3/
while i wasn't there for the
dot.com
bubble, this article circa 2000 could be written today about crypto. tech that changes industries and markets doesn't get built overnight. there are fits, starts, and failures.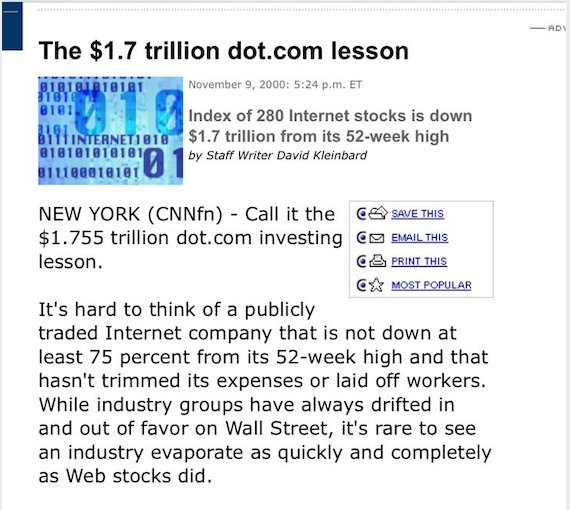 4/
let's discuss 3 things:
- crypto is in crisis (unless you're bitcoin)
- the market knows it, and eased some of that pain. we have to look beyond the assets themselves for value creation.
- building a less centralized financial system is going to take a long time. plan wisely.
7/
let's not look at price:
- over 80% of cryptos have less than $10MM in 30-day trade volume
- code commits in the low double digits last quarter
- only a few hundred tsxns per day, if that
(see
@onchainfx
)
numbers don't lie. many assets are trapped in a vicious spiral.
11/
*THE* question for investors - where will value creation happen 👀
- in the assets, especially networks w/ proven governance
- in the new companies building infrastructure and services
- in the funds and asset managers providing exposure
- in publicly traded co's
....
12/
just look at the people - thousands who continue to spend their time, energy, and capital on helping the crypto ecosystem grow... by writing, researching, advocating, building, developing, or simply holding.
@RyanRadloff
does the math 👉🏽
medium.com/coinshares/hal…
13/
many crypto projects that raised money through an ICO face massive challenges to stay relevant and create real purpose.
for now, our collective hopes and fears are expressed as speculative price moves.
projects don't die the way companies do, and the arc of time is long.
14/
if the next five years are anything like the last, expect value to flow from centralized corporate entities to less centralized networks and applications.
we can't pinpoint *when* that shift will happen, but here at
@CoinSharesCo
- we believe it's inevitable 🚀
/fin/