Because of you and hard-working candidates, Democrats retook the House with the largest popular vote margin of any party ever, no less!

Here's how we flipped the most Democratic seats since Watergate! (39 and counting)
As the first elected Chair, Ben Ray Luján pounded the pavement the entire cycle, traveling over 52,000 miles through 27 cities and 17 states. He held events or meetings with 93 separate candidates for a total of 151 candidate meetings and events on the road.
We built a battlefield of 111 seats – the largest in over a decade. Our final
#RedtoBlue
program included:
4️⃣8️⃣ women
2️⃣7️⃣ people under 40
2️⃣1️⃣ diverse candidates
1️⃣9️⃣ veterans and intelligence officers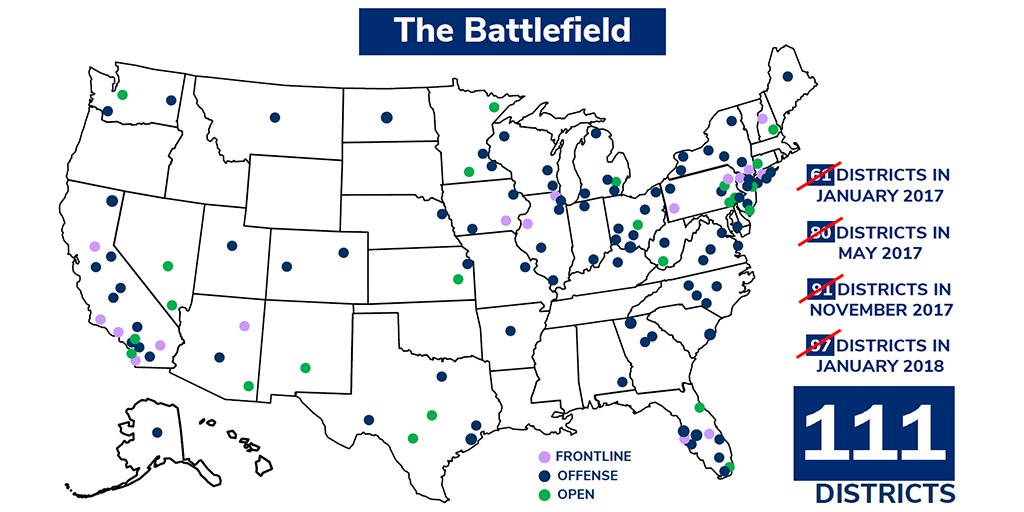 We made historically large investments across the battlefield, including:
✅$63M on female candidates
✅$39M on non-white candidates
✅$25.6M on veterans and intel officers
✅$9.2M on LGBTQ candidates

This gave us multiple paths to the majority – including many Trump districts.
Diversity matters. This year, 38% of total staff are diverse and 52% of senior staffers – people who make spending decisions – are diverse. We also worked with our field teams to create resume banks which yielded diverse field staff across the country.
Forcing early retirements was key to our success, so we released our own retirement watch list. In
#CA39
, we:
Saw a competitive district
Opened a West Coast HQ
Mobilized constituents
Launched digital and radio ads.
Ed Royce felt the heat and retired, then
@GilCisnerosCA
won!
Because of CA's top-two primary, we were in real danger of getting boxed out in at least three core battlefield districts. Insiders and pundits wrote us off.

We navigated primaries expertly, ensuring that voters had the strongest candidate on the ballot.
We opened an office in Orange County. We spent over $7M to ensure Democrats didn't get locked out of November elections. We're proud to have built partnerships with over 200 local groups in California.

Because of our work, we turned OC blue & made gains across the entire state!
With a large battlefield and the right candidates, we also had to win the messaging battle. On health care. On taxes. On jobs.
Throughout the election, Democrats controlled the narrative. And the GOP knew it!
bloomberg.com/news/articles/…
Flipping the House took lots of money, but you made it possible. We raised:
$272M overall
$106.3M online
$54.5M by mail
$42.9M directly for candidates
The average online donation was just $19!
politico.com/story/2018/10/…
18 of the races we won were within 3%. Fewer than 100,000 votes decided the majority! We knew races would be decided by slim margins, so we:

✅Made field investments in 75 districts
✅Opened 51 "battle stations"
✅Launched 30 voter reg programs
✅Had over 2,500 field staffers
Within days of the Women's March, we had staffers in 21 Republican districts, putting our March into '18 program in motion. (Of those 21, we won 17!)
washingtonpost.com/powerpost/to-t…
We talked to voters on radio, online, in newspapers, everywhere. It worked!
African American early & absentee vote surged by 157% in our
#RedtoBlue
districts.
Latino early & absentee vote turnout surged by 174% compared to 2014.
nbcnews.com/news/latino/la…
Ahead of Election Day, we launched our first-ever multi-state Spanish-language GOTV ad on Univision, Telemundo, and other stations across 8 media markets.