Now that we're 24 hours on Facebook press cycle and 7% stock drop yesterday, I want to point something out clearly. The NYT investigation was incredible in its sourcing (employees rightly starting to talk) and new details (hello, Yandex). But it's not what matters (more shortly).
Facebook's second blog post yesterday and its "friends" yesterday took aim at narrow issue of NYT reporting on integrations w Netflix, Spotify, etc and that being in line with expectations. Whatever. Not the story. Distraction to discredit NYT report overall and confuse issues.
Because of the debates on "selling data" and focus on FB's blog post narrative, everyone is in danger of missing why the stock dropped 7%. It dropped because of DC AG lawsuit narrowly and convincingly laying out the facts of the original story which crushed the stock in March.
We've said from the beginning that Facebook's real risks were the FTC (if it does its job) and AGs. The UK data commissioner and Parliaments (Canada, UK) have been crushing it on probing but limited in enforcement options until post-GDPR world, this was prior to May 25, 2018.
Here is the DC lawsuit. Any reporter covering Facebook yesterday should have read it. It alleges FB knew personal data on 70mm users was harvested by GSR and sold to Cambridge Analytica then chose not to inform public for 2 1/2 years.
documentcloud.org/documents/5637…
It's simply, it's accurate based on reporting and testimony and it's material. It even skips over a few items which bring up even more questions of a possible blatant cover-up: nature of certifications and Joseph Chancellor.
@AGKarlRacine
1)
it rightly mentions Facebook didn't actually make certain the data was deleted after Dec 11, 2015 press reports and relied on certifications from Kogan in June 2016, CA in Apr 2017. It doesn't mention latter wasn't even legally material, signed and was butchered.
@AGKarlRacine
2)
it also goes through details on Kogan who facilitated the sale of the data but doesn't even mention his "equal partner" who Facebook hired in Nov 2015 ahead of the public reporting on all of this. FB finally investigated him and left company a few months ago.
@AGKarlRacine
#35 is written correctly. Guardian reported on Dec 11. Reporter said he contacted FB UK on Dec 9. But GSR co-founder who harvested data was hired in Nov. why it's important who knew what when.
@SenKamalaHarris
asked about this.
@IanCLucas
@JoStevensLabour
have been all over it.


awareness 70 million personal data records were sold to a political operative? We would have had more focus/knowledge on FB's 3rd party app ecosystem vulnerabilities, SEC focus on FB stock activity, regulator attention on consumer privacy, public attention on election activity.
and #43 is focused on everything else. This is where
@nickconfessore
@nytimes
reporting matters. It's shining a light on everything else Facebook knew about before and AFTER they attempted to bury Cambridge Analytica issue in 2015-2017. Attempting to pick it apart is a side show.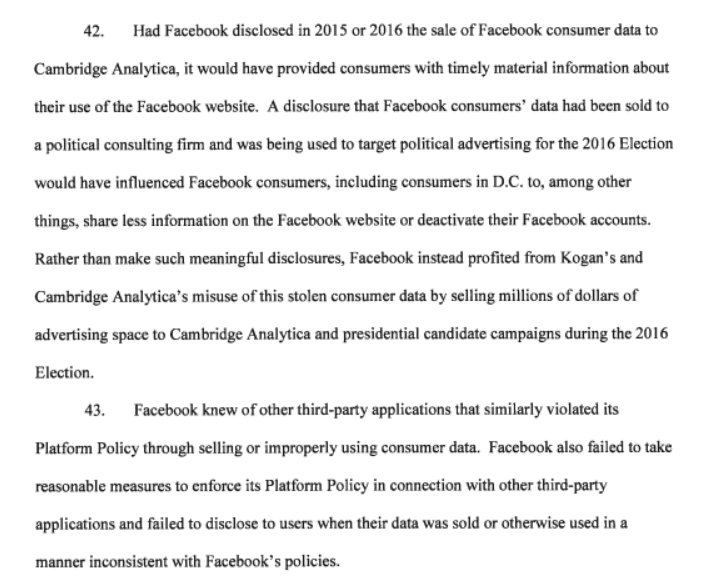 By the way, on the "we've never sold your data," a reminder what this allegation and facts show here and in the
@CommonsCMS
, Congress, ICO, Canada Parliament reports. Read #42 one more time for me...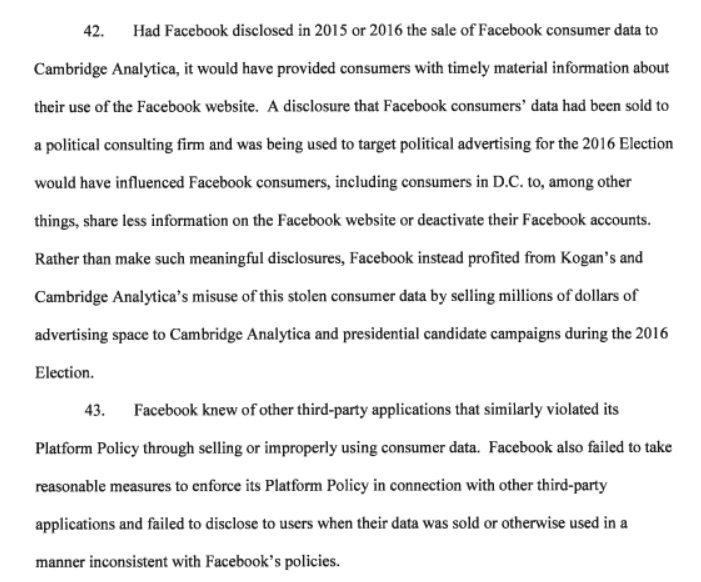 so yeah, DC AG lawsuit yday is a big deal. It's the reason $FB stock dropped. It shows willingness to move fwd against Facebook for breaking law. 37 state AGs were looking into this. The FTC, SEC should also be all over this. FB's blog post yday on Spotify is a side show.
Adding this to the thread. It's a good call-out by
@profcarroll
. The fact they were all working alongside makes the DC lawsuit alleging Facebook negligence to inform users more problematic.