1/
Before leaving office,
@SecretaryZinke
rejected scientists + bypassed Congress to build a "lifesaving road" on a pristine wildlife refuge.
Our reporting suggests the real purpose is transporting seafood – and helping the world's biggest fish processor.
revealnews.org/article/trumps…
3/
That began to change about a year ago, when Zinke signed a land swap that aimed to create better access between the cannery town of King Cove and a nearby airport.
Part of the deal was building 12 miles of road.
4/
In a four-year study, the U.S. Fish and Wildlife Service said building the road would "lead to significant degradation of irreplaceable ecological resources."
fws.gov/uploadedFiles/…
5/
Zinke ignored those warnings and worked behind the scenes to deliver the road to the Aleut government, which had spent decades lobbying the government for it.
6/
The Aleuts said that the road was critical for emergency transport. King Cove is remote, after all, and its weather is notoriously volatile.
7/
Yet a close examination of the agreement and the history of the road deal suggests that it is more about selling seafood than saving lives. We'll explain ...
8/
For one thing, Zinke's deal includes a little-known provision, forged by
@Interior
, that would allow King Cove fishermen to transport tens of millions of dollars of salmon, crab, cod and other seafood on their way to lucrative Asian markets.
9/
Also, a document dating back two decades shows that hauling fish, not patients, was the Aleuts' original motive for building a road through the national refuge.
11/
Leaders in King Cove say road opponents are valuing birds and other wildlife more than residents' medical needs. Lillian Sager is a member of a large Aleut commercial fishing family that has tried to get the road built for decades.
13/
The road is the centerpiece of a campaign by Trump and Alaska's Republican congressional delegation to monetize the state's public lands by approving private development, oil drilling, mining and logging.
14/
Trump even promised Alaska Sen.
@LisaMurkowski
that he'd get the road built.
He scribbled a note to her on a copy of a
@WashingtonPost
story about the land swap.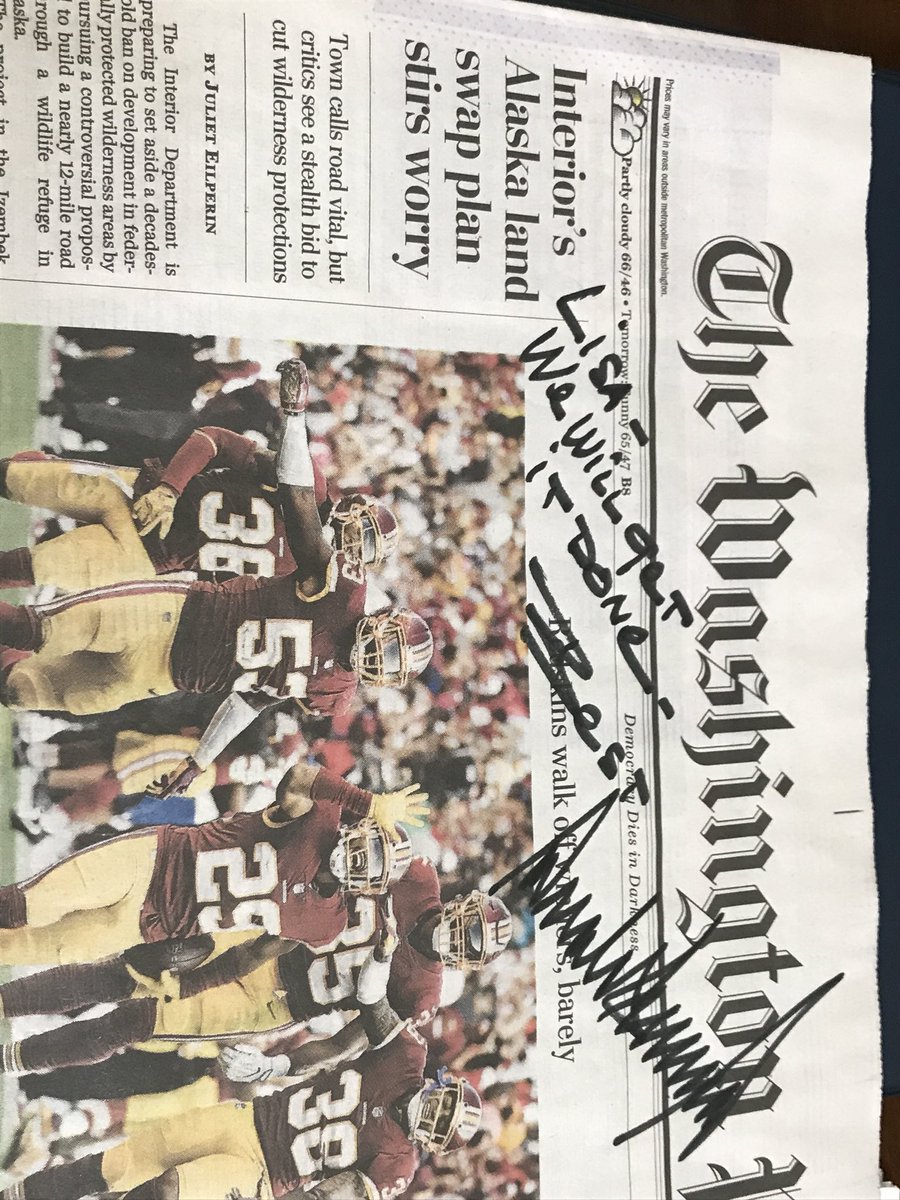 15/
The land deal with Zinke is not yet final, pending completion of the surveying and an appraisal. Nine environmental groups have filed suit to stop it.
trustees.org/wp-content/upl…
16/
But if completed, the road would pose major risks to the survival of a variety of species, including the brant, tundra swan, emperor goose, bear, caribou and fish populations.
17/
This story is part of our ongoing series investigating how the Trump administration is bypassing, erasing and censoring science.
Read more work here:
revealnews.org/topic/the-unsc…