Hey, it's Friday night. How about a twitter thread of unpopular opinions about climate policy generally, and the
#GreenNewDeal
specifically. Ready? Here we go.
1/
First, there's much to like about the
#GreenNewDeal
. But also much that could be better. An ideal climate policy:
a) Makes a meaningful impact.
b) Addresses problems the market isn't addressing itself.
c) Is cost-effective.
d) Is actually passable.
Let's start with impact.
2/
The common wisdom on how climate policies have impact is wrong. Politicians think that a country's climate policy is about reducing that same country's emissions. Nope. The most effective climate policies reduce *global* emissions, or at least provide tools to do so.
3/
As
@Noahpinion
has been pointing out, the US produces only 15% of carbon emissions. US decarbonization is necessary, but not sufficient, to address climate change. We need more impact. Fortunately, we can get it. 4/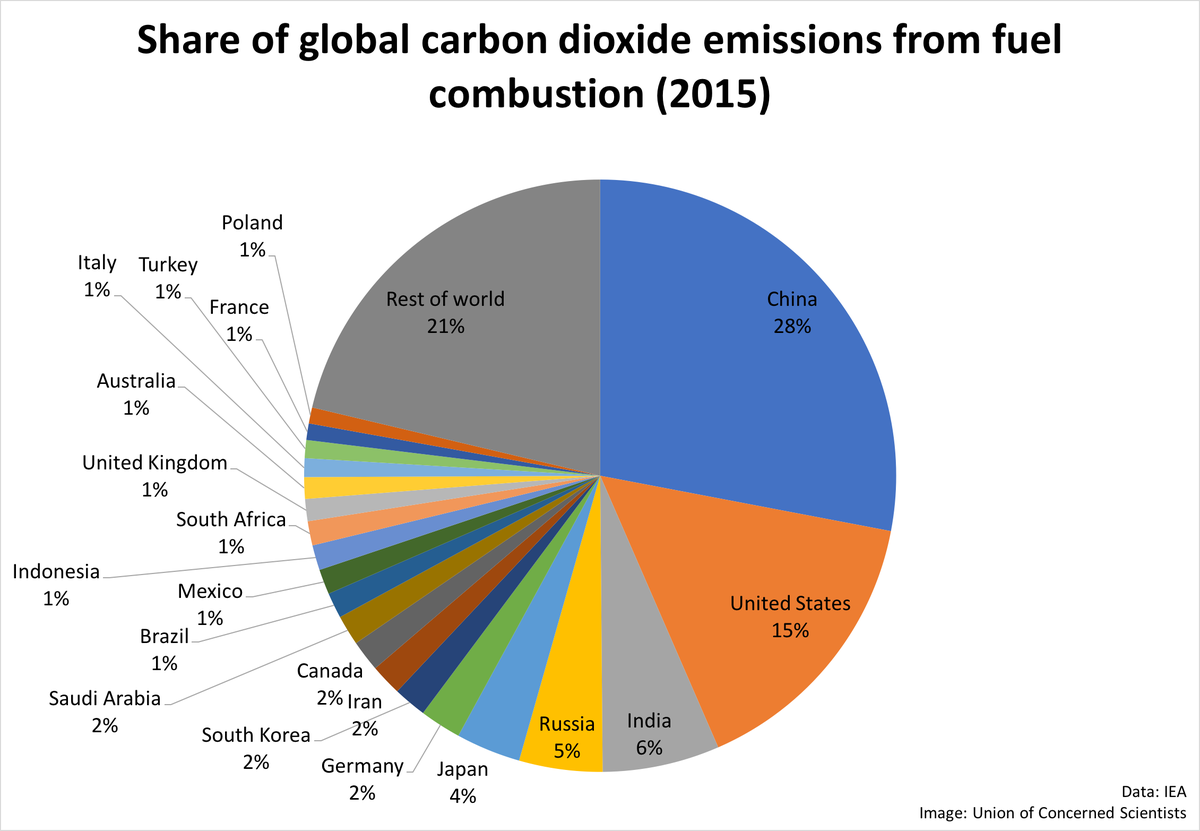 The most effective climate policy of all time, for my mind, is Germany's early subsidy for solar and wind. These policies had impact not because of the emissions avoided in Germany (relatively small), but because they *made solar and wind cheaper* for the world.
5/
Solar & wind are now cheaper in many parts of the world than new coal or gas. That happened *because Germany subsidized them when they were young and expensive*. And because China did a bit later. Like cheap solar in California & Nevada? Thank German & Chinese policy makers.
8/
So the key here is that, if Germany had the power to make a new clean tech cheaper for the whole world, than the US (much larger) certainly does. And that is our most powerful lever in having an impact on global emissions and global climate change.
9/
Okay. B) Climate policy ideally focuses most on the biggest unsolved problems. Most people view the
#GreenNewDeal
through the lens of electricity generation and cars. Folks, these are not our biggest climate problems. They're the ones we're making the most progress on.
10/
I'm not saying that clean electricity or transport are solved. They're not. But in electricity, we have solar, wind, batteries growing & getting cheaper & on path for 70-80% decarbonization *at least*. Same with electric cars and trucks. We have momentum in those sectors.
12/
In industry, despite progress in recycling steel, *primary* steel production is still incredibly carbon intensive. As is cement. As is much of manufacturing. We haven't reached the "solar cheaper than coal" or "EVs cheaper than gasoline" tipping points there. We need to.
14/
The
#GreenNewDeal
does talk (vaguely) about decarbonizing agriculture & industry. That's better than nothing. Though it's one and only proposed solution - local ag- is a non-solution. Eating local is, usually, worse for the planet. Eat food from where it grows best.
15/
If the US is serious about climate policy, it ought to focus on these two sectors - agriculture and industry - that are soon to be the two largest emissions sources, and lack solutions. We should press to invent solutions, drive them down in price, and spread them globally.
16/
What would climate policies focused on agriculture & industry look like?
a) An ARPA-A in the Dept of Ag, driving science to remove methane from livestock & otherwise tackle ag & deforestation.
b) Incentives for farmers to adopt new tech to reduce methane & other emissions.
17/
c) An ARPA-I (or a new focus area in ARPA-E) spearheading carbon-free steel, carbon-free cement, carbon-free manufacturing.
d) Tax breaks and subsidies to deploy those technologies to industry (as Germany did w/ solar & wind) to help scale them and drive down price.
18/
An ideal climate policy is also c) Cost Effective.
Is the
#GND
cost effective? So vague that it's hard to say. But I doubt it. Market mechanisms (like auctions for power) are great for cost. GND seems to avoid them. Markets work when you direct them properly. Use them.
19/
I also worry that in a command-and-control model of GND, we wouldn't see the cost reductions that come from learning-by-doing, new technologies, and cutthroat market competition. And cost reductions are the lever we have to affect the other nations & their 85% of emissions.
20/
But enough on cost. Let's talk about d) Is it actually passable?

Maybe the point of the GND is to move the Overton Window
..or for the GND to serve as an extreme starting point for negotiation with the GOP.
But, from my POV, the
#GreenNewDeal
makes it *harder* to pass good climate legislation, not easier.
21/
In fact, the US has some very important climate legislation, that has had somewhat bipartisan support, and that was pivotal in getting us here.
- The Federal solar and wind tax credits (ITC & PTC)
- Federal EV tax credit
- Renewable Portfolio Standards in 29 states.
22/
These pieces of legislation work because they avoid highly partisan fights. Climate in the US is *extremely* partisan. Clean energy is not. In survey after survey, solar is America's favorite energy. 75+% of Americans support bills to build more solar.
23/
In a world where the GOP has a Senate majority, or where the Dems may even have a small majority, but not 60 seats (and the filibuster stays), you need some GOP Senators on board to pass legislation. The GND seems engineered to make that extremely difficult to achieve.
24/
The
#GreenNewDeal
's linkage of climate / energy policy to federal jobs programs, basic income, and healthcare may or may not make moral sense to you. Whether it does or not, that linkage makes it *much harder* for any Republican to support. Why do that?
25/
IMHO, the
#GreenNewDeal
makes that linkage because it's intended as a rallying cry for the left, rather than as a policy proposal that actually has a chance of being passed.
26/
What sort of climate policy could we pass, with bipartisan support? Well, the ag and industrial policies I mentioned are passable. Don't think so? Consider that, under the GOP congress, ARPA-E got it's *largest ever budget increase*
solarpaces.org/us-clean-energ…
R&D is popular.
27/
Farm subsidies are popular. Industrial subsidies and tax breaks for new equipment are popular. Just bundle those up to be focused on carbon-free farming and carbon-free manufacturing.
28/
What would bipartisan electricity, transport, & heating policy look like?
- Permanent extension of solar ITC, and wind ITC same as solar.
- Fast-track new electricity transmission.
- Extend the EV tax credit & remove the cap.
- Tax breaks for heat pumps & building efficiency
29/
In short, there are ways to structure a policy that drives reduction in US carbon emissions, and that *develops and drives down the cost* of the *new technologies* we need for carbon-free industry & agriculture, without picking an ideological fight that you're likely to lose.
30/
I will close this by saying I hope I'm wrong, and that
#GreenNewDeal
serves as a good negotiating tactic or movement of the Overton window, and that it drives some actual passage of useful climate policy. Meanwhile, I hope I've given you a new lens to see policy through. fin/