Well it's all happening today.
@UKandEU
have also published your must-read guide to the backstop here:
ukandeu.ac.uk/brexit-and-the…
(1)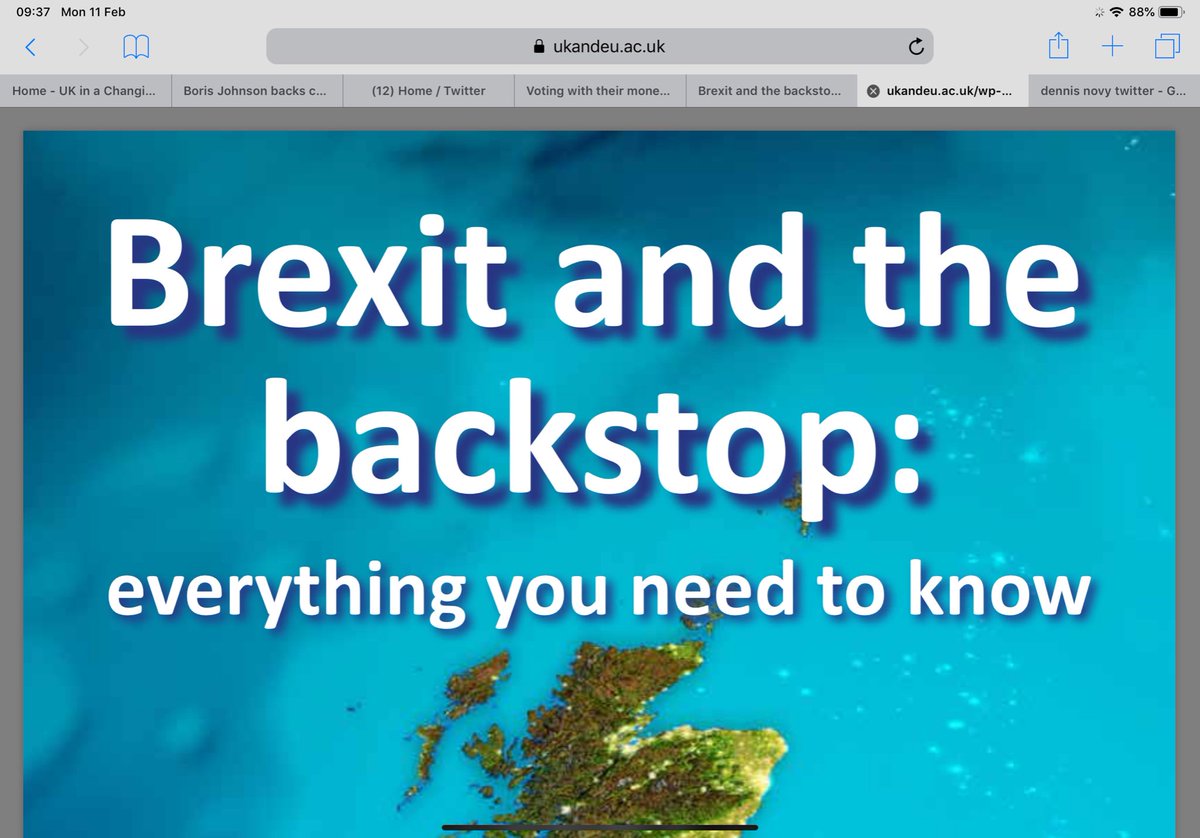 For the sake of lazy people, a quick summary of what's in it.
(2)
@hayward_katy
and I (her name has been cunningly removed from it, for which apologies) points out how central the backstop is, but hints at fact that the politics is moving, not least as there appears to be a majority in parliament who would accept it (H/T
@DrAlanWager
).
(3)
Next
@DPhinnemore
provides a one (back)stop shop to explaining what precisely it is and why we've got it.
(4)
As if that weren't enough excitement,
@matt_bevington
and I then look at the tangled history of the backstop - where it's come from and how the argument has developed.
(5)
Not content with that, Matt then wrote a whole other piece, illustrating with historical examples how and why the EU has, in the past, proven willing to provide addendums or explanatory notes to treaties to help get them ratified.
(6)
Though - worth stressing - these additional texts have never changed the meaning of the original treaty.
(7)
Next up is
@Usherwood
who argues that there is, appearances notwithstanding, more flexibility to the EU position than is often assumed, though this is flexiblity within strict limits.
(8)
Colin Harvey then explains why the backstop is needed, why it seeks to conserve and protect, and the he reminds us that the current text reflects the significant input from the UK that went into it.
(9)
And then,
@MaryCMurphy
provides a fascinating account of what the various sides - crucially not just in London - think of the baskstop and why it enjoys widespread support in NI
(10)
John Garry then argues that public opinion in NI is strongly supportive of the softest possible Brexit, which would obviate the need for the backstop at all.
(11)
Graham Gudgin explains the Malthouse Compromise, where is comes from and why it is a plausible solution to the border issue
(12)
Followed by
@hayward_katy
who - shocker - disagrees and argues that Malthouse has no future and is not the solution Graham claims it is.
(13)
After which,
@CSBarnard24
argues there is little if any evidence that experience from other countries provides succour for those who argue we can use technology and other wheezes to sort the border out.
(14)
And to round it off,
@hayward_katy
(her again) discusses what no deal would mean for the border.
(15)
All in all, a must read guide to the backstop, hopefully written in a way that is easily accessible to everyone. So download it and share it! (END)