The first, obvious thing: fund more transit. There are a lot of good transit projects waiting in line for federal funding.
Also, pay more of the cost of these projects: highways get 80% federal funding; transit only gets 50%. The federal government is currently incentivizing states and metro areas to spend their money on highways.
A less obvious change: legislation has set up a highway funding process that treats states as partners, with the feds trying to help them get as much built as possible. But it treats transit agencies with suspicion, making them prove repeatedly that their projects make sense.
Those funding criteria lead to irrational outcomes, like rail in Dallas going right past the runway at Love Field but not going to the terminal. The locals wanted to serve the airport, but federal cost-effectiveness requirements prevented them from doing it, even with local $.
Federal "environmental impact" rules also make it hard to build transit in the right places. Removing parking spaces or slowing down cars is considered an environmental impact. But the sprawl caused by new highways is not considered an environmental impact.
In my book "Trains Buses People" (
trainsbusespeople.org
) I show how a lot of transit actually avoids the places where transit will be the most useful to the most people. Federal rules are part of the reason for that. The Green New Deal could rewrite those rules.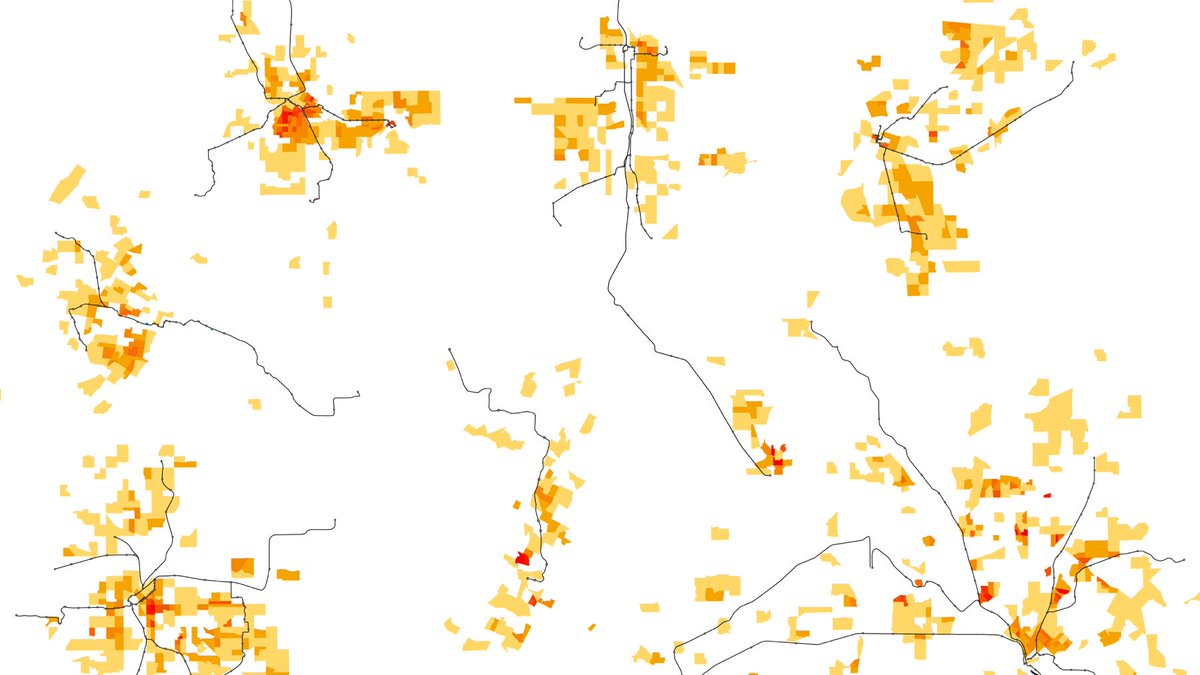 Funding criteria can be good, though. Federal rules could encourage cities to build transit where it will do the most good (and help the environment the most), in dense, walkable places.
Green New Deal could also set up automatic funding for good projects so they don't have to go through the competitive process. Want to build bus lanes on your busiest bus route? Here's your $. Shelters on a frequent route? Here's your $. Accessible subway station? Here's your $.
And let's have really easy federal funding for sidewalks and crosswalks — we need lots of those.
The feds can also be sources of expertise and technical standards as they always have been on highways. Federal bus stops standards? Uniform bus sign standards? Pre-engineered BRT stops that can be built quickly to standard designs?
And federal R&D to make transit more efficient — better wheelchair boarding and tiedowns, automatic BRT bus docking, fare card standards so systems don't have to pay $$$$$ for buggy proprietary systems.
Finally, what about operations? The federal government only pays for building transit, not running it. That could change. The federal government can fund massive Increases in frequent service, weekend service, overnight service.
We know what makes transit successful. (good data here:
transitcenter.org/publications/w…
) The federal government could do a lot to give a lot more Americans the option to use great transit to go where they need to do. That helps the environment; it also helps people.
We also know what holds transit back — governance issues, bad decision making, focus on the wrong goals, ridiculously high construction costs. The feds can do something about all of those.
Are these good ideas? What's most effective? What hasn't been suggested that could be transformative? We need to have that discussion, now. Transit should be part of the solution to a massive global crisis, but that requires people who understand transit to speak up.