The rally was held at Texas Southern University, an HBCU in Houston's 3rd Ward. We arrived about 15 minutes before start time and the line was not only long but tremendously diverse.
Kamala was introduced by former Texas Senator and current Harris County Commissioner, Rodney Ellis. He touted her position on bail reform, first and foremost.
Emphasis on HARRIS COUNTY. 🔥
Kamala never mentioned Trump's name but everyone knew exactly what (and who) she meant when she said "this isn't who we are".
Kamala said the key to having tough conversations is honesty, then preceded to speak a number of inconvenient truths. She began her litany of truths with economics.
Kamala on climate change and school shooting drills....
More on gun reform and Black parents having "the talk" about police brutality with our kids...
Kamala on how we have more things in common than what separates us..
Kamala on the aspirational nature of the American people and our quest to live up to the noble ideals in our country's founding documents. An acknowledgement that we aren't there yet but our greatest strength is in fighting to get there.
"We are gonna talk about what we did" in this moment, not just how we felt.
#ExpectUs
🔥🔥🔥
I was too busy fangirling to record it but ICYMI Kamala also unveiled her proposal to give teachers a $13K/yr raise at the Houston rally.
Funny tidbit, there was a White dude standing next to me who by all outward appearances could've easily been a Trump supporter. Admittedly at first glance my friends and I whispered to each other that we hoped he wasn't there to heckle or start shit....
When they started passing out signs, I said aloud that I wanted the one that read "Kamala Harris for the People" and he leaned over and said "it's a totally cool play on how as prosecutor she introduced herself as for the people, I want one too". Never judge a book by its cover..
Honestly I can't even say I'm surprised at the spectrum of people Kamala's rally brought together though, it was reminiscent of both Obama and Hillary and it was both comforting & optimistic at the same time. Don't ever let the MSM convince you the coalition isn't alive and well.
Having said that, I have no reason to believe that Beto won't bring out a similar crowd when he holds his rally at TSU tomorrow and I imagine that many of the same people who showed up to hear from Kamala want to hear directly from him too.
We chatted w/some middle aged White ladies in the bathroom line after the rally and asked them what they thought of Beto. Their response was literally "meh". They said of course they'd vote for him if he's the nominee but their yearning for a woman atop the ticket was palpable.
I think the pundit class woefully underestimates the degree to which so many Democratic voters STILL want the nominee to be a woman and simply just DGAF if conventional wisdom holds that any and every White dude running is a "safer" pick by default.
Moreover the declared women in this race are extremely qualified and well spoken about their visions for the country and the policies they're putting forth, so it's bullshit for folk to keep pretending like the support they're garnering isn't based on merit or unique perspective.
It was clear from my vantage point that Kamala's message resonated very well with the crowd, it wasn't so much her or our identity that mattered, it was the values she was espousing that stood out and I think that aspect will continue to serve her very well on the campaign trail.
Lastly, it wasn't lost on me that Kamala's backdrop included the words "fearless justice". Those 2 words alone encapsulate not only her legal career but the threat she undoubtedly poses to Trump and the racist/misogynistic status quo, and she KNOWS it. 🔥
#sheaintscared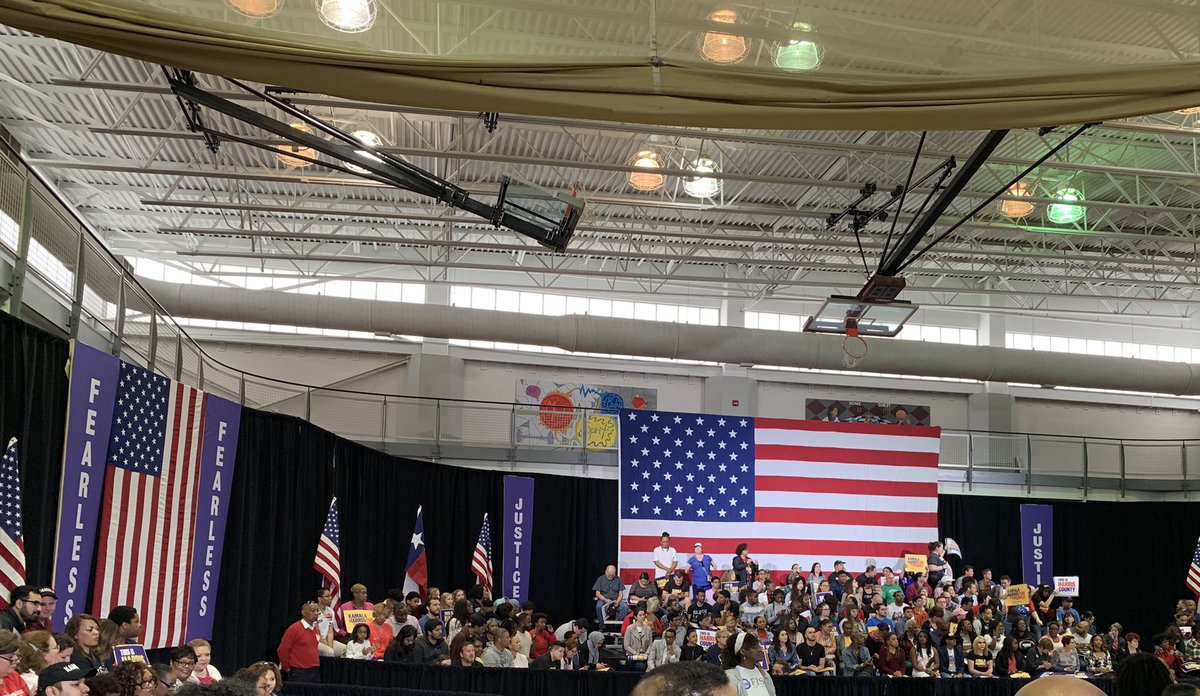 If she isn't afraid, why are you?
Seriously, if these women have the talent, temerity, tenacity and temperament to accomplish storied careers and seats in the Senate PLUS the courage to run for POTUS after seeing how disastrously Hillary Clinton was treated, how dare you be too afraid to follow their LEADERSHIP.
I cannot & will NOT be bullshitted into believing the slate of Democratic women candidates for POTUS are less visionary, competent, relatable or likable than the slate of White dude candidates on both sides of the aisle who are out here insulting/alienating us every damn day.
Bottom line is if you're interested in hearing more from the candidates in this race who aren't White men, you're gonna have to attend their rallies and/or google the videos online so you can hear/see them firsthand b/c the MSM won't cover them worth a damn.
Share your rally pics and videos online when you go too. If the MSM won't cover us we can cover ourselves. Hell yes we can.