Today we're expecting a massive transit plan update from city staff, including a much anticipated report on the Scarborough subway. It will be posted here:
app.toronto.ca/tmmis/viewAgen…
. Mayor Tory is speaking to reporters at 10AM. Follow
@BenSpurr
,
@dmrider
and I for updates
It is worth noting at the outset that the sum total of these projects, based on the earlier estimates, is many billions of dollars of which the city has only figured out how to finance a small piece. We're looking for cost and schedule updates, any identified construction issues
But also we're looking to politicians for a pretty key thing: how will you pay for this?
The report is up. City staff are recommending council go ahead with the $3.9B one-stop Scarborough subway only if — and this is a big if — the province provides written support of that plan and re-commit to funding it
City staff have interestingly started calling the Scarborough subway the "Line 2 East Extension Project". We will not be calling it that.
It seems very likely, as it appears even staff anticipate, that the Scarborough subway is going to be delayed
Meanwhile, staff have not identified any funds for the Eglinton East LRT that Tory and Keesmaat promised council and the public could be built, my colleague
@BenSpurr
points out. There was once a "peace in the land" plan for Scarborough, as
@joemihevc
once said. Now there is not.
Staff are recommending to return during the 2020 budget process with schedule and costs of the Eglinton East LRT. In 2016, council was told the line could be done in 2023, with construction starting in 2020. Without funding, it appears that schedule will slip
First line of the attachment on the Scarborough subway: "After more than 30 years of service, the vehicles that run on Line 3 Scarborough are reaching the end of their normal lifespan."
(Staff are really digging in on this new name, even abbreviating it to "L2EE")
Staff continue to say the one subway station for Scarborough will have a Field of Dreams kind of effect: "Scarborough Centre Station will act as a catalyst and support development in the Centre."
Staff now think, if the one-stop actually goes ahead to construction as of this report to council - which, again, that is a big if - that the project could be done between Q4 2026 and Q4 2027. That has slipped from Q2 2026. But finishing the bus terminal would take until Q2 2030.
Keep in mind that the TTC is trying to extend the life of the SRT by 10 years. We don't know if that will work for 10 years. That puts the SRT right up against a potential opening of *this* subway plan that is not the subway plan the province wants
Assuming the province refuses to commit their support to a one-stop plan, it is not clear how long it will take for staff to assess the costs and schedule of the three-stop option. It is also not clear how the additional costs would be funded.
Staff are now acknowledging in this report that the cost estimates of the one-stop subway provided to council in March 2017 were "less than 5% design". Staff previously insisted it was at 5% when internal reports I had showed it was not even that for along
thestar.com/news/gta/2018/…
Staff also tried to claim that the subway and LRT, at the point it was scrapped, were at similar stages of design. That was not true.
thestar.com/news/city_hall…
The auditor general later concluded that staff did not purposely mislead council. I have identified in that story above how council, nevertheless, was misled.
New charts acknowledge what I earlier reported, that the estimated cost of the one-stop Scarborough subway was $4.1B+ in March 2017 - $500M+ more than the city had available. This was never explained to council at a critical moment before an election
thestar.com/news/city_hall…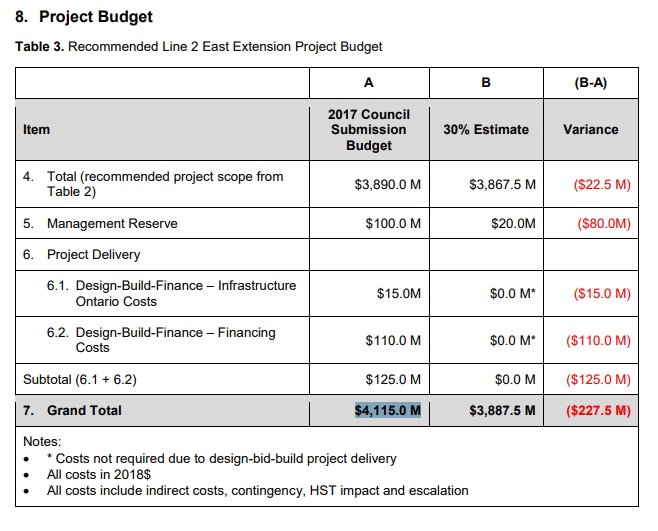 The math in that chart assumes that the province's earlier commitment of $1.48B in 2010 dollars is a) still committed by the province for this project b) the province agrees it escalates to current dollars of $1.99B. Previously the Liberal government argued it was just $1.77B.
I want to pause to talk about some very important things council was told about the Scarborough subway at a key moment when they had to vote on whether to move forward with the 1-stop plan, ahead of an election where Tory planned to champion that subway
When council voted in March 2017 to move ahead with the Scarborough subway they were told:
- It was at a similar level of design as the cancelled LRT
- It would cost the same as the LRT
- It was still within budget
Now, 2+ years after that vote, staff have acknowledged:
- The subway was "less than 5% design" (when the LRT was at 30%)
- The subway was actually estimated to cost $3.87B when you factor in SRT costs - which they didn't, and didn't tell council
- The subway was over budget
It's very important to note the politics of this - whispers that pro-subway councillors would balk at the subway being over budget or hitting $4B; former TTC CEO Andy Byford later saying going over the $3.56B should trigger a re-opening of the subway versus LRT debate