1/
I would like to share my story of my
#mentalillness
(Bipolar Disorder II) and how I deal with it, to show that mental illness is everywhere, and that someone can have a mental illness and be successful. I hope this story can empower someone and help reduce the stigma.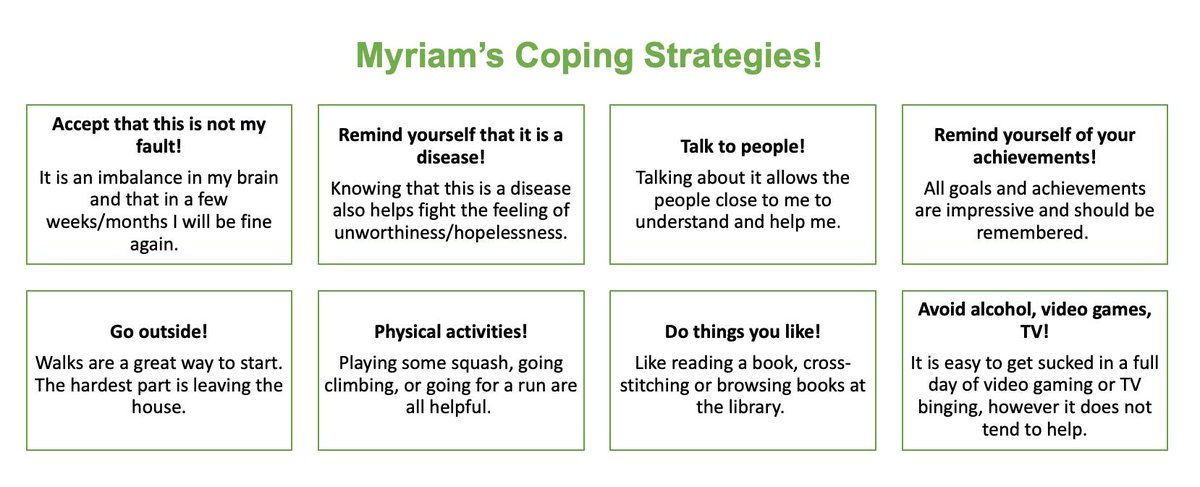 2/
I am a successful PhD student in Chemistry. I am happy, I have travelled the world, I have lived abroad for a year, I am a varsity Squash athlete, I have a BSc in Biochemistry and a MSc in Chemistry. But my biggest success: doing all this while managing a mental illness.
3/
A few weeks ago, I woke up and it took me over an hour to get out of bed. After a day of achieving little at work, I went straight home. I did not feel like my usual after-work walk, I did not want to play squash, I did not want to read a book. I had no energy.
4/
And that's when I realized that I was depressed. Again. Depression is a recurring theme in my life: I was diagnosed with Bipolar Disorder II in 2010 after several years of struggles, which included mania and depression.
5/
When the psychiatrist said the words "you have Bipolar Disorder" I was in denial and shock. I didn't want this; I didn't want the label of "mental illness". He told me how bipolar can be managed, but honestly, I did not want to manage it, I just wanted it to go away.
6/
It took me a while to accept the diagnosis. But once I accepted it, I went all in. It took me years to learn how to deal with the disorder, but in the end I did. It took two years of my life, focusing on myself to achieve this.
7/
I am currently medicated and will be for the rest of my life. I am taking a mood stabilizer to avoid manic phases (it has been 3 years now since I had a manic phase). Unfortunately, the depression cannot be fixed my medication alone.
8/
After years of dealing with depressive states, I have found ways to make the depression more bearable. The first step is recognition of the symptoms: low energy, no will to do things, slow thought process, feeling unworthy, feeling hopeless.
9/
When a depressive state occurs, I turn to my strategies. These strategies come from years of trying different things. Here are some of the most important ones:
10/
Accept that this is not my fault! It is an imbalance in my brain and that in a few weeks/months I will be fine again. Knowing that the depressive state is temporary makes it much easier to cope.
11/
Remind yourself that it is a disease! Knowing that this is a disease also helps fight the feeling of unworthiness/hopelessness. I know that those feelings are not mine but my diseases, and that the feelings are not true.
12/
Talk to people! Talking about my struggles allows the people close to me to understand and help me. When I told my close family and friends their first reaction was "What can I do to help?". Just knowing people are there for me is a great help.
13/
Remind yourself of your achievements! When depressed, I try to remind myself daily of my achievements. Achievements can be as simple as "I read a paper yesterday" or big like "I went to Mt. Everest base camp". All goals and achievements are impressive and should be remembered
14/
Go outside! Walks are a great way to start. It does not have to be a 5-hour hike, but a simple 15 min walk can be therapeutic. It takes A LOT of will and effort to often just leave the house, but once a walk starts it is very helpful. The hardest part is leaving the house.
15/
Physical activities! I am an athlete. I love to work-out and play sports. Playing some squash, going climbing, or going for a run are all helpful. Once the activity starts it's easy to keep going, the hardest part is getting there.
16/
Do things you like! I read a lot of fantasy books, it allows me to let my mind wander. Again, the hardest part for me is starting. I often feel like I don't WANT to read, only to realize I love it when I get started.
17/
Avoid alcohol, video games, TV! It is easy to get sucked in a full day of video gaming or TV binging, however it does not tend to help, therefore I try to avoid them as much as possible.
18/
These are some of small goals for when I am depressed. And I know that there are days I won't be able to reach any those goals and that's ok. There are days when simply getting out of bed is a hard. But when I do make it to the squash court, that is a phenomenal success.
19/
So right now I am in a depressed state. I've got the support of so many people around me. I force myself to go on walks, play sports and I accept that I have an illness. But everything is still 100X harder.
20/
The next steps: accepting that when I am depressed I am not 100% myself. Being ok with changing my expectations. This, I think, will be a great challenge, but I can achieve it with the help of my family and friends.