Toronto Public Health is bracing for more than $1 billion in cuts from the province over 10 years. Mayor John Tory, in one of his strongest statements against Ford's government, is calling the downloading a "targeted attack." My story:
thestar.com/news/city_hall…
These stories are tough when a) the province has quietly announced major funding cuts b) the province is also refusing to confirm any details or explain such cuts. I think it's helpful to talk about that process so, a thread:
After
@joe_cressy
and the city's medical officer of health accepted an invitation to be on a last-minute conference call with province where those changes were detailed, he sent a press release to explain to reporters, to help explain to you, what was happening.
Cressy put out a statement condemning the pending $1-billion cut for Toronto alone after it was understood the call was not confidential and confirming the financial impact with Toronto Public Health.
The province responded by accusing Cressy of fear mongering. Here is
@celliottability
's press secretary in an email to me. Read the statement carefully – it also confirms the downloading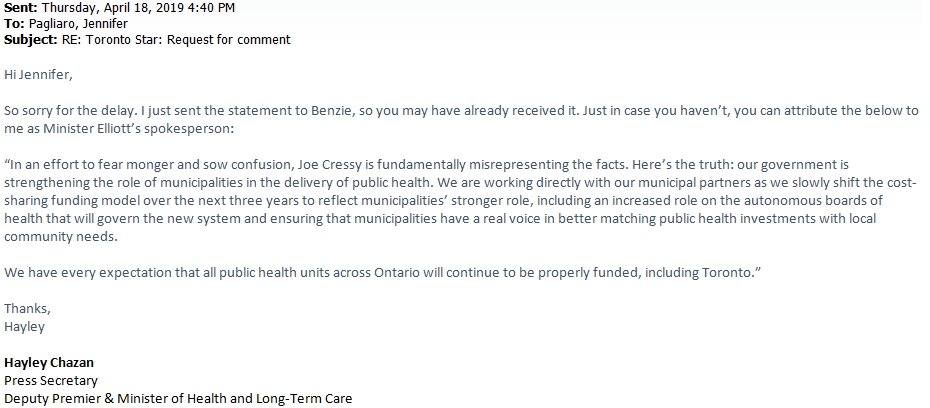 When I asked for an explanation of why they were not willing to confirm the funding formula, Chazan said: "It is our understanding that the call to public health units was confidential, and it would be inappropriate to comment out of respect for all parties involved."
To be clear, it's the province's plan. They have every ability to detail it to the public. The are simply refusing to do so.
Affected programs will include water quality testing, immunization monitoring, prenatal support, overdose prevention, food safety, infectious disease control, student nutrition, and more, said
@joe_cressy
, who noted the evidence supporting preventative health measures