OK, if you want to follow the
#conservativeleadership
race, here is a summary of the declared candidates so far. I've done this as a
#Diversity
analysis i.e. how much they differ from the norm but I also found it a very good way of getting to know their backgrounds
@sundersays
/1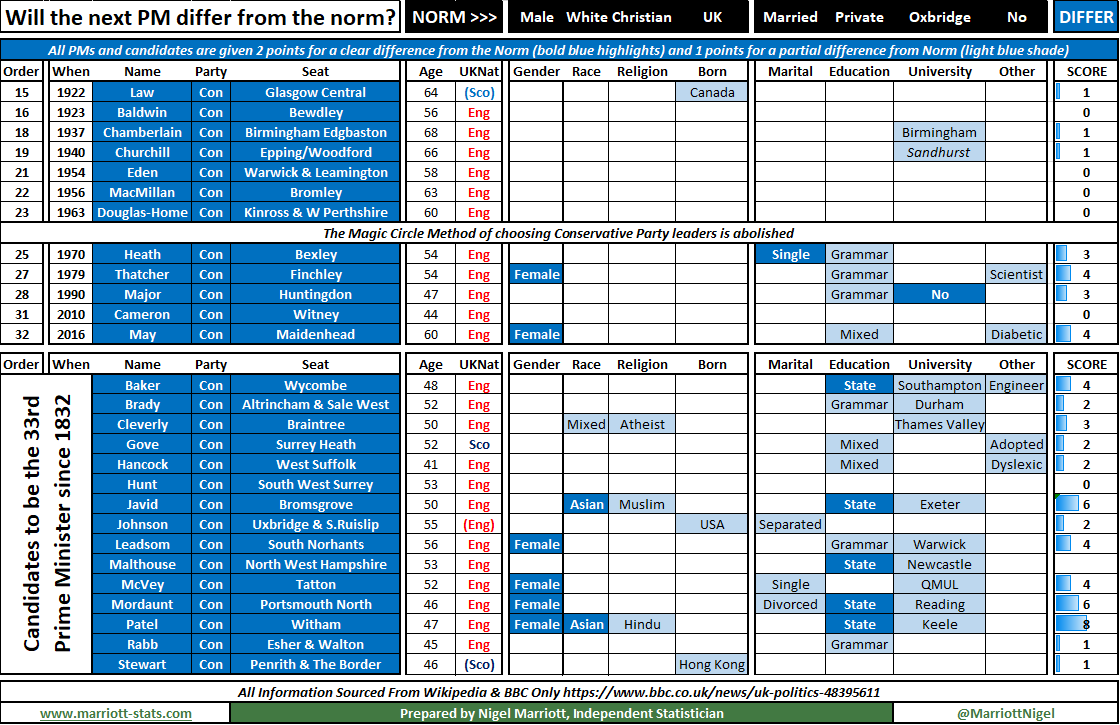 Nominations close on June 10th so if people are interested, I will keep this up to date. Once the nominees are known, I will switch to a political summary instead e.g. voting record, years as MP, etc
/2
Sticking with the diversity angle, it is interesting to see how
#Conservative
Prime Ministers started to diverge from the norm after the abolition of the magic circle and the candidates' Difference from Norm scores are on average similar to their predecessors.
/3
I have seen Tory leadership races be heavily influenced by diversity claims in the past e.g. Douglas Hurd in 1990 desperately trying and failing to show how humble his background was compared to John Major so if this happens again in 2019, Jeremy Hunt might be in trouble.
/4
One diversity point which is implicit rather than explicit are their seats. The last 5 Tory PMs have all represented LON/SE Commuter belt seats and 9 of the 15 candidates do as well. If this point becomes prominent, then Javid, Mcvey, Stewart & Brady will have strong claims.
/5
And finally all candidates are below the median age of 56 for when a Prime Minister first took office. From that point of view, there is little diversity with all candidates born between 1963 & 1974 with the exception of Hancock.
/6
Since I am 51 years old, there is now a 50% chance that I will end up with a Prime Minister younger than me for the first time in my life. I will then be officially old and can legitimately moan about the youngsters messing things up! /end