1/

A brief
#tweetorial
on the calcineurin inhibitors
#CNI
and their toxicities. Let's start with a quick poll.
Which of the following describes the main mechanism of action of
#CNI
?
2/
On to the mechanism of
#CNI
. Calcineurin inhibitors bind to the "immunophiliins" for which they are named. Cyclosporine (CsA) binds cyclophilin and tacrolimius(FK506) binds FK binding protein.
The CNI-immunophilin complex is the superhero which then inhibits calcineurin
3/

Meet calcineurin, whose superpower is a calcium-dependent PHOSPHATASE: enzyme that uses H2O to cleave phosphoric acid into a phosphate ion and an alcohol (read: removes phos)
Normally, calcineurin dephosphorylates NFAT - allowing it to freely swim into the nucleus.
4/
Almost there. NFAT (nuclear factor of activated T-cells), clearly needs to be in the nucleus to activate T-cells! In the nucleus, NFAT ⬆️ transcription of genes required for T-cell activation.
With
#CNI
: NFAT keeps its phos, TRAPPED in cytoplasm, 🚫 T-cell activation
5/

So let's summarize. Calcineurin inhibitors bind immunophilins, which then inhibit the phosphatase calcineurin.
NFAT then remains phosphorylated and can't get into the nucleus for the transcription of T-cell activation genes.
jimmunol.org/content/191/12…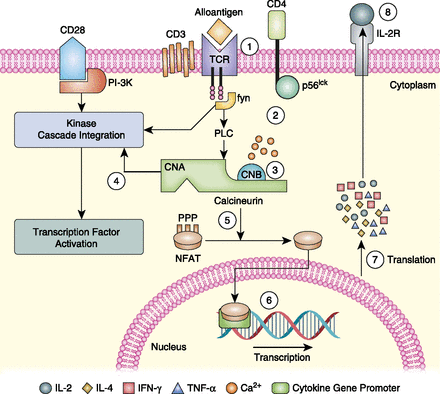 6/

#CNI
have significantly reduced rates of acute rejection in
#kidneytransplant
...but they're toxic too. This mechanism is important and may explain some of these toxicities.
Why?
NFAT pops up in other cell types too...
7/

By interfering with NFAT signaling in pancreatic b-cells,
#CNI
may contribute to new diabetes mellitus after transplant. FK506 is usually more to blame than CsA - which may be explained by the higher concentration of FK binding protein in b-cells relative to cyclophilin.
8/

There's more! Hypertrichosis associated with CsA use may be related to abnormal NFAT signaling in follicular keratoctyes. Oral CsA has even been used to treat alopecia areata!
ncbi.nlm.nih.gov/pubmed/10449964
9/

Interestingly, FK use is associated with hair loss...though the mechanism is unknown.
10/

Let's stop there for now, though
#CNI
can bombard patients with MANY toxicities including:
Acute and chronic nephrotoxicities
Dyslipidemias
HTN
Numerous electrolyte abnormalities
Gingival hyperplasia
Neurologic sx
The take home message here: it's all about the NFAT!