Yesterday,
@AmbLindnerIndia
, Germany's Ambassador to India, visited HQ of RSS - a paramilitary directly inspired by European fascist movements (Hitler's & Mussolini's) both ideologically & institutionally. He is posing w/pic of RSS leader Golwalkar. What did Golwalkar believe?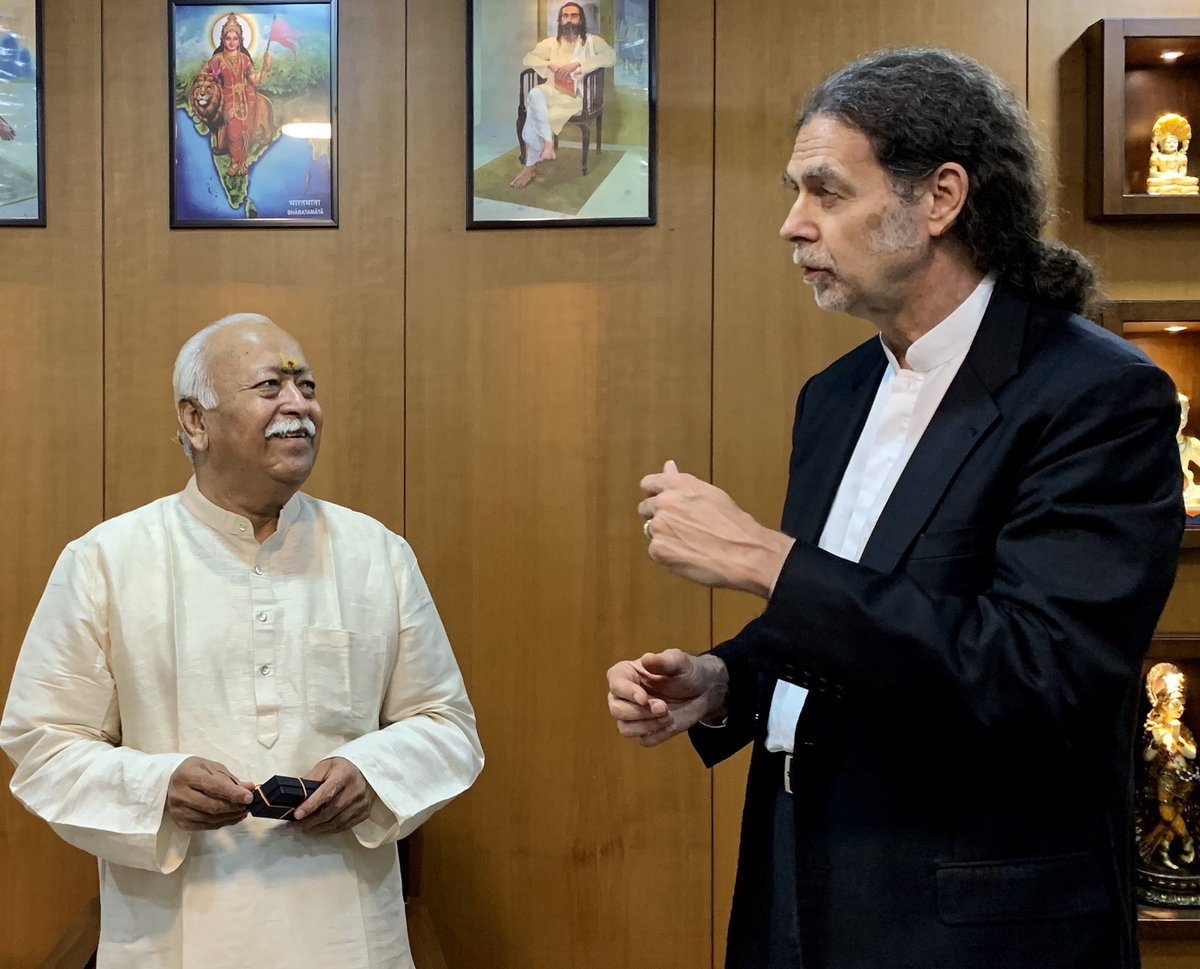 Golwalkar believed that being Indian meant being Hindu. So he wrote, "Only the Hindu has been living here as the child of this soil." Just in case his reader misunderstood his intentions, he also phrased it another way...
... "We repeat: in Hindustan, the land of the Hindus, lives & should live the Hindu Nation." Golwalkar thought the only true Indian "patriots" were people who aspired to "glorify the Hindu race and Nation," claiming, "All others are… traitors & enemies to the National cause."
He called it "treason" for Indians to convert away from Hinduism, writing, "It is not merely a case of change of faith, but a change even in national identity. What else is it, if not treason, to join the camp of the enemy?" In 1939, as WWII broke out in Europe w/Nazi invasion...
... of Poland the Nazis invaded Poland, Golwalkar detailed the RSS's vision for an ethno-state: "The foreign races in Hindustan must either adopt the Hindu culture and language, must learn to respect and hold in reverence Hindu religion, must entertain no ideas but those of...
... the glorification of the Hindu race & culture, i.e., of the Hindu nation, & must lose their separate existence to merge into the Hindu race, or may stay in the country, wholly subordinated to the Hindu Nation, claiming nothing, deserving no privileges, far less...
... any preferential treatment — not even citizen's rights." Declaring that "our Race Spirit has once again roused itself," he compared this new racial consciousness to that washing over Nazi Germany. "The ancient Race Spirit, which prompted the Germanic tribes...
... to over-run the whole of Europe, has re-risen in modern Germany." Denouncing Judaism as "an intolerant faith," he wrote, "To keep up the purity of the race & its culture, Germany shocked the world by her purging the country of the Semitic races — the Jews....
... Race pride at its highest has been manifested here." He concluded that Germany had set a good example by showing how it was supposedly "impossible" for different "races and cultures" to be "assimilated into one united whole."
... Thus, Golwalkar proclaimed the Nazi policy towards the Jews as "a good lesson for us in Hindustan to learn and profit by." Stepping to the beat of a marching band, columns of 100s or even 1000s of RSS members regularly parade through the streets of...
... India's cities, towns, & villages. Neatly uniformed & armed with lathis, they often perform intricate maneuvers. Gathering for special rallies at massive parade grounds, 10s of 1000s at a time turn out to drill with militaristic rigor. They salute a saffron flag, do yoga...
... chant slogans, and perform weapons exercises beneath the glare of the blazing hot Indian sun. RSS leaders watching from the high stages invariably stand in front of large — often garlanded — pictures of Golwalkar and Hedgewar. Read more:
raiot.in/white-national…
Now over 600 signatures on the petition demanding that
#WalterLindner
resign (or be recalled) as Germany's ambassador to India after meeting w/RSS & being pictured with Nazi supporter MS Golwalkar.
change.org/p/german-forei…