1.
Okay, so this is my second thread about our big story on fast warming in the U.S. Here, I want to address the rather dramatic findings about winter that we report
washingtonpost.com/graphics/2019/…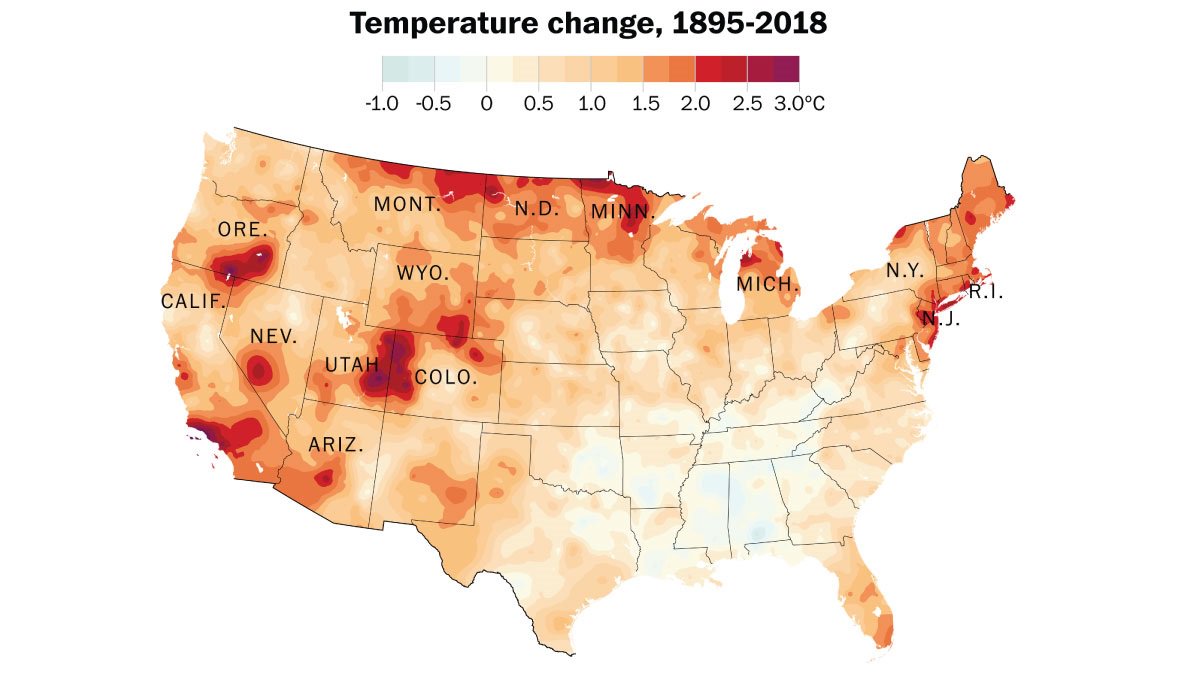 2.
In the Northeast, we found that winters tend to be warming up the fastest. In fact, we found that this is something present across much (although not all) of the country.
3.
And for our fastest warming states in the lower 48 -- Rhode Island and New Jersey -- they would not be at or near 2 degrees Celsius (in NJ's case) if they were not well over that level of warming during the 3 months of winter (December, January, February).
4.
So what's up with this? Well, first, climate scientists have long said that cold places (the Arctic), cold seasons (winter), and even cold times of day (nighttimes) tend to warm faster. And this is what we see in the
@NOAANCEIclimate
data.
5.
In fact this is particularly impactful in New Jersey because as it has warmed, the average winter temperature has actually crossed the freezing point -- meaning that the average temperature across December, January, and February is now higher than 32F (or 0C).
6.
To be clear, that is only an average across 3 months. There will still be many freezing days. There will still be snow, ice, etc.
7.
Also, don't forget that climate change adds moisture to the atmosphere, and in the right context, this can actually increase the volume of snowfall. Climate change may also be messing with the jet stream and polar vortex, leading to occasional extreme cold events.
8.
So the warming of winter comes with several caveats. But it's still clear in the data.
9.
Here's maybe the biggest thing, though. For the U.S. Northeast, while winters are clearly changing, we are not quite sure if this is itself playing a role in the fast warming of the region.
10.
There could be a feedback occurring in which less snow and ice on the ground lead to more solar heating of the ground, leading to more warming…which could lead the northeast to be warming faster than other regions.
11.
But the scientists with whom I spoke weren't positive this was the cause of disproportionate warming in the Northeast -- though all generally thought it was a possibility.
12.Still, the changing winter temperatures are there in the data, and they are big. And it's clear that the impacts are also big, whether it's new insect species, like the southern pine beetle, being able to extend their range into New Jersey due to the declining cold....
13.
....or whether it's the transformation of Lake Hopatcong, once an ice factory, into a lake that still freezes sometimes, but much less dependably.
14.In
any case, the winter-amplified warming is set to continue. A key study by Ambarish Karmalkar and Raymond Bradley finds that the northeast will be about 3C when the US is 2C, and the northeast winter by then could be 3.5C.
journals.plos.org/plosone/articl…
15.
This study, incidentally, uses climate models in a way that validates the idea that the northeast is indeed a climate warming hotspot. If the models produce this result then one could infer there are physical mechanisms that amplify the general warming trend here.
16.
One might be a feedback due to winter and the loss of snow and ice, leading to a greater reflectivity of the ground surface.
16.5. Correction, I meant a *declining* reflectivity of the ground surface.
17.
But there is also rather extraordinary warming off the U.S. east coast due to a Gulf Stream shift. This warming itself reaches 2C in many global climate datasets. And that also could be influencing the land temperatures, experts told us.
18.
There could also be other factors at play here – this remains a topic that needs to be more thoroughly studied. We have the warming in the northeast, and it is stark, but we don't fully understand the causes.
19.
As with much when it comes to climate change. By the time the change arrives, often enough, you are only beginning to try to understand it.
#end