construction. On Twitter, Chuck Schumer accused POTUS of using the funding "to boost his own ego" for a wall that he promised Mexico would pay to build."

To my followers from Mexico:

This thread is not intended to offend you. It speaks of American strong-dollar policies. American conservatives support returning Mexico to the rule of law under its new President. We share your desire for justice in a new Mexico free from corruption
And so Chuck Schumer is out in the press, accusing POTUS of not delivering on promises, again. Yet his arguments are so factually imprecise, it's laughable.

One would hope that during Schumer's 45 years in politics, he would have picked up an economic advisor along the way.
Whenever I publish threads, a bunch of nice people take the time out of their day to send messages about missing sources or citations. So, here's an article for the "citation technicians" to use in your fact checking research.
mises.org/wire/why-trump…
To quote the previously referenced article, "Alarms went off...as Trump spoke about renegotiating NAFTA, tax remittances, and threatened to build a wall between United States and Mexico."

Therefore, even the mere -mention- of the border wall caused the peso to sink. (continued)
It is true the U.S. is still running a trade deficit with Mexico. However, despite net cash flow, Americans are paying, in many cases, ten to twenty percent less in American Dollars for goods imported from Mexico than they were before Trump took office.
ustradenumbers.com/country/mexico/
Let's multiply those strong-dollar discounts using a low estimate for the sake of simplicity, with 2018's numbers from the above source

2018 imports from Mexico: $180 billion, $18 billion saved.
2018 exports to Mexico: $129 billion, $13 billion gained.

Net benefit: $31 billion.
And those numbers are rough, low-end estimates about the overall trade relationship favoring Americans, in the trading relationship with Mexico, for one year. We are in the third year of Trump's Presidency so it could be argued, again for the sake of simplicity, that
U.S. consumers have derived $100 billion or more in trade benefits with Mexico, thanks to
@realDonaldTrump
's strong-dollar policies, since taking office. Remember the initial reaction of the Mexican Peso in the international currency markets was caused by Trump merely mentioning
his proposed border wall -- many articles can be found that evidence the connection between the wall and the decline of the Mexican Peso vs. U.S. dollar gains.

It is incredibly significant to American consumers, and fulfills Trump's promise to voters to put America first.
Did you know that the Mexican economy is so large, powered by more than 130 million Mexican consumers, that Mexico became the United States' top trade partner this year? Disbelievers, read the article.
forbes.com/sites/kenrober…
My followers know I've written a lot about how the Mexican economy has experienced growth in recent years. It's true!
The "Peso" currency is a top world currency now. Ninth most traded currency in the world. Mexico people, you can be proud of that!
investopedia.com/articles/forex…
According to the investopedia article cited above, "the Trump Presidency is having a detrimental effect on the peso..as of March 2017, had fallen by 12% since the U.S. election of 2016. Trump's rhetoric..is causing the currency to trade idiosyncratically"
investopedia.com/articles/forex…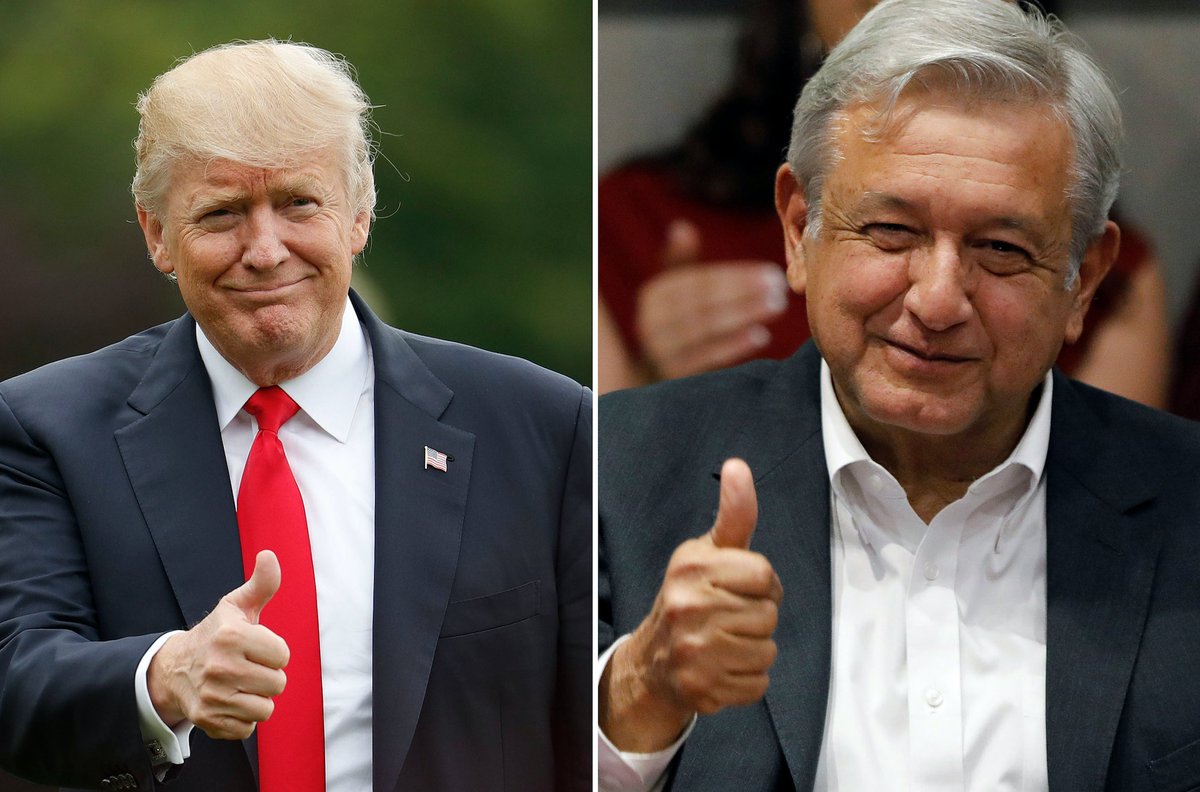 advocating for international trade with our partners in a way that stimulates global business favoring U.S. interests. This is no easy balance. What POTUS says on the daily news can, and often does significantly affect currencies. He knows what he's doing.
nytimes.com/2019/07/26/us/…
Now, understanding the data set forth by this thread, consider the statements made by Rep. Adam Schiff about Trump's border wall.

Rep. Schiff pointed to $3.6 billion authorized by the Pentagon, calling Trump's wall a "xenophobic vanity project". Schiff fails to understand
These threads generally produce controversy, angry folks like to write and say it's all wrong (it's not)

Mexican followers, don't be discouraged. I'm sure this is all taking us to a good place in the future as our Presidents are restoring confidence on both sides of the border.