Happy Monday! China data dump in 1hr for retail sales, FAI, IP. Eyes will be on FAI & the real estate. IP is expected to edge up. BOJ, Taiwan & Indonesia central bank this wk right before the Fed decision at 2am Thurs. We expect Bank Indonesia to follow the Fed w/ a 25bps cut 👈🏻.
Ouch. That is a big miss! Yikes!
IP 4.4%YoY vs 4.8% previously & lower than 5.2% expected. Fixed asset investment also disappointed with 5.5% growth from 5.7% & exps of 5.7% (this is closely watched as it means future growth weaker); retail sales also lower at 8.2%
😬
#china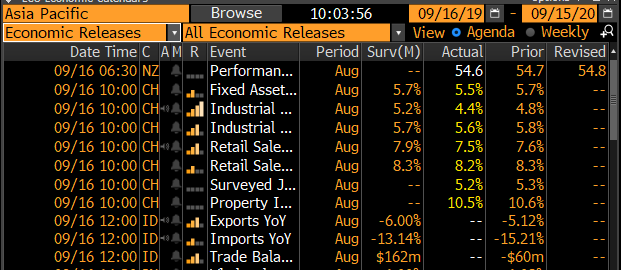 Notice that the HARD data (real economic data) shows that things are HARDER than SOFT data (service PMIs show a bounce!!!).

This is why it is important to watch HARD data, which mirrors manufacturing PMI.

Tightening purse strings & so don't expect China demand to lift u up!
Indonesia exports FELL -10% in August & imports collapsed by -15.6% from -15.2%. Did u know that current account deficit economies have imports FALLING more than current account surplus economies? That can only mean 1 thing - a strong USD is tightening financial conditions of CAD
Meaning, Indonesia growth is under pressure & despite the whole oil shock to Asia & slightly higher CPI, Bank Indonesia will likely cut by 25bps this week.

This is my call & I am sticking by it!
Buyers WANTED! Import growth in Asia in August (more like lack of one). Indonesia leads the race to REDUCE IMPORT DEMAND. Not good news for heavy exporters:

🇮🇩 Indonesia -15.6% 🥶
🇮🇳 India -13.5%🥶
🇨🇳China -5.6% 🥶
🇰🇷South Korea -4.2% 🥶
🇹🇼Taiwan -2.7% 🥶

🇻🇳Vietnam +7.5% 🤗