At Thanksgiving, the man I was most thankful for died at 77. My dad was active, energetic, hilarious. He was the one who always caught his children and grandchildren when we fell.
We never thought *he* could fall.
As it goes with South Asian kinfolk, dozens of devastated friends and family arrived at our home within hours of his passing to comfort and feed us, wishing us strength and courage "to get through this most difficult time."
So I traveled from Edmonton to Vancouver to stand by my cousin as he buried his father like he stood by me while I buried mine not a week earlier.
Having seen way too much food between these two funerals (typical South Asians) and having miscalculated how much to order after the second one (atypical South Asians), we had dinner for 40 that we wanted to give away. So headed to
@InsiteVan
in the DTES at 1 a.m.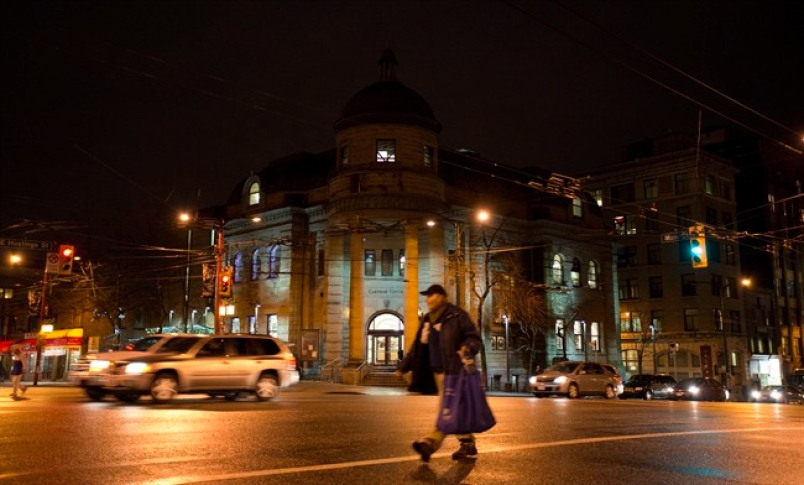 About 20 people were huddled outside as we pulled up. One fellow approached our car, opened the passenger door, introduced himself as "the welcome wagon," and laughed. We asked him where Insite's Chill Room was, and he kindly pointed toward their door.
As my cousin and I carried boxes of food out of the trunk, the rest of the group came over, now curious. We told them where the leftovers came from. One woman suggested we should keep the food so our grieving family didn't have to cook for a while.
"We don't really want to eat any more. This is our second funeral this week," we explained.

"It's the worst when they happen in bunches," she said. They all nodded. They knew.

She put her hand on my shoulder. My head sunk. She hugged me. Then they all did, one after another.
While these folks and those inside Insite all offered condolences, no one suggested we could "get through this most difficult time." They know better than most: when you lose the people who accept you - the ones who gave you your life or saved it - there's no 'through.'
When our friends and extended family hugged us, it said, "We're here for you." It was comforting.
When the people in the Downtown Eastside hugged us, it felt like they were saying, "We're just like you." It was validating.
Instead, Penticton spends $30,000 to prosecute a man for panhandling (ordered to pay a $145 fine after all that) because he's "a nuisance in pedestrian breezeways."
globalnews.ca/news/5659337/c…
My points are these:
1.
I think losing our people is hardest because they're the few who accept us for who we are. We should have more people like that.
2.
Some stuff you don't get 'through'. Pulling yourself up by your bootstraps can be as impossible figuratively as it is literally. (It physically can't be done. It's a stupid phrase.) The people outside Insite gave us permission to feel hopeless for a bit. That was everything.
3.
Leave nothing unsaid to your people. Trust me.
4.
'Tis the season to give. So give. But also go hang out for a while with people in communities like the
#DTES
. Yes, they need urgent, meaningful help to solve homelessness. But the rest of us could use some help figuring out how to act like a community, and that's how they roll