Thread on
#Georgia
@GaDPH
Mar 13 Interim Guidance for Clinicians Evaluating, Reporting, and Requesting Diagnostic Testing for Possible
#COVID19
Cases
#coronavirus
#publichealth
. Original document available at
dph.georgia.gov/document/docum…
. I've archived it here
drive.google.com/open?id=1QKgAt…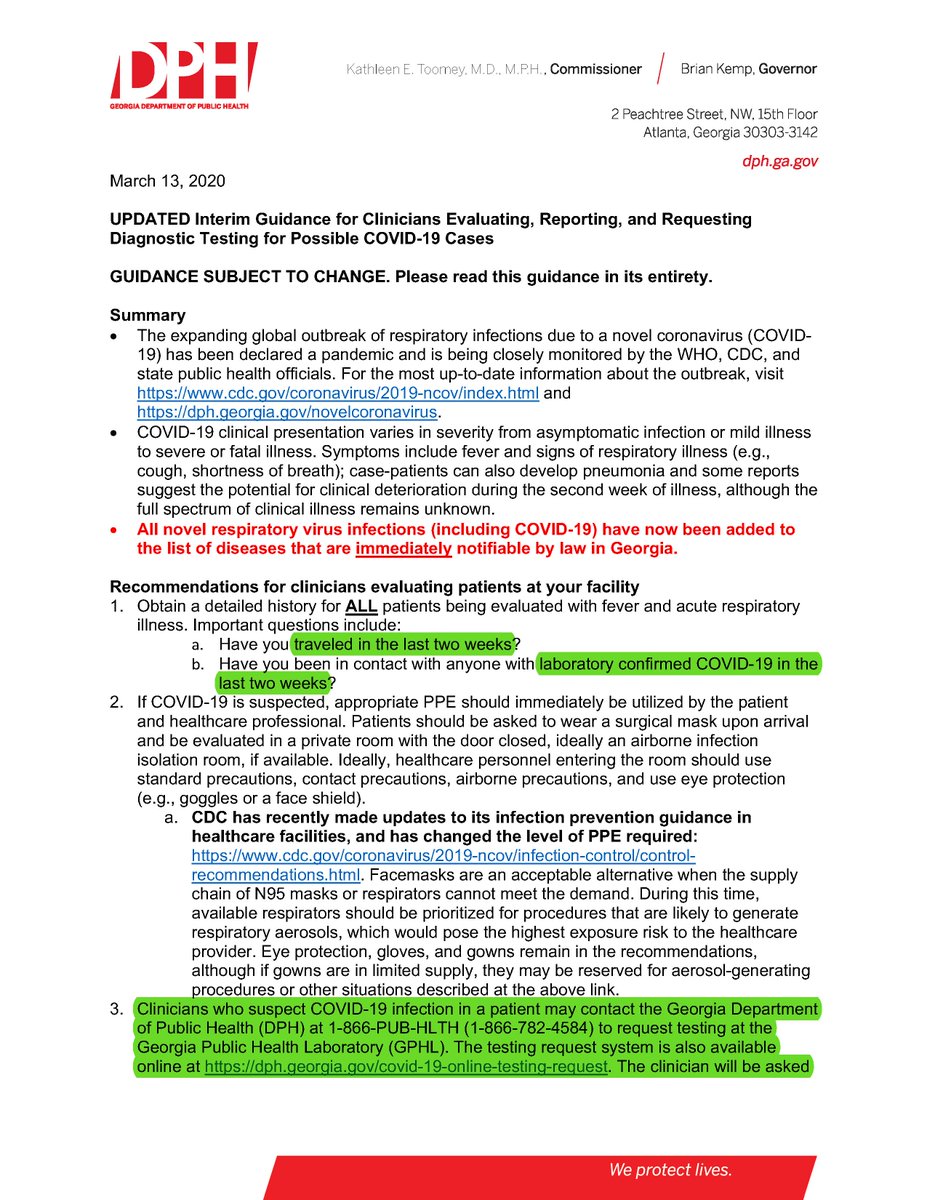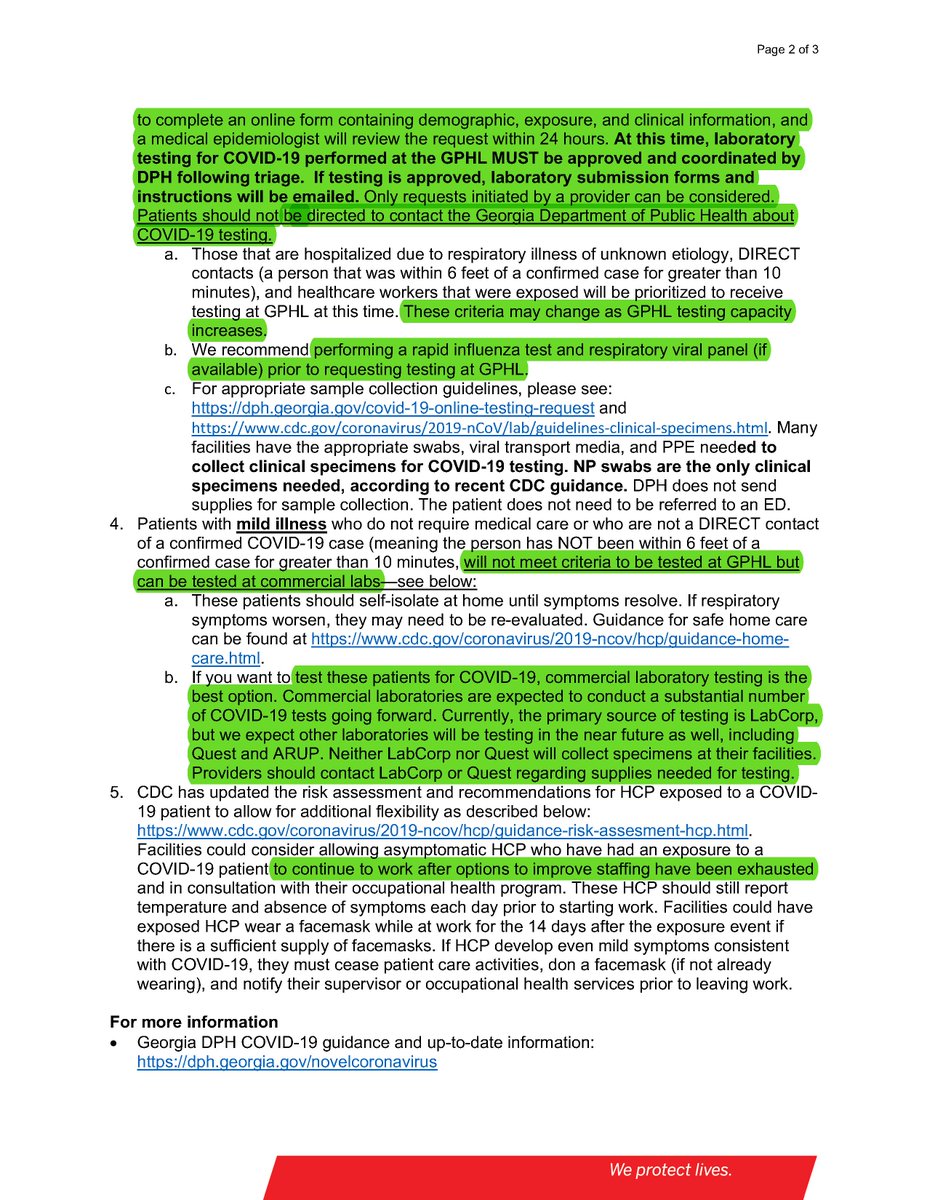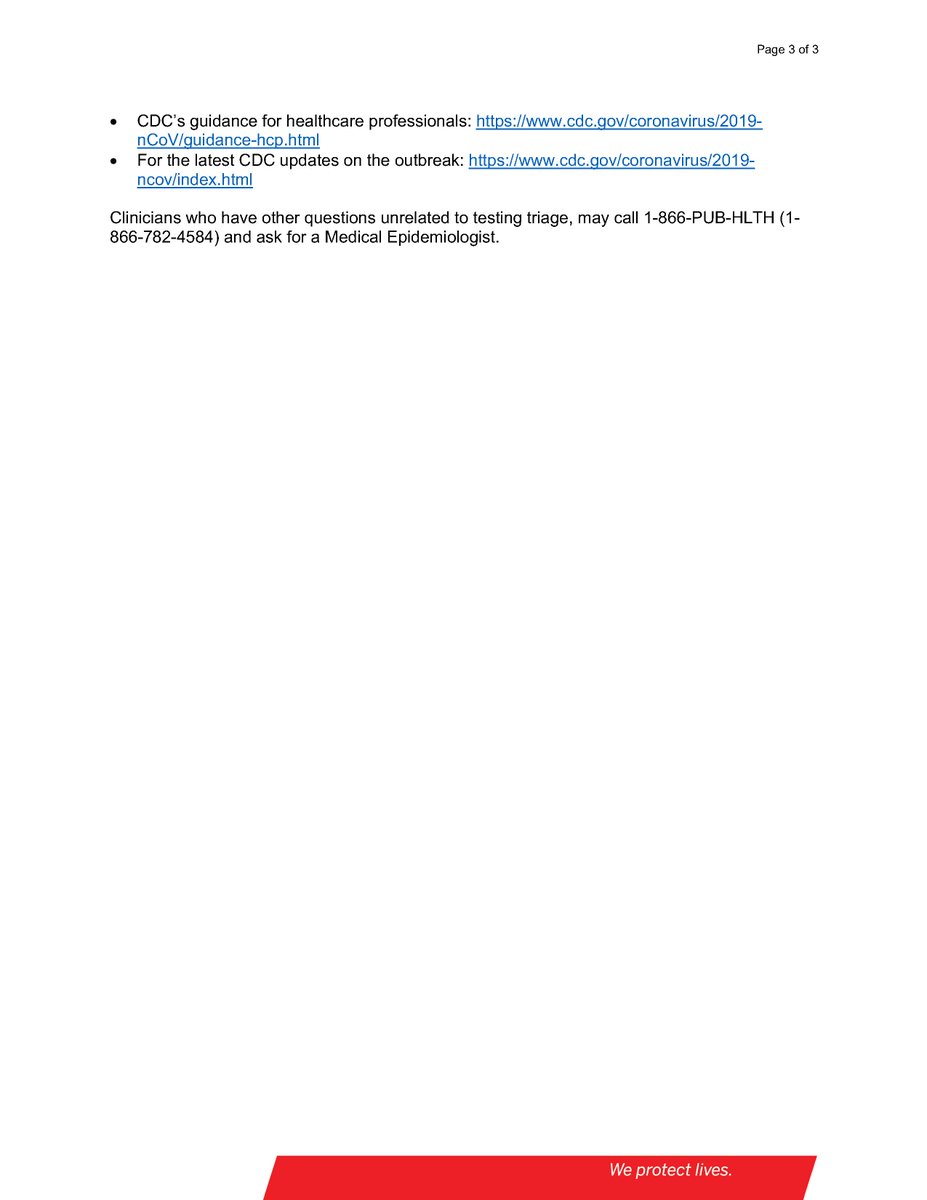 Let me preface this by saying I have no medical training or special knowledge. I urge those who can to correct anything I get wrong here.
My main concern is that it remains difficult to get
#COVID19
testing. People who are reluctant to take other
#publichealth
measures such as
social isolation frequently say things like "There are no confirmed cases in our area." IMO, that's true because too few people have been tested. So let's examine the document.
Questions about travel & exposure to laboratory confirmed
#COVID19
cases are important. However, if testing isn't available, then people can't know if they've been in contact with confirmed laboratory cases. My understanding is that many confirmed cases are for patients who have
not traveled. I didn't highlight this, but guidelines tell providers: "If COVID-19 is suspected, appropriate [personal protective equipment (PPE)] should immediately be utilized by the patient and healthcare professional." It recommends surgical masks, an airborne infection
isolation room, standard precautions,contact precautions, airborne precautions & eye protection. I'm thinking of the emergency rooms & prompt care facilities & primary care physicians offices I've entered the last four years & I'm wondering how these institutions would handle the
flood of "suspected" infections.
@GaDPH
is telling people who suspect they are infected to go to providers, and providers can request testing online or through a toll-free number. A medical epidemiologist reviews the request within 24 hours & recommends to GA Dept of Public
Health that it consider doing test. "At this time, laboratory testing for COVID-19 performed at the [Georgia Public Health Library (GPHL)] MUST be approved and coordinated by DPH following triage. If testing is approved, laboratory submission forms and instructions will be
emailed. Only requests initiated by a provider can be considered. Patients should not be directed to contact the Georgia Department of Public Health about COVID-19 testing)." Forms, reviews, triage prior to approval. That doesn't sound like a health system with the capacity to do
the necessary level of testing.
@GaDPH
prioritizes 4 testing "Those that are hospitalized due to respiratory illness of unknown etiology, DIRECT contacts (a person that was within 6 feet of a confirmed case for greater than 10 minutes), and healthcare workers that were exposed."
"These criteria may change as GPHL testing capacity
increases." Is
@GovKemp
working to increase capacity? How?
Another recommendation to providers to reduce the number of tests to perform is to do rapid influenza tests & respiratory viral panel prior to requesting testing. How long does it take to do those tests & get the results back? How much do they cost? Can the uninsured afford them?
Will those of us with insurance (whose plans, according to opponents of
#singlepayer
, all delight us) be covered or do they go against our sky-high deductibles?
feet of a confirmed case for greater than 10 minutes."

The section on testing ends by telling providers to deal with LabCorp & Quest & ARUP for all other tests.

"Commercial laboratories are expected to conduct a substantial number of COVID-19 tests going forward."
Perhaps the most ominous statement in the document is the recognition that staff will have to work despite known exposure provided they are asymptomatic.

"Facilities could consider allowing asymptomatic [health care personnel (HCP) who have had an exposure to a COVID-19 patient