Ok, kids, let's get this Cavalcade of Snark a-rollin' with a little Trump Alabama Rally pre-gaming.
The Fiesta de Loco allegedly starts in 15 mins. Selfless soul that I am, I shall save you from watching it by live-tweeting the doings.
First, let's kick-off this Deep Red Jamboree by introducing tonight's cast of colorful characters.
As backstory, 'bama is in the midst of an election to fill the Sen. seat vacated by the Keebler Kompromat - Mr. Jeffrey Beauregard Sessions.
Dems have tapped Doug Jones as their guy. R's tho are having a dickens of a time picking the most ludicrous popinjay to naturally nominate.
The fav was a guy named Luther Strange. As is apparently the local custom for men of non-Keebler stature, the locals call him "Big Luther"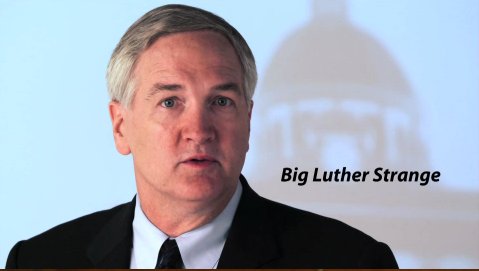 Since this entire election is like a Coen Brothers movie, it's worth noting that I can't hear "Big Luther" without picturing"Big Dan Teague"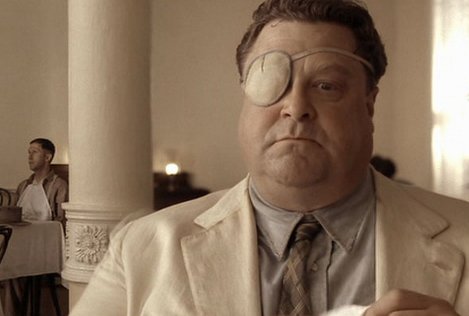 Big Luther has some baggage. He was appointed to Sessions' seat temporarily by a Governor trying to dodge a sex scandal.
The Gov apparently slid Big Luther from his position as Atty General into the Sen seat in a backroom deal meant to obstruct justice.
Jeez, that sounds familiar.
Anyway, Big Luther is opposed by an equally colorful by the name of Roy Moore.
Unlike Big Luther, Roy's stature is indeterminate. Let's assume he's a medium.
The Roy Moore story is classic Alabama politics. He was elected Chief Justice of the State Supreme Court way back in the day.
Roy, being a god-fearing man of the non-separation of church and state ilk, decided he needed to gussy up the courthouse
So, he commissioned a massive marble statue of the Ten Commandments to grace the courthouse atrium.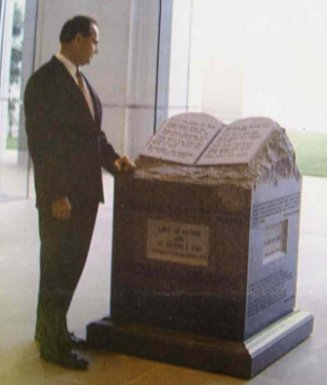 Makes perfect sense. I believe it was Paul in 2 Corinthians who said "If thou art to glorify our lord and savior, make it ostentatious AF."
Turns out the state's judiciary panel disagreed… and Moore got booted off the bench. Kicked out of office.
Alabama's right wing folk were so dismayed by Moore's refusal to obey the Constitution… they elected him Chief Justice again. Naturally.
Moore than proceeded to thumb his nose at SCOTUS' ruling Obergfell by instructing clerks to not issue marriage licenses to gay couples.
Sadly, there was no pot of gold at the end of that rainbow because Moore then got booted off the bench - AGAIN!
Sooooo, now that we've intro'ed the two unfit contenders… let's intro their backers.
Big Luther is backed by a certain pumpkin-faced buffoon. Moore is backed by America's poster boy for cirrhosis of the liver. Steve Bannon
So, there is a whole lot of back-story here. Trump's boy may actually lose to a guy who got booted out of office TWICE... backed by Bannon.
...and the Pumpkin Pustule has now taken to the dais. He's attired in a striped tie with a decidedly candy cane-like appearance.
The crowd is quite revved up. Apparently there is not much to clap about in Huntsville because these folks are quite clap happy.
Trump makes small talk intros before pivoting directly to "Rocket Man".

Jesus H. Christmas Caroles. This guy is a profound moron par none.
"I'm going to handle it the way it needs to be handled because it needs to be handled."

Um, Sarah Palin. Someone just stole your word salad
"I hope it works out... It might. It might not. I hope it does. But it might not."

Note: the act of even typing that caused neurons to die.
Summing up Trump's on N Korea: we are going to solve it or perhaps not solve it... but we should hope we solve it... which we might not.
Moving right along to ObamaCare repeal... First mention of John McCain. Crowd boos... but not as much as if a black QB had taken a knee.
I'd give it an 7 on the Trump Rally Boo Scale. McCain flipping isn't as hated as much as say, the media, Hillary or natural hair colors.
Trump moving very quickly now... Name-checks Hillary. Crowd chants "Lock her up!". Trump says "Talk to Sessions about that."
Trump now back to healthcare... (note: Trump is entirely unhinged tonight. Total off the prompter. Nutso level: high)
Continuing right along in his random tour of the misfiring synapses in his demented, ADHD-addled mind, Trump now talking abt Rand Paul.
Donnie alleges Rand may come around and flip to yes on repeal because... he doesn't like McCain.

This is like Mean Girls: Stupid Edition.
I am seriously having a hard time even tweeting this verbal diarrhea.
Trump is rambling like a total wasted girl at Coachella who insists on talking all the way through the headliner about how amazing cheese is
Trump is seriously rambling incoherently. Can't stay on topic. Can't follow his own train of thought. It's making me feel stoned watching it
Now, this is getting good. Commander Babyfingers alleges Big Luther called him to ride to the rescue because he's behind in the polls
So, Trump is setting up Big Luther's fate as a matter of his doing...

Trump is making himself responsible for Strange's outcome...
Per the above, RW Alabamans love that f'ing idiot, Roy Moore...

The guy got booted twice... Man, losing to him is gonna sting Donnie.
Captain Word-Salad now moving to Melania's heels... the size of the crowd... and back to Big Luther. All in one para.
Woww.... Trump just said the media will bash him if Big Luther loses... in an almost imploring "you gotta help me people" kind way.
...and then Trump just silenced the crowd *twice* by saying he'd back Roy Moore if Big Lu bites it on Tuesday.
Jeez, that's somethin'... Showing up to rally for a guy and pretty much saying "Yeah, it's fine either way." LOL.
I've now watched a few of these. This is the most unfocused of the bunch. Stick a freakin' Adderall in the guy's corndog or something
I kid you not, he just hit: jobs, NASA, polls, his election, more polls, jobs, Big Luther, crime and the borders in one nutbag medley.
Now calling Chief of Staff Kelly up to the stage. ***awkward***. I've seen more natural first dances at arranged weddings.
Trump "I'm going to build a wall. It's concrete. That's what I do best."

Nooooooo, he's on the drug sack bit...
Note: Mexican drug smugglers are apparently learning from Costco because they've upsized their drug sacks. 100 pounds now.
Further, in an odd medieval twist, they've apparently also acquired catapults with which they fling said sacks
Those are some forward-thinking smugglers since there is as yet no wall... and yet they've already outflanked us with siege equipment
I kid you not, Trump said drug smugglers use catapults to storm the castle or some sh**. Expect a warrant to be issued for King Arthur.
...and from flying narcotic projectiles, we naturally pivot back to Big Luther's credential for a role in our bicameral legislature.
I'm unclear on Big Lu's position on combating the growing threat of border catapults. Perhaps that's coming.
"Wouldn't you like our NFL owners to say when someone disrespects the flag 'get that son of a bitch off the field'?"
Crowd chants "U-S-A! U-S-A!"

Trump just mainlined some racist heroin into the Huntsville crowd by tacitly calling Colin Kaepernick a SOB
This will be the soundbite. F'ing disgusting...

...and with the crowd clapping, Trump knows he found some good race-bait and is locked in
Spent mins on the NFL and taking a knee and "our heritage". Now moving right along to religion.

I seriously need a beer to endure this.
Having now procured a Stone IPA, my painful suffrage continues unabated.
Trump just reminded the crowd that he is far richer than them... and how much they love him anyway. The crowd cheers at their humiliation.
Trump now alleging there are thousands of people waiting outside because they couldn't get in.

Fact-check: Nope.
Fun-fact: Big Lu is 7-ft tall. Trump believes this bodes well for his chances in the Senate... because it is apparently much like basketball
Seriously, Trump suggested that Big Luther conveys that "Alabama has arrived" when he enters a room because...ppl can see him arrive.
Somewhere in America, Marco Rubio is screaming at the screen in a Holiday Inn Express "GET OVER THE HEIGHT THING!"
Trump now talking about the electoral college... and how brilliant he was to deliberately get fewer votes by not focusing on them.
Trump re-litigating the ennnnnnnntire 2016 election... Swearing up and down that he actually MEANT to only win the electoral college.
FREUDIAN SLIP!!!!!!

"I'd rather have the popular vote...... count... because... (trails off)."

Whoooops.
He literally just said "I'd rather have the popular vote..."

It was apropos of nothing. He realized he had said it... and then just froze.
Now moving on to just how uninvolved Russia was in all of this.

This is seriously like reading a guilty person's thought balloon.
Trump is vomiting the contents of his subconscious directly into the microphone.

Now, if only his subconscious was less incoherent.
Remember that speech Sarah Palin gave about "The man... on your back...".

That sh** was like a Shakespearean sonnet compared to this.
Trump is struggling to find words... "That ridiculous rule... That rule......(searching for it)... the filibuster!"
I'm sorry but this has now entered into the realm of deeply troubling and sad. Our president is incoherent. This is not a healthy man.
Trump keeps flipping back to the prompter for 15 seconds and then going off on endless, impossible to follow jags about randomness.
Now back to the prompter reading perfunctory bullsh** about Big Luther being great at everything from dunking a basketball to line dancing.
Instant analysis: Trump needed the narcissistic release and fuel so much, he went nearly fully off the prompter for almost an hour now...
...and now he is ripping through the canned lines about Big Lu, Mr Can-do who will work for you.
...and now he's recycling old lines about the "fake media" not covering his rallies and turning off their cameras... yadda yadda...
I will say this... one remarkable thing... Trump has flitted from topic to topic hitting all the things that made crowds cheer in 2016
The crowd response is low energy as these things go... This is a subdued, muted response for these kinds of rallies. It's low energy.
He is desperately looking for that roar but he's just getting routine applause. It's like a comic flailing to land a great joke.
I think that's why he is coming off as so incoherent... When the crowd starts to clap, he loses his train of thought and tries to mine it...
...he tries to dig into the topic they clap for only to have the clapping peter out... and than he flails to find the pulse again.
He can't find the vein. He just can't get those Nutso McNutso rage-filled rabid responses he got on the campaign trail.
Hey, kids... guess what's back with a sassy new flair for 2017?

Clean coal!

This is good news to the zero coal miners in Alabama, I'm sure
Trump randomly starts to walk away. Fox announcers get caught on a hot mic. "is he done? I think he's done..." before Trump walks back. LOL.
Seriously, this is a freakin' clown show. The Fox News announcers were laughing like "WTF? Did he just walk off?" What a freakin' circus.
This speech is so incoherent, I have sat through it and couldn't tell you what it was about. I think it is giving me a concussion.
I'm not entirely unsmart according to some recent polls and I've found this to be utterly devoid of cogent content. The crowd must be like:
Trump now back to ObamaCare... Said Big Lu will help... which I assume means paying a "courtesy call" to that diminutive Rand Paul.
You'll be happy to know that my beer has bolstered my resolve to endure the remainder of this insufferable workout in the Trump Sh**nasium
Trump now ripping through the prompter lines like a guy with a plane to catch.

Poor Luther. NEVER let the drunk uncle make a toast, Lu!
This has seriously been the longest "intoxicated relative just wannsss to sayyy a fewww thingsss ahhhht yer wedding" speech ever.
Trump has quite literally refused to read his prepped speech for over an hour while he indulged himself and is know going all auctioneer.
Thank you, dear sweet merciful lord, for letting that end.

It. Is. Over...
...but not before inexplicably cuing "You Can't Always Get What You Want".

I dunno, Big Lu, I think they call that foreshadowing.
Jesu Cristo... that just took at least 3-6 months off my life.

I must know go breath the sweet night air to cleanse my soul of toxins.
I just re-read my own stream of unconsciousness live-tweet of Trump's speech last night.

Other than the typos, here's what jumped out at me
Early on, I took a jab at how Trump's mention of McCain didn't bait the crowd like some racism would...


A half-hour later, Trump did exactly what I jabbed at him for: went after Colin Kaepernick.


...and right on cue, it prompted the most rabid response of the night (the ONLY rabid response actually)

My spur of the moment response: this would be the soundbite played endlessly in the media and it already is.

When I'm live-tweeting this merchant of nutbaggery, I'm not thinking (or proofreading obvi). I'm just typing.
It is both remarkable and horrifying just how visceral and primitive both Trump and his followers' responses are. They're cavemen.
It's scary and terrifying in a sense because it is a frenzied orgy of emotionally unregulated, hate-filled people whipped up by a demagogue.
Yet, I will say this, Trump is losing his power to incite. I've now done this live-tweet bit a few times. West Virginia, Arizona, Alabama.
Each one has been more muted than the last. Unlike during the campaign, that terrible hate-peak cannot be sustained. It spikes and dies.
Trump can still find the race-baiting jugular for moments but they're growing fewer and they fade back to baseline faster.
It ends up having the sensation of a violent movie you've seen too many times. It's an ignorant version of "Gladiator".
The Colosseum scenes still perk up the crowd but they're no longer roused to high attention during the dialogue.
Despite those moments of angry frenzy, it ends up feeling almost boring, lifeless... and if I can feel it, so can Trump.
Trump is like an emotional serial killer and I think he knows he'll never get back the feeling of his first kills. The light is dimming.
There is much good about all this. Our national embarrassment is well past peak and losing the power to incite a mob.
...and per my pinned thread, nothing is worse for a narcissist like losing the feeling of adoration. Trump is drowning in public view.
It makes for an ugly, sad, tragicomic spectacle... but we can take heart in the fact that the rage candle is flickering.
There was a time when I worried it would set our whole house afire but it's clear that the Trump flame is close to the wick and soon to die.
He will always have his diehards but he's losing the ability to energize the general public... and that's a very good thing.