Here Are All The Hoaxes Being Spread About The Las Vegas Shooting
#MandalayBay
buzzfeed.com/ryanhatesthis/…
via
@BuzzFeedNews




Far-right trolls are creating a conspiracy theory about Geary Danley. He was listed as being married to person of interest Marilou Danley.

When 4chan doxed Marilou, they found his account and saw that he likes tons of anti-Trump pages. Which they are now jumping on.


And now his name and photos are being circulating by far-right Twitter accounts, accusing him of being a "neo-liberal" and "alt-left'


There are at least 6 4chan threads workshopping the narrative that Geary Danley and his family are dangerous leftists happening right now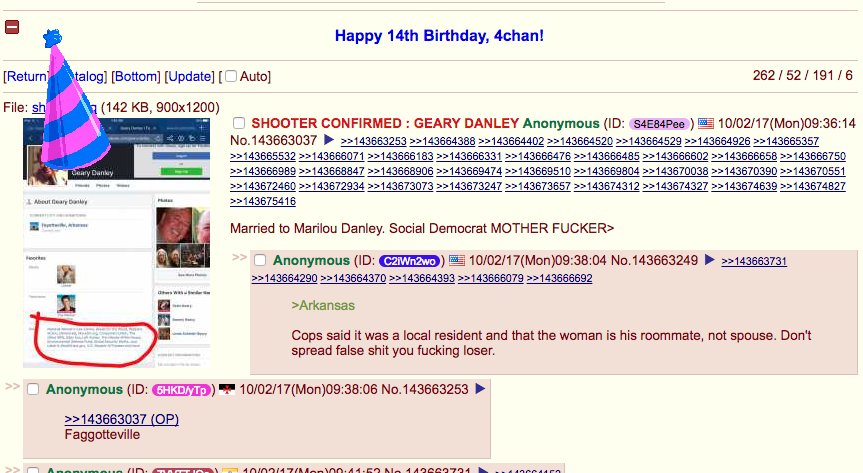 Also, apparently Google is putting 4chan threads in their top story unit now? So, the number one hit for his name is a /pol/ thread.

In case you're wondering how this works, here's a 4chan thread called "CONTROL THE NARRATIVE. DON'T LET FAKE NEWS TAKE CONTROL."

New far-right narrative forming: Stephen Paddock is "Antifa"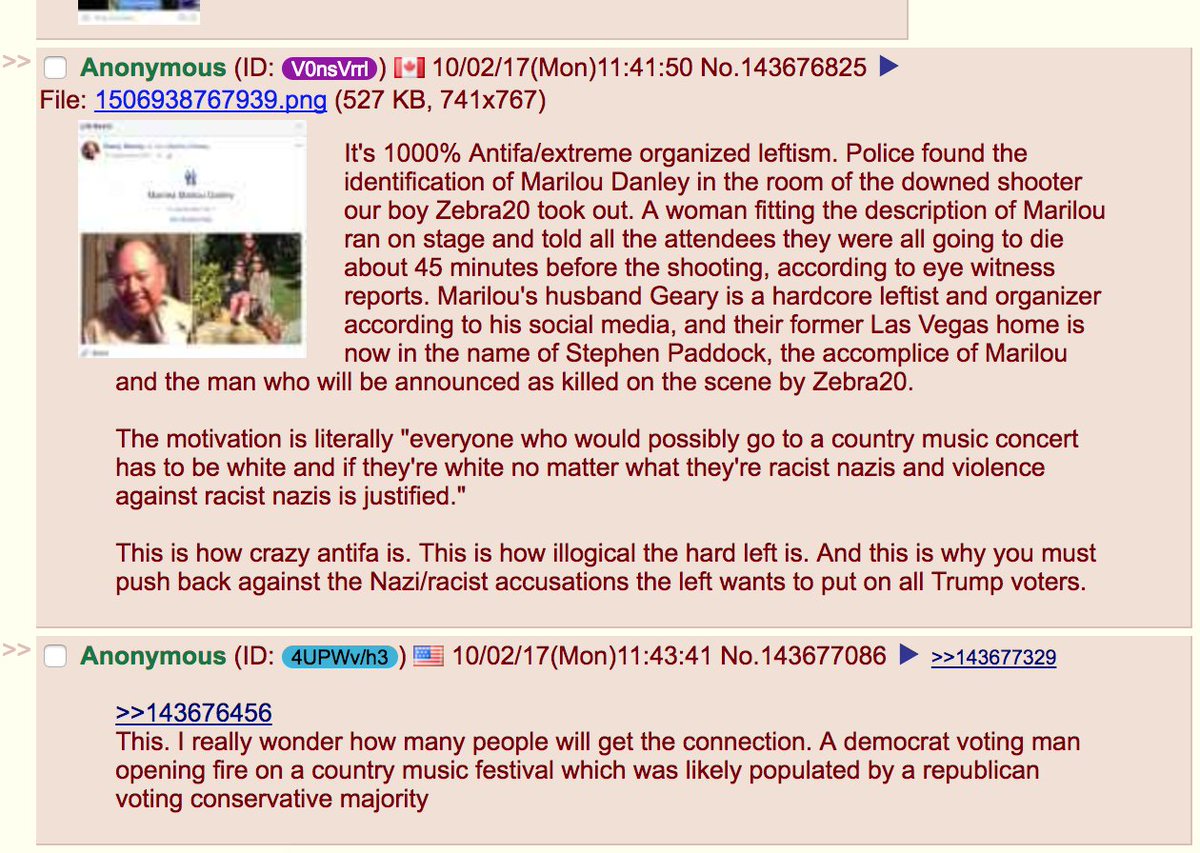 Posts from a fake "Melbourne Antifa" page are going viral on Facebook. Post went up claiming one of their "comrades" was behind LV shooting.




Far-right spreading rumor that Marilou Danley — who was out of the country — is "Filipino ISIS" who warned crowd "you're all going to die"




.
@RichardBSpencer
's site pushing theory that Danley and Paddock converted to Islam. Cites an Israeli news site. Which says that isn't true.




Videos of "crisis actors" have been kicking around YouTube all morning but now seem to be gaining traction on Twitter.



Google responds to why /pol/ thread became a top hit for Geary Danley this morning. Said it was up for hours.
Now a bunch of MAGA accounts are trying to link Stephen Paddock to the pussy hat movement to prove he's a democrat.



Facebook responds to Gateway Pundit appearing on crisis response page. They say it was only up for a few minutes.
The creator of Dilbert is spreading a rumor that Stephen Paddock's brother might be a crisis actor

The security firm working the concert told
@BuzzFeedNews
that a woman was not removed for warning people "they were all going to die".




.
@RealAlexJones
and
@PrisonPlanet
posted a video saying Paddock had "antifa information in the room" per Jones' "hostage rescue team" source

.
@PrisonPlanet
has also done his own video using footage of the false report of a woman warning people they were all going to die.

Fifth story down on an incognito mode YouTube search for "Stephen Paddock" is a video accusing him of being an anti-Trump far-left activist