2/
First of all: If your income is under 400% FPL (~$48K for a single adult, ~$98K for a family of 4), you likely won't be impacted at all.
3/
Your FULL PRICE rates will increase, if you buy through the
#ACA
exchange, your tax credits should rise to roughly match the increase…
4/
…so you likely won't pay any more (and may possibly pay less) than this year. That's around ~8M people. Where things get trickier…
5/
…are for UNSUBSIDIZED people in
#ACA
compliant plans, both on & off the exchange (around 6.5 million people). Here's how they'll fare:
6/
By my calculations, as of Nov. 1st, there should be ~1.5M unsubsidized enrollees on the
#ACA
exchanges and ~5.0M in OFF-exchange plans…
7/
Note that there's also around ~2.1M people enrolled in Grandfathered or Transitional plans, but those are SEPARATE from all of this.
8/
Now, those ~6.5M unsubsidized enrollees will have 5 different paths depending on which state they live in:
acasignups.net/17/10/19/updat…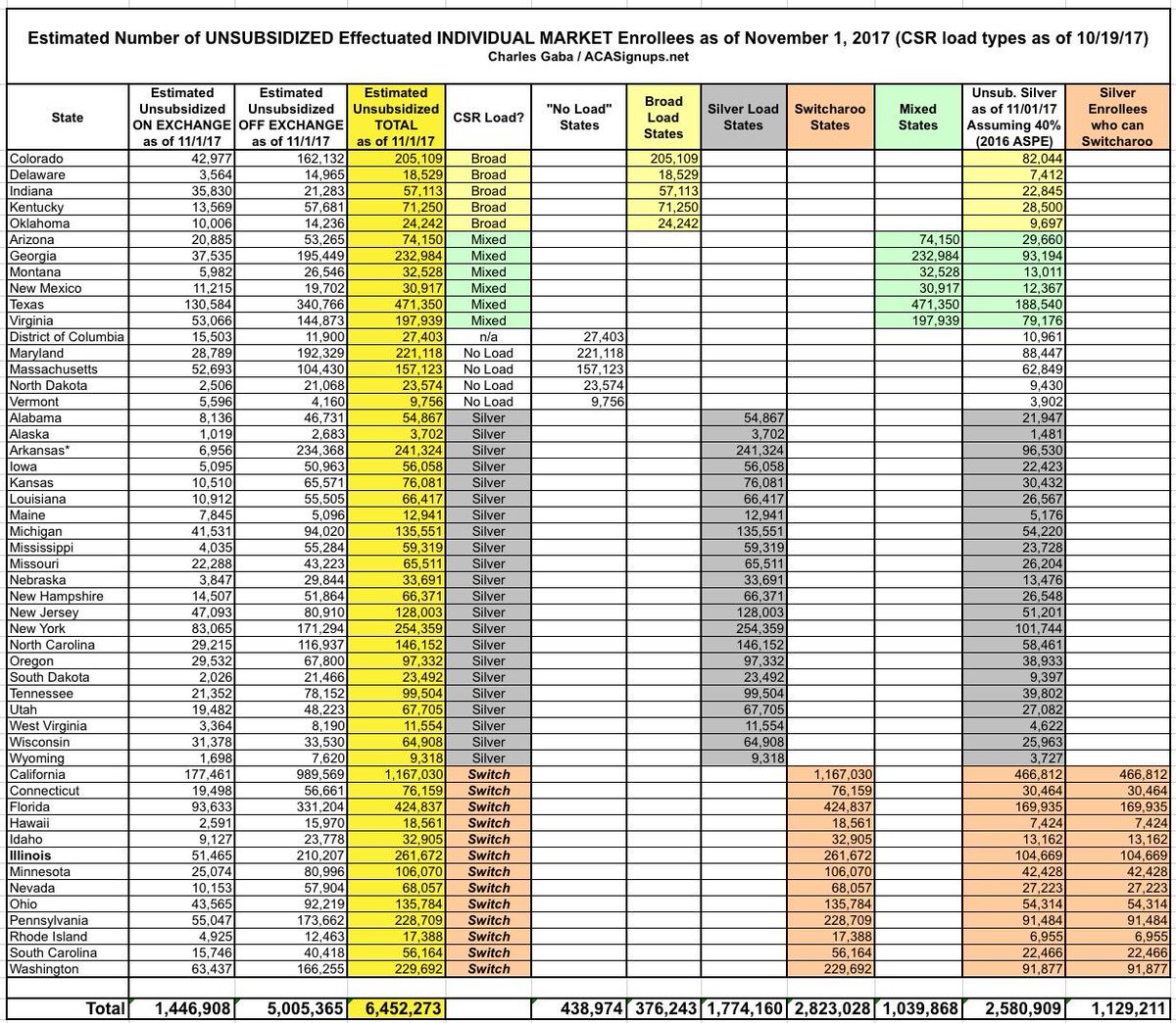 9/
IMPORTANT: This spreadsheet is a) rough estimates and b) a few more states could change categories over the next week.
10/
However, assuming it's fairly accurate & no major changes going forward, here's the breakout:
12/
However, these are also the most likely to change status next week (except ND which gave a flat *no*, and DC which is a special case).
13/
Next up: "Broad Load" states, which appear to be spreading
#CSR
cost across ALL plans, on & off exchange. Around 376K here…
14/
The bad news: These folks will face some CSR surcharge regardless of the plan they choose. Hoping a few of these states can switch to…
15/
…one of the remaining categories…which brings me to "Silver Load" states (the most common choice). Around 1.8M unsubsidized folks here..
16/
In these states, the full CSR load has been added to Silver plans *only*…both on & off exchange. This means that if you're enrolled…
17/
…in a Bronze, Gold or Platinum plan either on or off-exchange, you won't see the CSR surcharge at all. If you're on a Silver plan…
18/
…and are subsidized, of course, your subsidies should rise to match; if you're in an *unsubsidized* silver plan in these states…
19/
…then you'll have a tough choice to make. However, Gold plans may actually be a better bargain since the price gap will be narrow.
20/
The *best* strategy by far is the next one:
#SilverSwitcharoo
, which 13 states have chosen. ~2.8M unsubsidized enrollees in these states
21/
#SilverSwitcharoo
is the most beneficial, but also most confusing. Like "Silver Load" states, all CSR cost is dumped on Silver plans…
22/
…except unlike "Silver Load", Switcharoo states ONLY add CSR to *on exchange* Silver plans. This concentrates the load even more…
23/
…but vast majority of on exchange Silver enrollees are subsidized, so it minimizes the number exposed. That's Part 1…
24/
Part 2 is the "switch": Unsubsidized Silver enrollees (both on/off exchange) then SWITCH to a *different* off-exchange ONLY Silver plan.
25/
Since this other Silver plan is off-exchange only, there's no CSR surcharge, but it's virtually the same as their existing Silver.
26/
Of course, they can also upgrade/downgrade to Gold or Silver if they wish. The point is that EVERYONE avoids the CSR hit (in theory).
27/
AFAICT, around 2.8M unsubsidized enrollees live in Switcharoo states; *in theory*, every one of them *should* be able to avoid CSR hit.
28/
Finally, there's a handful of states which are "Mixed"…that is, each carriers is choosing different strategies from the other 4 options.
29/
In "Mixed" states, I haven't the slightest clue what the unsubsidized rates/options are gonna look like. Could be really weird.
30/
Bottom Line: Yes, it's gonna be confusing…but if you
#SHOPAROUND
, *most* people will do better or at least no worse than this year.
31/
So whatever you do, DON'T passively auto-renew; ACTIVELY
#ShopAround
, even if you THINK you aren't eligible for a subsidy…
32/
…because for 2018, I suspect many more people WILL be eligible (even if their income is the same as 2017).