Over the past decade, Zooko went from being an early Bitcoin believer, to a broke entrepreneur living out of his car, to a tech partner of the U.S.'s biggest bank
@jpmorgan
For the new story,
@VitalikButerin
told me he believes that zk-SNARKs, the tech that Zcash is built on, "are the single most under-hyped thing in cryptography right now." High praise.

Looking for a non-math explanation of "zero knowledge" proofs (and related zk-SNARKs)? Here's a sample of insights from cryptographers, like Eli Ben-Sasson
@matthew_d_green
@secparam
@socrates1024
&
@petertoddbtc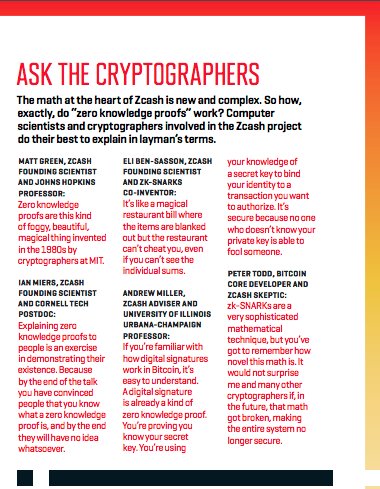 One of my favorite parts of this story involves
@zooko
and
@matthew_d_green
pitching confused investors in Silicon Valley on a plan for a more private Bitcoin in 2015. Remember: this was pre-ICO boom, pre-Bitcoin price bonanza.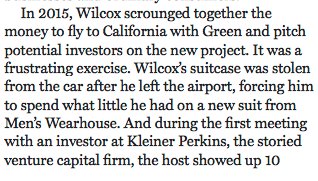 This is what
@matthew_d_green
was referring to when he tweeted an excerpt from the story last week, q.v.
It's interesting to note that Satoshi Nakamoto him/her/them-self(?) once contemplated employing ZK proofs on the Bitcoin blockchain. (Props to
@socrates1024
for helping to unearth this.)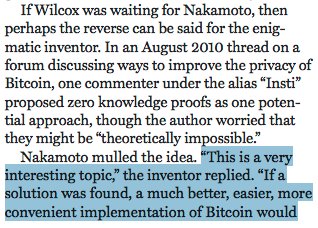 Fast forward to 2017. JPMorgan adds ZK proofs to its Ethereum-inspired business blockchain, Quorum, by way of Zcash's zk-SNARKs. An unusual—and pretty cool—partnership for a Wall Street bank!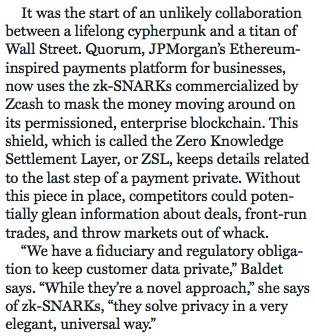 For fun, here are a couple of JPM CEO Jamie Dimon quotes about Bitcoin: it's "stupid" and "a fraud." He loves blockchains though. Sorry, couldn't resist.
fortune.com/2017/09/13/jam…
cnbc.com/2017/10/13/jam…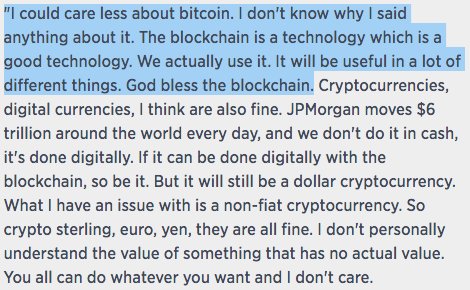 Now don't get me wrong.. Zcash isn't going to unseat Bitcoin tomorrow. It is far from perfect. It's young and still being tested. Private transactions are slowww, computationally resource intensive, and not mobile compatible. But maybe these deficiencies will improve with time..
Plus, Ben-Sasson, co-inventor of zk-SNARKs, expects to have a new, improved version of the tech, dubbed STARKs, ready in the next few years. These are designed to require no "trusted setup" phase & are supposedly secured against attack by quantum computers. (He's planning ahead.)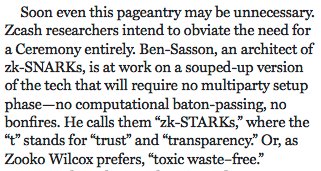 Of course, there's no ruling out that some unforeseen flaw in the math tanks the whole thing, as
@petertoddbtc
warns. Such is the never-ending dialectic between cryptography and cryptanalysis.. ¯\_(ツ)_/¯
Anyway, this story is also available in the 12/15 print edition of
@FortuneMagazine
, our annual "investor's guide." Hope you like it. The cover and spread look like this: