#Thread
on
#IranProtests
.
1)What is behind the pro-regime coverage of
#Iranprotests
on BBC Farsi?
We have received a few reports suggesting that the only tv broadcasting in Farsi in Iran without any parasites on its signals is BBC Farsi.
2)We looked into this and we found out that this has been the case since the beginning of the Iran Protests.

We also found a few programs on which BBC Farsi had invited regime hardliners, at times openly lying.
3)For example, in one program, the guest Muhammad Husain Jafarian, claimed he had had to move to Mashhad because Tehran was too liberal. But this is not true. He was born in Mashhad and he has lived there for decades.
4)He's in fact a known war journalist having worked in many places such as Bosnia,Afghanistanetc(many believe he was in reality fighting there).While BBC's representative knew about all this(as it's his public profile on internet),she didn't ask a single question about these lies
5)We also found an article on BBC Farsi's website claiming that they had conducted research and found that IRGC hackers attempted to hack Javad Zarif's account, as evidence to this claim, they had attached a photo of Zarif's hacked account,
6)a photo that hasn't been published anywhere else before. The question that naturally springs to mind is how did BBC Farsi obtain this photo? The report says that some of their evidence was given to BBC Farsi and the New York Times by
carnegieendowment.org/2018/01/04/ira…
.
7)However, one of the writer's is karim Sajjadpoor, who is known as Pro-Regime by Iranians at home. So, are pro-regime elements leaking information to BBC Farsi and NYT?
As you may have noticed, in the past 10 days, BBC Farsi and the New York Times have been publishing and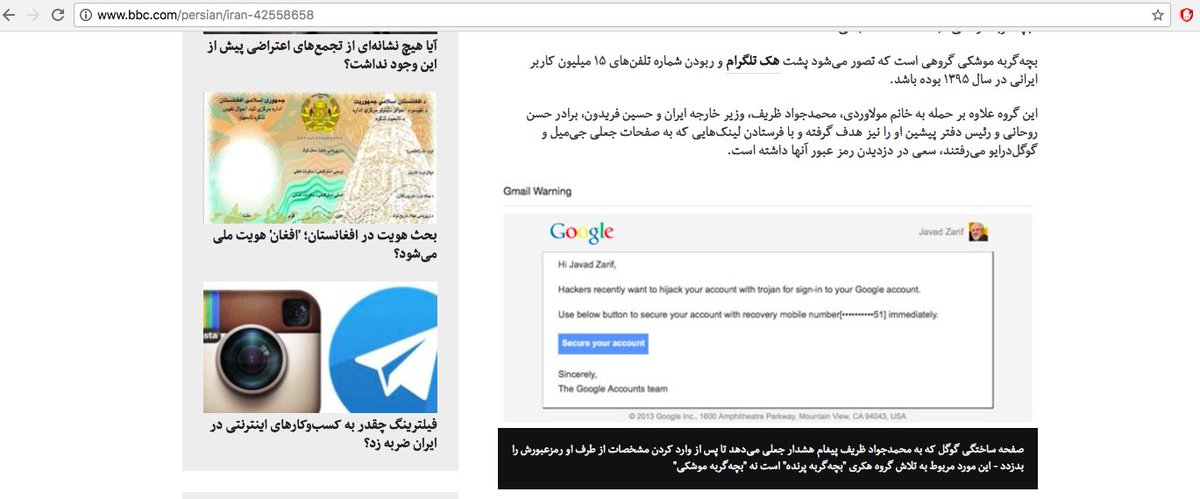 8)analysing what the IRGC has been saying about these protests and pro-regime voices, but the voice of anti-regime protesters has remained rare. On top of this, they are receiving information from known pro-regime voices, such as the photo of Zarif's hacked account.
9)Why are pro-regime voices helping media outlets peddle such a narrative?The answer is very simple:
For the past few days, the various regime factions have been trying to present a picture to the world that these protests are not about Iranian protester's opposition to
10)the regime as a whole but only against Rouhani's government. At first, the regime said Hardliners organised the protests, then they claimed these events were a response to the Larijani family and yesterday the IRGC claimed the protests have actually been organised by..
11)Ahmadinejad, the former president. In response, with the hacked account photo published on BBC Farsi, Zarif wants Iranians to believe that the IRGC is in fact behind all of this.n the end, they are all trying to cover the main reason behind the protesters' anger, which is
12)that they are fed up with the whole regime and every faction within it, because they know that with the current regime it's impossible to change even the economic situation in the country, never mind the political one. But Iranians are not fools. They see what's happening and
13)that's why they are chanting "Hardliners, reformists, your adventure is over" and "Hardliners, soft-liners the game is over".BBC Farsi and every media outlet should be covering both sides of the story, both the protesters' own voices as well as the pro-regime voices, but..
14)
unfortunately BBC Farsi are not and they are being very one-sided towards pro-regime elements, it feels uncomfortably close to pushing an agenda.This's even worse coming form BBC Farsi, as the BBC has always had a prestigious reputation around the world of being objective and
15)truthful. As BBC Farsi is one of the few channels that the regime is still allowing on air in Iran (in large part because it is pushing a pro-regime narrative), many Iranians are bitterly disappointed and have started calling BBC Farsi, 'Ayatollah BBC,' with this photo.