(THREAD) In crowing over Brian Ross's permanent demotion for erroneous reporting on Flynn, Fox News just conceded that impeachment talk needs to begin immediately—as Trump already *did* (if not necessarily with Flynn) what Ross's report alleged. I hope you'll read and share this.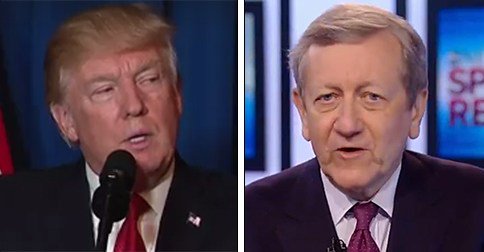 1/
In writing of Ross's demotion, Fox News (FNC) said that had all Ross's report been true—if Trump had illegally instructed Flynn to negotiate with Russia *during the campaign*, as well as illegally instructing him to do so during the transition—it could lead to his impeachment.
2/
FNC wrote: "Ross was suspended after he reported incorrectly that Flynn would testify that Trump had ordered him to make contact with Russians about foreign policy while Trump was still a candidate. The report raised the specter of Trump's impeachment."
foxnews.com/entertainment/…
3/
Putting aside the fact that the crux of Ross's report *was* true—the fact that Trump illegally ordered Flynn to engage in clandestine negotiations with Russia during the transition isn't changed by Trump waiting for the *transition* to commit a crime—we already know far worse.
4/
On March 31, 2016, George Papadopoulos revealed himself—directly to Trump, at the Trump International Hotel in DC—as a Kremlin "intermediary" authorized by the Kremlin to arrange a meeting between Trump and Putin to discuss U.S. policy. Any such meeting would've been illegal.
5/
Indeed, it'd be illegal under the same federal criminal statute (The Logan Act) Fox News conceded could lead to immediate talk of impeachment if Trump violated it during the campaign. Trump's National Co-Chair—Sam Clovis—noted the same statute in emails to Trump's NatSec team.
6/
A meeting between Trump and Putin to discuss future U.S.-Russia policy would be per se illegal because it would—by the nature of its topic and its participants—be a "negotiation" of issues currently the subject of an "inter-governmental dispute." Remember, this was March 2016.
7/
A day after Papadopoulos revealed himself as a Kremlin agent hoping to set up an illegal Trump-Putin meet, Trump switched Papadopoulos off his area of expertise—Middle East oil—to the campaign's Russian policy team. He did it knowing Papadopoulos was in touch with the Kremlin.
8/
That same week, Trump asked Papadopoulos to help edit his first foreign policy speech, to which the campaign had invited—in a massive breach of diplomatic protocol—the Russian Ambassador, inviting him also to a VIP cocktail hour where he could meet Trump and his entire team.
9/
On the day Papadopoulos announced he was authorized by the Kremlin to set up a Trump-Putin meet—March 31, 2016—he said the Kremlin was willing to accept, *first*, a private meeting between Putin's team and Trump's. That meeting happened at the Mayflower Hotel four weeks later.
10/
It matters not a whit if Trump, Manafort, Kushner, Miller, Don Jr. and Flynn meeting with Kislyak in private for an hour at the Mayflower on April 27, 2016 resulted in negotiations. Putin asked for a meet—through Papadopoulos—and Trump, within weeks, orchestrated such a meet.
11/
But in fact there *was* a negotiation at the Mayflower—a public one. Papadopoulos—who the Kremlin knew had helped edit Trump's speech and was now on his Russia team—told his Kremlin link Trump's offer of a "good deal" on sanctions in his speech should be taken as a "signal."
12/
Papadopoulos said the "signal" was that the offer of a negotiation had been accepted. Thereafter, the campaign sent Papadopoulos—in late May—to Athens to meet with Panos Kammenos, a Putin ally who that very week was meeting with Vladimir Putin in Athens to discuss sanctions.
13/
The campaign then sent Carter Page—like Papadopoulos, a member of Trump's NatSec team—to Moscow to meet with Kremlin officials and business executives to discuss sanctions, which he *did*. Page and Papadopoulos subsequently both lied to the FBI about having these discussions.
14/
The campaign then authorized Sessions to meet Russia's Ambassador a second and third times—following the event at the Mayflower Hotel—both times to discuss sanctions, as Sessions has now *conceded*. But he first—like Page and Papadopoulos—criminally lied about these contacts.
15/
Back at the March 31, 2016 meeting, Trump had ordered J.D. Gordon—after Papadopoulos had outed himself as a Kremlin agent—to change the GOP platform in July to pull back sanctions over Russian aggression against Ukraine. Gordon then tried to lie to the media about this order.
16/
Paul Manafort, asked about Gordon's RNC activities, did what Page, Papadopoulos, Gordon and Sessions had all done—lied. In Manafort's case, on national TV, claiming the Trump campaign had nothing to do with the platform shift. But it did—*and* had met with Kislyak beforehand.
17/
Despite Trump ordering negotiations with Russia over sanctions throughout the campaign, all of which negotiations were illegal under the Logan Act—and then Aiding and Abetting Computer Crimes once Trump learned of hacking in July—Fox News said Brian Ross's case was a new one.
18/
Here's the thing: it's wasn't. It isn't.
19/
Fox News is absolutely right that Trump ordering illegal sanctions negotiations during the 2016 campaign could lead quickly to impeachment. They are wrong—and willfully so—in pretending that the evidence we have of such negotiations is Ross's report about Michael Flynn.
20/
So here's what we know: 1) it doesn't matter if Trump criminally ordered illegal sanctions negotiations during the campaign or in the transition—both are impeachable acts; 2) in any case, Trump repeatedly sent aides to negotiate sanctions with Russia *during the campaign*.
PS/ We will, of course, discover that *all* of Ross's report is true—it's why Trump went nuclear over it on Twitter—but for now it's enough to say Fox News acknowledges we should be talking impeachment but is playing on Americans' ignorance of the facts to avoid that eventuality.
NOTE/ The facts above are all taken from public reporting by The New York Times, The Washington Post, POLITICO, and others, as anyone following the Trump-Russia investigation over the last 60 days will know. None of this is a "theory" of the case—these are all established facts.