Alright, I've blistered through the entire Fusion GPS transcript. All 300+ pages of it.

No matter how this thread turns out, just remember: it was better than reading that maddening tome from end to end.

Grab a beverage... and off we go.

1/
First, a disclaimer: I'm going full stream o' consciousness here so be gentle in your critiques.

Light pinching is okay. Open-handed smacking is frowned upon...

...and, oh, there will be typos.

2/
So, as quick setup, "The Transcript" is the full stenography of an epic 10-hour long testimony given by Glenn Simpson, founder of Fusion GPS, to select members of the Senate committee "investigating" Trump-Russia.

3/
The parties involved were largely the investigative designates of Sens Chuck Grassley and Dianne Feinstein.

In other words, it was a dog fight between Chuck's peeps and Dianne peeps.

Spoiler: it didn't go well for Team Chuck.

4/
Throughout, I'm gonna drop in excerpts, so if I were you, I'd wait a while, come back, read this whole thing through for the narrative and then maybe read the excerpts after if you have zero better to do on a Tues night.

5/
From the opening whistle, Team Chuck was interested in one thing alone: discrediting Simpson, Christopher Steele (creator of "the dossier") and their work.
Their opening salvo was to suggest Fusion GPS (FGPS hereafter) might actually have been paid to spark an investigation.
6/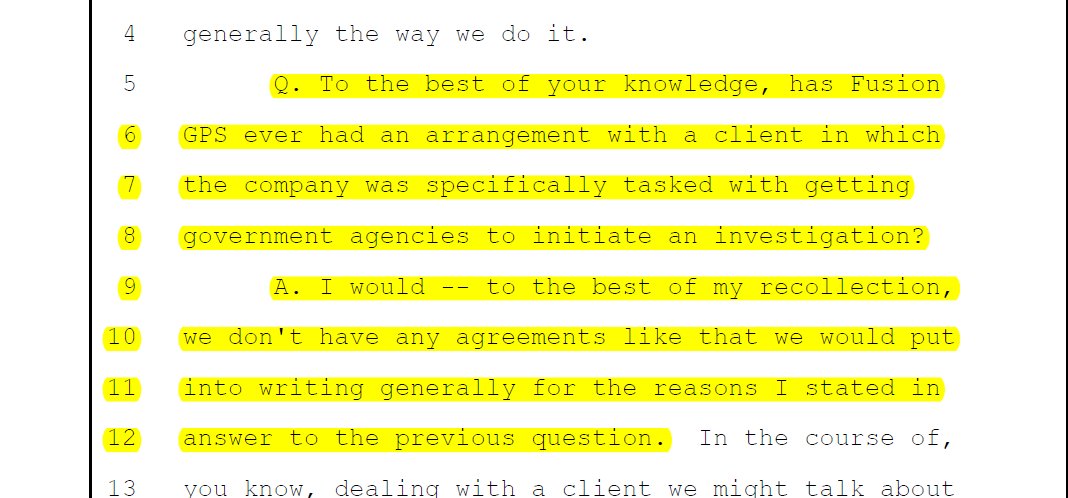 So went the early testimony...

Endless questions paraphrased to be "Who's paying you? Are you paid to just stir sh** up? Do you just leak stuff?"

Enddddless.
7/
These lines of inquiry went nowhere... and then Team Dianne stepped in and things got interesting.
Simpson testified that he first started get a whiff something was up long before the dossier was even a thing because he knew Trump was covering up shady ties...
8/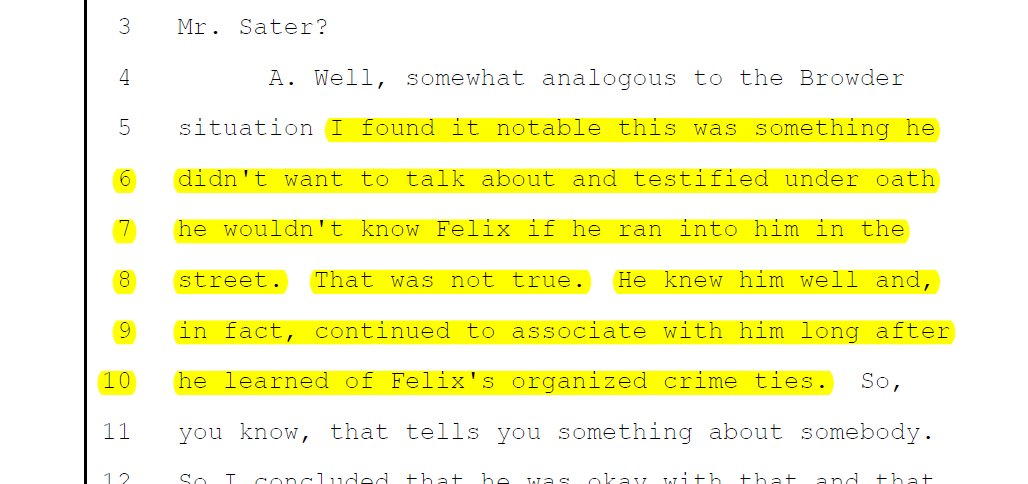 FGPS started looking under rocks and lo and behold, things smelled rotten in Trumpville.
Babyfingers had some shady money trails... and a lot of them started in the area around a certain country that rhymes with "Trussia".
9/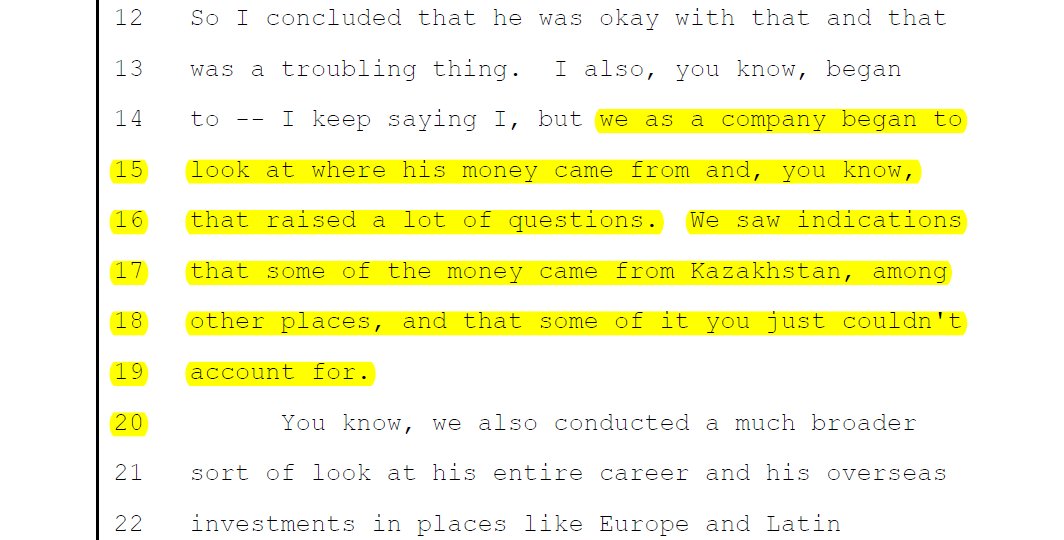 FGPS started to notice other curious things... like some rather light numbers on Trump's business tax filings and stuff.
For a guy who claims his business are worth a lot, they don't look that way when it's time to pay taxes...
10/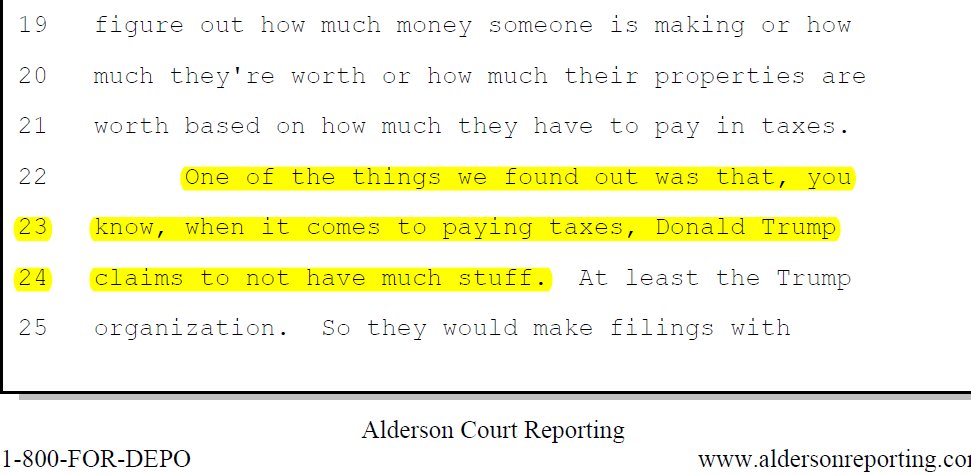 So, net-net, as of early 2016, all FGPS knew was that Trump seemed to have shady connections which he lied about and seemed to say he was worth a whole lot more money than he could actually prove...
...but we knew this.
11/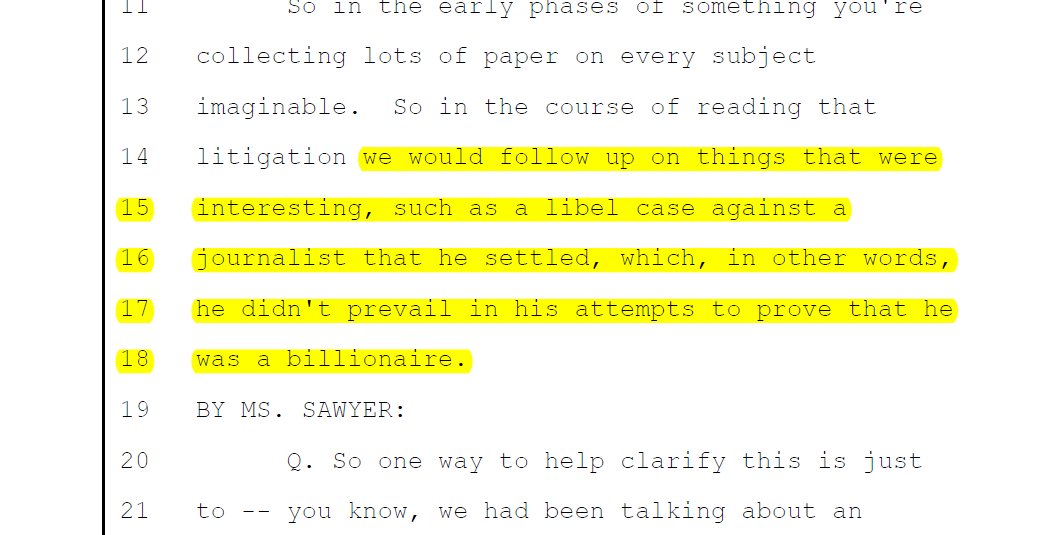 Then various "Law and Order" like things happened.
People objected to questions. There were breaks and adjournments.
Sidebars were had in sotto voce - which is Italian for "so you can't hear us".
12/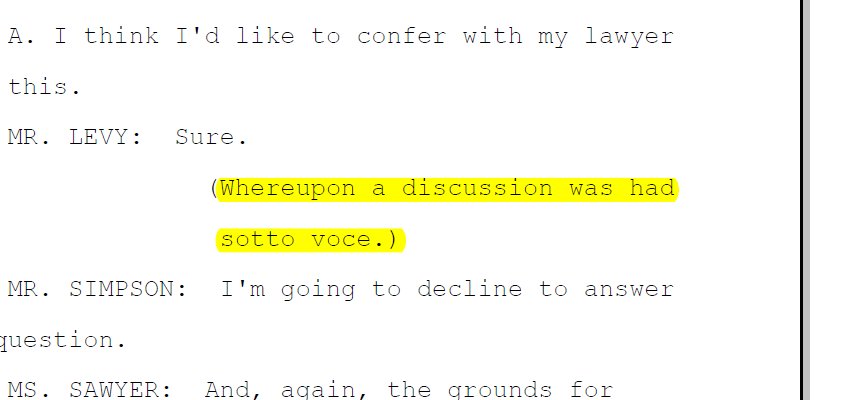 Themes began to emerge.
Fusion GPS is not political nor are they paid for dirt.
They are researchers. They are paid to find truth.
This frustrated Team Chuck immensely.
13/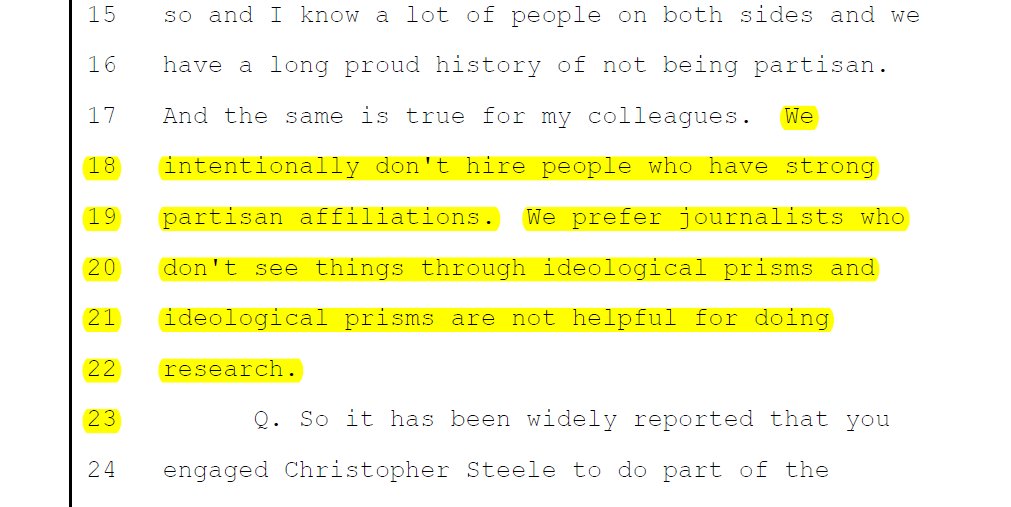 For hour upon hour, Team Chuck hammered away at questions about who FGPS does business with and who Simpson sat next to at various dinners (seriously).

They succeeded only in making him seem like an ordinary, straight-shooting guy.

14/
Enter talk of Christopher Steele and the dossier...
FGPS hired him in May of 2016 with an open ask: find out what you can about Trump.
Not "dig up dirt"... instead "see what you can learn about him".
15/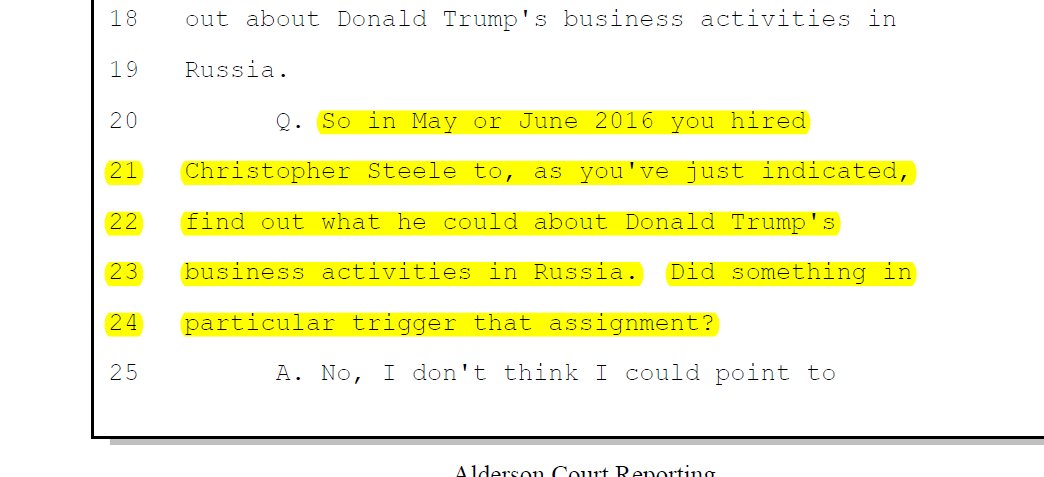 One of the triggers - and I think this is a rather subtle and astute observation - was that for a guy who went to Russia a fair amount, Trump didn't seem to ever get any deals done there.
If he wasn't doing observable business, why was he going?
16/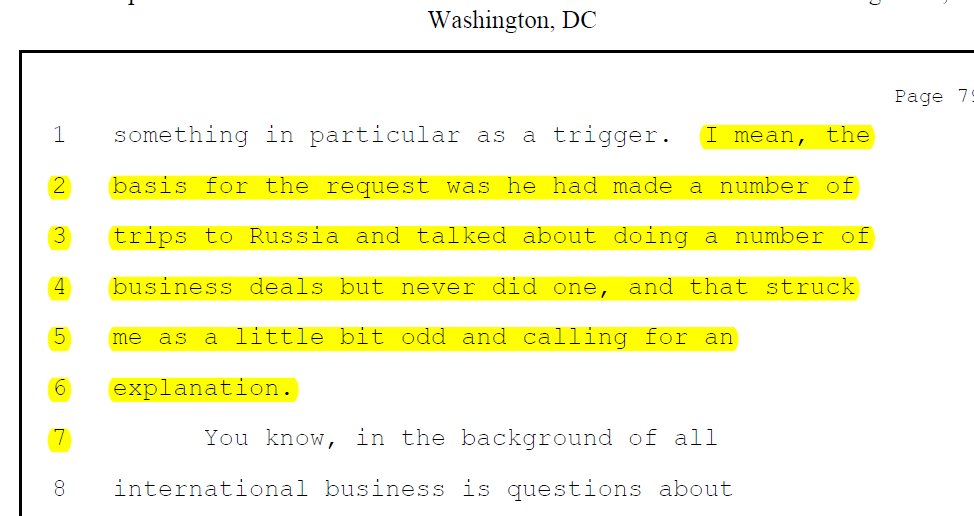 FGPS and co. weren't even expecting to find anything related to the Russian gov.
They just wanted to see what they could find on the guy with mob ties with a penchant for overnights in Moscow.
17/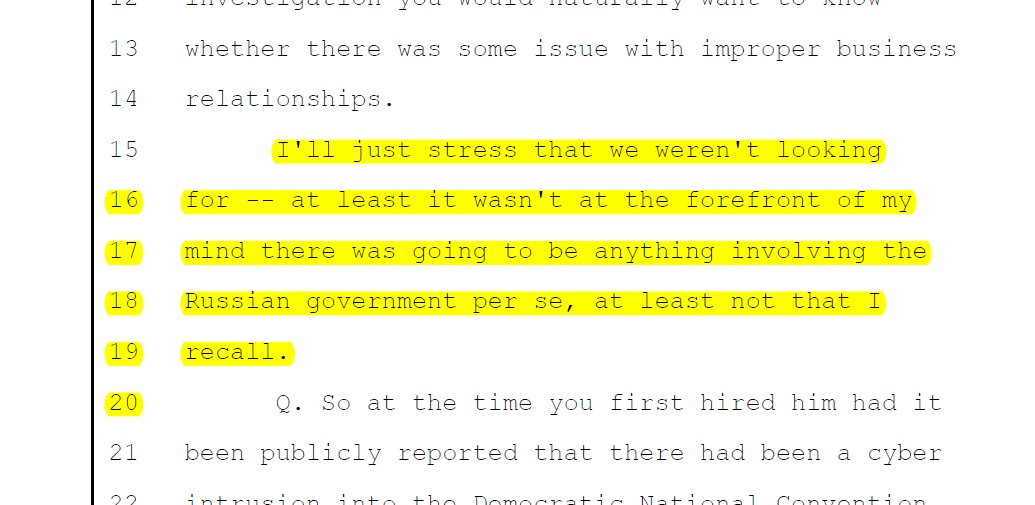 Team Chuck and Team Dianne each had alternating hours, so the transcript is like watching two wholly unrelated movies.
Team Dianne would make progress and then Team Chuck would jump in and spend an hour trying to impugn FGPS... only to get answers like this one about Steele.
18/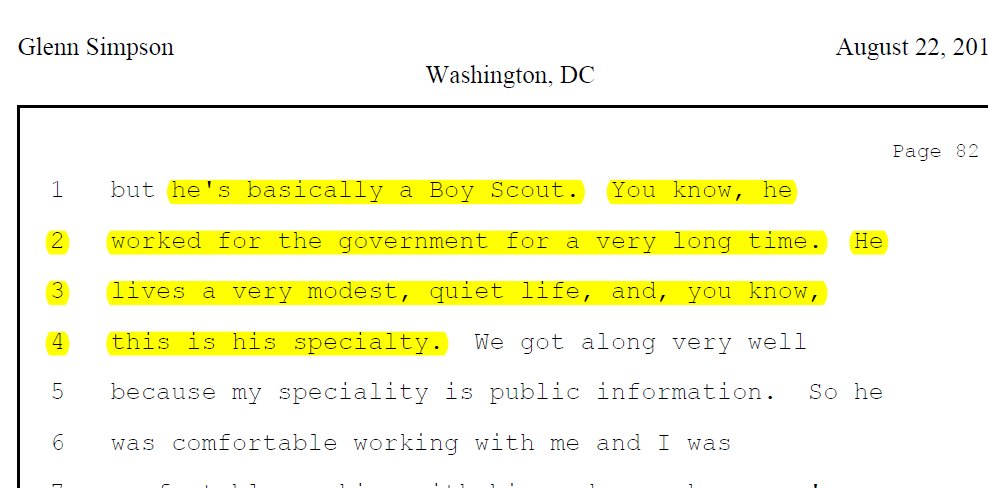 Then Team Dianne would get the mic back and we'd get back into the meat.
...and here's a sirloin.
When Steele started asking about Trump (in June 2016) no one was even thinking about Trump-Russia... and Russia's interference efforts weren't even a secret.
19/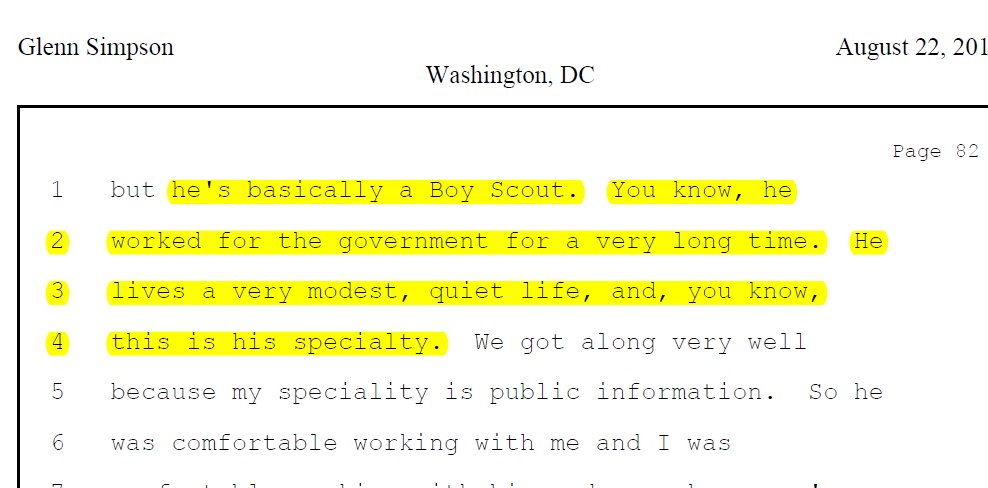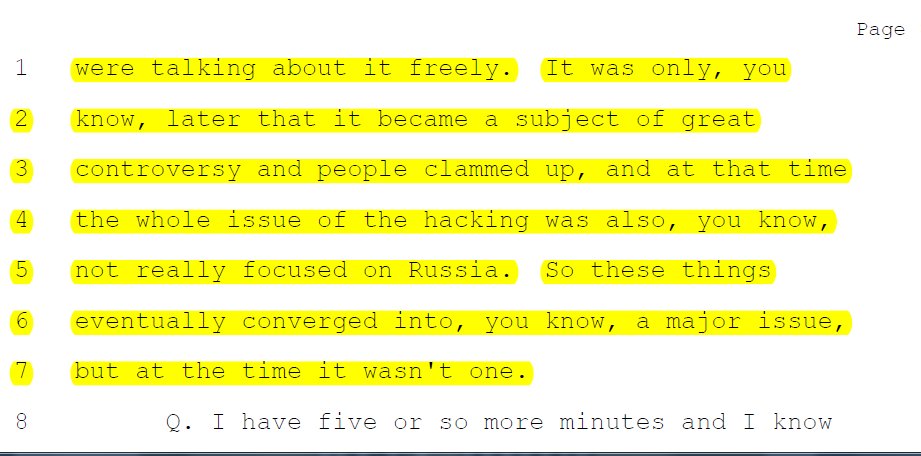 Let that one sink in...

"The information was just sitting out there."

Steele didn't even have to dig for it. He made some calls. Everybody knew. People just talked to him about it.

Russian election interference was NOT A SECRET IN RUSSIA... until it became news.

20/
Throughout Simpson's testimony, over and over, the recurrent answer on all questions designed to discredit Steele were the same... and they were clear and believable.
In the world of intel, the guy is an honest broker.
Team Chuck was made quite sad by this, I suspect.
21/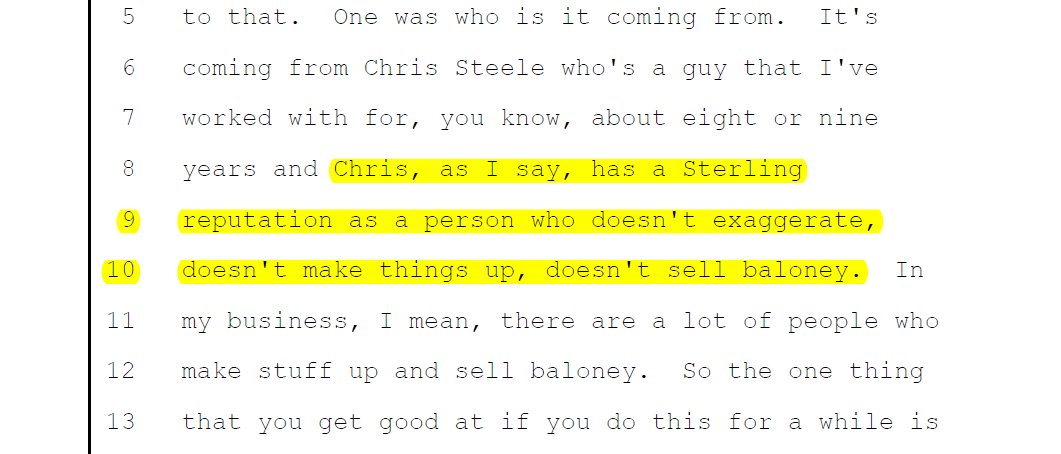 Maybe that's because Simpson dropped plain-speaking truth bombs in there about how much everybody trusted the guy... including the U.S. government.
FGPS and Steele's reputations were utterly undented by ten hours of testimony.
22/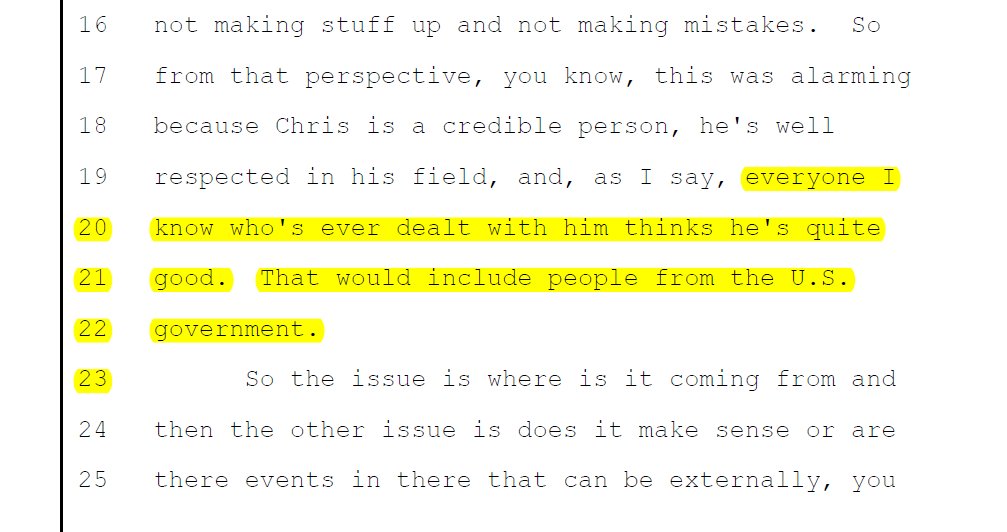 In fact, I came out of the transcript liking, believing and better understanding Simpson.
e.g. he was a journalist most of his career. Wrote for the WSJ at one pt... and even wrote a piece that caused McCain a little embarssment (we'll come back to this)
23/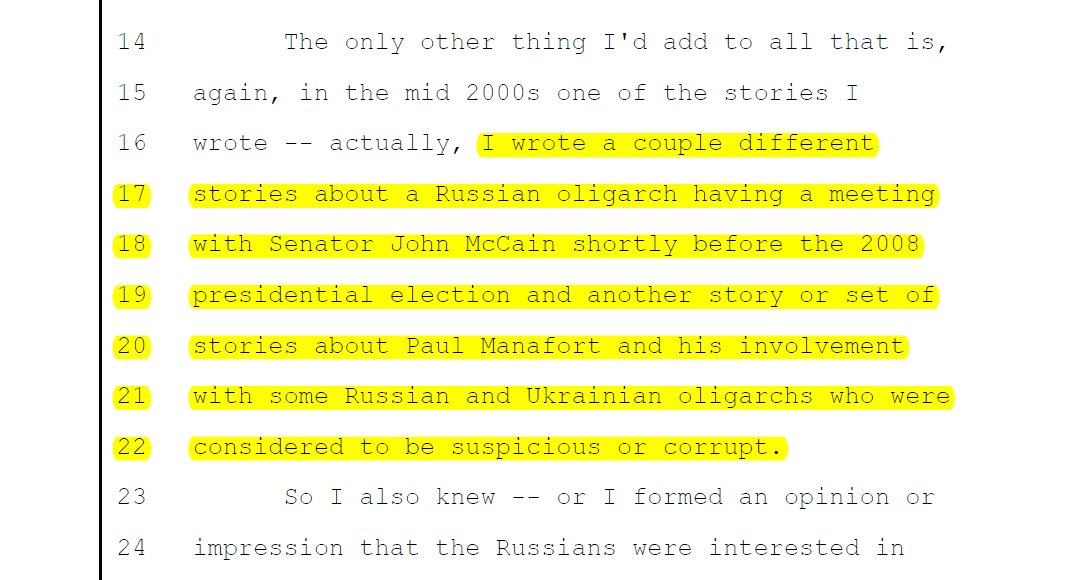 Simpson has a journalist's mentality. His job is to report the news - not create it. The truth is the story. The story is the truth.

If the purpose of Team Chuck's attacks were to make him look like an operative, they failed spectacularly.

24/
...but back to our story...

Steak time!

Another tasty nugget came out about midway through.

Christopher Steele didn't deliver the dossier to the FBI. He became so concerned after the very first memo, he called the FBI immediately... and reached out to them.

25/
Steele wrote his first memo - which laid out how it was widely known that Russia was actively working to interfere in the election on Trump's behalf - and went directly to the FBI before he had even written the second memo.
(they're talking about the 2nd memo here)
26/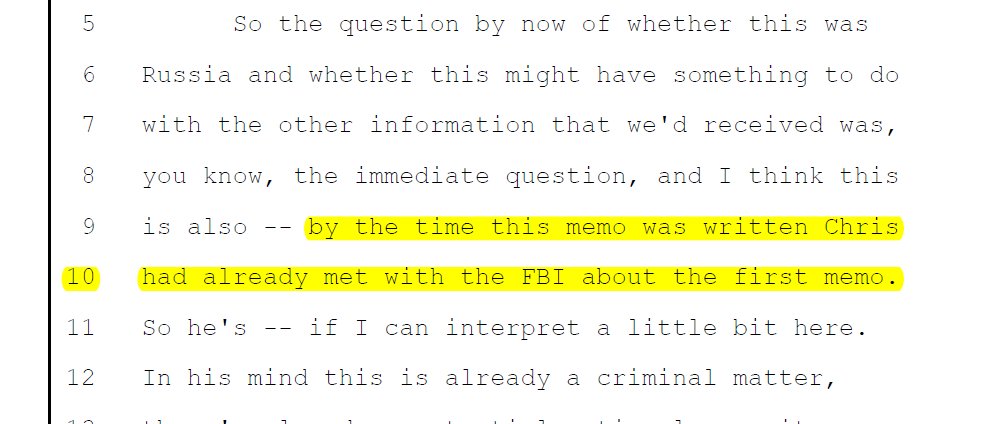 The reason Steele ran straight to the FBI?
He was worried Trump might be being blackmailed.
He wasn't trying to nail Trump. He thought Trump was the potential victim.
27/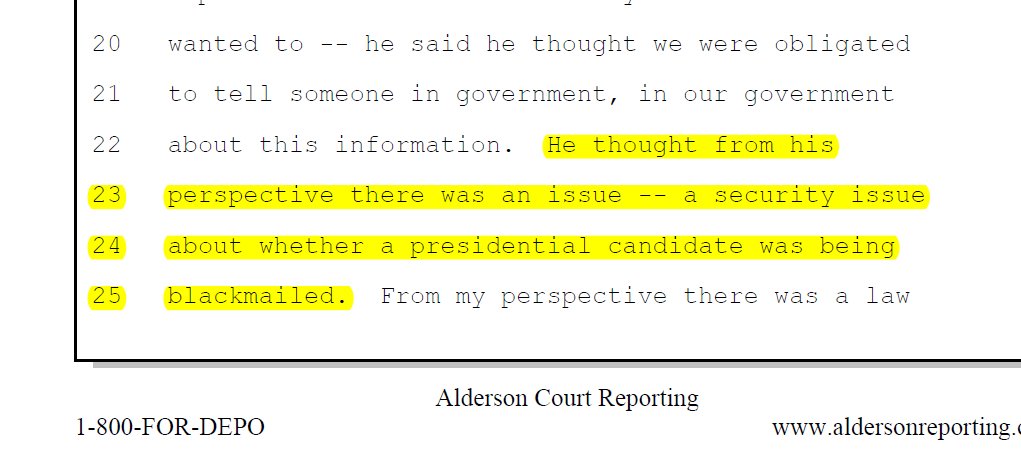 So, by July, Steele had already begun feeding the FBI the readily findable intel on a vast effort afoot to help elect Donald Trump.
Early July.
28/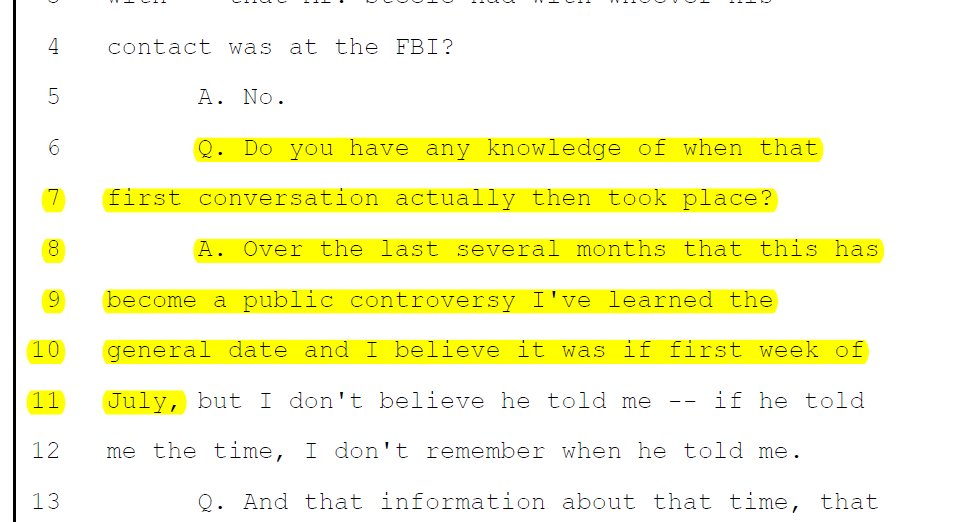 If there is a single para that sums up the obstruction-crushing takeaway from this testimony it is this one.
Why did a Brit and an American feel compelled to go to law enforcement?
29/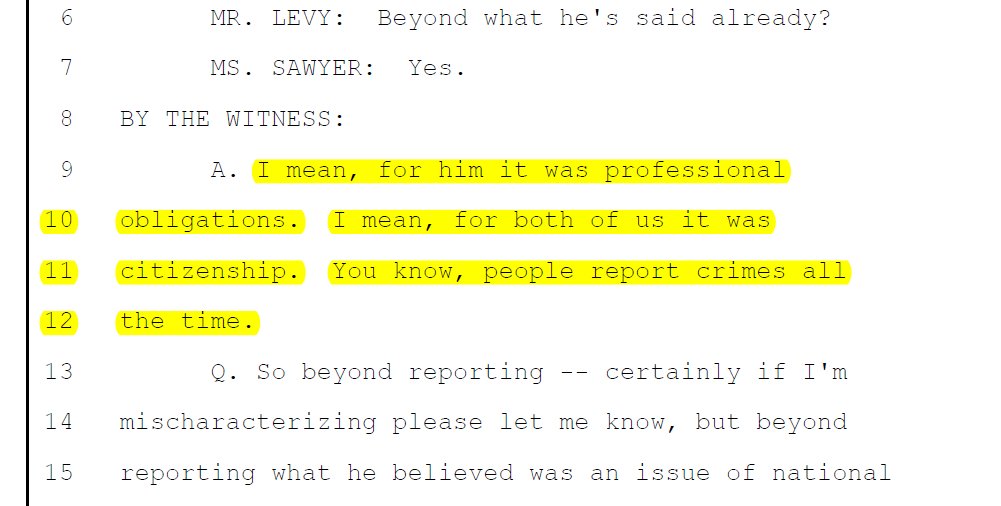 Obligation.

Citizenship.

It was their moral duty as people to report a crime they were witnessing.

30/
...and after going to the FBI, Steele kept digging... and FGPS looked into what he dug up... and it kept checking out.
These weren't guys digging for dirt. It was an intel guy and an ex-journalist digging for truth.
31/

...and not only were they NOT looking to torpedo Trump's candidacy, they fully expected it would have no impact whatsoever because that was against the rules.
They weren't trying to sink Trump. They didn't think that was even possible.
32/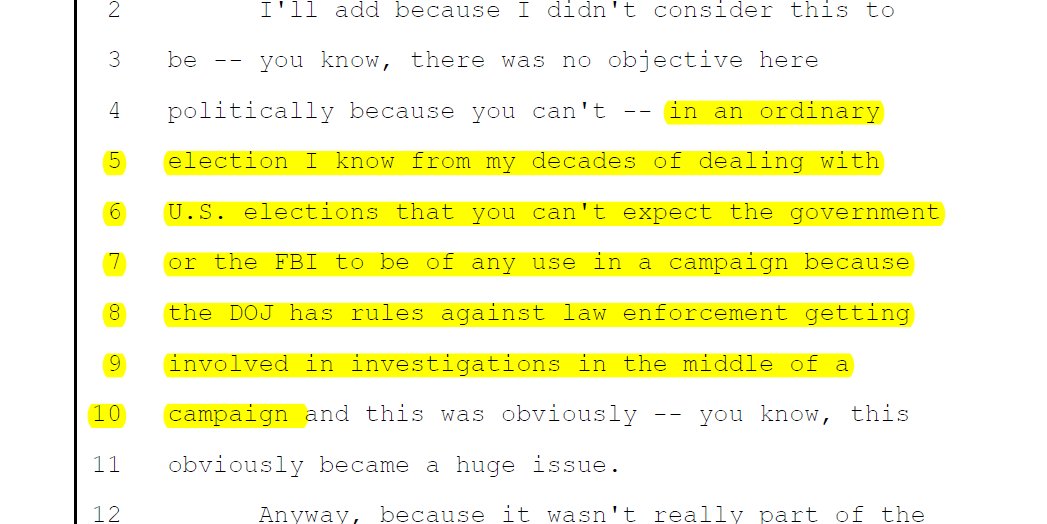 Steele then went on to develop the many other memos in the dossier... and sometime around Octoberish, the FBI called him back up and said "give us what ya got..." and then Steele went all Bourne Identity and flew to Rome to do so...
33/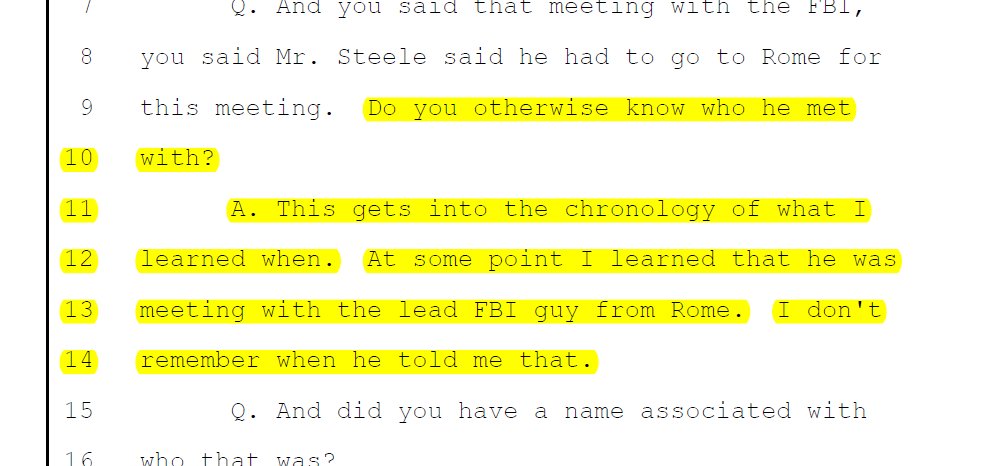 The FBI, as we now know, believed Steele not because they had heard things from him but because they had already heard them elsewhere.
Now, this is a tad interesting. Look at the word choice here.
34/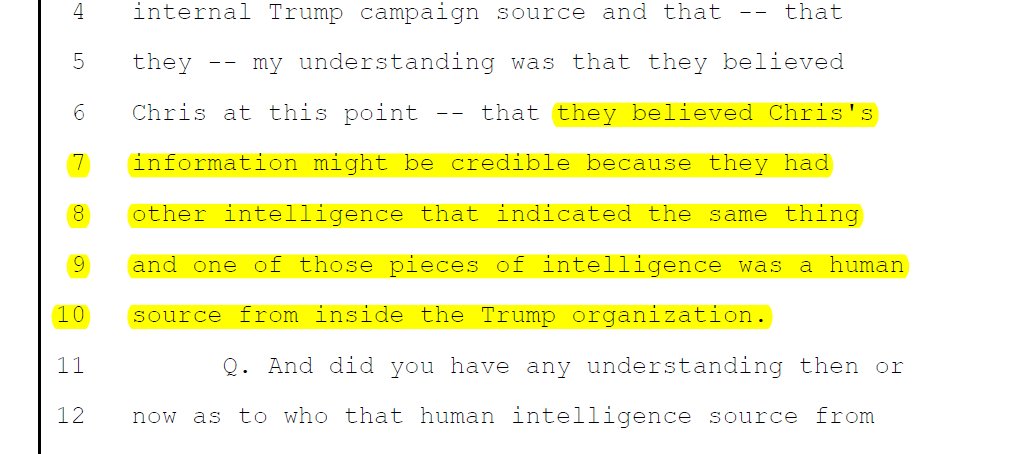 "The Trump Organization"

There was some later back and forth about what that meant... and the net is that Simpson doesn't know whether the person who picked up the phone and called the FBI (as he described it) was part of the campaign or part of TRUMP'S COMPANY.

35/
All past presumptions about who the inside source are can now be downgraded to speculative.

We don't know what the FBI knew or from whom... but we know someone else either wittingly or unwittingly put info in the FBIs hands before the dossier.

36/
Steele described the source as someone on the inside who saw something and said something...
...and that doesn't sound like the Australian Ambassador.
37/

So there were Steele and FGPS running to the FBI because a crime was underway - at great risk to their lives and livelihoods - and then Comey letter came out...
...and suddenly they wondered if they had run into the arms of another corrupted party.
38/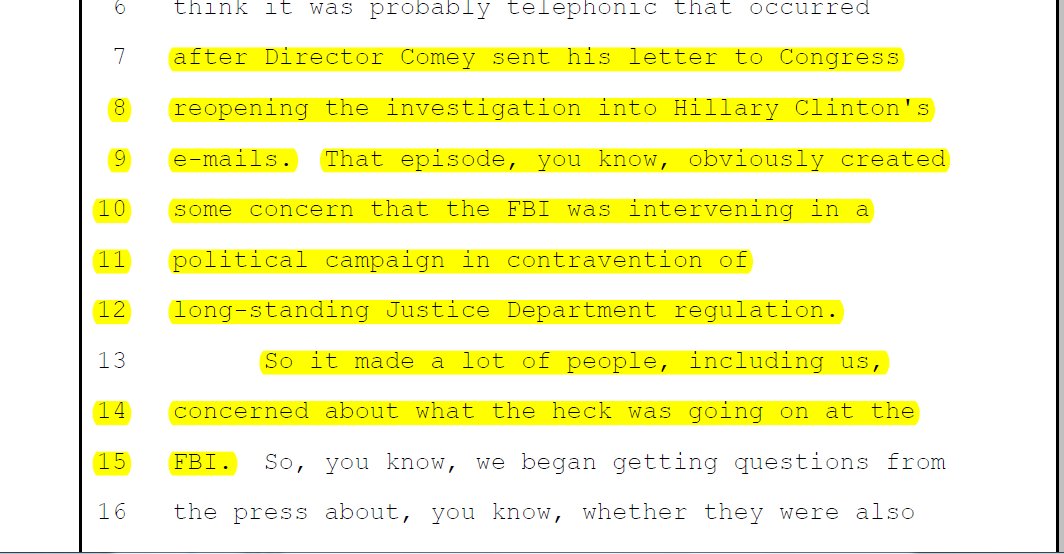 The two patriots suddenly began to wonder whether the FBI were the good guys after all...
...and then the NY Times ran a story sourcing the FBI claiming they had seen no links btwn Trump and Russia... which FGPS knew to be false.
(more on the NYT later)
39/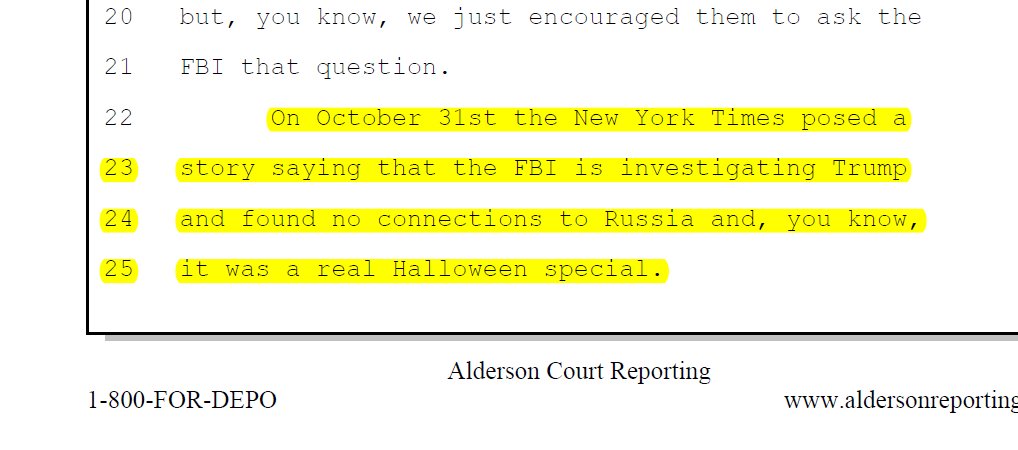 Steele became so concerned that the FBI had been compromised or was not acting in good faith, he literally severed his relationship with them.

So, the guy Team Chuck tried to paint as a dirty operative trying to seed disinformation wasn't sure he could trust the FBI!

40/
Interspersed between these nuggets of "Hunt for Red October" are endless questions from Team Chuck about who Glenn Simpson eats with and whether his wife comes along and such...
I've saved you the torture of even hearing about them.
41/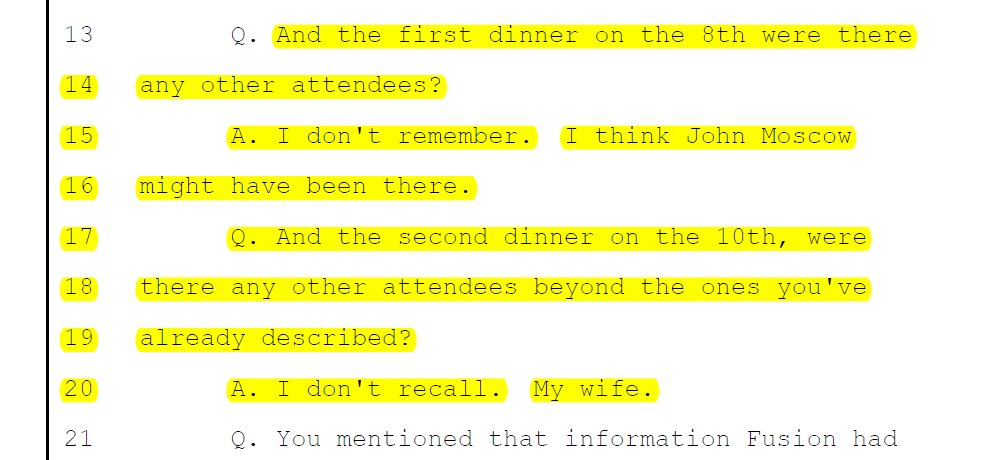 ...and then we pivot away from the obstruction and back to the search for truth...
...and there sits Glenn Simpson, a man appearing voluntarily despite his worries about how all of this further endangers the people around him.
42/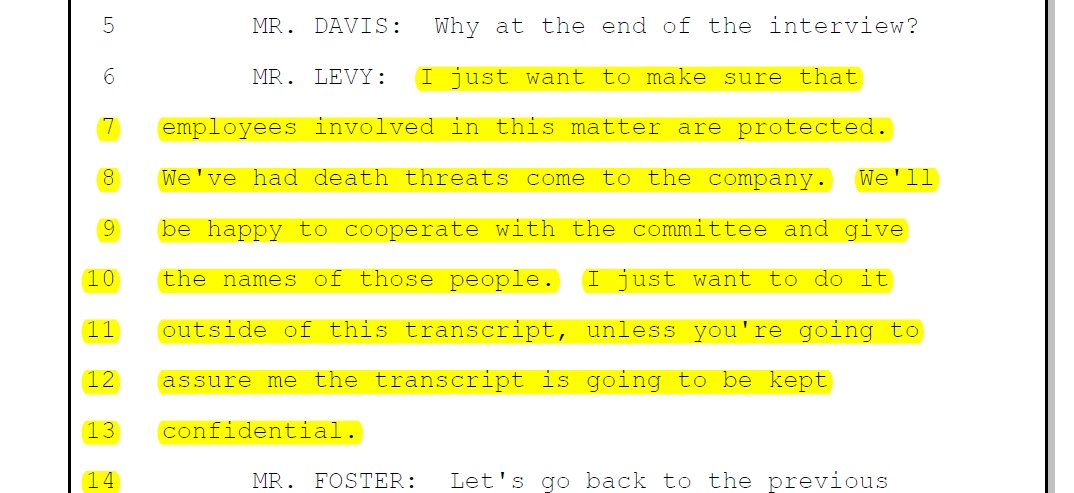 ...and then the hour passes and Team Chucks take back over and dives back into an endless effort to obstruct and discredit.
A key theme: which one of you eyewitnesses had the audacity to tell people you had seen a murder?
43/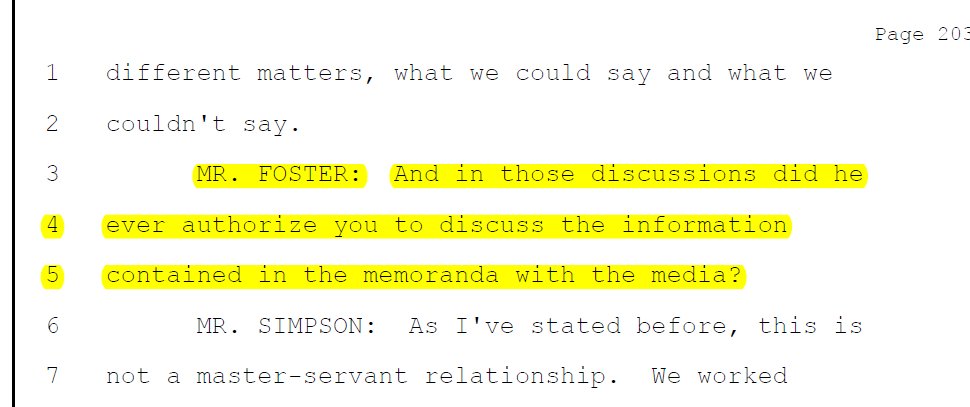 Speaking of the media, put down any sharp or fragile objects. You may want to throw something after this one...
FGPS and Steele had begun briefing media outlets by late September...
...including the NY Times...
The same NY Times that then ran a 10/31 story clearing Trump
44/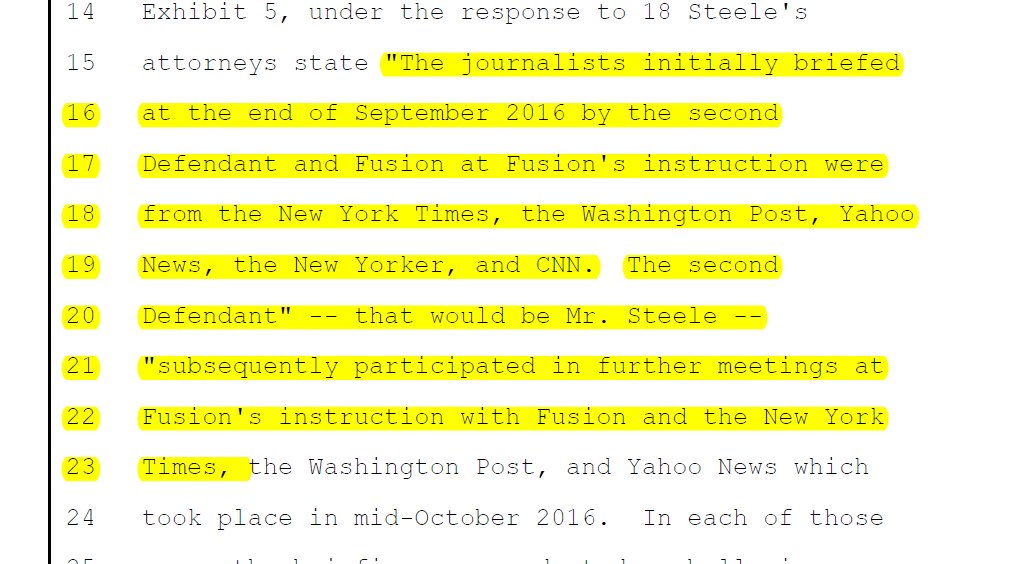 Let that one sink in.

The New York Times had begun to receive off-the-record briefings on the smoke that leads to a massive criminal fire by September... and they wrote a piece essentially exonerating Trump anyway.

45/
So, moving along... along comes November and the day that shall not be talked about... and there were Steele and Simpson. Two guys who had blown the whistle, seen nothing happen, and then lost faith in the FBI.
They had witnessed the crime of the century.
46/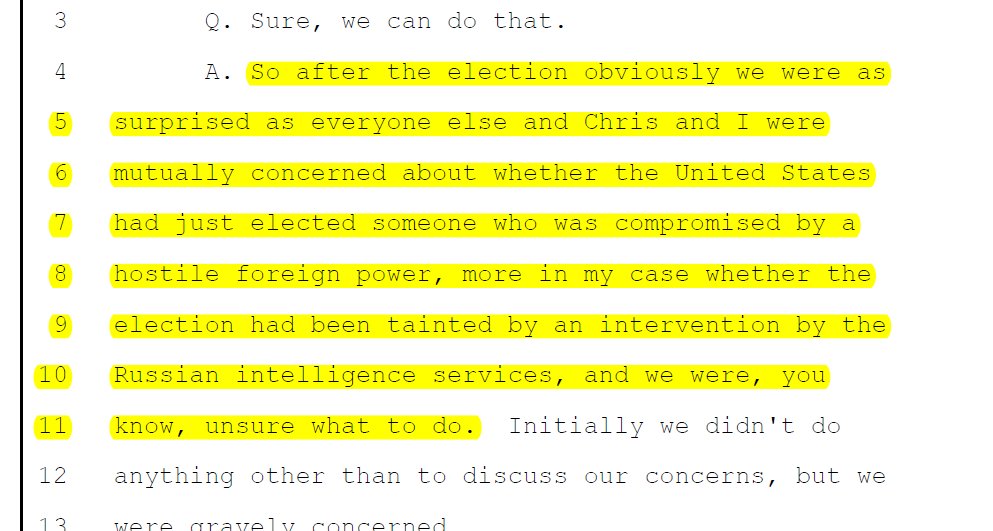 Up pops John McCain through an emissary...
By then, FGPS and their work were known. McCain had heard about them... and he reached out.
John McCain sought out FGPS because he wanted to hear what they knew so he could inquire at the FBI.
47/

Steele and Simpson labored over whether they could trust the emissary and could safely share what they knew... and they ultimately decided they would.
Still, even after the loss of faith in the FBI, they only wanted one thing:
For the government to do its job.
48/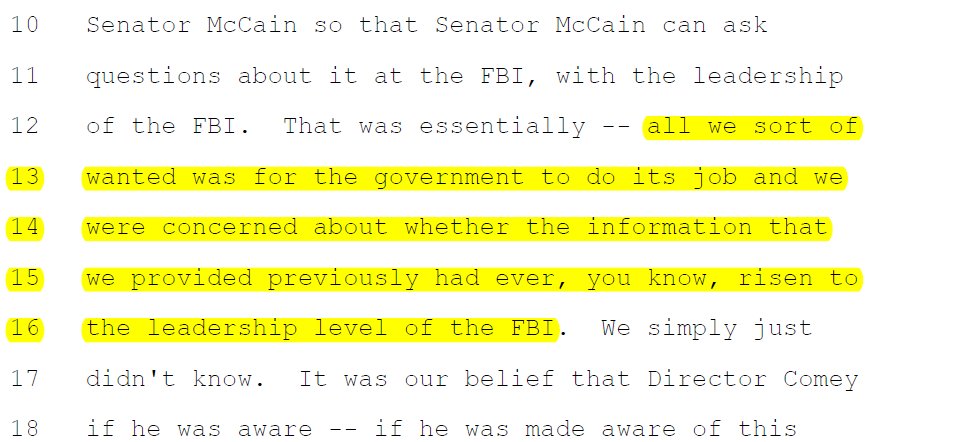 Even after 48 tweets worth of drama and twists and turns, all they wanted was to know that the info they had literally put lives in danger to share had been given a thorough investigation - wherever that might lead - and whatever might result.
49/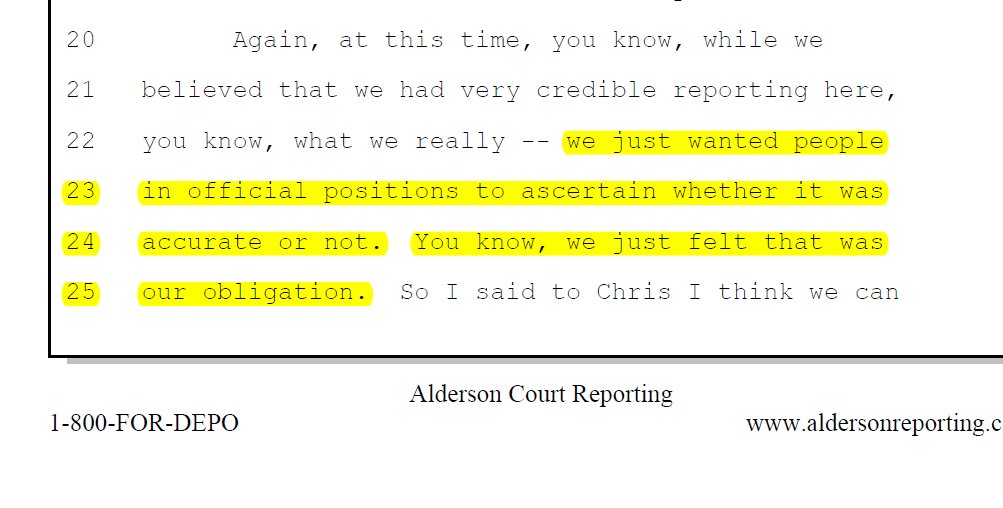 ...and throughout all of this, Chuck Team asked only about FGPS, their connections and their motivations.
...and no matter how many times those questions were asked and answered, they couldn't process that the simple answer is the right one.
50/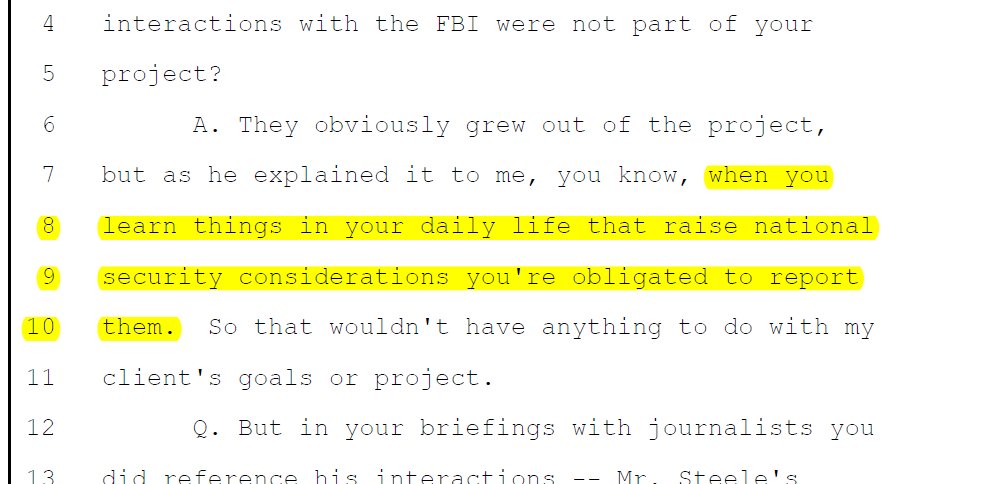 There were other nuggets but they were minor enough to cover another time.

Instead, if you've read this far, stay with me... because I'm about to get all philosophical and sh**.

51/
This was the most depressing political document I have ever read.

It was an agonizing tour of the descent of the Republican Party into something that isn't even partisan... that isn't self-serving.

It's political sociopathy.

52/
We are moved by acts of conscience. We are stirred to strong emotion by character and integrity and honor.

We lionize ordinary people who find themselves in extraordinary circumstances with difficult choices to make at great personal risk and cost.

53/
Christopher Steele and Glenn Simpson were thrust into the crucible of history with no obligation to act - and many reasons not to - but, bound by their own values, they placed themselves in harms way.

One of their sources has already been killed. They risked their lives.

54/
Yet, Glenn Simpson sat in a chamber in one of our most revered institutions testifying candidly and openly to a systemic attack on the very foundation of our country - our free and fair elections - and Republicans didn't ask him one question about that.

NOT ONE.

55/
Instead, the witness to a crime aimed squarely at our country and government laid out how he was accidentally thrust into the role of patriot...

...only to have Republicans attack the witness for having reported the crime.

56/
This testimony was like watching a death of sorts for me. It was a snuff film where we got to witness the murder of even the pretense that R's care about country over party... or care about country at all.

This was a treason.

Let us not forget this treason.

<end>