(THREAD) BREAKING: The second Glenn Simpson (Fusion GPS) transcript—this one from House, rather than Senate, testimony—has just been released.
In this thread, I'll note any major news, statements, or developments the new transcript reveals. Hope you'll read and share.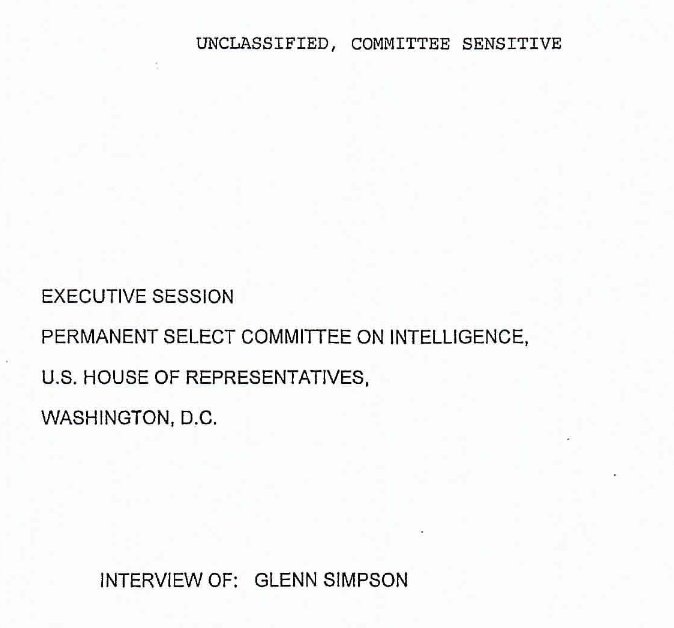 2/
Posting this only because it's hilarious:

3/
Simpson is speaking my language—the need for open-source research and public-information curation in a time of information overload. This comes shortly after he acknowledges that his first client, in researching Trump, was the Washington Free Beacon. He began work in 2015.

4/
Simpson did research for the conservative Free Beacon from September/October 2015 to April/May 2016—so, somewhere between 7 and 9 months of opposition research for conservatives.
He'd done research for the Democrats for about 30 days—that's it—before Steele went to the FBI.
5/
Simpson admits the second client was Perkins Cole. One reason he can admit some things here that he couldn't before is that this testimony occurred on November 17, 2017—whereas the Senate testimony was on August 22, 2017. A lot of Steele Dossier news had come out by November.
6/
Wow. The arguments between Democratic and Republican Congressmen in this transcript start like almost right away. They're literally arguing on the record. Not pretty.
7/
See? When REPUBLICANS want something from a witness, they stop at absolutely nothing and recognize basically no privileges except the Fifth Amendment and perhaps limited use of executive privilege. This is what a Congressional committee actually looking for answers looks like.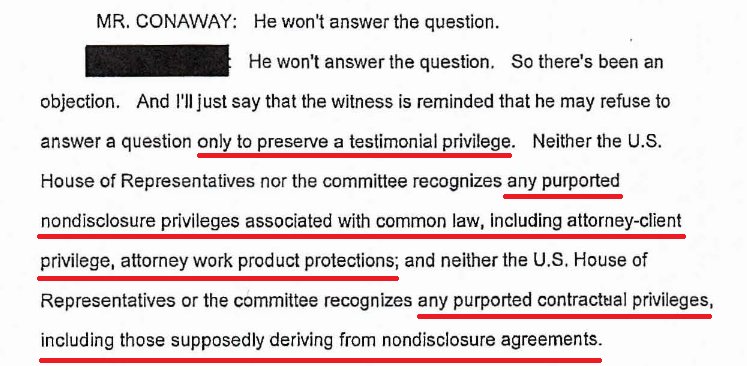 8/
Credit to Rep. Schiff (D-CA), who does here for Republican questioners something I think they've only rarely if ever done for the Democrats: tried to get a witness to answer more questions rather than fewer, even when/as he knows those answers could damage his political party.
9/
Simpson acknowledges that he knew Perkins Cole was representing the DNC.
10/
Simpson says Fusion was paid $50,000/month plus expenses, but that Fusion was the architect of the research plan, not the DNC.
11/
This is key: Fusion's major leads were developed when it was being paid by conservatives; Perkins Cole provided money for them to follow those leads further than they already had. That includes Steele's work—which was built off Felix Sater leads paid for by Free Beacon money.
12/
Sorry for the typo: Perkins Coie.
13/
Simpson confirms that, after working for GOP figures for 7 to 9 months, he only engaged Steele for 30 days with the money from Perkins Coie (DNC). Easily missed fact.
14/
Simpson says some of what Steele did was contacting his own well-established MI6-grade sources in Moscow, but *also* that he subcontracted with other operatives who he trusted to go to Russia and investigate (Steele could not go himself because he was a known ex-MI6 agent).
15/
Simpson on the credibility of the Steele Dossier's "names and places and people and whether they matched up with information we could get elsewhere": "all of that" checked out, he said.
16/
Simpson says *no* part of the Steele Dossier was found by Fusion to be "not credible," though there were some elements they could not immediately confirm because of the nature of the information.
17/
Interesting, and newsworthy: Simpson says he doesn't think the Free Beacon was a front for any GOP candidate. For many months, it was said Fusion was working for a specific GOP opponent of Trump's during the primaries.
18/
Again, it was conservative (Free Beacon) money that *launched* a thorough investigation into Trump-Russia ties—the DNC's law firm was half a year away from getting involved in any way (and once they did, it was merely via money, not logistical support or investigative leads).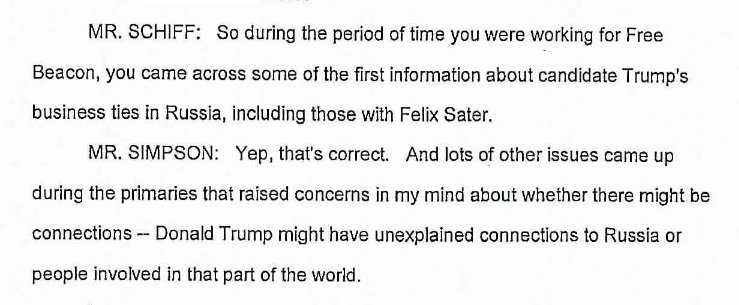 19/
While Fusion was being paid by the Free Beacon, Trump brought Paul Manafort on board his campaign—and Simpson had already done a lot of research on Manafort and his ties to Russia, so alarm bells went off for Fusion. In March 2016. While they were being paid by conservatives.
20/
Simpson confirms that Fusion found "patterns suggestive of [Trump-Russia] money laundering" while they were working for *conservatives* (the Washington Free Beacon).
21/
Holy cow! Simpson: "We had a [Russian] gangster [nick-]named Taiwanchik living in Trump Tower running a high-stakes gambling ring out of Trump Tower—while he himself was a fugitive for having rigged the skating competition at the Salt Lake Olympics and other sporting events."
22/
Holy cow (again)!
Simpson: "And when Mr. Trump went to the Miss Universe pageant [in Moscow] in 2013, 'Taiwanchik' was there in the VIP section with Mr. Trump and other Kremlin biggies. That raised questions with us."
23/
Here's a brief explanation, from Simpson, of why Trump doing business with *Russian mafia*, as opposed to other nation's mafias, suggested the possibility, to Fusion, that Trump could have illicit ties to the Russian government (note: Fusion was being paid by conservatives):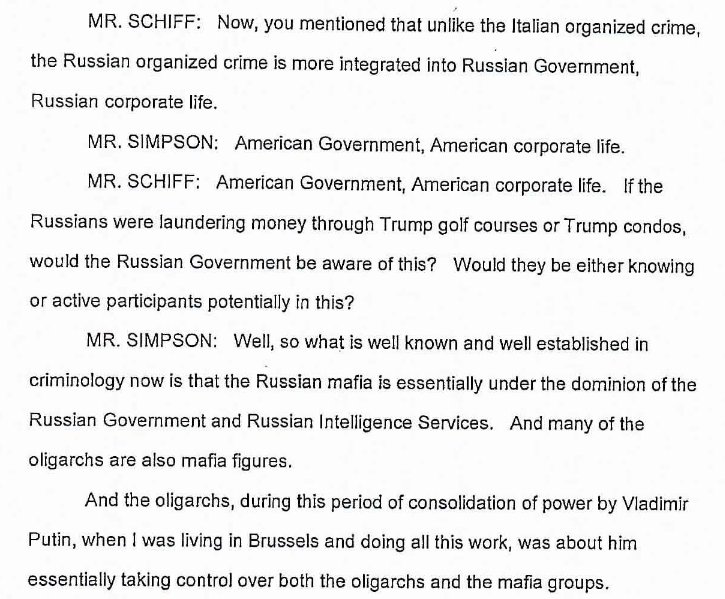 24/
More from Simpson, here, on what Fusion had concluded—while they were being paid by conservatives—prompting them to eventually contract with Chris Steele and Orbis:

25/
While working for conservatives, Fusion was investigating Trump properties in Toronto and Panama, Trump golf courses in Ireland and Scotland, the 2013 Miss Universe pageant in Moscow, Trump-branded vodka—all Trump initiatives involving suspicious (possibly Russian) partners.
26/
If Trump and his closest associates—like Michael Cohen and Sergei Millian—hadn't kept lying about their business, backgrounds, and associations over and over and over again, Fusion (while being paid by conservatives) wouldn't have been so certain Trump had shady Russian ties.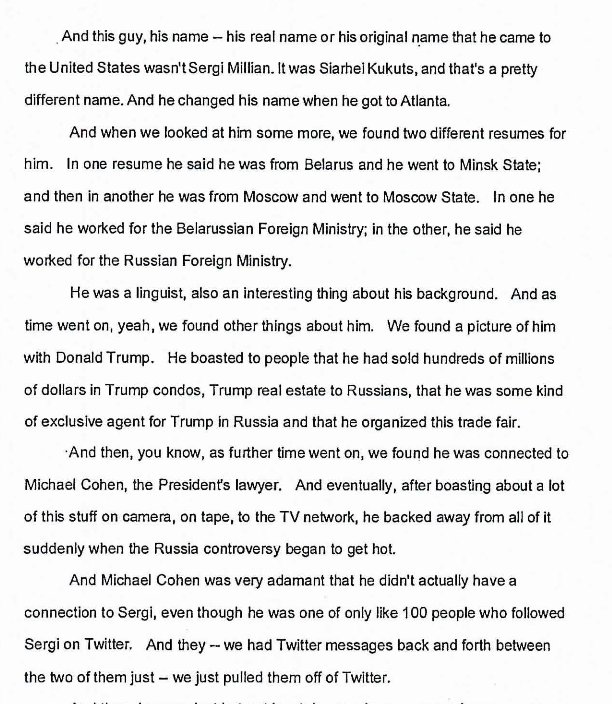 27/
Simpson goes into detail on Michael Cohen's ties to the former Soviet Union and to Russian mafia. These men—Trump included—are so up to their eyeballs in dirty Russians and their money, and it's so well-documented, it's crazy Trump ever said he had nothing to do with Russia.
28/
Simpson: "It gradually reached a point where it seemed like most of the people around Trump had a connection to Russian organized crime or Russia in one way or another." So does Trump "have anything to do w/ Russia"? Yes—more than any pol in US history. More than Rohrabacher.
29/
The problem with unpacking this transcript is that—and I *know* how this sounds, when I say it—if you've been reading this feed for any amount of time you actually already know *much* of what Simpson talks about. It's just a bald fact (self-aggrandizing as I realize it is).
30/
Simpson makes a great point that media should regularly make: by the mid-2000s Trump was a self-professed billionaire who wasn't creditworthy—he couldn't get a bank loan. So where was all the cash coming from? Don Jr. says Russia; Eric Trump says Russia. Why not believe them?
31/
This is a crazy statement by a Republican—Rooney. It's crazy because in fact Trump's frauds and shady associations and adulteries and public lies and racism were ALL KNOWN prior to the election and not ONE of these House Republicans came out and said this man can't be POTUS.

32/
Simpson sets the record straight on the "Steele pays his sources" canard Republicans fed to the press with no information or basis for belief (much like their claim that the FBI paid Steele):

33/
Simpson is having no difficulty giving Rep. Rooney examples of things in the Steele Dossier that were later proven correct *and* could not have been known by Steele's sources beforehand unless they were (as Steele and Fusion have claimed from the start) extremely well-placed.
34/
It's too complex to tweet out, but Simpson gives Congress a very good investigative road map—including names and organizations—for doing what the House Intel Committee is partially charged with doing, which is finding out if Trump had illicit Russian ties during the campaign.
35/
Here's Simpson echoing, in effect, my "we know 10% of what Mueller does" line:

36/
Someone much smarter than me is going to have to explain why the *name of a questioner* is blanked out on pg. 72 and *none* of his/her questions have a name attached to them—just a "Q" for question. Anyone have any insight into this? I've never seen it in a transcript before.
37/
This just looks insane to me. A secret and/or classified questioner? Is this someone in U.S. intelligence whose cover would be blown if they were known? Someone who is known to be facing harassment over the Trump-Russia affair? I don't get it.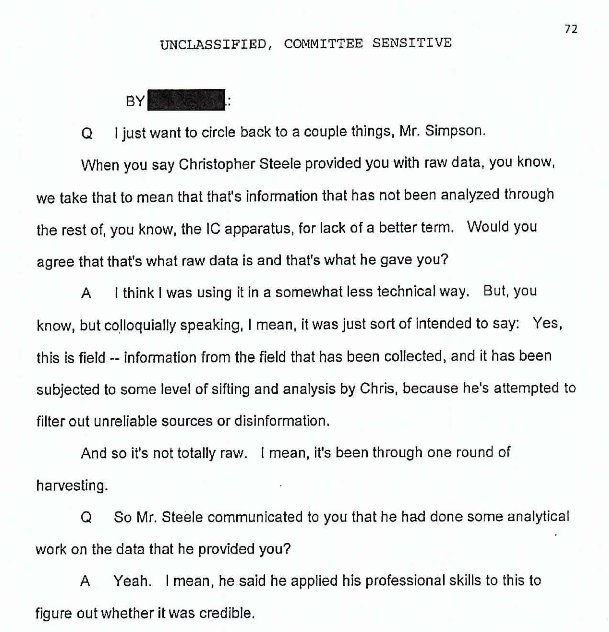 38/
Critical point: Simpson says the Steele Dossier is a *post-disinformation-sifting* document.
Meaning, what we call the "Steele Dossier" is *exclusively* information that Christopher Steele believed, to a high degree of professional (MI6) confidence, *wasn't* disinformation.
39/
Check this out (h/t DM): The Russian mobster Simpson mentioned to the HIC, who lives in Trump Tower, lives one floor below Trump—in other words, on the same floor as Felix Sater. (And—if I'm not mistaken—one floor *above* where Don Jr. brought the Kremlin agents in June '16).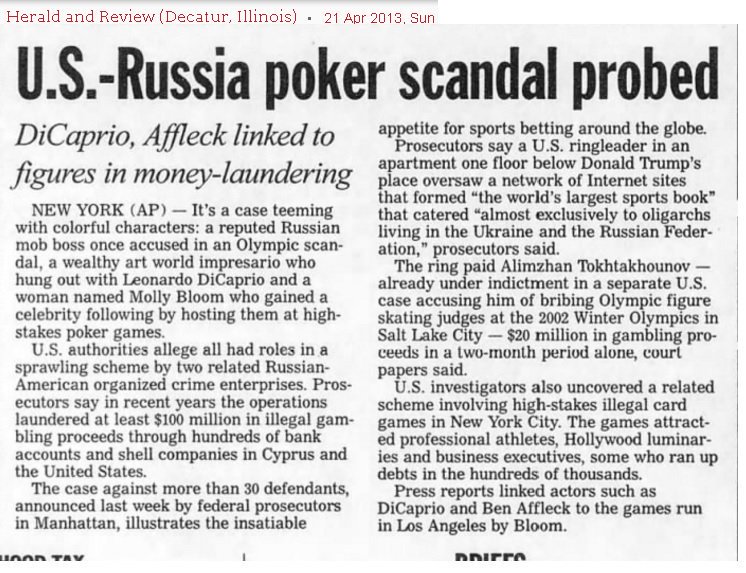 40/
(To be clear, I'm referring to Felix Sater's *business offices* for Bayrock. I don't actually know if Sater also lived on that floor of Trump Tower.)
41/
This is *new and important* information: Glenn Simpson has now positioned Cohen, Trump's lawyer, as a *major* player in the Trump-Russia investigation and (given that we know Cohen will never rat on Trump, given their history) almost certainly a *target* in the Mueller probe:

42/
I want to be clear: I'm not saying Cohen is a likely Mueller target just because of what Simpson said, but because Simpson confirms what we already know about Trump Tower Moscow and the Putin-Artemenko "Peace" Deal—both things Cohen was neck-deep in and lied about repeatedly.
43/
The idea that Michael Cohen—the only person who Trump had attorney-client privilege with who was with him throughout the presidential campaign—was the person holding all Trump-Russia information during the campaign is, along with the rest of what we know, *extremely* telling.
44/
Simpson describes one of Trump's alleged real estate scams: via Sergei Millian, get Russian oligarchs to say they're going to buy units in a new Trump property because once a certain number are "pre-sold," Trump can get a loan. But then the units are sometimes *not* bought.
45/
Whoa! Simpson alleges that Nigel Farage, the Brexit mastermind, slipped a thumb drive to Julian Assange (WikiLeaks) during a secret trip to the Ecuadorian embassy. Farage has many ties to Trumpworld. This is some wild stuff—far wilder than anything on this feed. Fascinating.
46/
Answering an earlier mystery, it looks like the HIC decided to black out staffers' names, which is odd to me. The Senate did not do that.
47/
(Note: it's often called the "HSCI" instead.)
48/
This is surprising: Glenn Simpson concedes that his second round of discussing the Dossier with the press—late October—was an angry reaction to him and Steele feeling that the FBI had buried the Trump investigation and then re-opened the Clinton case in violation of DOJ regs.
49/
One part of me thinks the GOP might jump on that, but then another thinks, "Actually, no—because what Simpson and Steele are implying is that there was a massive FBI conspiracy to aid Trump and harm Clinton, which we know there was, at least in the New York FBI field office."
50/
What's amazing is this: Simpson goes to the media in late October to even the scales—let the media know both candidates are under investigation—then the FBI tells NYT there's nothing on Trump. At that point, it's clear Simpson/Steele believed there was a fullblown conspiracy.
51/
And there it is—the Mayflower Hotel. The Mayflower Speech. Who wrote it, who edited it, who established the "VIP list" for who would hear it. The Center for the National Interest *hosted the event* and says *it* invited Kislyak, Russian pipeline advocate McFarlane, and so on.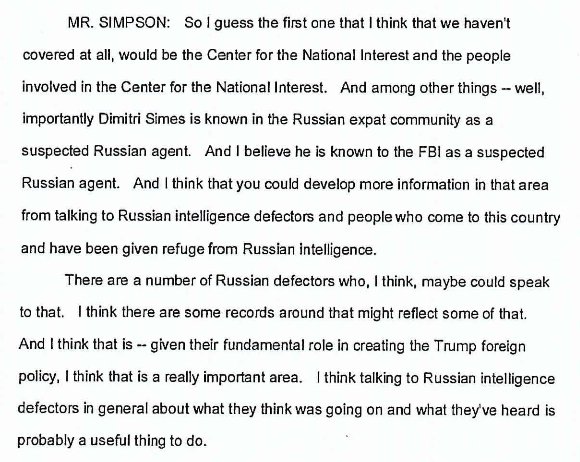 52/
Never forget—some gave me grief for uncovering this—the Mayflower Speech was supposed to happen at the National Press Club, then Manafort cancelled it at the last minute for reasons that were clearly false. Why? To allow for a pre-speech VIP event: Kislyak and Trump together.
53/
I've been tweeting about suspicious Trump activities in Hungary (including Finkelstein) for—Jesus—eight months now? And here it is, being discussed soberly in the House Select Committee on Intelligence. Simpson's only grazing the surface of what's been discussed on this feed.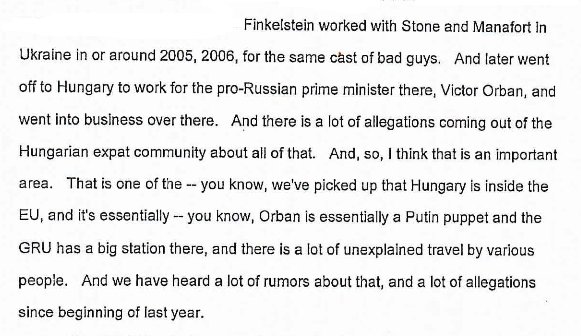 54/
I'm pretty sure Simpson references this feed—or links provided here—when he writes about Gordon going to Hungary. Answer: yes, he did, during the transition and several times before then—but we don't know if those other times were in '16. Gorka going has been under-discussed.
55/
I know this was one of the only feeds writing about Gordon and Hungary because Gordon personally made threatening phone calls about me as a result of it. Claimed he would involve the police, Judicial Watch, the federal courts.
So yeah, that Simpson detail comes from here.
56/
I guess what I'm saying—because it's true—is that Schiff asks Simpson what areas the House Select Committee on Intelligence should be looking at that it isn't already, and Simpson rattles off a bunch of Trump-Russia deep dives that have been discussed repeatedly on this feed.
57/
It confirms other investigative journalists are seeing what I am, and confirms what is known/discussed by HSCI—at least publicly—is only a fraction of where this Trump-Russia investigation has gone and is headed. It also explains why I don't summarize all this in this thread.
58/
Readers are being very helpful today as I'm plowing through all this testimony. So, to clarify:
* Perkins Coie
* HPSCI
59/
I had no idea Dmitry Rybolovlev, who basically gifted Trump $54 million in a 2008 real estate deal, was a close associate of Igor Sechin—who is former KGB, Putin's right-hand man, and the head of Rosneft (Russia's oil company). That makes it look like a straight Putin payoff.
60/
What strikes one most, after a year of writing about Trump, is that almost *everyone* he deals with is a current or former criminal.
It's actually staggering: the President of the United States has made a *conscious decision* to consort for *decades* with *known criminals*.
61/
Don't take my word for it: read the HPSCI Simpson transcript. The number of known criminals Trump did and does business with is absolutely staggering, and the same goes for Jared, the same goes for Ivanka, the same goes for Don Jr. The Trump family is the mafia's best friend.
62/
Simpson: "It appears the Russians infiltrated the NRA."
63/
The second thing that strikes one—after writing on Trump for a year—is how important it was that Trump hide his taxes. He was *never* going to release them. Criminal investigators would have a f*cking field day with the madcap criminal adventures revealed in those documents.
64/
It looks like the Free Beacon also had Fusion do some oppo on Ted Cruz, and that Fusion did come across potentially negative information about Clinton in the course of doing work for other clients—so by no means has Fusion never uncovered research bad for the Democrats.
65/
What comes out in this transcript, and in the Senate Judiciary transcript, is that Simpson has spent his *career* hating Putin and researching damaging information about Putin. That makes the Republican conspiracy theory here *particularly* desperate and even laughable. Thus: