1.
It's a little funny. The hubris of the Scheme Team is actually their undoing.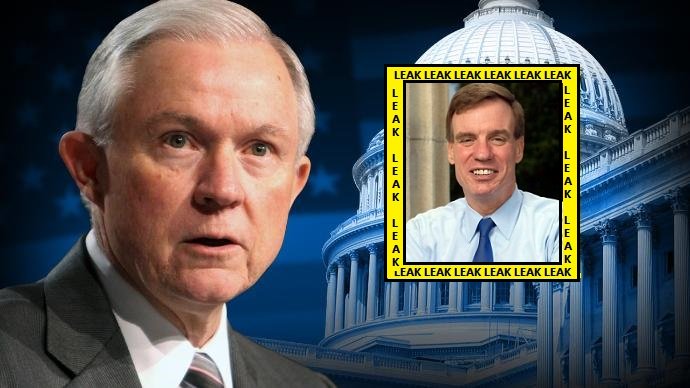 2.
Senator Mark Warner is a member of the Intelligence Community legislative branch oversight known as the "Gang of Eight". All current members pictured here: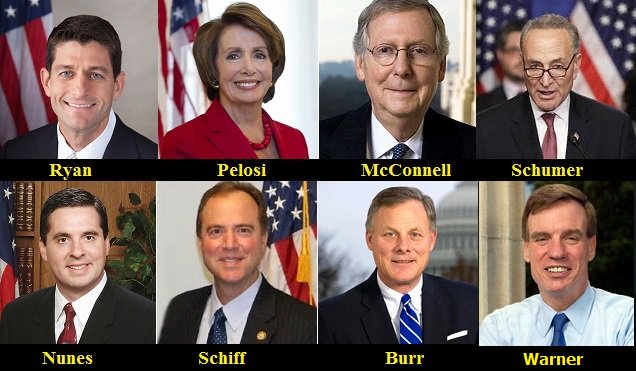 3.
As the new Vice-Chair of the Senate Intel Committee, this is Mark Warner's first year on the Go8.
4.
Previously Diane Feinstein occupied the Vice-Chair position. She gave it up after the 2016 election. Mark Warner took over.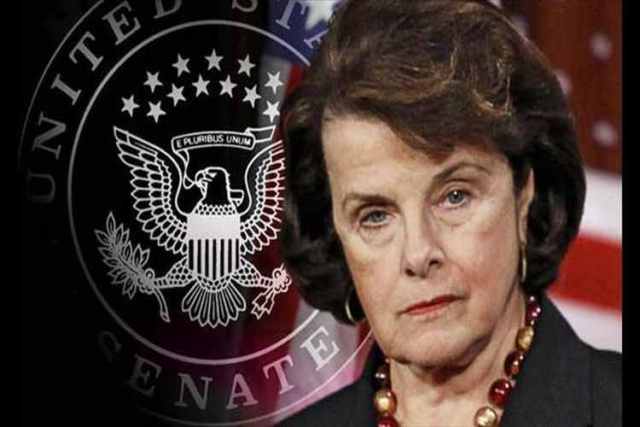 5.
While it's likely Warner knew his NEW role was important, and factually quite powerful, I doubt he put much thought into the scale of how much he would be subject to scrutiny by the intelligence apparatus in the new role.
6.
The Gang of Eight members conduct civilian oversight on all overt and covert intelligence operations. They are briefed on all ongoing intelligence projects.
7.
When the President signs a "finding memo" authorizing the CIA to conduct an operation somewhere in the world, the only other people who know about it are the Intelligence Oversight Gang of Eight.
8.
So they know a great deal about intelligence operations. Actually, they are supposed to know everything about intelligence operations. The Go8 is the check and balance within the system.
9.
With that Go8 role comes a great deal of responsibility. Including scrutiny from within the domestic intelligence and national security apparatus. The DOJ-NSD and FBI watch (monitor) the Go8 to ensure national security.
10.
It's doubtful Senator Mark Warner was thinking about the scale of how much he was being monitored when he decided to attempt covert messaging with a registered Russian actor to get in touch with a British spy. 🤦‍♂️
11.
Ergo, the humor of it all. Doofus.
13.
04:30 …"The FBI has created a new counterintelligence unit to manage these [leak] cases"…
14.
08:17 …"these National Security breaches do not just originate from within the Intelligence Community. They come from a wide range of sources within the government, including the Congress."…
15.
ODNI Dan Coats and AG Jeff Sessions were not playing around when they responded to the request from President Trump to stop the intelligence leaks.
16.
Sunday August 6th, 2017, Deputy Attorney General Rod Rosenstein reiterated he was going to follow through on the investigative demand of AG Sessions and DNI Coats and again referenced a "new counterintelligence division within the FBI".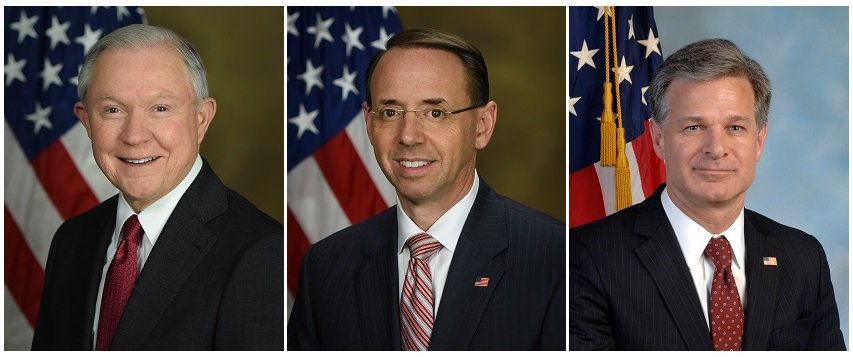 17.
00:50 …"we're responding appropriately. We're going to devote more resources, re-evaluate our procedures and make sure we investigate every one of those leaks in an appropriate way."…
18.
1:07 "We have seen a surge in referrals (of leaks). We've seen an increase in the number of leaks. And we're going to respond appropriately and establish an effective deterrent. Prosecution isn't the only way to prevent leaks but it's an important part of the solution."…
19.
1:43 "That significant increase has necessitated an increase in resources. And so we have re-prioritized our cases within the National Security Division, we're providing appropriate supervision at a high level"...
20.
1:43 cont..."we've created a new unit within the FBI to focus on those leaks, and we're going to devote whatever resources are necessary to get them under control."…
21.
It's doubtful Senator Warner even thought through how his efforts would be monitored and captured. It's not accidental that his staff was contacted in September 2017 about his activity; same time-frame when Robert Mueller was notified about his own group of schemers.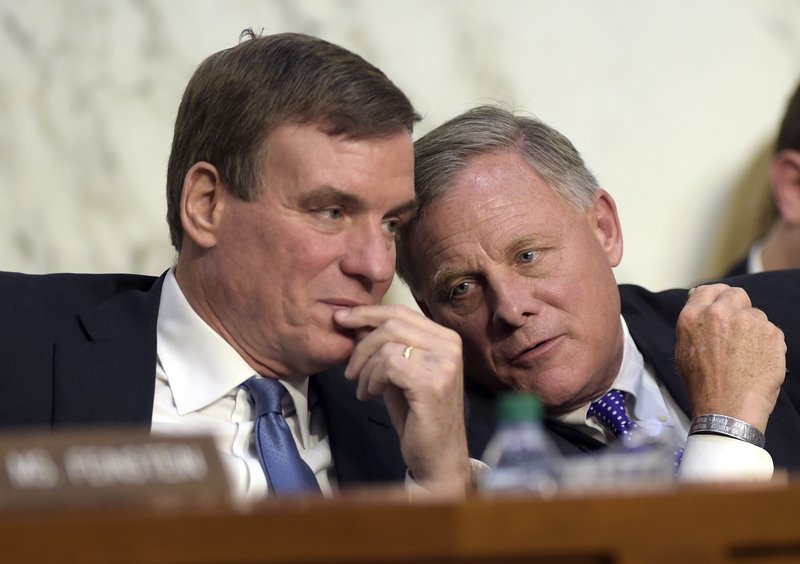 22.
And it is not accidental that another Go8 member, Adam Schiff was busted leaking to CNN.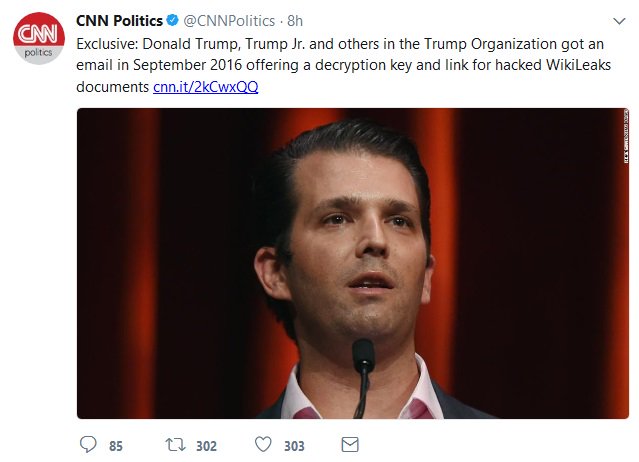 23.
CNN reports that two independent sources originally leaked to them the contents of what they had seen on the email in question. But CNN never saw the email, until later in the day. "Two independent Sources"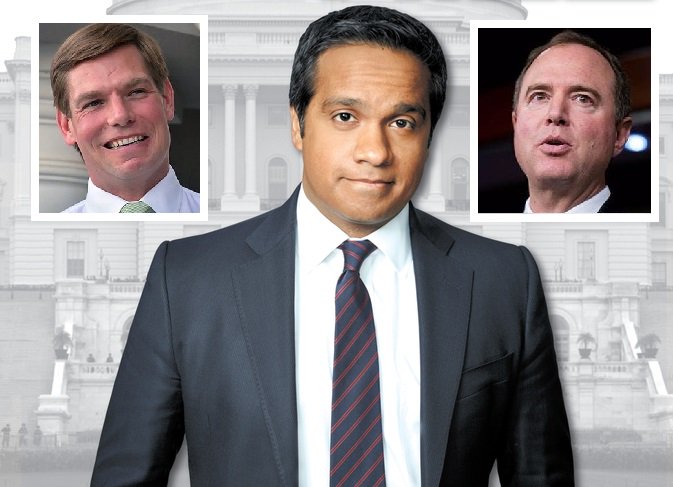 24.
The years-long IG investigation is coming to a conclusion; there have been several high-profile 'mistakes' from leaks [The leaks were real, the underlying information was false]; and congress is getting caught participating...
/The End