After a certain amount of preliminary 'disruptive intercourse'
@tettodoro
comes to his five questions, which I consider in the rest of this thread: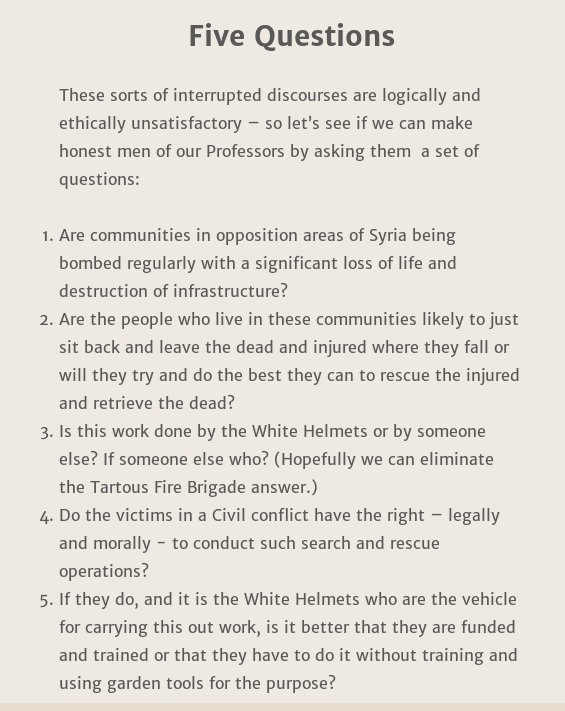 1.
The war in Syria is a civil war, a proxy war and a free-for-all between many different factions fighting for control of territory, cities, towns and resources. All the communities in these battlefields have suffered terrible damage.
2.
Those communities will of course do their best to do something to rescue the living and retrieve the dead. This question adds nothing to the argument.
3.
Such work will be done by anyone who is willing and able, and some will have some skills and equipment, with or without white helmets and logos. They will save as many as possible, with no need for video dramatics. Some of them may even belong to the WH (White Helmets).
4.
Of course the victims in a civil conflict have the right – legally and morally -­ to conduct such search and rescue operations. But this question adds nothing to the argument.
5.
This is the only real question. When
@tettodoro
suggests that 'it is the WH who are the vehicle for carrying out this work "so that it is better that they are funded and trained", he is trying to impose his own answer. However ...
It is reported that the WH took over from the existing Civil Defence by force, and that they are closely associated with 'rebels' who in our own communities would deserve to be called terrorists.
@tettodoro
cannot rebut these reports.
It is an established fact that the UK seeks by one means or another to bring about a change of regime in Syria. But it is widely thought that 'success' in Syria could turn out worse for all sides than our 'successful' disaster in Libya.
It is definitively known from UK Government sources that the UK intended the WH to operate only within 'rebel' areas and in part as a PR operation for its attempt at regime change in Syria.
The UK government says that the WH and others that it supports "provide an invaluable reporting and advocacy role" and give "confidence to statements made by UK and other international leaders made in condemnation of Russian actions".
It is an established fact that UK funding for the WH and others in rebel-held parts of Syria come from by the UK's Conflict, Security and Stability Fund (CSSF), a fund which is overseen by the National Security Council.
WH funding from the CSSF falls under National Security Objective "2d: Tackling conflict and building stability overseas". This is a constituent part of the broader "National Security Objective 2: Project our Global Influence".
It is well known that most reports about the WH in action come from their own publicity videos and from media agencies in rebel territory that are themselves funded by the UK and others as PR for the regime change project in Syria.
Here is an article that explains how the UK's propaganda effort for the Syrian armed opposition began after the government failed to persuade parliament to support military action against Syria:
theguardian.com/world/2016/may…
In other words the WH project with others was designed by the UK government as an element of hybrid warfare to achieve regime change in Syria. So
@tettodoro
's fifth question is his only real question, and it raises a question about the UK's engagement in regime change wars.
It is evident that
@GeorgeMonbiot
and others who support the regime change project in Syria have forgotten the Streisand effect: by attacking anyone who can tell the other side of the WH story they point at the very reports they try to dismiss.
Perhaps for this reason
@GeorgeMonbiot
and many others fall for the bogeyman theory of history: anyone who disagrees with them must be in league with the villain of the day. But this approach holds only if regime change is a legitimate and practical tactic.
It is astonishing that anyone who has understood how damaging and counterproductive our many devious and bungled foreign adventures have been can still insist that the UK should add more pebbles to Syria's boiling stone soup.
There are questions that lie on dimensions orthogonal to each other and to all other political dimensions: for example the legal-illegal, sane-insane, and green dimensions.
Does
@GeorgeMonbiot
really place regime change wars in general anywhere near the sane or legal ends of those two dimensions? Does he as an environmentalist believe that in Syria he is supporting a war that is in some way green and friendly to the environment?