Here are some of the "community banks" escaping regulation under a bill the Senate is voting on in less than 2 weeks. Just your run-of-the-mill, mom-and-pop banks down the street from you:
-Deutsche Bank
-Santander
-Barclays
1/
Here are some of the "community banks" that would get new legal footing to challenge federal oversight. You've probably heard of them because, gee wilikers, they're known for being real friends of our communities:
-Wells Fargo
-Goldman Sachs
2/
Sadly, just a decade since the worst financial crisis since the Great Depression, the Senate is plowing ahead with a bill that would de-regulate 25 of the 38 biggest financial institutions -- in the name of helping "community banks."
politico.com/story/2018/02/…
3/
Currently, banks bigger than $50 billion get extra federal oversight and have stricter requirements, to protect the financial system if they fail. This bill would *quintuple* that requirement to $250 billion, even letting banks currently failing govt stress tests off the hook.
4/
This isn't theoretical. There are real life examples for why raising the threshold that high is a bad idea. Remember Countrywide?
americanbanker.com/opinion/raisin…
5/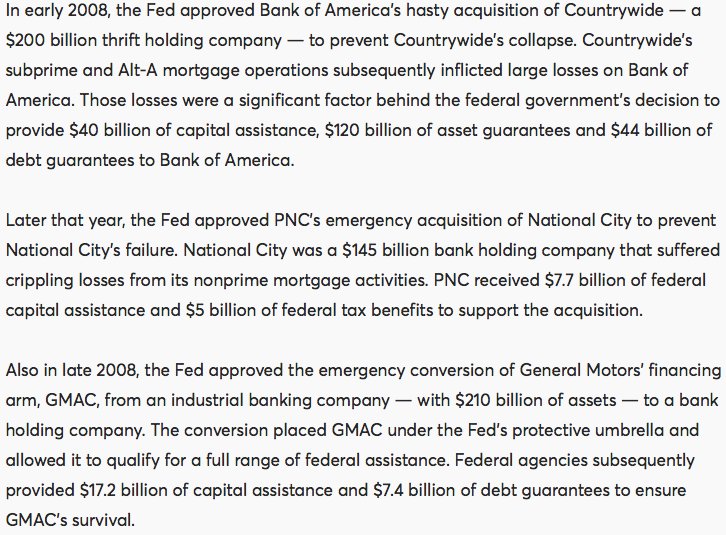 The bill would also allow racial discrimination in mortgage lending to go unchecked by eliminating the requirement that the vast majority of lenders collect demographic data. That data can help regulators spot trends and discriminatory practices along lines of race.
6/
And even though it has "consumer protection" in its deceptive title, the bill actually eliminates requirements that protect homebuyers from last-minute surprises in loan terms and fees. It also exempts sellers of manufactured homes from truth in lending requirements.
7/
All in all, the bill is just another part of the Republican playbook to roll back important Wall Street regulations put in place through Dodd-Frank after the last financial crisis. Sadly, 12 Democrats have signed up to help.
8/
Senate is expected to vote on this week of 3/5. That means you still have time to tell your Senator not to put us at risk of another financial crisis to help their buddies on Wall Street (ahem, excuse me, "community banks.") Explainer/call script here:
indivisible.org/resource/repub…
9/9