1.
The recenty claim by
@ShellenbergerMD
that wind and solar increase electricity prices is misleading and incomplete, if not outright incorrect. His analysis emphasizes correlation over causation, confuses past studies with future expectations, and is limited to 1 type of price
3.
As I understand it, the
@ShellenbergerMD
hypothesis is that adding solar and wind power increases electricity prices because of an unspecified mix of intermittency, more expensive transmission costs, and other physically-caused increased system costs
4.
One should immediately be skeptical of this claim b/c it goes against a fundamental part of econ 101. Adding wind or solar to a grid increases the supply of electricity. All else equal, an increase in supply leads to a decrease in the quantity demanded and resulting prices
5.
However, this is electricity, and normal economics are more of a guidebook that a set of analytical rules. To start, there isn't one "price" for electricity
6.
Wholesale electricity prices can be thought of as commodity cost of electricity; in restructured markets, generators compete against each other to supply the cheapest electrons to meet instantaneous demand (technically not electrons, but magnetic fields but that's a diff ?)
7.
Wholesale prices are a key constituent in what consumers actually pay for electricity: retail electric prices. Retail prices encompass both wholesale electricity prices, transmission costs, distribution costs, and any other ratepayer-borne cost of electricity production
8.
Shellenberger's substantive argument rests on the observation that retail electricity prices in many jurisdictions have increased over the last 15 years, including in jurisdictions where renewable energy has grown significantly
9.
Of his two articles, only the latter specifically mentions wholesale power prices. This is a large analytical oversight as one of the primary ways in which additional wind or solar impact final retail electric prices is through their effect on wholesale power prices
10.
Indeed, if one looks at the impact of renewables on wholesale power prices, one finds that econ 101 is still instructive. Renewables greatly drive down wholesale power prices during the hours they operate, causing the merit order effect:
sparklibrary.com/solar-wreck-ec…
11.
Shellenberger discusses this indirectly when citing work by Hirth. Shellenberger, however, incorrectly argues that the declining value of renewable energy is why it increases prices. RE faces value deflation precisely because it LOWERS wholesale power prices
12.
The merit order effect is a relatively large market effect, especially in markets with high solar penetration levels; solar causes the highest priced hours of the year to be greatly reduced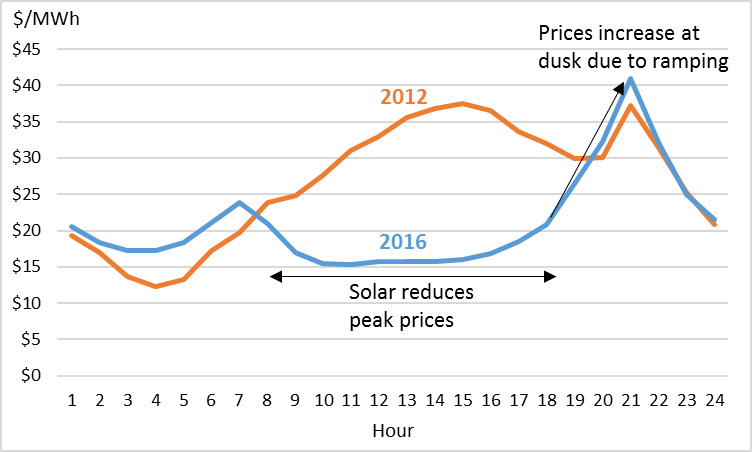 13.
At the very least, this shows Shellenberger's hypothesis is wrong, at least as it pertains to wholesale power markets
14.
One of Shellenberger's main assertions is relevant here: the costs of balancing renewable intermittency somewhat counteracts the merit order effects. But these costs are relatively small.
@jacob_mays
explains it well here:
15.
Now that we've analyzed how RE impacts wholesale prices, what about retail prices? Shellenberger notes various states with growing shares of renewable energy that have seen large concurrent increases in retail electric rates. IMO this is the core data 'evidence' he provides
16.
The problem is that retail electric rates, especially nominal rates, have increased in every state in the US. This chart comparing '01-17 price growth with 2016 non-hydro RE share of generation clearly illustrates no correlation b/n higher renewables and higher retail prices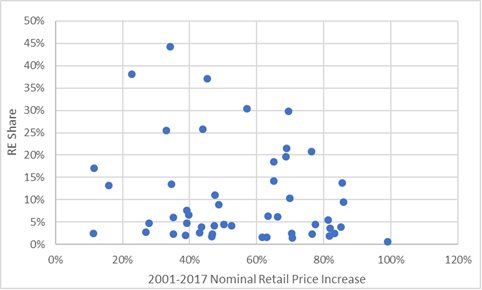 17.
If anything, states with higher renewable levels have lower growth rates for prices than others. However, this isn't an ideal measure as its a rate (not absolute), not broken down, and retail prices vary based on many non-generation factors (map 6)
sparklibrary.com/the-u-s-electr…
17.
This
@EIA
post explores why retail prices have changed over the last ten years. Power production is down from 67-70% pre-2010 to only 54% in 2016. Delivery costs (T&D) have increased by more than 50%. (Note: this chart is inflation controlled)
eia.gov/todayinenergy/…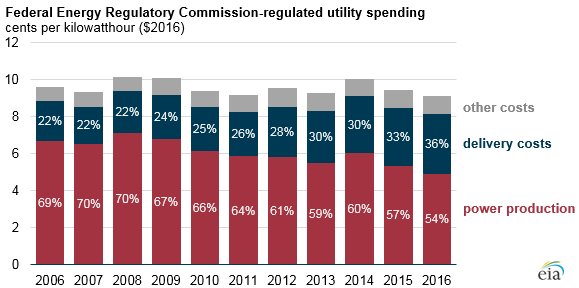 19.
And no, thoseincreased T&D costs are largely not due to higher renewable energy deployment. Its because utilities are again investing in large amount of transmission infrastructure following the first two decades of no-load growth stagnation
eia.gov/todayinenergy/…
20.
State RPS policies have undoubtedly increased retail electric prices but they have also provided numerous benefits. As renewables become increasingly cost competitive, these impacts will shrink considerably
eta-publications.lbl.gov/sites/default/…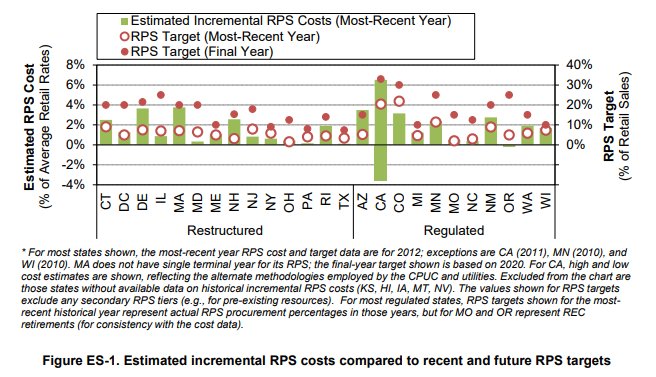 21.
Shellenberger's most effective examples are Germany and Spain, where generous subsidies for solar and wind undoubtedly led to higher prices. This isn't b/c solar and wind have some mystical traits; rather, its what we expect when subsidizing very high price early technology
22.
Current and future prices for solar and wind don't present this concern because renewable prices have dropped so much. So, thanks Germany and Spain for making our solar cheaper through your early action :D
23.
Note: Germany and Spain are also instructive cases as the subsidy design passed through the subsidy into electricity prices. In the US, part of our subsidies for renewables go through the tax system and bypass consumer energy prices altogether
24.
Finally, RE undoubtedly decreases the most important cost of all: the all-in, externality-included price that humanity pays for energy. If RE sometimes increase retail end prices, its largely because we're internalizing/preventing severe public health and climate costs
D'oh, I always mess up verbalizing the supply curve. It should read "all else equal, an increase in supply leads to decreased prices and in an increase in the quantity demanded" h/t
@tylerhnorris