> Earlier today, SCL Elections Ltd., as well as certain of its and Cambridge Analytica LLC's U.K. affiliates (collectively, the "Company" or "Cambridge Analytica") filed applications to commence insolvency proceedings in the U.K.
CC
@WendySiegelman
Could
@mitch_1uk
tell us whether this covers all uk affiliates? If not, which affiliates remain in operation?
> Additionally, parallel bankruptcy proceedings will soon be commenced on behalf of Cambridge Analytica LLC and certain of the Company's U.S. affiliates in the United States Bankruptcy Court for the Southern District of New York.
> Despite
#CambridgeAnalytica
's unwavering confidence that its employees have acted ethically and lawfully, which view is now fully supported by Mr. Malins' report, the siege of media coverage has driven away virtually all of the Company's customers and suppliers.
There's an interesting contradiction in the QC's report.
How can
#CambridgeAnalytica
's services be both "novel" and "no different from the services offered all over the world by a very large number of competing digital marketing and data analytics companies"?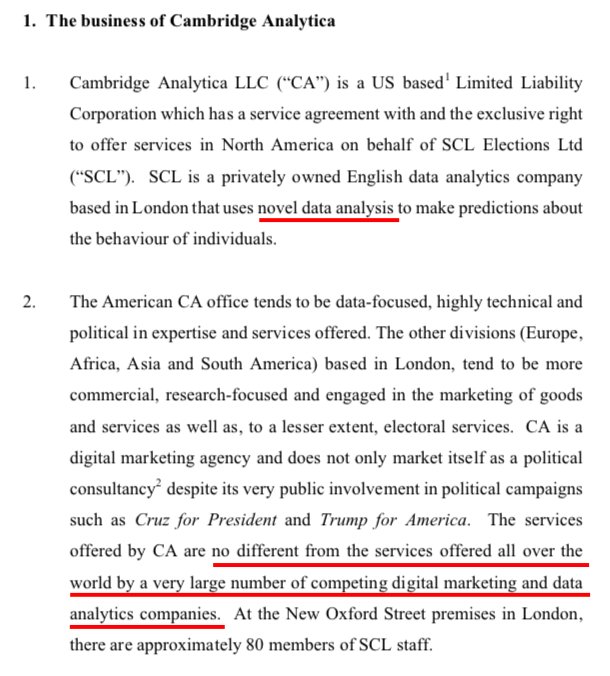 Paragraph 1 talks about the behaviour of individuals yet Nigel Oaks clearly presents group persuasion as unique selling point for SCL. Hard to believe that CA wouldn't have access to these approaches.
vimeo.com/38219653
Paragraph 8 warns of a "seismic change in effective electioneering".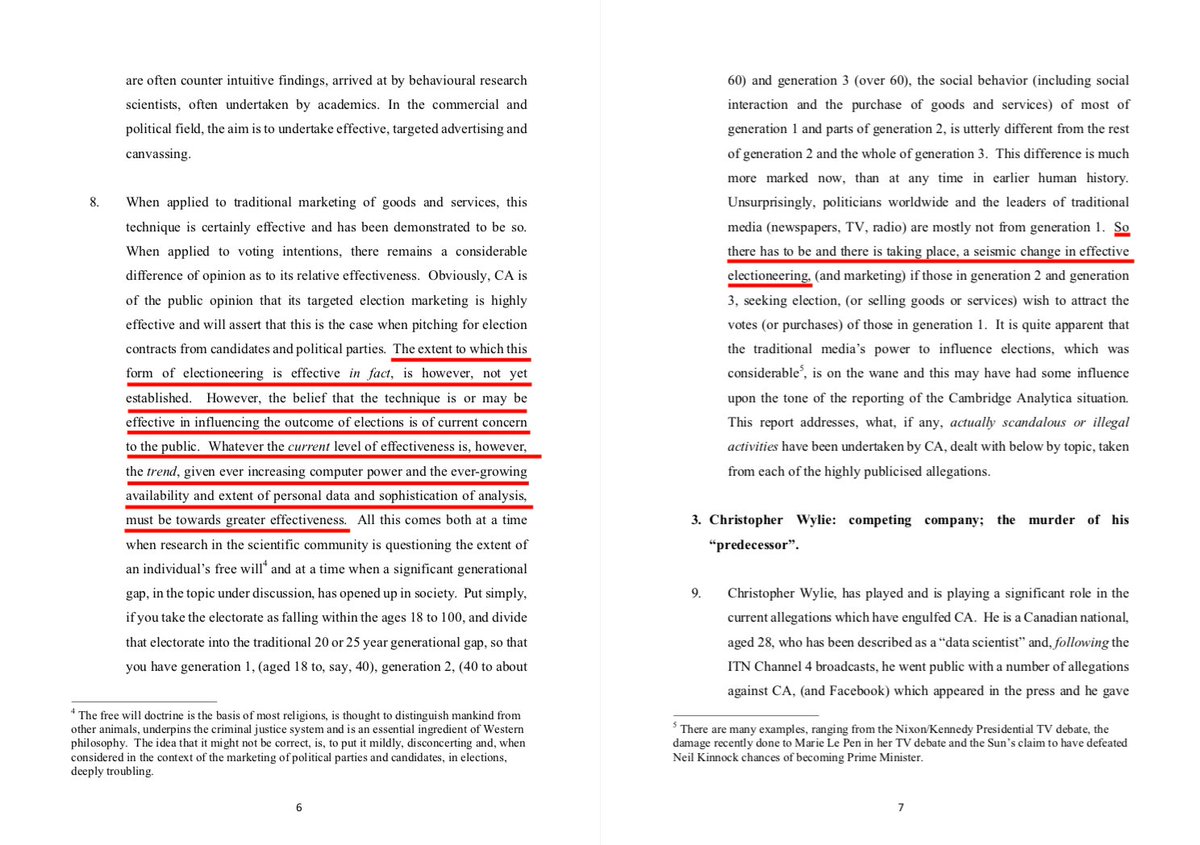 Paragraph 20 talks about the "informed consent of the seed user". Does this mean
#CambridgeAnalytica
was aware of the harvesting of data of non-seed users? How does this conform to data protection regulations?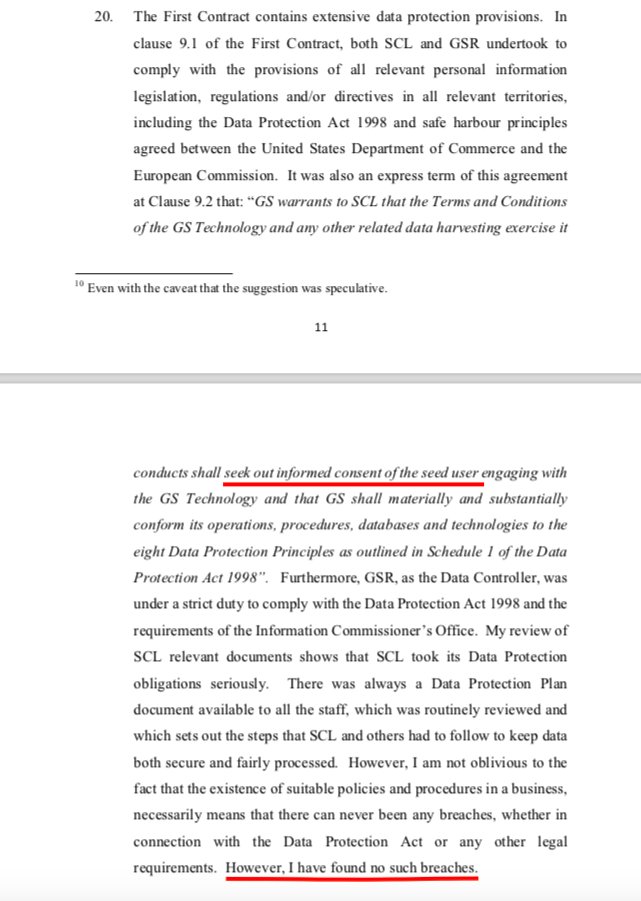 At the end of paragraph 20 the QC states "However, I have found no such breaches."

So no evidence that Wylie took data from CA.
The clincher is in paragraph 24,
#CambridgeAnalytica
knew that data from non-seed users was being harvested and processed without permission.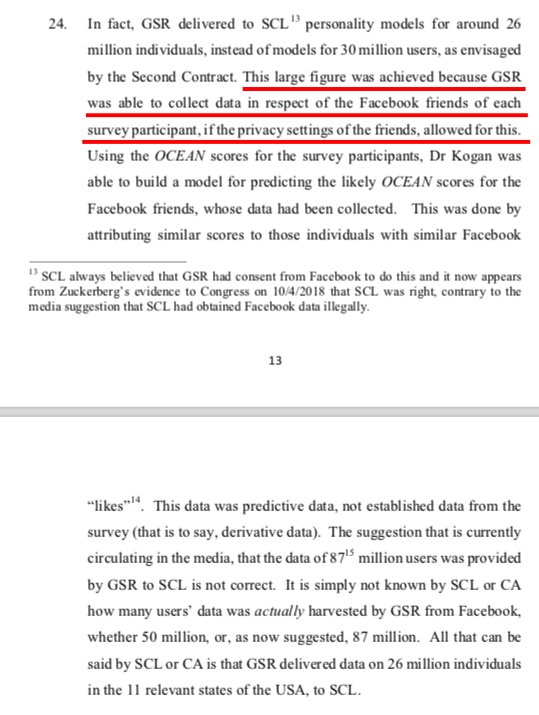 Paragraph 26 talks about the deletion of Facebook data and talks about the existence of a model, but does not mention the deletion of the model. Was the model deleted? If not, was it refined through further training with additional training sets after the deletion of FB data?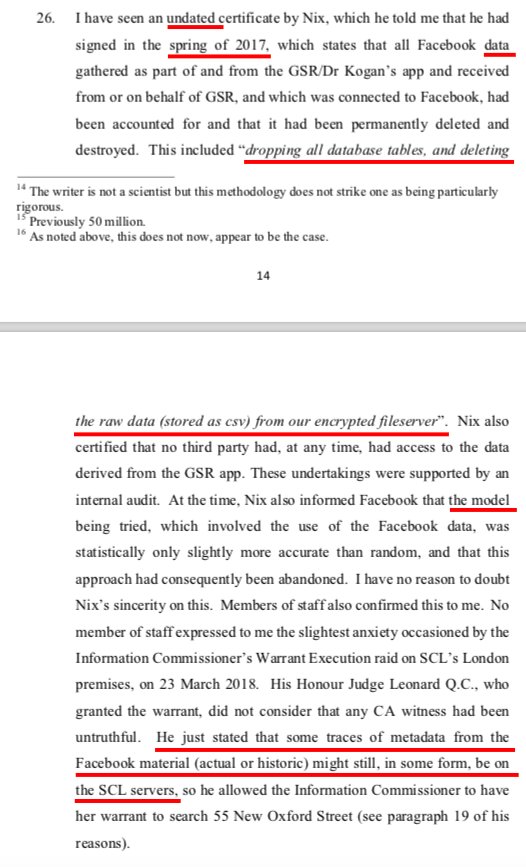 From para 49.
"I can only cover relevant topics with the material and evidence which has been made available to me."
There is no statement of scope or terms of reference in the report. Could these be made available by the QC?


Section 11 EU referendum campaign makes no mention of the invoice to UKIP.
Did the QC have access to information from the Alexandria office?
CC
@carolecadwalla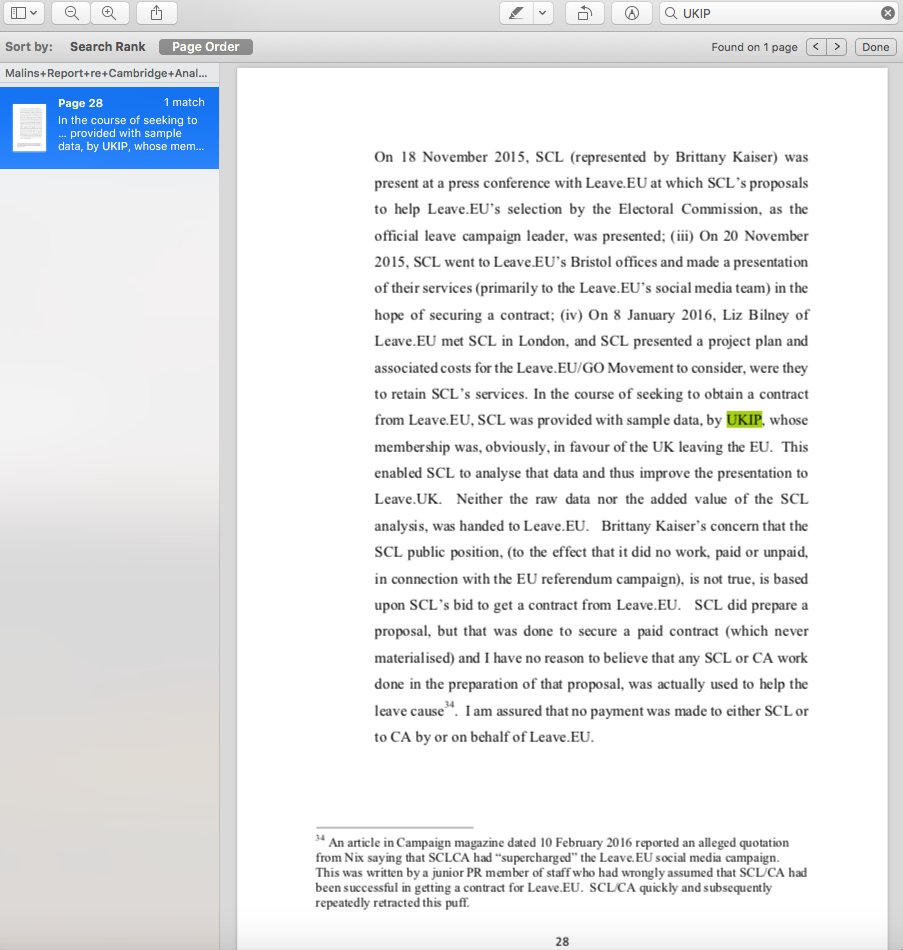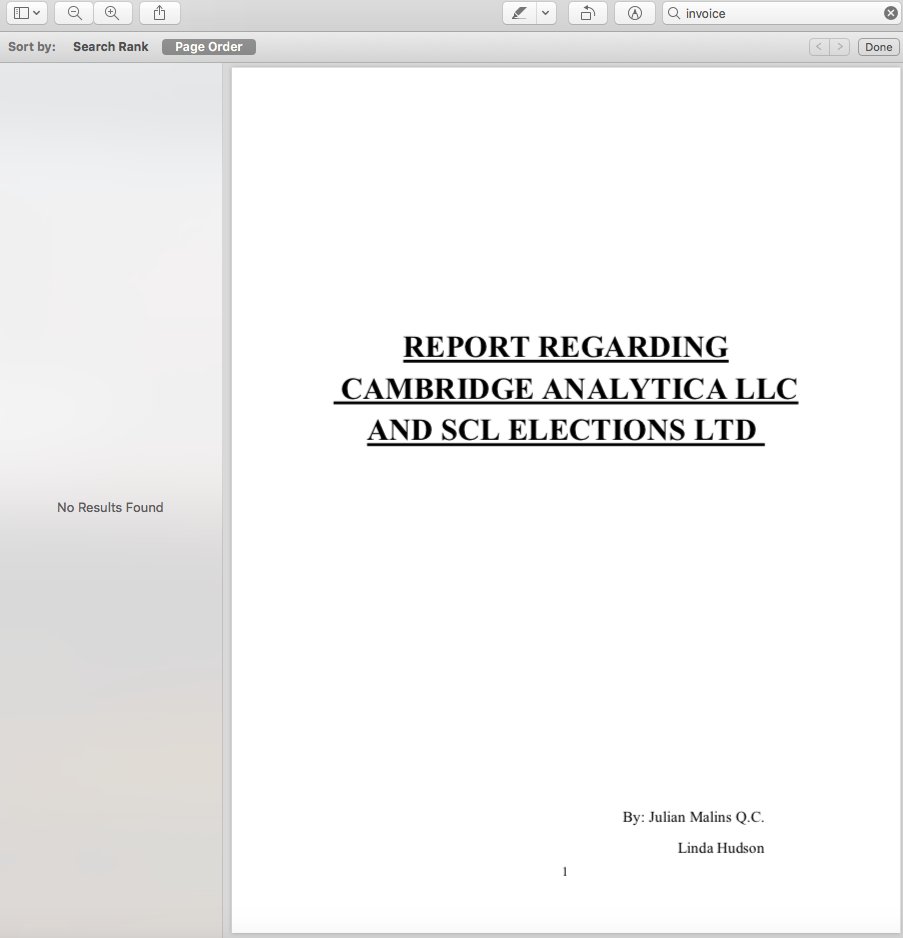 Paragraph 41 contains a staff comment: "they should have been reined in long ago".
This suggests that the
@Channel4News
investigation was not the only incident that concerned the young idealistic staff.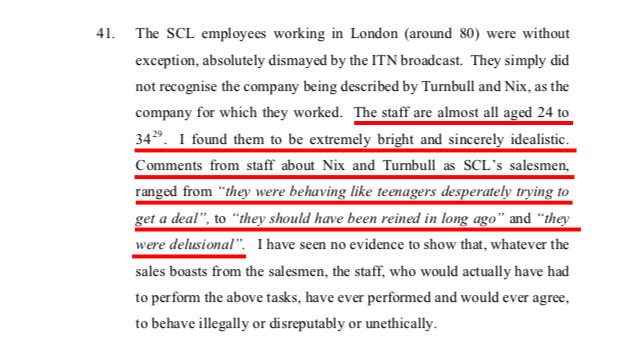 Para 48 seems to be a misunderstanding by the QC. A concern is that derivatives of Facebook data still exist. E.g. that models trained with the Facebook data have not been deleted.
CC
@VickerySec


Para 67 indicates that US visa rules may have been broken.


From the Final Comments
"It has to be recorded and Nix accepts, that some of the fuel and several of the sparks, which have ignited the fire which has engulfed SCL and CA and kept it burning, were provided by him and Turnbull."